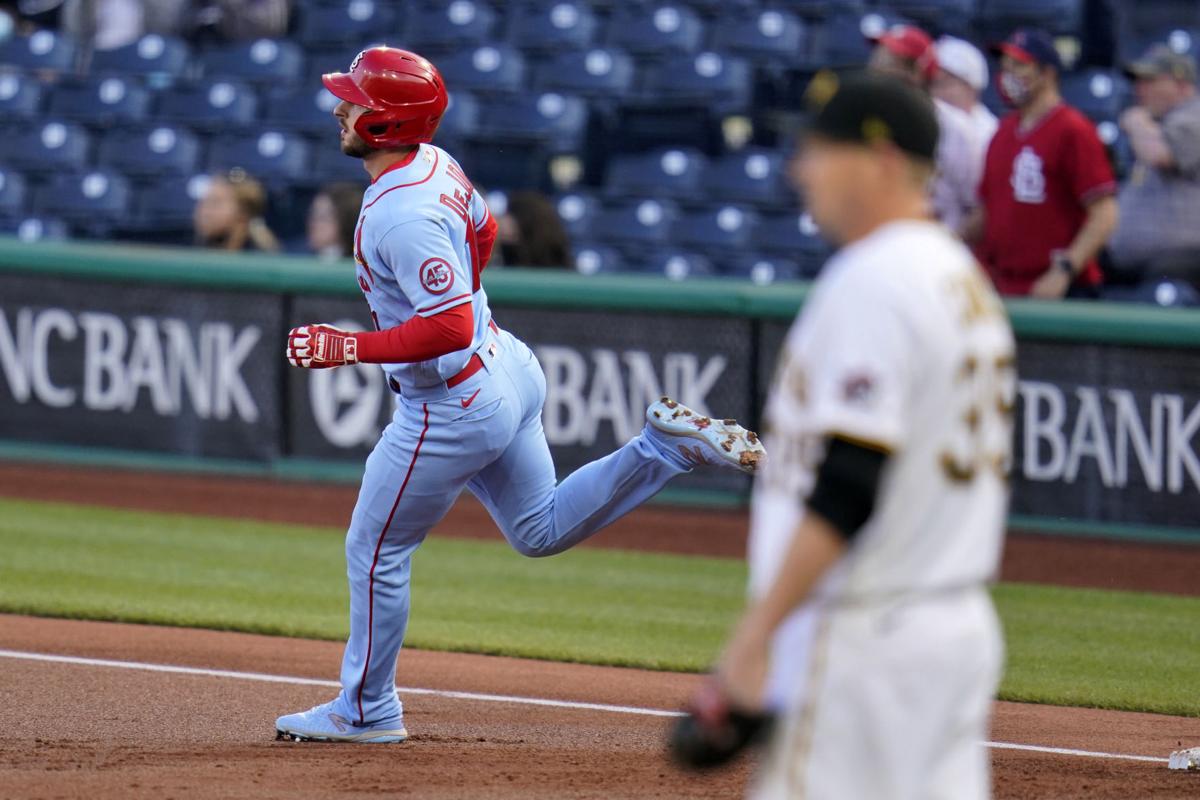 PITTSBURGH — Any adrenaline rush from the Cardinals' sixth victory in eight games or their chance to sweep a second consecutive series against a division foe subsided in the seventh inning Saturday as Jordan Hicks winced and tried to shake a sensation loose from his right arm.
The Cardinals have adopted an ultra-proactive, ultra-protective approach with their ultra-gifted flamethrower, so when a teammate saw him "grimace" after a 98 mph pitch the team's trainer was at the mound almost as swiftly as the ball returned there. The Cardinals had an ample lead at the time that would mushroom into a 12-5 victory against Pittsburgh at PNC Park, but it was tempered in the late innings by what they might lose — and for how long.
Hicks was diagnosed at the ballpark with inflammation in his surgically rebuilt right elbow, and he will undergo additional exams Monday in St. Louis.
"Not an uncommon occurrence," manager Mike Shildt said after the game. "We're being rightfully cautious."
The Pirates scored a couple of runs in the inning Hicks left behind, walking off the mound with trainer Chris Conroy. The Cardinals would soon rebuild and widen their lead with a five-run ninth. Nolan Arenado added an RBI triple to his two-run double earlier in the game for three hits Saturday. He has five RBIs already in the weekend along the Allegheny River. Paul Goldschmidt scored four runs. Rookie Justin Williams homered at the end of the game, offering a bookend to the three-run homer shortstop Paul DeJong hit in the first inning to give Jack Flaherty a 4-0 lead before he threw a pitch.
Flaherty became the first starter in the majors to go 5-0 by throwing six innings and offsetting three runs on six hits with his nine strikeouts. In his six starts this season, Flaherty has pitched with a tailwind of 61 runs, 49 while he's been in the game.
"You get a lead like that," he said, "you have to make it count."
Hicks was the first reliever into the game, starting the seventh with a 7-3 lead. Arenado's two-run double had just turned a taut game into fluffier cushion for the Cardinals, and the first hitter Hicks faced bounced a groundball harmlessly back to him. Arenado visited Hicks on the mound after seeing the righthander "grimace." Hicks' velocity didn't set off any alarms as he hit 98 mph with his final two pitches. He threw 18 total to three batters, and after the last one circled the pitching rubber and wiggled his right arm.
Pitching coach Mike Maddux and Conroy led the race to meet him.
"Body language said something wasn't quite right," Shildt said.
Hicks is almost 23 months removed from Tommy John surgery, though he's only a month into his return to regular-season competition. The Cardinals have been conservative with his usage — avoiding back-to-back appearances, strictly auditing his warmups, and even expanding some of his appearances to give him a chance to throw more pitches to get his pitches sharper. The goal has been to ease him into high-leverage spots and ultimately back into the role he had when his elbow came apart in June 2019 — closer.
Shildt said Saturday night's look at Hicks' arm echoed the ongoing checkups the medical staff has had with Hicks and that they do not believe anything is structurally amiss in the joint.
Removing a pitcher always indicates a level of concern, the manager said.
The Cardinals' first-inning rally started with a double that got past the Pittsburgh first baseman's glove but not the PNC Park's ball attendant's.
Tommy Edman led off the game with a double that never had a chance to become a triple. The hard hit glanced off Colin Moran's glove and was retrieved in foul territory by one of the Pirates' employees patrolling the area. After the interference, Edman stood in scoring position before Trevor Cahill threw his third pitch. Edman blitzed home on Goldschmidt's RBI single, and two batters later DeJong's three-run homer cleared left-center field and landed on a tarp that features the Pirates' Jolly Roger logo wearing his bandana as a mask not above his eyepatch.
The top six spots in the Cardinals' order combined for 14 hits. Edman had four of them. The top seven spots in the order scored at least one run, and every spot but Flaherty's had a run or an RBI.
"Top to bottom we have some threats," DeJong said. "I think that's our identity as an offense. We want everyone to contribute, and we need everyone to contribute. We're not riding one or two horses. We're all going to be the horse."
That gift of enviable run support has merged with Flaherty's commitment to his fastball. Seeing trends elsewhere in the rotation, he wanted to assert his grip on the game in the first inning, aiming to prioritize strike 1. He went to what Shildt called his "heater." He did it again Saturday to freeze the Pirates. They got a sacrifice fly and two RBI singles off Flaherty before he retired 10 consecutive. Five of his strikeouts came in that stretch and showcased how tricky he can be for an opposing hitter to read. In one stretch, Flaherty struck out four of six batters and did so with three different finishing pitches.
He got Cahill fishing for an 85 mph slider low, over the plate, but slicing out of the zone for a strikeout in the fourth inning. He got ahead in the count and plunged a 79 mph curveball past Bryan Reynolds' swing that was plucked by catcher Andrew Knizner before it kissed the dirt. And, on his 87th pitch, Flaherty blazed a full-count 97 mph fastball past Moran.
"I've definitely done a better job mentally lately of being able to go out there and pitch like it's 1-0, pitch like the game is on the line with every pitch I make," Flaherty said. "Which it should be. It should feel that way."
Hicks did not pitch in 2020, opting out of the season so that he could continue his recovery, rehab, and strengthening after reconstructive surgery.
Shildt pointed out that while his rehab could be the focus, it also came without games, without the usual tour of the minor leagues to build strength and compile innings and feel how the elbow recovers after competition surges through it. Shildt suggested that the feeling Hicks experienced Saturday would have happened in rehab games he didn't have.
"You have your starts and fits a little bit," Shildt said. "It's really not uncommon when you get back to competition. A lot of time it's done with a rehab setting which he's going through now."