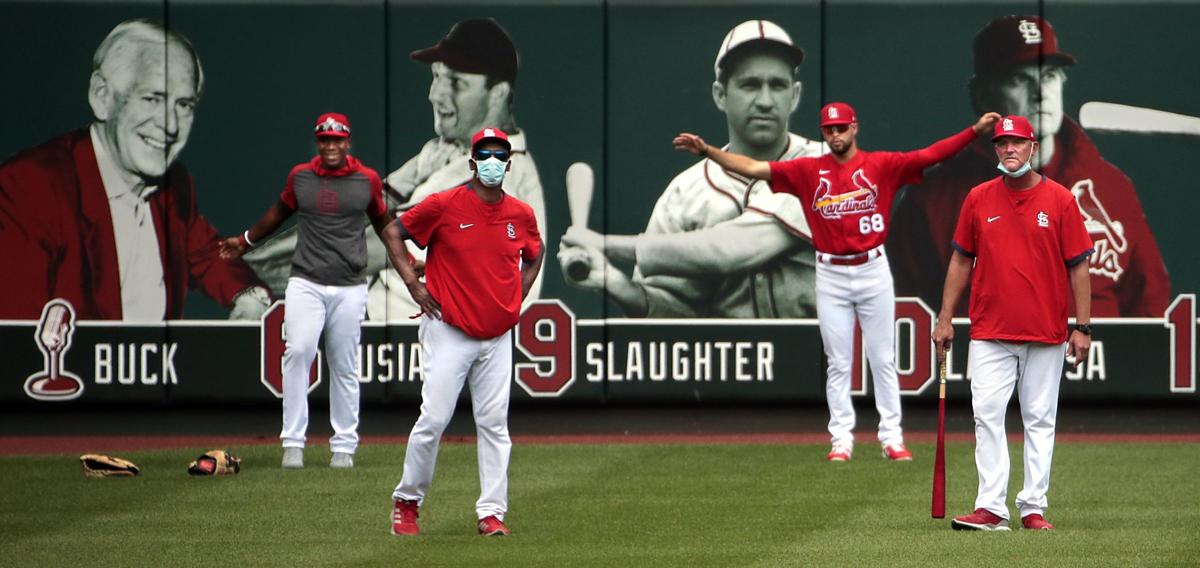 The Cardinals, who haven't played a game for 17 days, have had an opt-out. He hasn't played a game this season or for more than 20 seasons, in fact, but one of the franchise's greats is going home.
Willie McGee, in his third year as a Cardinals coach, is 61 years old, suffers from high blood pressure and has three older daughters and five grandchildren living with him in the family home at Martinez, Calif. Those, he said, were three good reasons for him to ask the Cardinals if he could go home for the rest of the season, and president of baseball operations John Mozeliak said he understood.
"We feel it is in his best interest for him to head home," Mozeliak said. "He will be missed (because) he does a great job but this is for the best."
"I love baseball more than I love anything — almost," said McGee, a Cardinals Hall of Famer who played on three World Series teams, won two batting titles and the 1985 National League Most Valuable Player award. "But, at this point, it's God, family and baseball."
McGee, who does not have COVID-19, was tested Friday morning and still plans to get tested a couple more times before he flies home. He is awaiting instruction on how to help coach the outfielders from home when he gets there and he admits he will miss being here very much.
"I'll miss it tremendously," he said. "Baseball is one of my all-time loves. I've been around it all my life. I'm missing it already.
"In the past, it was God, baseball and family. I could trick my heart and my mind to get past different obstacles when I was younger, no matter what was going on at home or on the field. I could still find a way to endure stuff. But, this thing (the coronavirus) and having an underlying health issue with high blood pressure, I just don't know how I would react if I were to get sick and I'm still not out of the woods."
McGee had plenty of time to think about these things while being quarantined for six days in Milwaukee a couple of weekends ago.
"We flew home, worked out, and the next day we had three or four more guys test positive ... that kind of shook me," he said. "I'm just worried about my health.
"Up until the last week-and-a-half or so, I was good. I felt like I could fight it and avoid it.
"But, now, I don't know. In my heart, I'm trying to find a way to get back out there. And I just can't. There are too many pros on the other side that favor me leaving. It's stressful.
"The Cardinals have done all they can do. They've put us in a situation to be safe. We definitely are prepared."
But the enemy is unseen. And relentless.
"I don't know where it came from. But it's here," McGee said. "And it spreads like wildfire. We're fighting a war that we don't know what we're fighting. That's not good. I've never won anything like that.
"If you read the Art of War, if they go out to fight the enemy and they see that they're not strong enough right there, then they back up to live another day, to fight another day."
Were he a younger man, McGee said, the decision might well be different. "If I were 32, 33, 40 ... I would stay there and fight it and do what I do," he said.
"We've got a big enough house to accommodate everyone," said McGee, "but I'm the breadwinner."
Whether McGee will be paid for the rest of the season isn't known, but he said, "That's pretty much the last thing on my mind right now. Whatever they decide to do ... they've been really good to us. When we left spring training we weren't working but we still were getting paid. Whatever they do ... I have no complaints."
Mozeliak said, "Of course," when asked if the club wanted McGee back next season and McGee said, "Heck, yeah," when asked if he wanted to come back.
"This is one of the hardest decisions I've had to make in my career," McGee said.