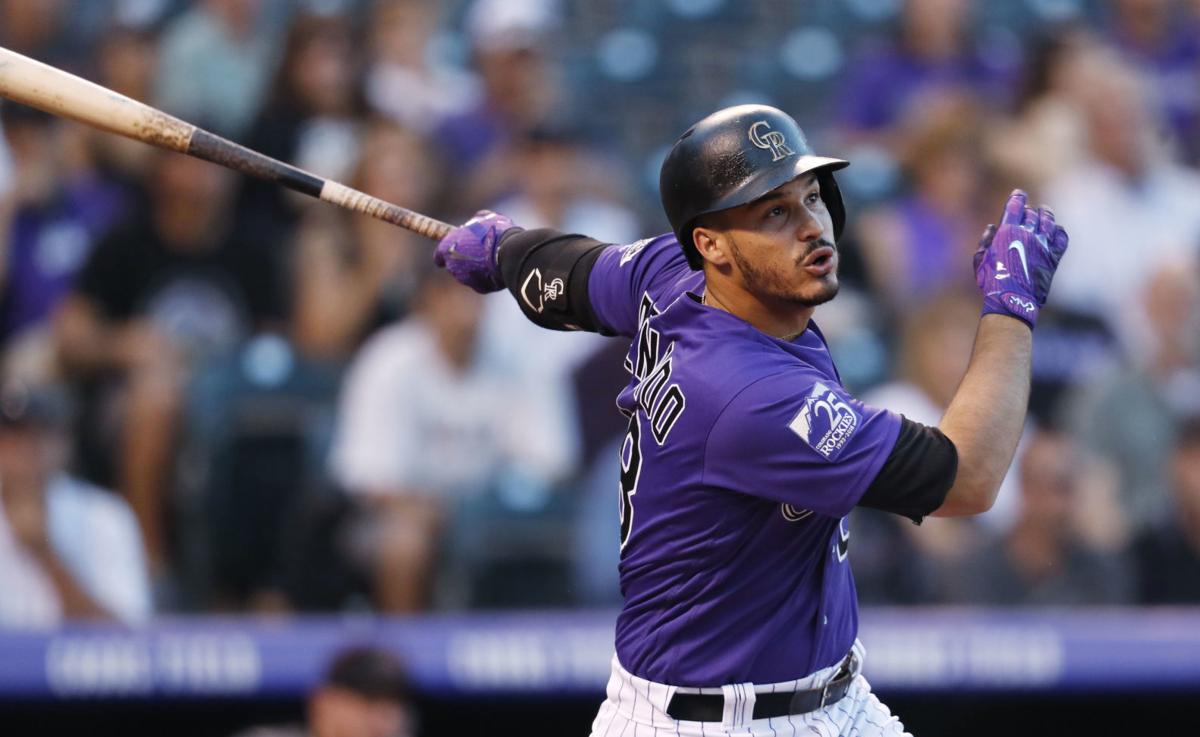 The lefthander threw strikes and knew his way around the Rockies' clubhouse when Walt Jocketty, about a year removed from leaving Colorado for St. Louis, made one of his earliest acquisitions to refresh the Cardinals for their new owners.
At the end of the 1995 season, as he wooed future Hall of Fame manager Tony La Russa to lead the Cardinals, Jocketty also brought a Boulder, Colo., kid to St. Louis to join and help modernize the scouting department. From their time overlapping in Colorado, Jocketty knew the lefty for doing a bit of everything, from throwing batting practice to studying Don Zimmer's stories to accumulating any experience he could in baseball operations.
Jocketty had an opening to see what John "Mo" Mozeliak could make of it.
"This bright, young guy, and it was clear there were a lot positions he could grow into in the game," Jocketty said Sunday. "He was a hard worker, paid attention, asked the right questions, and was headed for a successful future. (A) young guy like him just needed an opportunity, like we all need an opportunity."
What started with hiring Jocketty at GM and continued with his eventual replacement, Mozeliak, has become a recurring theme of headline-grabbing moves that shape the modern Cardinals.
They sure can mine the Rockies to enrich themselves.
Mozeliak, president of operations, and his staff worked through the weekend with the Rockies to gain approval early this week on the jackpot trade that would bring Nolan Arenado, the finest third baseman in the majors, to St. Louis and install him as a face of the franchise through possibly 2027.
Rockies' ownership and the Cardinals agreed in principle on a trade last week, sources confirmed. But because of its creativity and financial complexity, the deal requires the approval of Major League Baseball and the players' union. Arenado has agreed to waive his no-trade clause to be a Cardinal, and as part of his reworked deal he'll have at least one opt-out and an additional year added to his contract.
He's also agreed to defer some of the $199 million remaining on his current contract, two sources confirmed, and because of that the union must agree the deal maintains its present-day value. The Rockies are sending the Cardinals as much as $50 million over the span of the contract, and the commissioner's office must OK that. Once those hurdles are cleared the players headed to Colorado will become clearer.
Optimism continues to ripple through the Cardinals' roster and front office, with hopes of finalizing the deal during the early days of this week.
The trade for Arenado would be the culmination of several years for the persistent Cardinals — and also an encore as another high-altitude talent comes down the Interstate 70 pipeline.
A strong list
Arenado is set to join Larry Walker, Matt Holliday, and the late Darryl Kile as Rockies coveted and eventually acquired by the Cardinals, moving him out of the class of unrequited pursuits such as for Troy Tulowitzki and Carlos Gonzalez.
"I don't think it's any one thing, and it could be a coincidence," said former Rockies general manager Dan O'Dowd, who now works for MLB Network. "But also Mo has insight, like Walt did, of the challenges of playing in Denver and has a feel for what a player getting out of there has a chance to be. They can see that having been there. Matt Holliday's success in St. Louis emboldens them and the trust in their ability to evaluate players there. They've walked the walk of what that environment is like, and they have a confidence level maybe others don't to make those deals."
The wattage of the names the Cardinals have sought to acquire from Colorado over the past 20-plus years gives off a glare that overshadows other frequent trade partners.
Mozeliak has made several signature trades with Toronto, sending Scott Rolen, Randal Grichuk, Aledmys Diaz and famously Colby Rasmus there in four different deals. There have been two recent deals to acquire lefties Genesis Cabrera and Matthew Liberatore from Tampa Bay, and not too long ago the Cardinals helped stock Seattle's pitching staff with a series of trades.
Mozeliak's first swap as GM was with San Diego for David Freese, and the Padres have been a favorite phone call since, from traded for Khalil Greene to sending Jon Jay for Jedd Gyorko. There used to be an annual trade with Cleveland, and then there was the mashup of 2010 when a three-way trade involved Cleveland, San Diego and the Cardinals. Ryan Ludwick went west, future Cy Young Award-winner Cory Kluber went to Cleveland, and Jake Westbook came to St. Louis.
The sense that Colorado is a favorite place to visit for CU alum Mozeliak is part anecdotal, part name-recognition of the players pursued, and part confirmation bias. It also is a window into baseball's economics as Colorado signs players to high-priced deal it eventually has to trade, and the Cardinals have strategically positioned themselves to be ready to take on such contracts to get talent and keep it. It also could reflect what a reporter is able to unearth.
"Before the texts and email stuff became how trades happened, we would call each other and build up those relationships, and through talking that was where the makings of a deal started," Jocketty said. "You have to know about the guy you're dealing with, not just the players you're trying to deal for."
A relationship and the Cardinals' reputation helped them acquire Kile from Colorado in 1999. Kile had struggled in the Mile High City and become exhausted by pitching there. Through his agent, Kile sought a trade, and his agent was a friend of both O'Dowd and Jocketty. Kile requested a chance to be a Cardinal, and they worked out a trade that did land Colorado four players who reached the majors. Jose Jimenez saved 102 games for the Rockies. Five years later, O'Dowd was back on the phone with Jocketty, discussing a trade for Walker.
Colorado had trades in place to send Walker to Texas, Arizona, and a third team. The deal with Texas would have returned Ian Kinsler, a Mizzou alum who became a four-time All-Star. But Walker, a future Hall of Famer, used the leverage of his no-trade clause to get a deal to the Cardinals.
"He expressed a strong desire to go to St. Louis," O'Dowd said, "and that made sense because it was then and as we see now is still one of the most desirable places to play."
No return
Not one of the players the Cardinals sent to the Rockies in exchange for Walker ever appeared in a game for Colorado.
Chris Narveson actually returned to make his major-league debut with the Cardinals.
In December 2005, the Cardinals sent lefty Ray King to Colorado for outfielder Larry Bigbie and utility infielder Aaron Miles. Of the trio, Miles became essential — filling in for injured starters and batting .263 in 2006 for a World Series champ. He would be a starter for the Cardinals for three seasons, batting .289 in 402 games. Less successful was when the Cardinals signed Rockies' closer Greg Holland as a free agent a year after he led the league in saves for Colorado.
There have also been the failed attempts. At various times as the head of the Cardinals' baseball operations, Mozeliak has sought to acquire a bat from Colorado. He made several attempts to trade for Tulowitzki, a move the Rockies' ownership did not want to make. Mozeliak made overtures to trade for outfielders Gonzalez (multiple times), Dexter Fowler, and Charlie Blackmon. The Cardinals eventually signed Fowler as a free agent the same winter they talked to the Rockies about a deal for Blackmon. For more than a year, Mozeliak sought to trade for Holliday, and did so aggressively in the 2008-2009 offseason.
The Cardinals' offer included All-Star outfielder Ludwick, but Oakland's offer was mightier. A few months later, Mozeliak landed Holliday at the deadline from the A's, and one of the players sent west eventually found his way to Colorado. At Coors Field, Clayton Mortensen got traction in the majors.
Some of Jocketty's noteworthy moves in his early years at the helm of the Cardinals came from Oakland. That started with La Russa and continued with Todd Stottlemyre, Dennis Eckersley, and, in one of the biggest of them all, Mark McGwire. Jocketty had worked in Oakland. Trades have their roots in paths previously walked.
"Sometimes, there are certain clubs you can feel, like you know the clubhouse culture, and you know when it's good," Jocketty said. "And you'll acquire a player, maybe even one who has a reputation, but because you what it's like where they've been and you know the strong leaders or culture they're coming into, you have confidence how well it's going to work."
Cardinals chairman Bill DeWitt Jr. sure seems determined to win another ring before his team goes 10 seasons without one, after all.