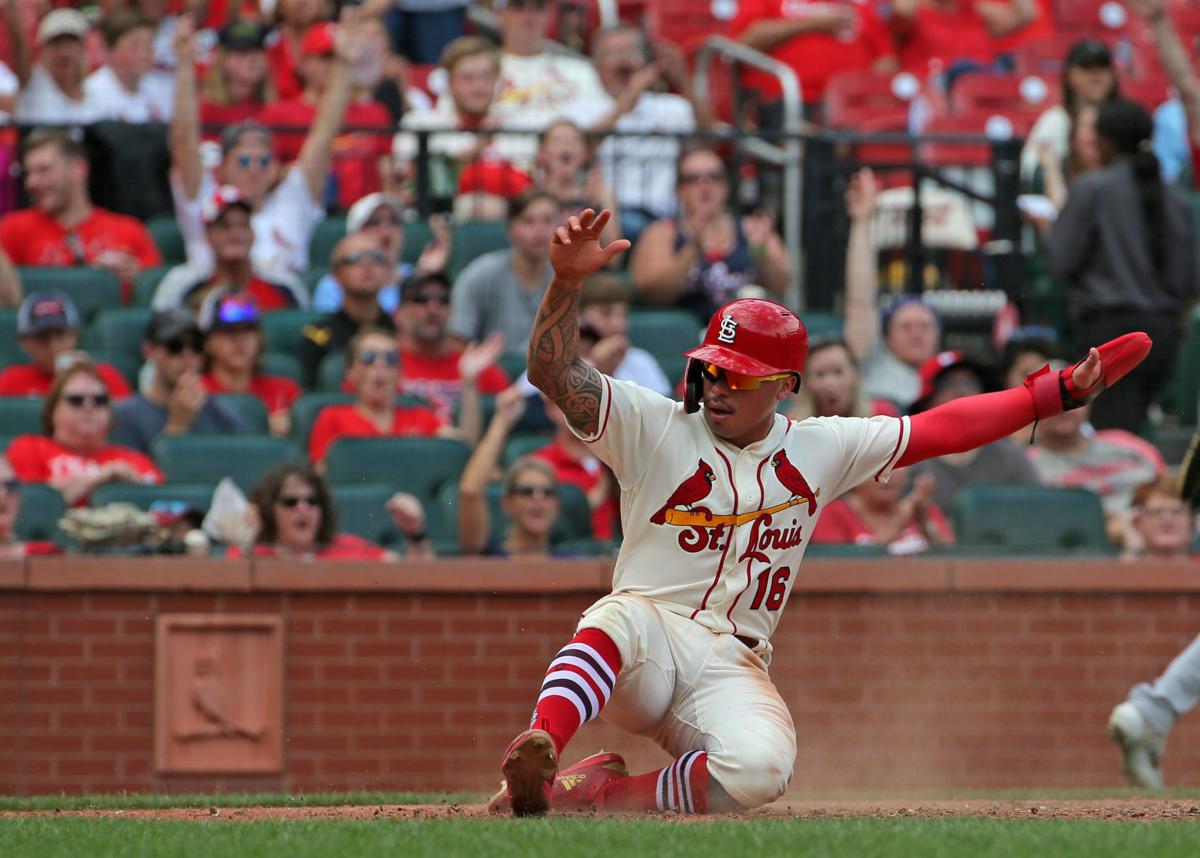 ARLINGTON, Texas — An early hint of the disquieting offseason and limited spending ahead for the Cardinals came Wednesday when they elected to move on from traits their organization has long cherished — homegrown player, superb defense, cost-conscious contract — for something they need now.
The Cardinals notified Kolten Wong, a Gold Glove-winning keystone of their infield, they would not pick up the $12.5 million option on his contract for 2021 and that he would immediately become a free agent.
The motivation behind the move was to "create instant flexibility," president of baseball operations John Mozeliak said, as they retool the team's roster and reduce payroll. Mozeliak called Wong personally Wednesday to notify him of the decision, explaining that the shortened season with its nonexistent ticket revenue forced the team to make some uncharacteristic cuts. Mozeliak said he and Wong agreed to keep "the door open" for a reunion depending on how the free-agent marketplace and hot stove season evolves in the coming months.
There are many unknowns, but the industry expects a frost on spending.
"Talking about the offseason — it's really difficult to plan when you have a lot of uncertainties," Mozeliak said in a Zoom conference call with local media. "Right now we don't know what our revenues are going to look like. We don't understand what attendance will look like next year. Candidly we don't even know exactly what rules might be next year. … This is about mitigating cost as best we can until we have a sense of where we're going."
Wong, who turned 30 this month, joins Adam Wainwright and Yadier Molina as longtime Cardinals who are now free agents. In an Instagram post, Wong thanked St. Louis "for an amazing 7 years!" and the fans for "welcoming me into this prestigious organization." For the first time in his career, Molina became a free agent shortly after the World Series ended Tuesday night.
Mozeliak said he intends to talk to the agents for Wainwright and Molina before the end of the weekend, when free agents can begin signing with other teams. Wainwright and Molina have both said, repeatedly, their preference is to return to the Cardinals. Molina, 38, seeks a two-year deal, and he is expected to entertain overtures from other teams, to see the value he has on the open market.
Major League Baseball commissioner Rob Manfred told Sportico this past week that he expects an operating loss of around $3 billion due to zero ticket sales for the regular season and a pandemic-shortened season. Mozeliak said the Cardinals' losses are more acute than other teams because they have long tethered their payroll to the revenue from surpassing 3.2 million in ticket sales. That number was zero, and the team has had several dozen layoffs throughout its business and baseball sides. Mozeliak said a mantra for baseball operations in 2021 will be "we're going to do more with less." The Cardinals do not yet know their budget for the 2021 season because they don't know if COVID-19 will release its grip on the country. So they are drafting various models based on no ticket sales, limited ticket sales, full houses, and even various lengths of seasons and, yes, no minor-league season at all.
Mozeliak said he's not sure yet if there will be a designated hitter in the NL or not, and whether he should construct a 26-man roster or a 28-man like they had this season.
All of these are possible.
Asked if all of those questions and the pruning of the roster might mean it's time for the team to step back from its "always contending" model and consider a rebuild, Mo said no.
"Boy, that's a tough message to somebody," Mozeliak said. "The answer would be no. I do think given where we are depending on how some of the things unfold this offseason might dictate whether we decide to chase something or not. We do have some flexibility coming off the books in 2022. So, again, not wedded to any one strategy at this point, but I still feel like this team can be good. But perhaps your question is 'good' good enough? I think in time we know."
At the same time the Cardinals were deciding not to exercise the option on their leadoff hitter and how, given the expected financial constraints, to improve their offense, front office officials watched former Cardinals prospect Randy Arozarena illuminate October. The Cardinals included Arozarena in a trade with Tampa Bay this past January that netted them top lefty prospect Matthew Liberatore. Arozarena returned from a COVID-19 infection to hit seven home runs for the Rays in September — and then went on a tear with a record 10 in the postseason. His solo homer Tuesday gave the Rays a 1-0 lead in Game 6 they'd squander, and his performance overall was a lesson Mozeliak said the Cardinals cannot dismiss.
"When you look at our offensive struggles, it's a fair question to ask, 'Well why him, and not someone else?'" Mozeliak said. "I'll own that. That's on me. I certainly have always said you have to know your own players better than players outside your organization because if you get that wrong you have a problem. That's why we will take that opportunity and revisit how we rank our own players and make sure we don't have something like this happen again."
Mozeliak used that declaration as a segue into a stump speech for hitting coach Jeff Albert and his return for the 2021 season. Albert has overseen the revamping of the Cardinals' infrastructure when it comes to hitting approach and instruction. The majors have not seen improvement in production during Albert's two seasons. They've been the lowest-slugging lineup in the playoffs the past two years, and they've had the least productive outfield in the majors. The potential of reduced spending while seeking increased performance is all "part of the challenge of the offseason," Mozeliak said.
Other topics he touched on:
• First baseman Paul Goldschmidt had surgery on his right elbow to remove a bone spur. Irritation in the area limited Goldschmidt's throwing during spring training, and he is recovering well, Mozeliak said.
• Lefty Ricardo Sanchez had Tommy John surgery to repair the left elbow that bothered him as the team returned from its August quarantine.
• Outfielder Lane Thomas was more limited by his bout with the coronavirus than initially recognized. He had difficulty breathing and had times he felt dizzy on the field, Mozeliak said, and that may explain the hesitancy in his play.
• With Wong's departure, Tommy Edman is currently the team's starter at second.
Drafted by the Cardinals 22nd overall in 2011, Wong debuted in 2013 and has been a fixture at second base for the past seven seasons. He saw the five-year, $25.5 million extension he signed in 2016 as a commitment from the team and a pledge from him to be the player the Cardinals envisioned. He became that. In the past four seasons, he hit .273 with a .356 on-base percentage. He ascended to leadoff hitter this season and is a finalist for his second consecutive Gold Glove Award, burnishing his reputation as the finest defensive player at his position.
Depending on the coming shifts of the marketplace and the projections for payroll, the Cardinals have not ruled out revisiting a multiyear contract with Wong, but they'll no longer be the only team he can talk to.
Add that to the long list of unknowns.
"As we sit here today, I know we'll have some changes," Mozeliak said. "There will be some decisions we have to make. Don't have a complete roadmap because again there is a lot of uncertainty in this offseason. It's hard to lay out a strategy when there are a lot of question marks that still don't have answers."
Keep up with the latest Cardinals coverage from our award-winning team of reporters and columnists.