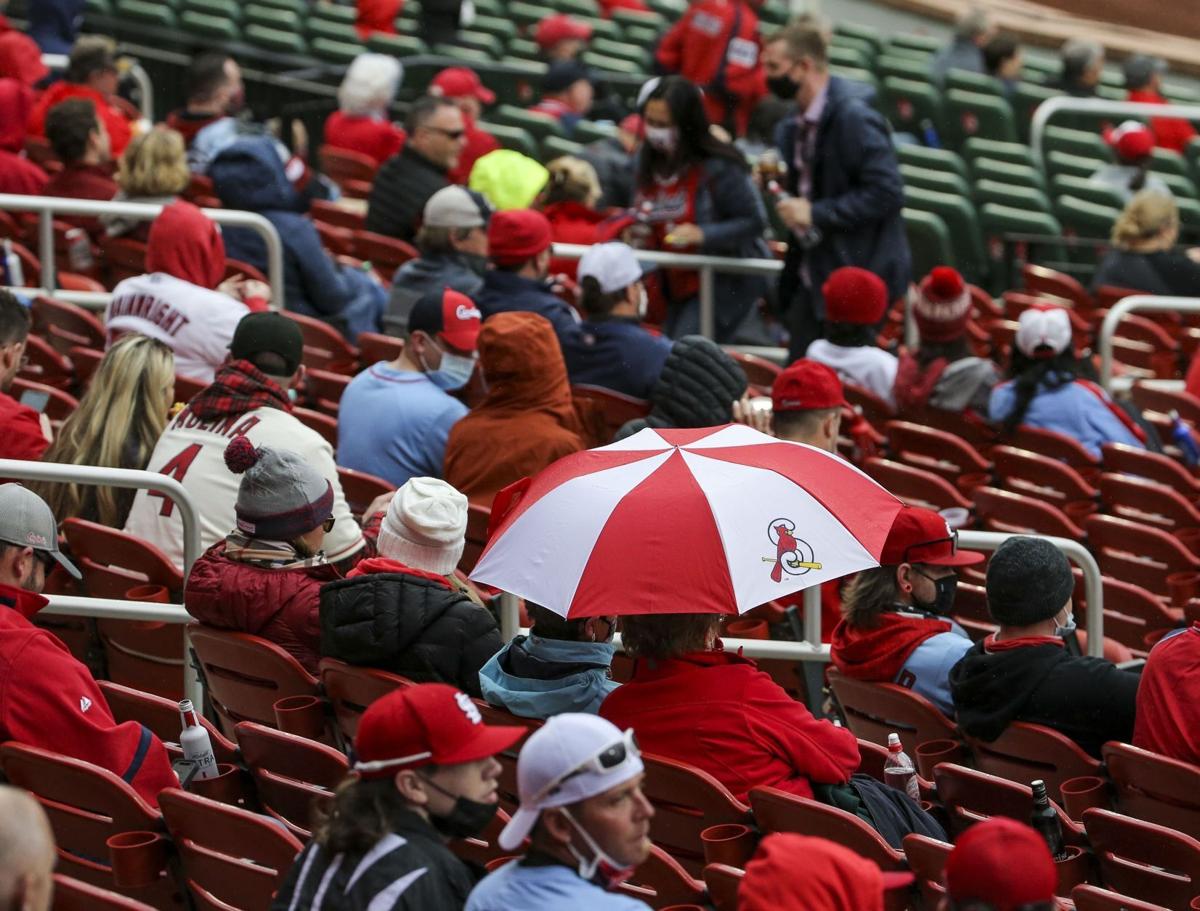 MILWAUKEE — The Cardinals won't have their usual 48,000 or so capacity crowds for their weekend series with the Chicago Cubs at Busch Stadium on May 21-23 but they will have a new capacity.
The Cardinals got word Tuesday night that they had received approval from the City of St. Louis and the Health Department to increase capacity at Busch Stadium to approximately double what it had been in time for the Cubs series. Capacity was in the 14,400 range previously, based on 32 percent capacity and club president Bill DeWitt III said that could mean close to 30,000 capacity for the weekend Cubs series, "depending on final seating manifests still being developed."
"It is very good news," said DeWitt, who said he was holding out hope that by sometime in mid-June, the Cardinals might have a chance to have a full ballpark. But, on that score, he said, "I don't want to presume too much. We'll take it as it goes."
Seating pods will be spaced a minimum of three feet apart in all directions at the stadium. Additional tickets for the Cubs' series are on sale at cardinals.com or via phone at 314-345-9000, with tickets starting as low as $20.
The Cardinals also are partnering with the City of St. Louis to host a COVID-19 vaccination event inside the Cardinals Club at Busch Stadium on Wednesday and Thursday from 9 a.m. to 4 p.m. and Friday from 9 a.m. to 1 p.m.
Each individual who receives a vaccine will be eligible for a voucher good for two free tickets to a 2021 Cardinals game. Free parking will be offered in the Starr Lot located directly across the street from Gate 2, on the southwest side of Busch Stadium. Pfizer and Johnson & Johnson vaccines will be available.
Individuals are asked to register in advance for the event at https://form.jotform.com/211295106818152 (link accessible via St. Louis Department of Health's social media accounts @CityofSTLDOH). Persons must enter through Gate 2.
"We're very excited about it," said DeWitt. "Mayor (Tishaura) Jones' biggest priority is to get everybody vaccinated and that bodes well for all those future issues."
Carlos Martinez's sprained right ankle is not a bad injury, just an unusual one, Cardinals manager Mike Shildt said Tuesday. And, so young righthander Johan Oviedo will take Martinez's slated start in San Diego Friday night with Martinez having been placed on the 10-day injured list by the Cardinals.
That could lead to another, depending on how Oviedo does and how veteran Miles Mikolas is doing on his rehab option at Memphis, an option which took Mikolas to Nashville, Tennessee, for his second minor league start Tuesday as he recovers from a shoulder problem.
Shildt, addressing Martinez's injury which occurred when Martinez slipped down the dugout steps Friday after congratulating fellow pitcher Jack Flaherty on the latter's first homer, said, "It's not severe but it's just not in a great place."
Shildt said Martinez came out of Saturday's game "feeling no worse for the wear. The next day he was really optimistic about moving forward but then as the medical team began looking at it a little, they realized where the sprain is is in a spot where less than five percent of sprains are.
"They're worried about continued stress on it, exacerbating it and causing something that could move on for a prolonged period of time," Shildt said. .
"We're doing the prudent thing. I don't think it's a long-term issue but it is something they want to get behind him, so he won't be active for at least 10 days and we'll evaluate it at that point. We have a good replacement in Mr. Oviedo."
Oviedo, 0-1, with a 4.61 earned run average, for the Cardinals this season, worked 2 2/3 innings on Sunday at Memphis before coming out of the game after just 48 pitches, in case he was needed this weekend.
Mikolas allows three runs but fans five, walks none 
Mikolas worked four innings in an 18-6 romp over Nashville as Max Moroff homered twice and drove in five runs with four hits (he's hitting .542).
Scott Hurst had a home run and drove in four and Jose Rondon had a home run and drove in three, giving the iinfielder 12 RBIs in seven games.
Philadelphia catcher J.T. Realmuto homered off Kodi Whitley in the seventh inning on April 16 in Philadelphia. No one has homered since off the Cardinals' bullpen, covering 22 games, 21 by the bullpen, with Adam Wainwright's complete game factored in
According to the Elias Sports Bureau, this is the longest such streak by a bullpen since the 2018 Seattle Mariners went 27 games in succession without surrendering a home run. This is the longest streak by a Cardinals bullpen since 1990 when that 90-loss, last-place team went 23 consecutive games from July 5-31 without allowing a home run before another Phillies catcher, Darren Daulton, homered off Scott Terry on Aug. 1.
Shildt said the streak the Cardinals' relievers had put together was "significant. They've got a clear plan of what they're doing and how they're doing it and they're really aggressive looking to execute it. Guys with good stuff, good plans and good executions means good results."