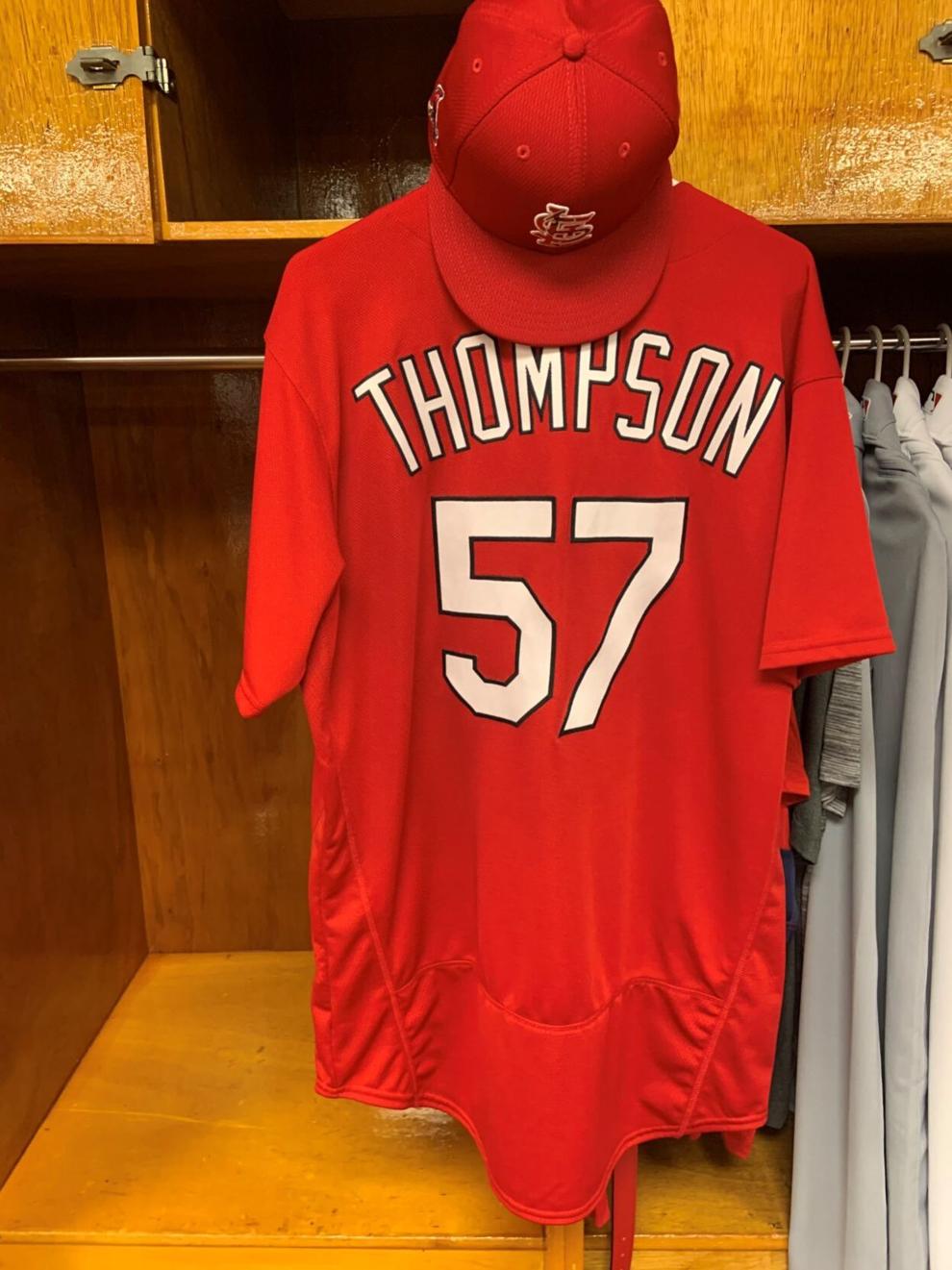 JUPITER, Fla. – The number, heavy with history, was hung with care and purpose at prospect Zack Thompson's locker this week.
When the Cardinals decided the time was right to stitch it onto a red jersey again, they wanted to choose someone right to carry its weight back up the mound for the first time in nearly two decades.
No. 57 has not taken the field since Darryl Kile wore it.
"The significance of what Darryl Kile means to this organization is still very real," said John Mozeliak, president of baseball operations. "To me, it's almost full circle. I think it's nice that it doesn't lay in this awkward spot of not used, not retired, and when people get to wear that now they'll get to reflect on the legacy of Darryl Kile, who he was. I actually think this is a special moment, and that it's going to be a perpetual moment."
The No. 57 has not been worn by a Cardinal since June 22, 2002, when the jersey hung in Kile's locker at Wrigley Field waiting for the righthander who never arrived.
At 33, Kile died in his hotel room hours before the Cardinals were supposed to face the Cubs. His last game, his last win, had been against the Angels four days earlier, the day Jack Buck died. The sudden, shattering tragedy seized the team. Catcher Mike Matheny, sitting in the trainer's room when he learned of Kile's passing, pulled the stem out of his watch, freezing the date and time forever on a gift Kile gave him. The next day, two of Kile's jerseys hung in the team's dugout; Matt Morris carried one to the All-Star Game. The Cardinals won 57 games after June 22, clinched the division title, and during the celebration Albert Pujols held aloft Kile's 57 jersey.
When the Cardinals moved to Busch Stadium III, the 57 memorial for Kile came with them, and long after all his teammates have left the number remained unworn.
The Cardinals have 13 numbers — including No. 85 and Jackie Robinson's No. 42 — officially retired. Nos. 4, 5, and 50 for Yadier Molina, Pujols, and Adam Wainwright, respectively, may not be stitched again. Through the years, several numbers have been informally removed from use, including Willie McGee's 51 along with 57 and 32. The latter numbers were worn by Kile and Josh Hancock, two Cardinals who died during a season. After his death in 2014, Oscar Taveras' No. 18 was adopted by his close friend Carlos Martinez, and No. 32 returned to the clubhouse in 2013, later worn by Jack Flaherty.
Still, 57 waited for new shoulders.
This offseason, as the Cardinals considered a number crunch, Mozeliak, manager Mike Shildt, and head clubhouse manager Mark Walsh discussed bringing 57 back, and who to do it.
"Who would wear it with great pride," Mozeliak said.
Walsh texted Thompson that he had a new number for this season, already assigned, and that he would explain once the lefthander got to Jupiter, Florida.
Thompson, 23, dove into a Google search.
"OK, what's the importance of 57 to the Cardinals," Thompson recalled wondering. "I was kind of surprised they give that number out, that it wouldn't stay retired, unofficially. But …"
"If they want me to represent that number," he said. "I'll respect it and try."
An Indiana native and Kentucky ace who the Cardinals drafted 19th overall in 2019, Thompson has already made a strong impression on the club — despite so few innings pitched. He has done so with his work and how eager he's been to seek insight from veterans, coaches, anyone. Thompson has thrown 15 1/3 innings for the Cardinals since the draft, not including a cameo last year in the Grapefruit League. His outings were strictly limited in his first pro summer, and this past year, with no minor-league games, he was invited to the alternate-site camp. Again, his innings were managed to protect his health.
Not since the end of his college career has he pitched without limitations, but what he lost in physical experience he sought in mental preparation.
"I lost a little bit of strength, lost a little bit of weight," Thompson said about this past summer. "But I got to spend every single day with guys like Jose Oquendo and (pitching coordinator) Tim Leveque. So maybe I lost a little bit in strength and velocity, but I learned and I gained a lot on the game side."
At 6-foot-2, Thompson has the build of a starter, a polish beyond his years, and the stuff to move swiftly toward the majors, like Michael Wacha and Marco Gonzales did before him. The Cardinals have not set where he will start the season, but officials believe he could end it in St. Louis, wearing No. 57. The lefty joked this past week that it has been so long since he stared down a batter that he's "going to be mean when I get on the mound."
During a workout Wednesday, he told a coach it was the first time this offseason he had thrown without a sweatshirt. Surrounded by coaches and trainers in masks and keeping their distance, Thompson looked at catcher Andrew Knizner and found 60 feet, 6 inches of normalcy.
"It felt like home," he said.
As promised, Walsh talked with Thompson on Thursday about the number, told him about Kile as a great friend to many people. When Kile arrived via trade from Colorado, he became a presence in the Cardinals' clubhouse, "the first mentor to young pitchers," Mozeliak described. The cohesiveness and "team within a team" concept that defines the Cardinals' rotation, as led now by Wainwright, traces back to Kile. He mentored Morris, who meant a lot to Chris Carpenter, who inspired Wainwright, the modern and lasting standard for Cardinals leadership. Kile "created a chain of events that has different pitchers following similar footsteps," said Mozeliak.
Thompson's next steps are another bullpen session Friday. Mozeliak said he hopes to see a lot of Thompson and prospect Matthew Liberatore this spring as they are measured for an eventual appearance in the majors.
Thompson has now worn the number that awaits him.
The one the Cardinals say fits him.
"It felt," he said, "like an honor."