His team had lost six of seven games, and eight of 10, and had been shut out four times in that span. So, Cardinals right-hander Miles Mikolas decided it was time for action
At mid-morning Sunday, Mikolas was in the empty Cardinals dugout near the bat rack, burning some incense, as he has been known to do once in a while.
"Fresh start, you know," Mikolas said before the game with the Philadelphia Phillies. "Get the evil spirits out. New beginnings. Try to mix it up."
Mikolas said he felt "100% better" after his burn party, although the aroma went farther than he thought. "The air current in the clubhouse kind of sucked it up," he said.
"It was done for the aura of things, in general."
As mentioned, things generally had been pretty bad lately for the Cardinals.
But they had a blast from the past with Albert Pujols singling twice and homering, the extra-base hit tying him with Cardinals legend Stan Musial for third place on the big-league career list (1,377). Pujols even ran the bases with selected abandon.
There were some lesser blasts from Tommy Edman and Edmundo Sosa, who had been a collective one for 45, but who were instrumental in delivering the game-winning run in the eighth inning of a 4-3 win. It came after Edman, who had been one for 24, doubled to set up the tying run in the inning before.
And there was a minor medical miracle. Dylan Carlson, who was a late scratch because of soreness in the inside of his right knee after he had banged into the center-field wall making a highlight-reel play the day before, entered the game as a pinch-runner for Pujols in the eighth. He scored the winning run, on Edman's fly ball to medium center field.
Newly minted All-Star Ryan Helsley closed out the win with a perfect ninth and Cardinals president of baseball operations John Mozeliak said, as he left Busch Stadium, "We needed that one."
Did the Cardinals ever need it.
They had lost the first two games to the Phillies although holding them to three runs. Three beats zero every time, though.
Manager Oliver Marmol, in making out his lineup, was looking for a little juice against what portended to be a collection of Phillies relievers, so he elected Pujols to start.
"I was sitting up late last night," said Marmol, "and some stability from somebody that's been there before ... can play in that lineup."
The home run was No. 684 for Pujols.
"It's special to be competing against him," said 25-year-old Phillies center fielder Matt Vierling, who went to high school at CBC. "I grew up watching him.
With the score knotted at 3-3, Pujols singled to left off a right-hander, Seranthony Dominguez, in the eighth. Sosa, who had been hitless in 21 at-bats, singled hard to left. Pinch-runner Carlson, who had approached Marmol before the inning and said he was ready to do whatever was needed, stopped at second.
Paul Goldschmidt, hitting for catcher Austin Romine, who had singled and scored in the seventh, walked on four pitches. That brought up the switch-hitting Edman, who had had been having a terrible time lately while batting lefthanded.
But, after doubling hard to right field off right-hander Matt Bellatti in the seventh, Edman lifted a fly ball to Vierling in center. The rejuvenated Carlson streaked toward home but was called out by umpire Todd Tichenor after catcher J.T. Realmuto had taken Vierling's on-the-fly throw.
The Cardinals challenged the ruling and most in the paid crowd of 36,112 roared when they saw on replay that Carlson had affixed his hand to the plate ahead of Realmuto's tag. Vierling knew, too.
"I saw it on the screen," he said. "(Carlson) just beat it. Snuck his hand in there."
Carlson said, "I thought I was safe right away. But I think I'm in there every time. Luckily, we have replay."
Edman said he had had been working on some "mechanical flaws" in the batting cage lately, trying to limit the number of roll-over ground balls he had been hitting to the right side.
"For me to hit a line drive (on the double) was a big plus for me," he said.
"Early in the game, I had an at-bat where I had the chance to drive in some runs and didn't do it."
Marmol used all three of his available bench players in the eighth and ninth, so extra innings might have been troublesome.
"We were playing for the win there," he said.
Speaking of wins, the victory went to Jordan Hicks, who pitched on back-to-back days for the first time this season as he sped through a spotless eighth and would have pitched the ninth if the game had remained tied.
Starter Andre Pallante induced 11 ground-ball outs in 5 2/3 innings although allowing nine hits, one of them Kyle Schwarber's National League-leading 28th homer. It sailed into the center-field green at 113.7 miles an hour off the bat.
Pallante, who walked only one, called his day "serviceable.
"Three runs in less than six (innings) is not what I'm trying to do and not the expectations this team has for anyone who starts. I still make a lot of mistakes," he said.
The Cardinals probably should have been able to forge ahead earlier than they did. In the second and third, they had the bases loaded with one out in each inning and didn't cash either time.
"We've got to be able to drive those runs in," Marmol said. "If you're going to accomplish what we've were setting out to accomplish, you break that game open in both situations."
The third ended on Pujols' only misstep of the day as he grounded into his 420th career double play, extending his own big-league record. But, in the second he had displayed his old derring-do on the bases, rounding second after a hit by Lars Nootbaar and, with Phils third baseman Alec Bohn not at the bag, arrived safely as the outfield throw came to third anyway in the general direction of third-base coach "Pop" Warner.
"His mind is just different. Seriously," said an admiring Nootbaar. "In every facet, his brain is just always working."
The ball rolled away and Pujols said the old Prince Albert might have tried to score on the play.
"Back in the day, I would have gotten thrown out at the plate," said Pujols, laughing. "I would have kept going. But I shut it down."
The Cardinals, as Edman put it, "showed some resolve" in scoring a run in each of the sixth, seventh and eighth innings. On Monday night, they will send out Mikolas trying to gain a series split and draw even in the series with potential wild-card contender Philadelphia. A loss would leave them two games behind the Phillies.
The Cardinals hope the "aura" still is there.
Career leaders for extra-base hits
| Rank | Player | Extra-base hits |
| --- | --- | --- |
| 1 | Henry Aaron | 1477 |
| 2 | Barry Bonds | 1440 |
| 3 | Stan Musial | 1377 |
| 4 | Albert Pujols | 1377 |
| 5 | Babe Ruth | 1356 |
Photos: Cardinals 4, Phillies 3
Cardinals 4, Phillies 3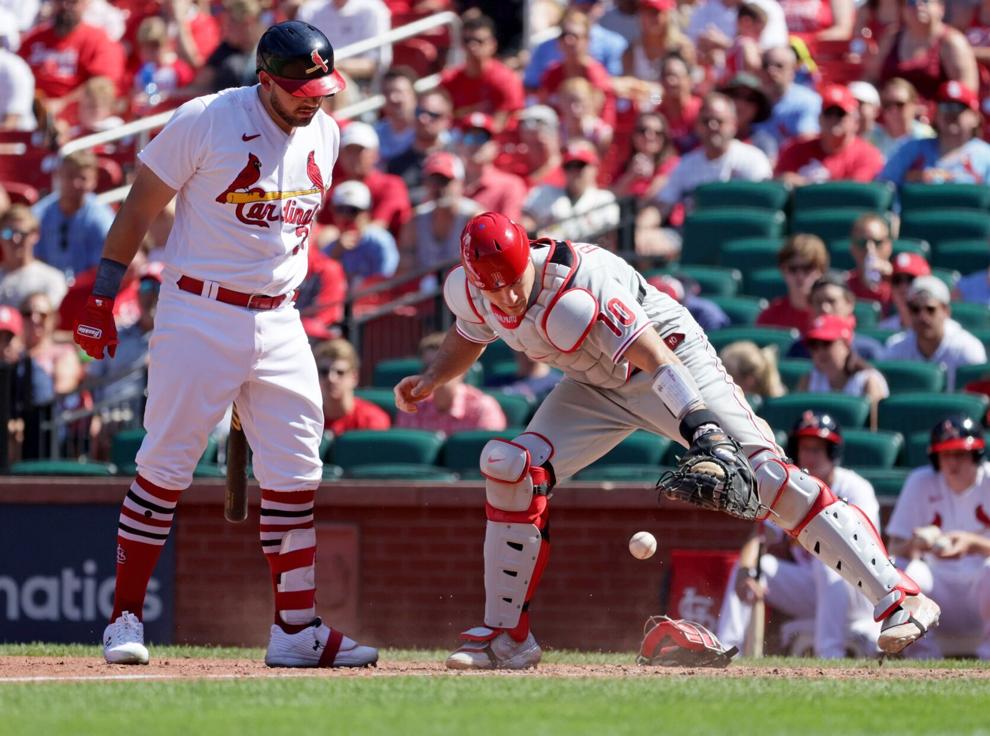 Cardinals 4, Phillies 3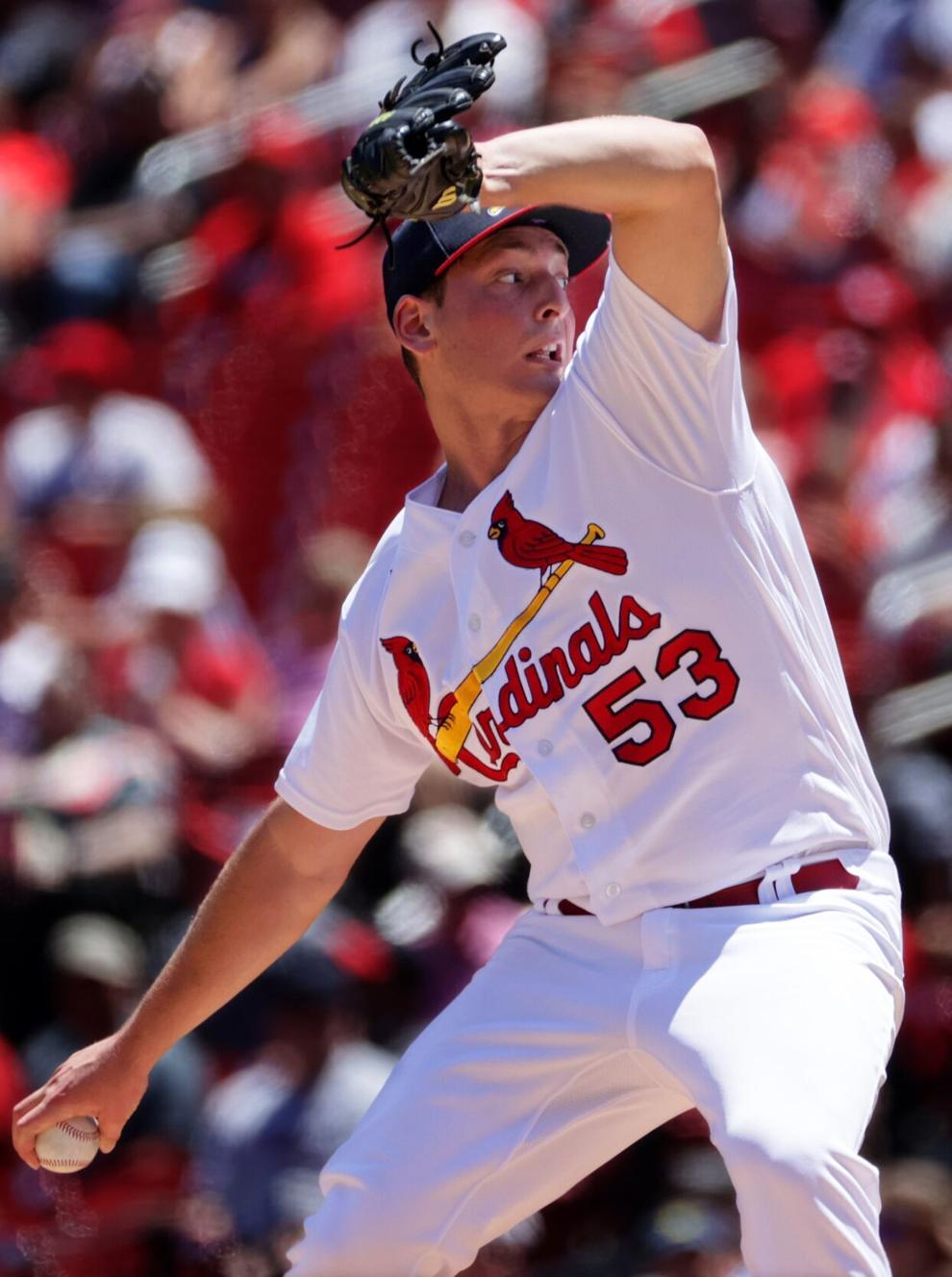 Cardinals 4, Phillies 3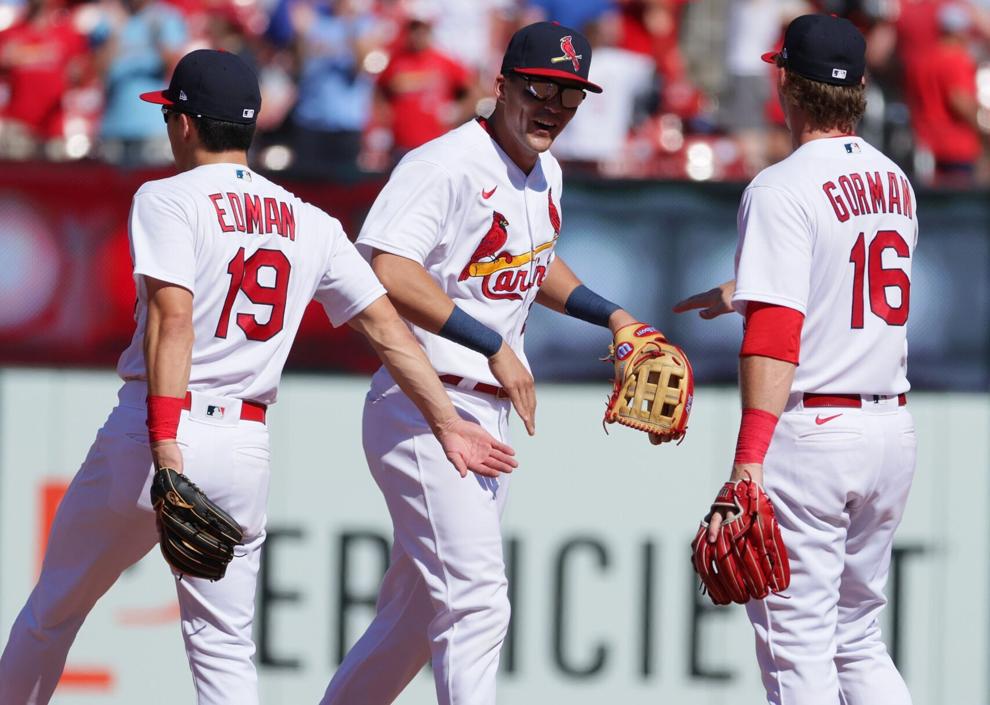 Cardinals 4, Phillies 3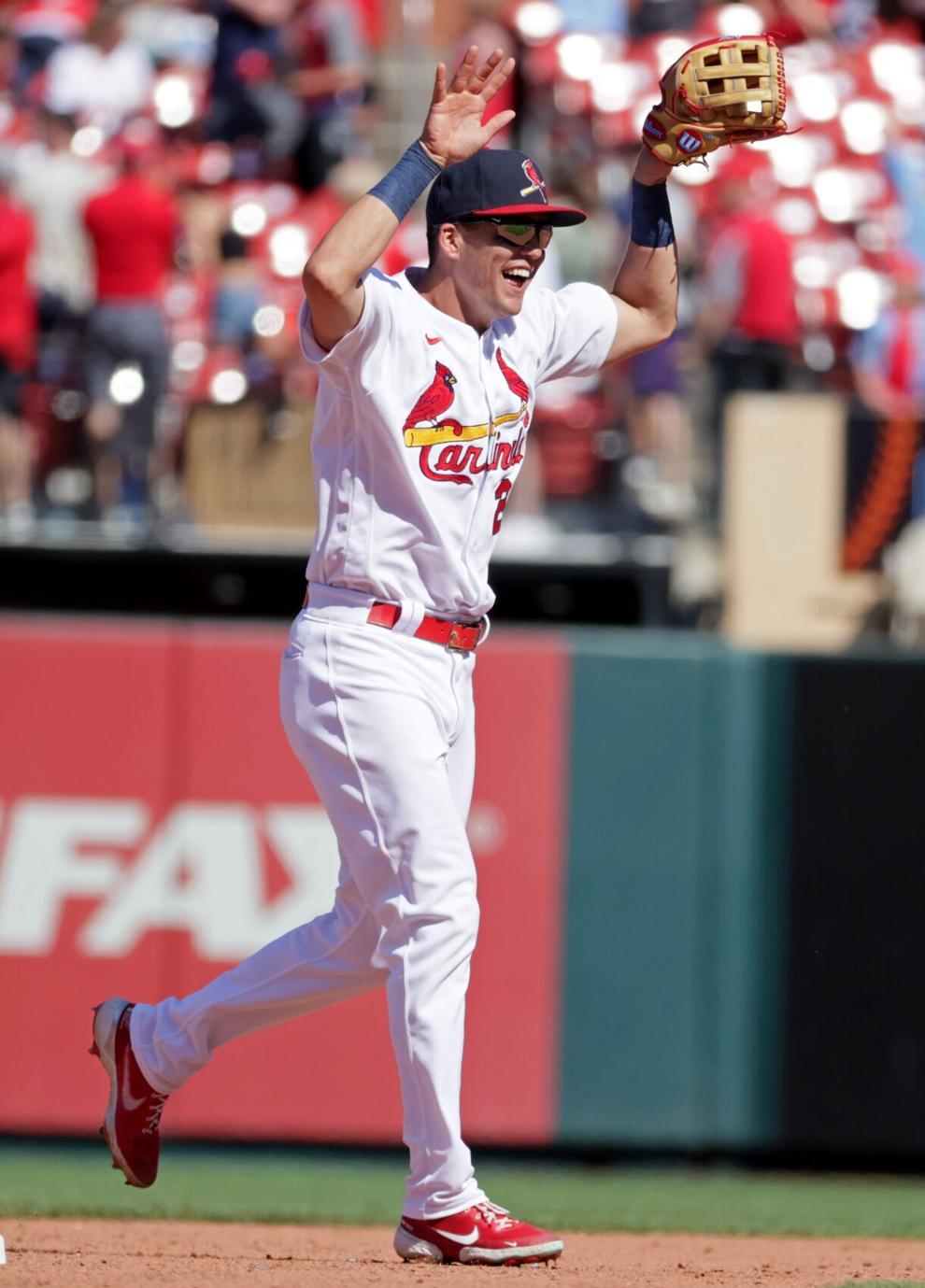 Cardinals 4, Phillies 3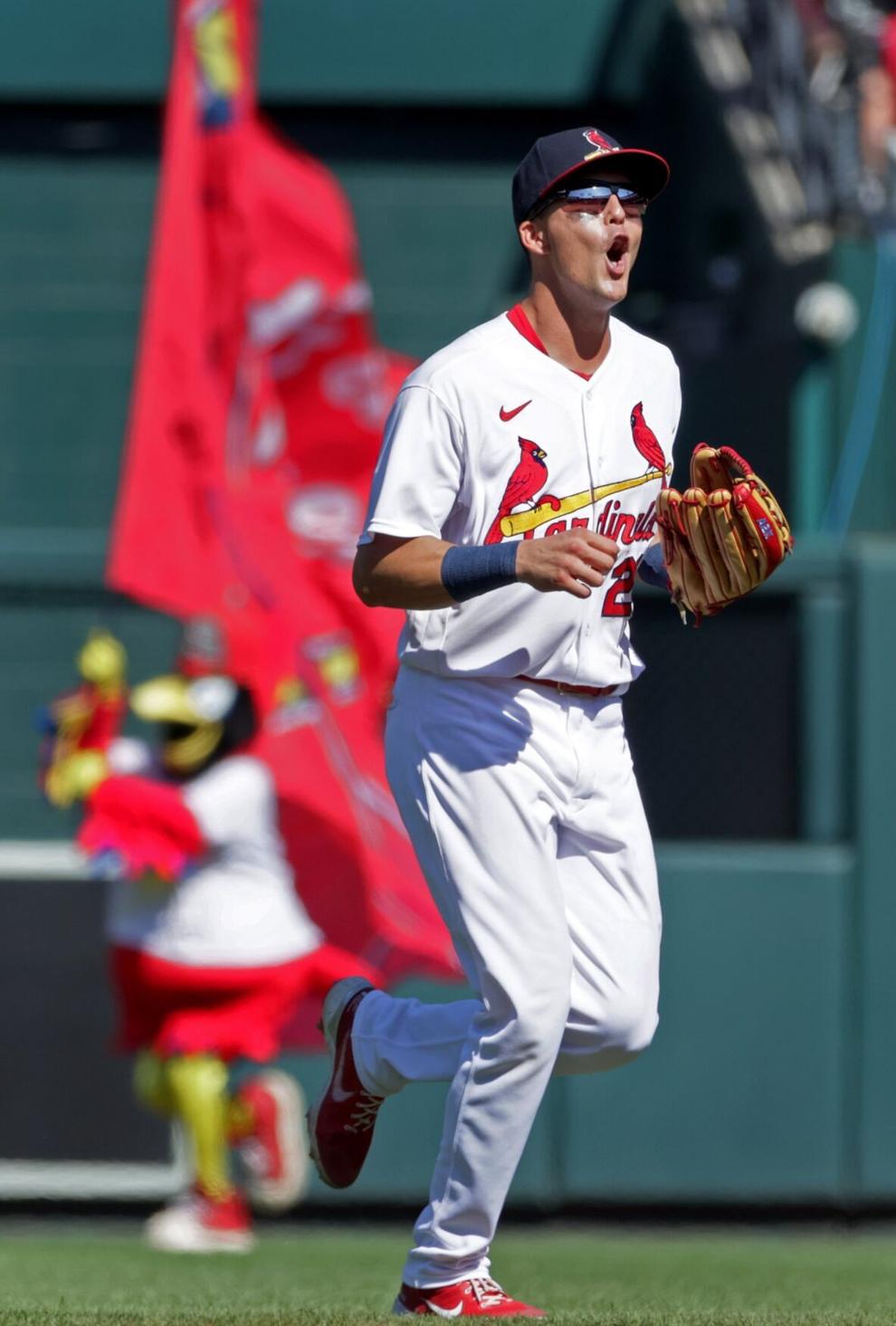 Cardinals 4, Phillies 3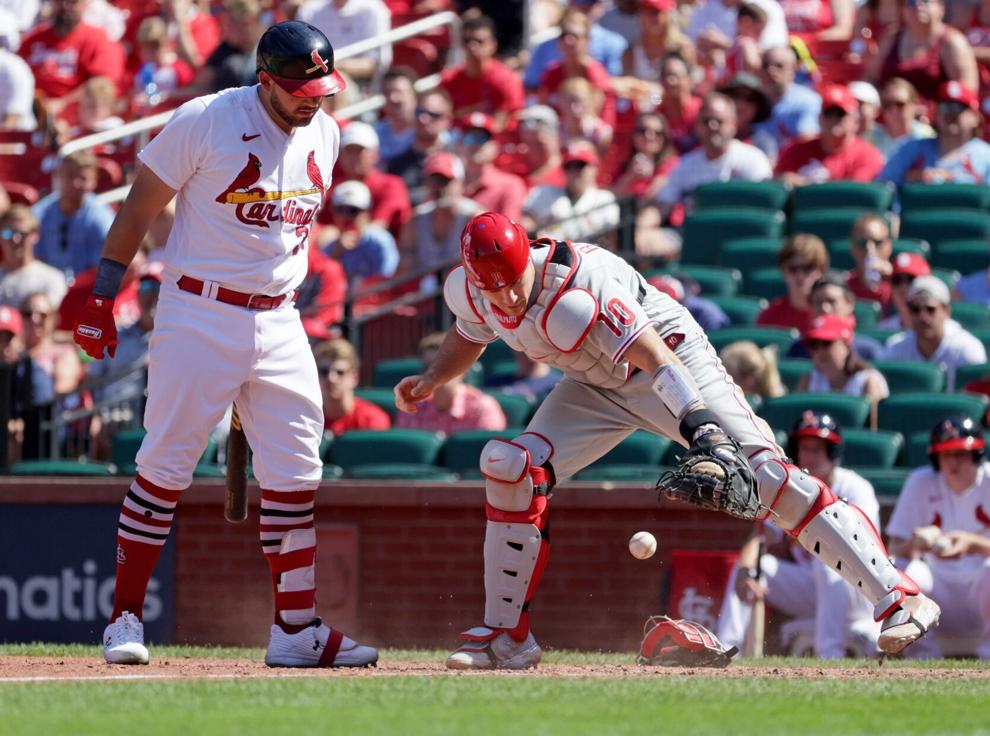 Cardinals 4, Phillies 3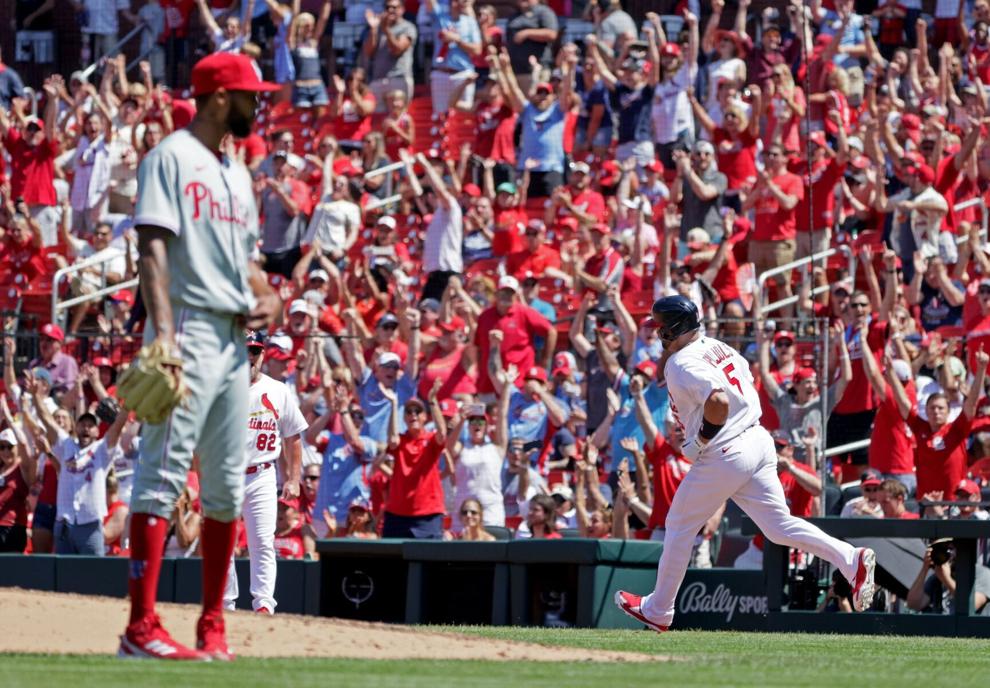 Cardinals 4, Phillies 3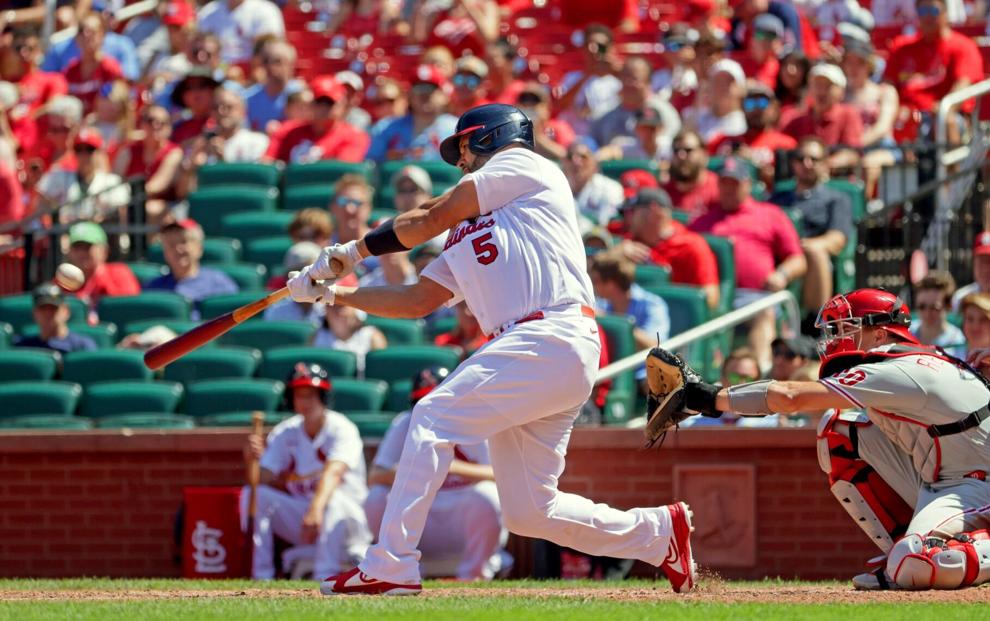 Cardinals 4, Phillies 3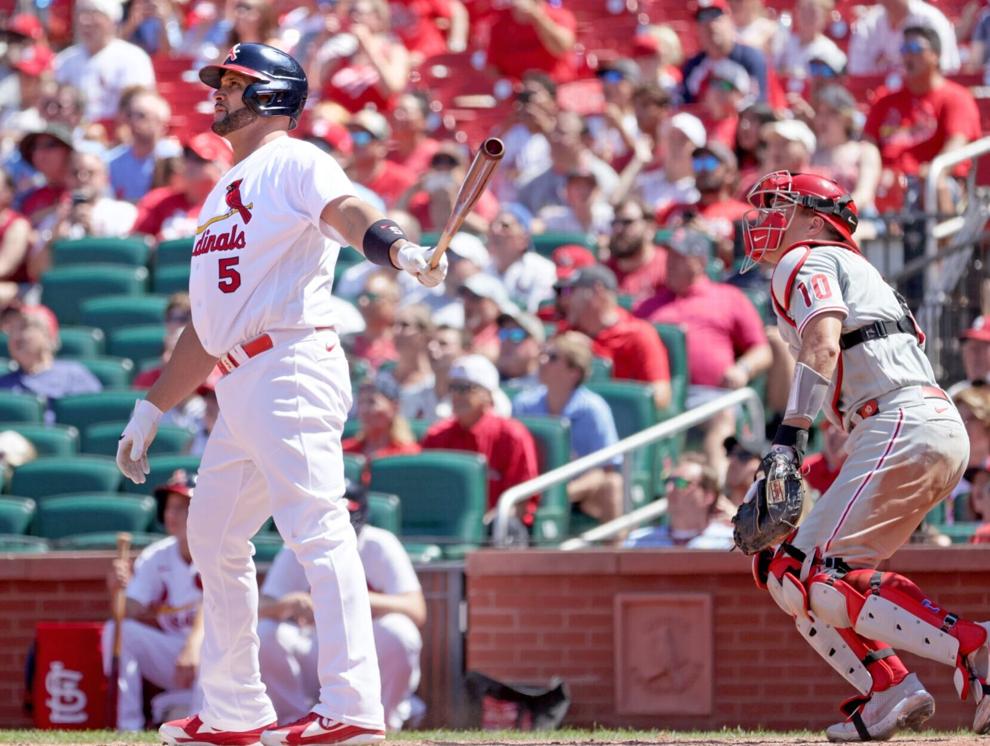 Cardinals host Phillies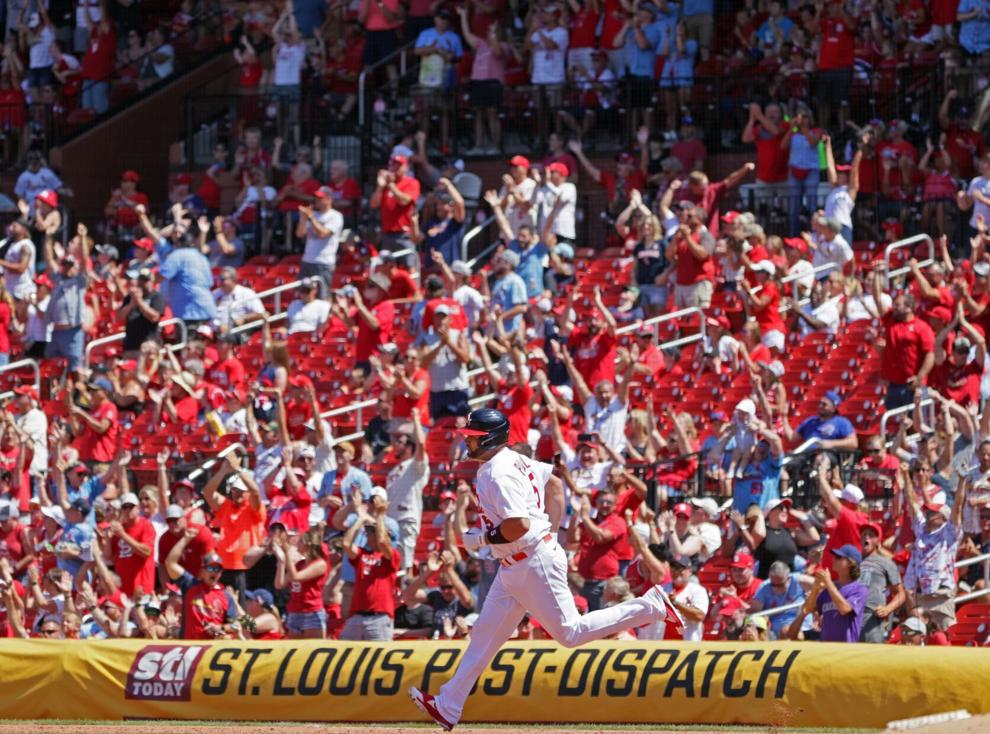 Cardinals host Phillies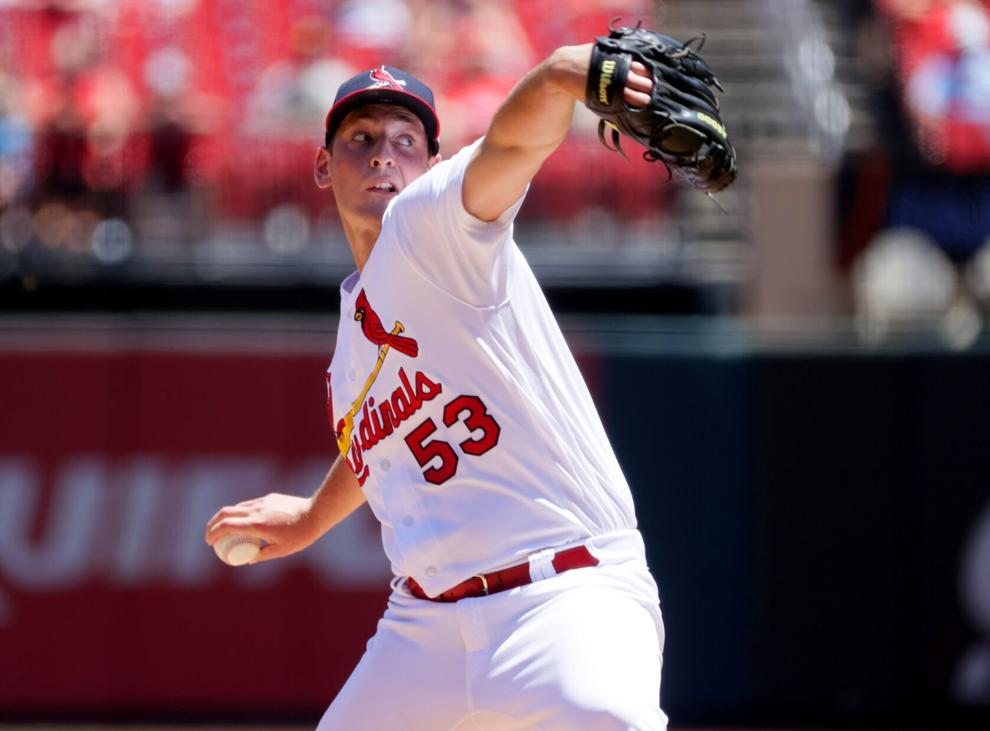 Cardinals host Phillies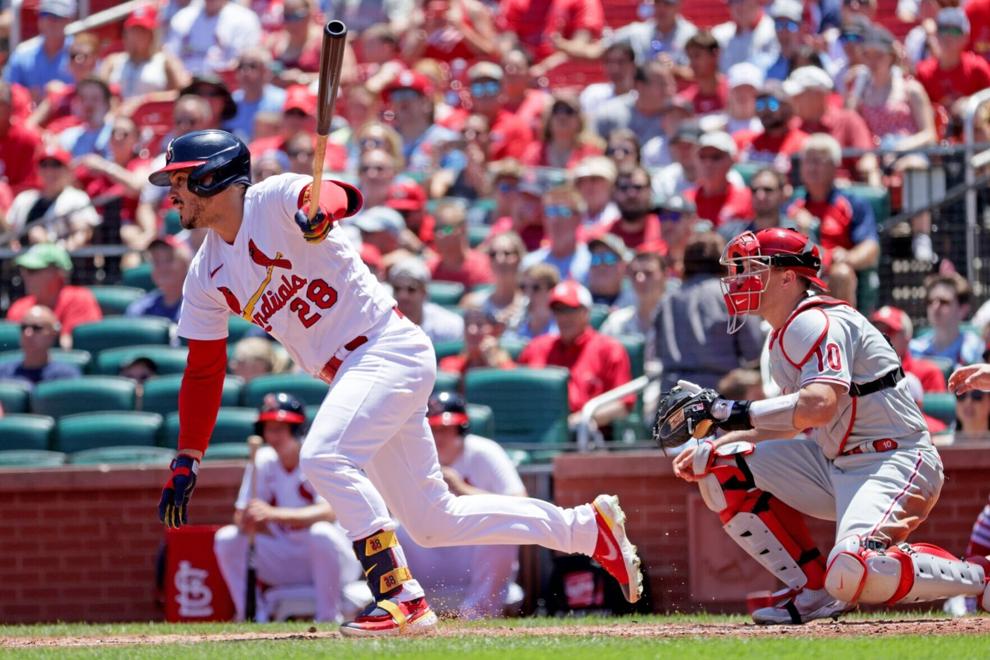 Cardinals host Phillies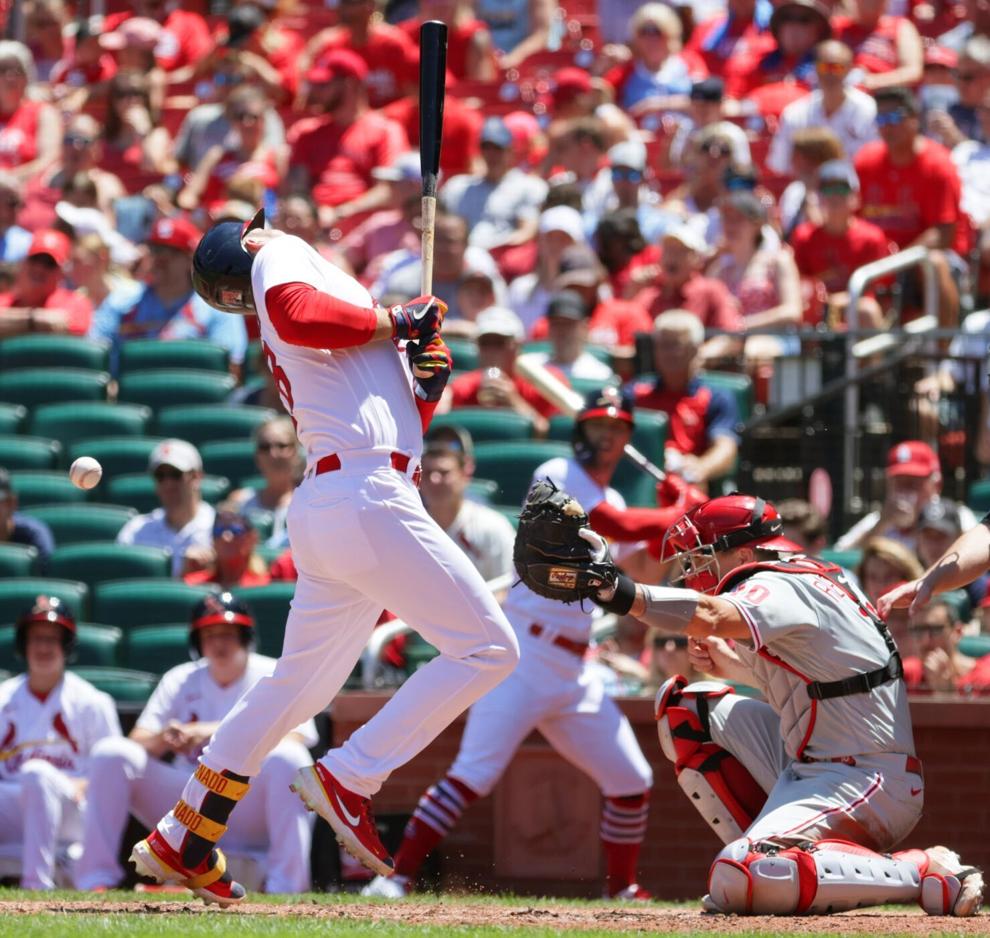 Cardinals host Phillies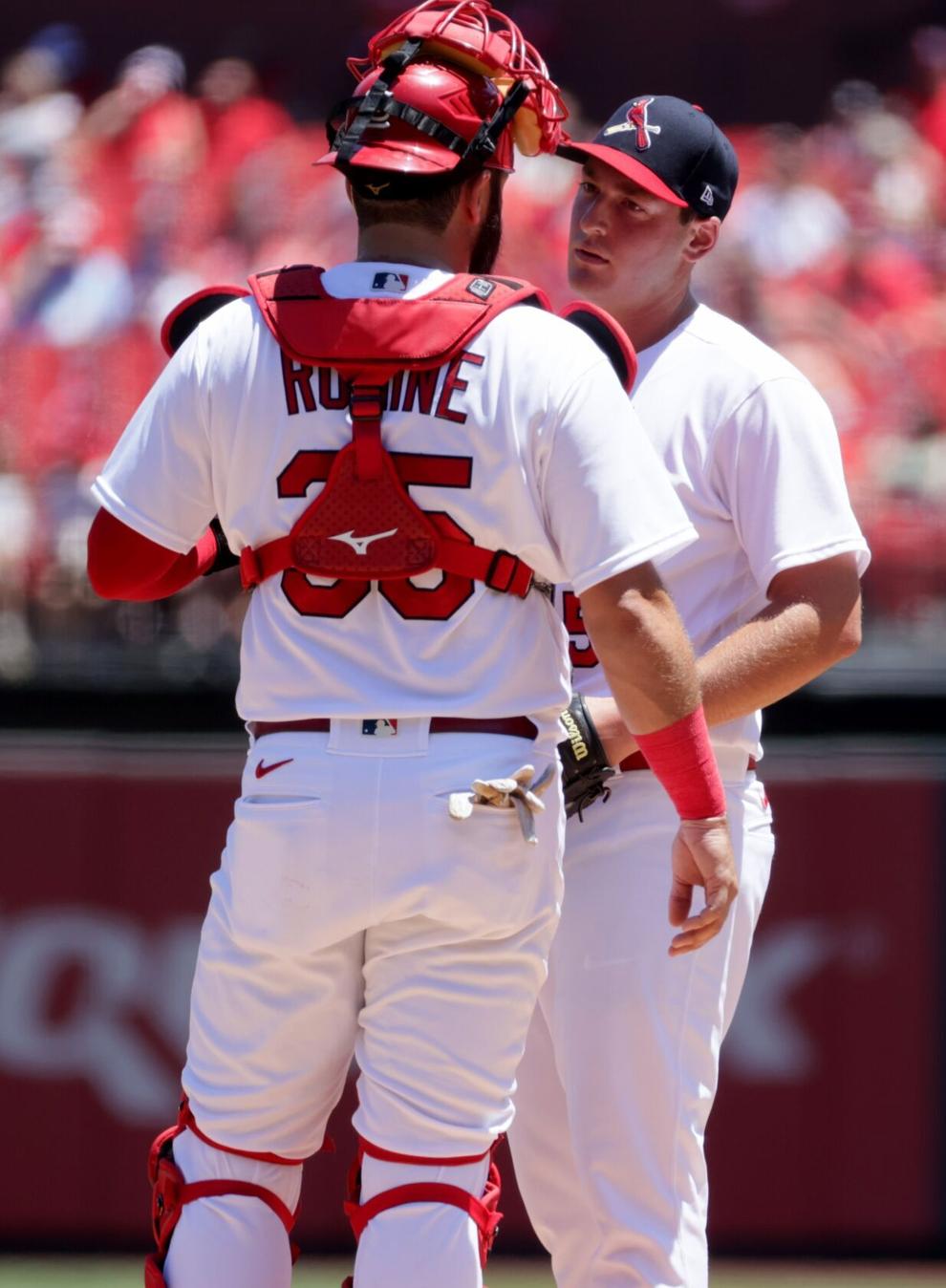 Cardinals host Phillies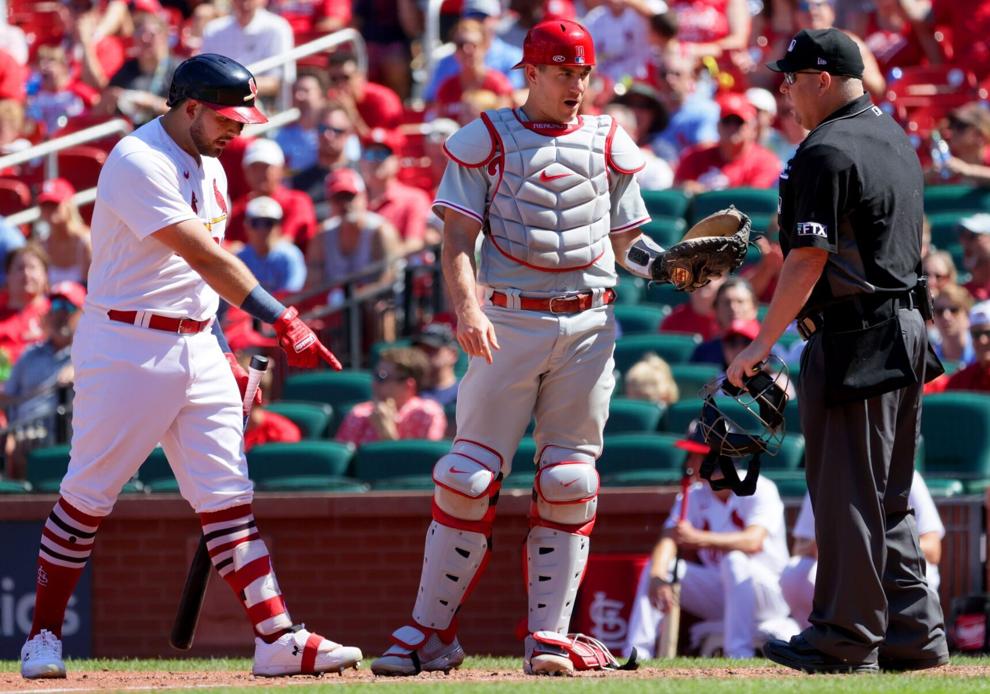 Cardinals host Phillies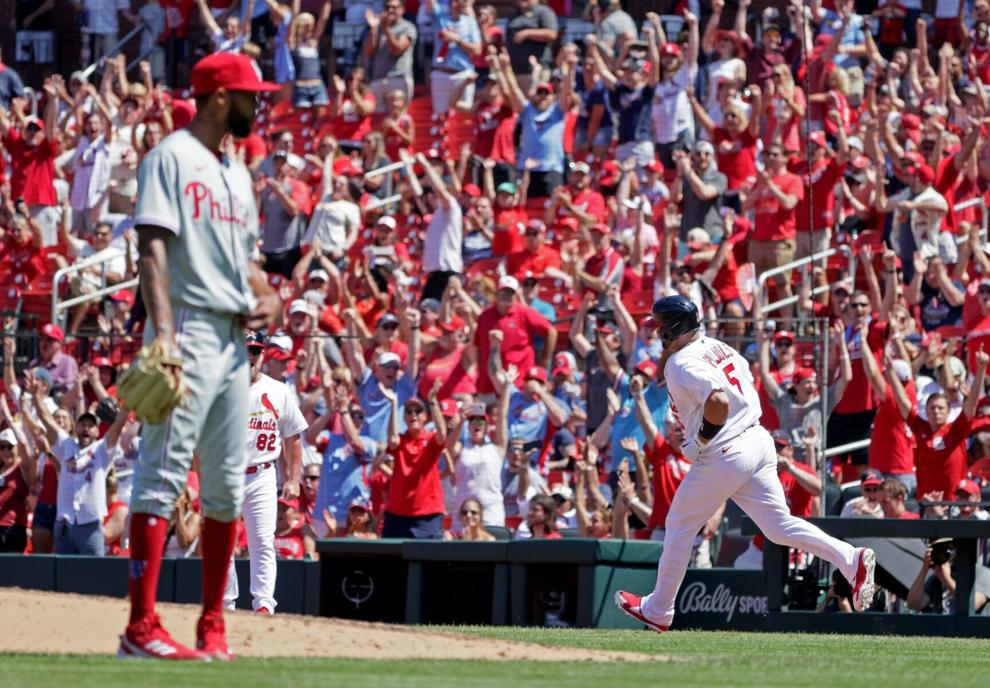 Cardinals host Phillies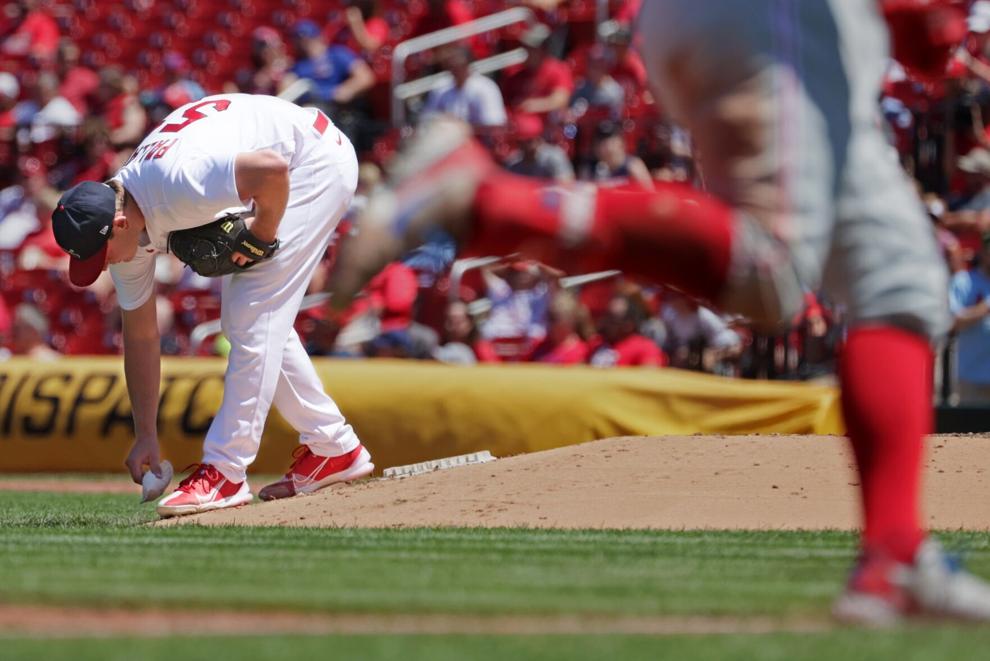 Cardinals host Phillies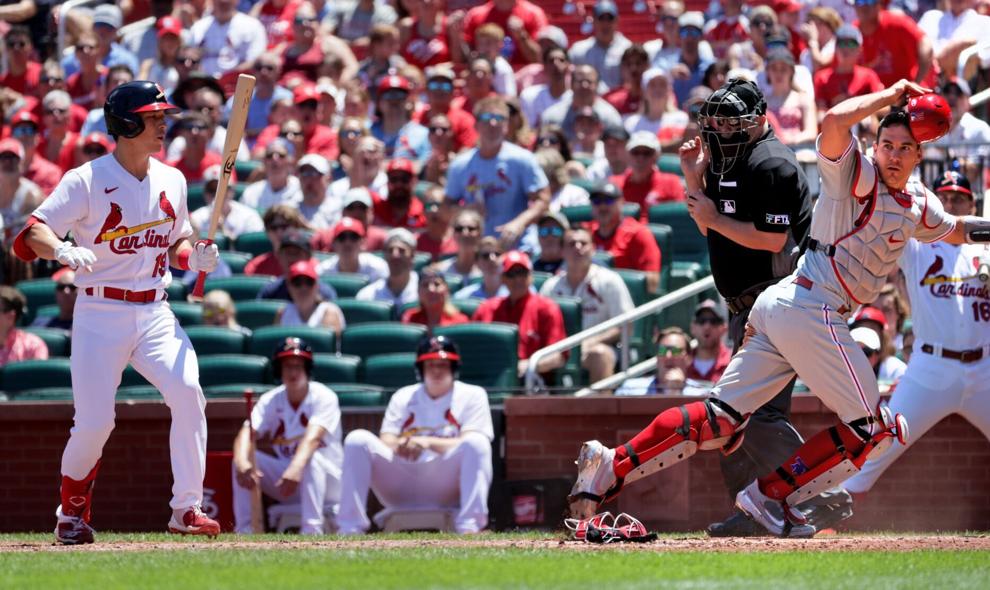 Cardinals host Phillies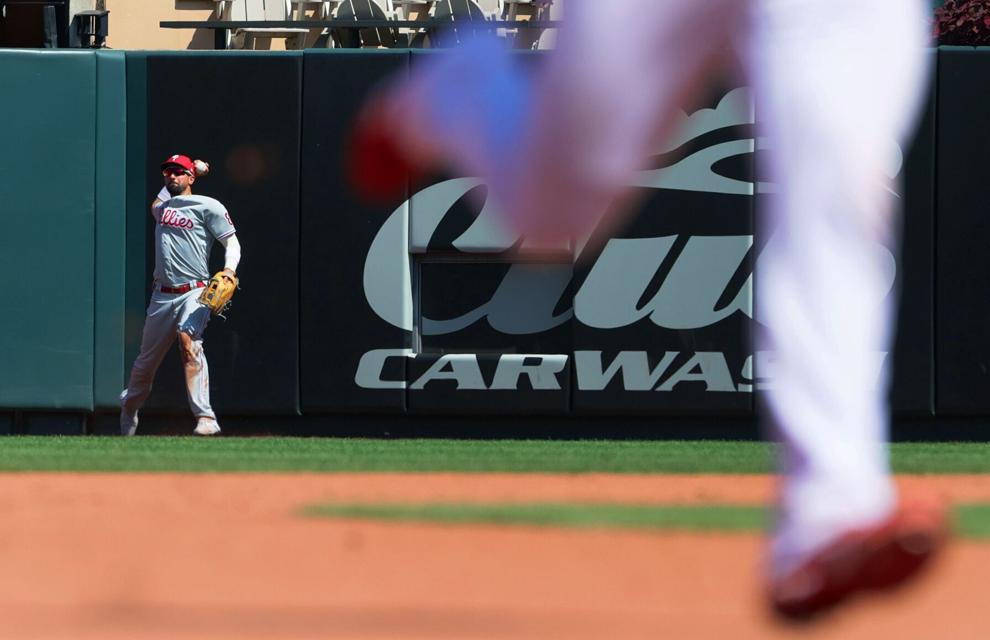 Cardinals host Phillies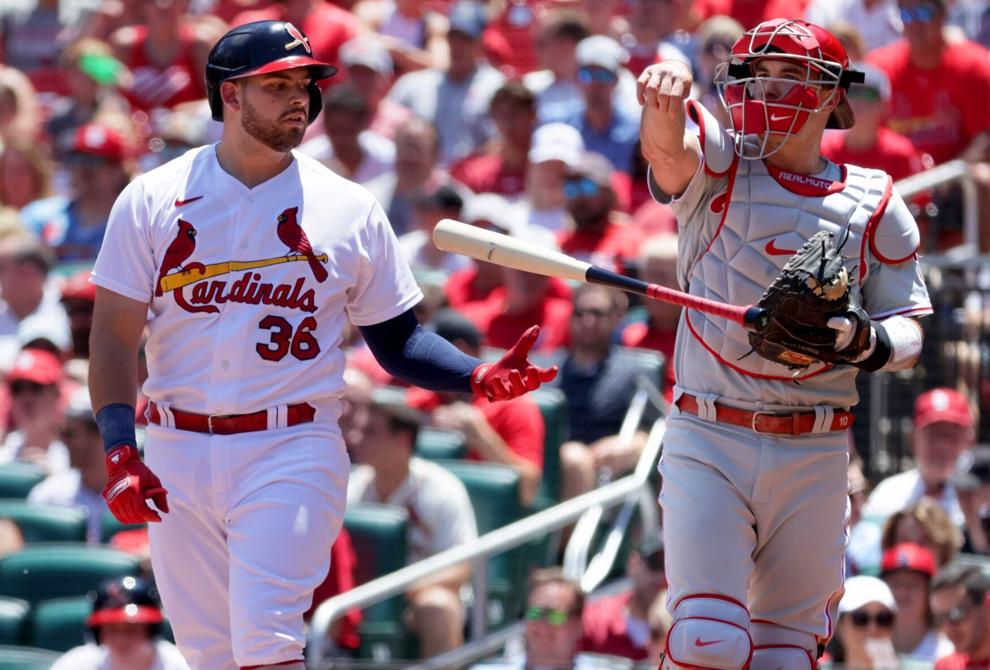 Cardinals host Phillies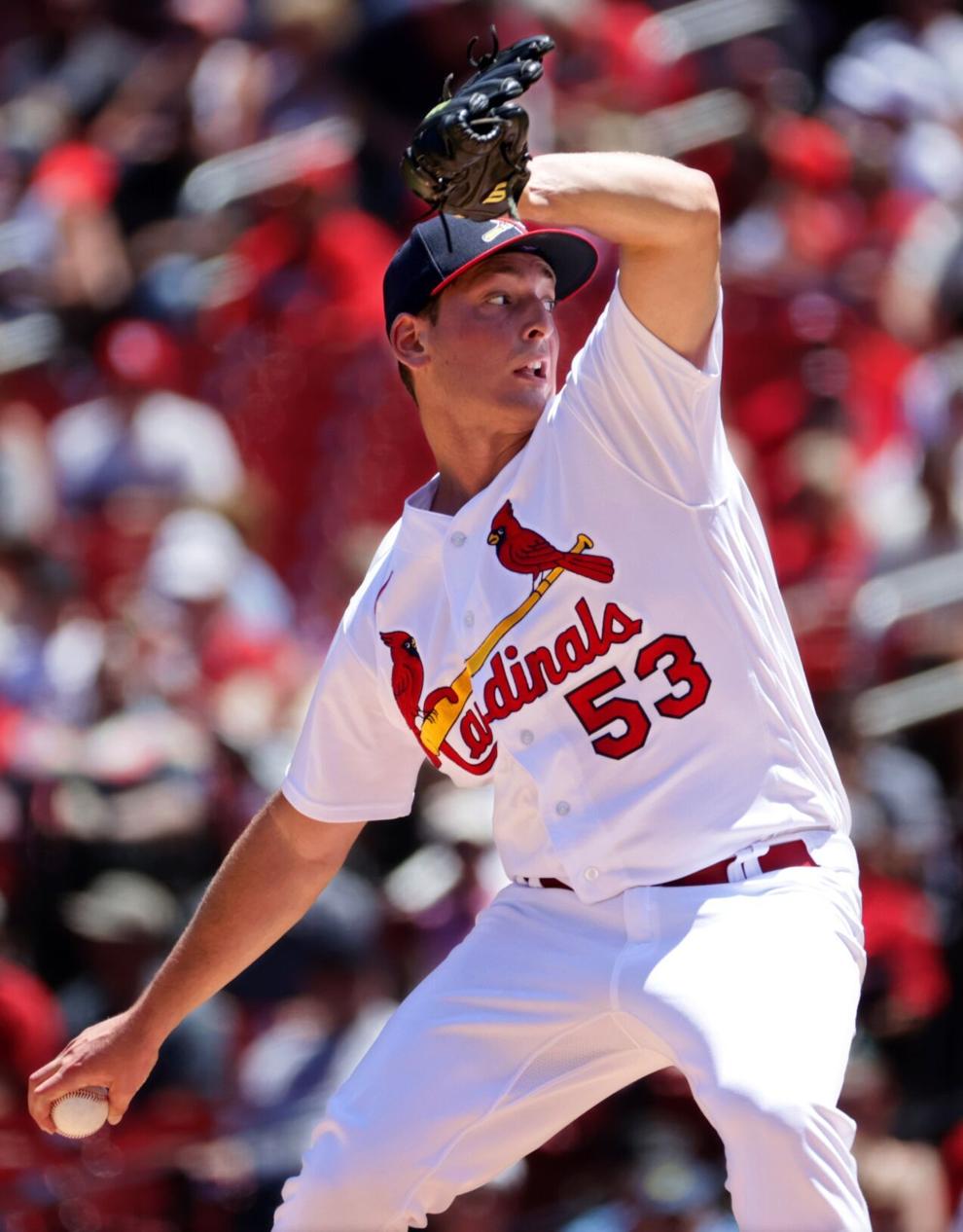 Cardinals host Phillies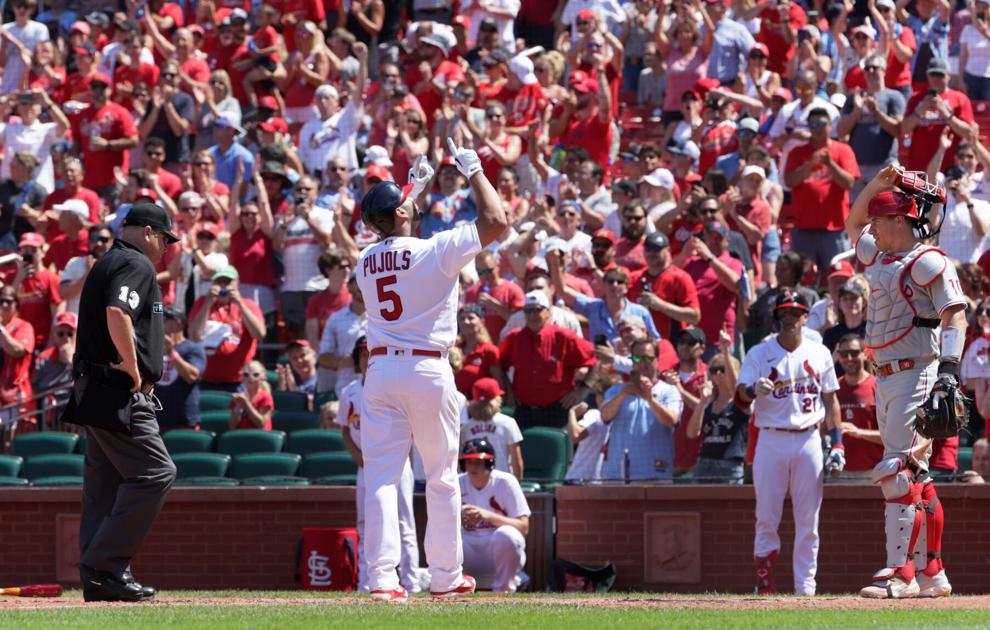 Cardinals host Phillies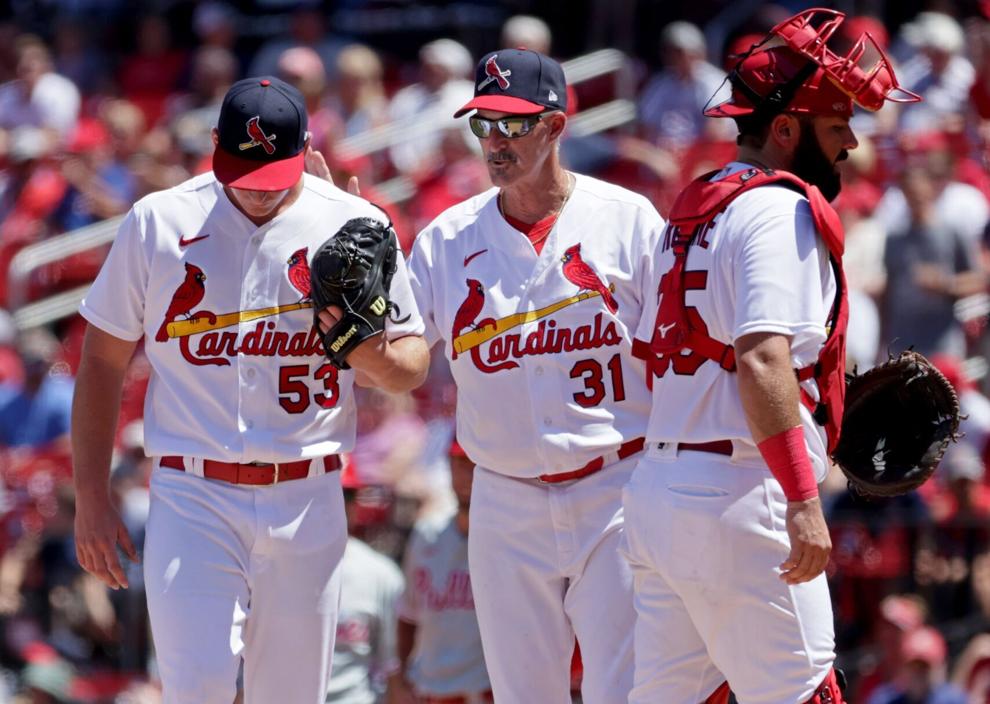 Cardinals host Phillies
Cardinals host Phillies
Cardinals host Phillies