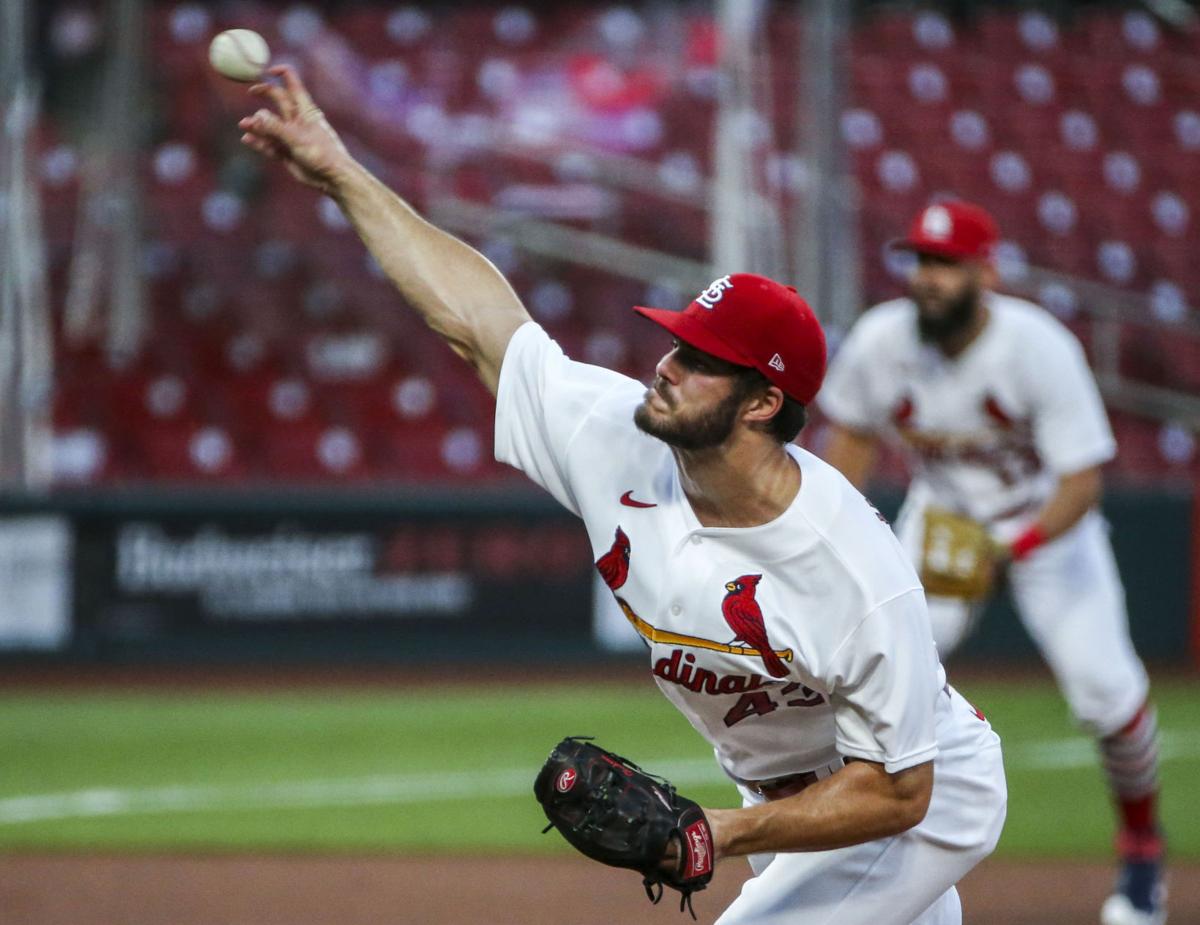 JUPITER, Fla. — Dakota Hudson will take his competition wherever he can get it now that the Cardinals righthander is likely to miss the entire big-league season after having Tommy John elbow surgery this last offseason. So he is relishing the pitchers' fielding practice that can be drudgery for others. For the moment, it is all that he has on the field.
Hudson calls it a jolt of energy as it keeps himself involved to a small degree in spring training when he isn't able to throw yet. Though said by manager Mike Shildt to be ahead of schedule, relative to flexibility, Hudson won't be allowed to play catch until March 15 although he is going through one-armed, plyometric exercises with a weighted ball early in camp when he isn't picking the brain of reliever Jordan Hicks, who had the same surgery in 2019 and who came to Jupiter early, as did Hudson. Or Hudson is talking to veteran Adam Wainwright and young Kodi Whitley, who also have had the surgery.
A 16-game winner in the Cardinals' division championship season of 2019, Hudson is aware of the mental toughness he will have to continue showing until he is ready to pitch again, by sometime in September he hopes. This should be a contending Cardinals team and he won't be part of it, really.
"The frustration, for now, is there," Hudson said via Zoom on Saturday. "Obviously, we've got a good team that we're going to be able to put out there. Our pitching has been there. Our hitting is always improving, so it's going to be a great team.
"I'm definitely itching to start throwing and to bring my two cents to the table. Hopefully I hit my marks and, there's a chance (to pitch) at the end of the year based on health."
Until he is an active player again, he can be a pseudo coach, maybe observing that a younger pitcher is tipping his pitches, or just answering questions. "If somebody comes up to me, I'm always trying to be a good teammate," Hudson, 26, said.
On Friday, Hudson was in a group taking fielding practice. "I felt that having a ball hit at me was the quickest thing I'd done all offseason," said Hudson. "My legs still work.
"My glove (work) is getting a little better. Being a ground-ball pitcher, you've got to have it. My hips and my body are moving a lot better so I'm hoping I'll be a little more agile," he said, chuckling.
The range of motion and flexibility improvement began as simply as Hudson being able to grab a glass from a top shelf at home or to pick up his two young sons.
"Just hanging from a bar and having that stability and that strength and slowly getting my arm to move the way I want it to and the way it used to is kind of working all the rust out of there," he said. "So I'll try to get some good WD-40 to spray on this thing and get it going."
"It's a mental battle," Hudson said. "I'm lucky to have my family here and all the people I've made friends with and the people in the organization. Mentally, I'm waiting on September. To compete at the end of the year and be available is the ultimate goal. Whether or not that will happen depends on how things go, but so far, so good."
Shildt isn't quite as sure as Hudson that the righthander will have some game action this year, unless it is in a controlled setting away from the major leagues.
"I know it's a real challenge," Shildt said. "But, I've talked to him and he's got his head in a good place."
Ponce de Leon turns author
The line drive that nearly ended righthander Daniel Ponce de Leon's career four years ago, seriously injuring him in the process, has led to a book Ponce de Leon has co-authored with Tom Zenner.
"One Line Drive," available on March 9, talks about Ponce de Leon's recovery from brain surgery when he was hit in the head by a line drive and the faith he displayed in the process. Fourteen months after being struck, Ponce de Leon worked seven hitless innings in his first big-league start.
"They had to do some convincing of me to do the actual book," Ponce de Leon said Saturday. "I was not a big fan of writing it. What's my story (compared) to everyone else's struggles?"
But Ponce de Leon said his agent convinced him to proceed and Ponce de Leon agreed that "if we can affect some lives, then I'm in on this. Throughout the process, I got to learn other people's emotions, other people's thoughts that I didn't even know about."
"Finally, we got a finished product (FaithWorks through the Hachette Book Group) that we liked. That is the truth," said Ponce de Leon, who said the plan had been for the book to be released in spring training of 2020 but had been delayed, in part, by the coronavirus pandemic.
"What I would really like is to change people's lives — give them a little hope, a little faith, (and) at the same time, know that there is a creator out there," he said. "There is a God. Put your faith in him and not in the world. If we can turn over some lives back to God, then we're doing the right thing here."
Among other things Ponce de Leon discovered along the way was that "writing is not an easy thing. You (media) guys do hard work."
Ponce de Leon had his second bullpen session of camp on Saturday, as did Jack Flaherty, Adam Wainwright, Jordan Hicks, Carlos Martinez and John Gant.