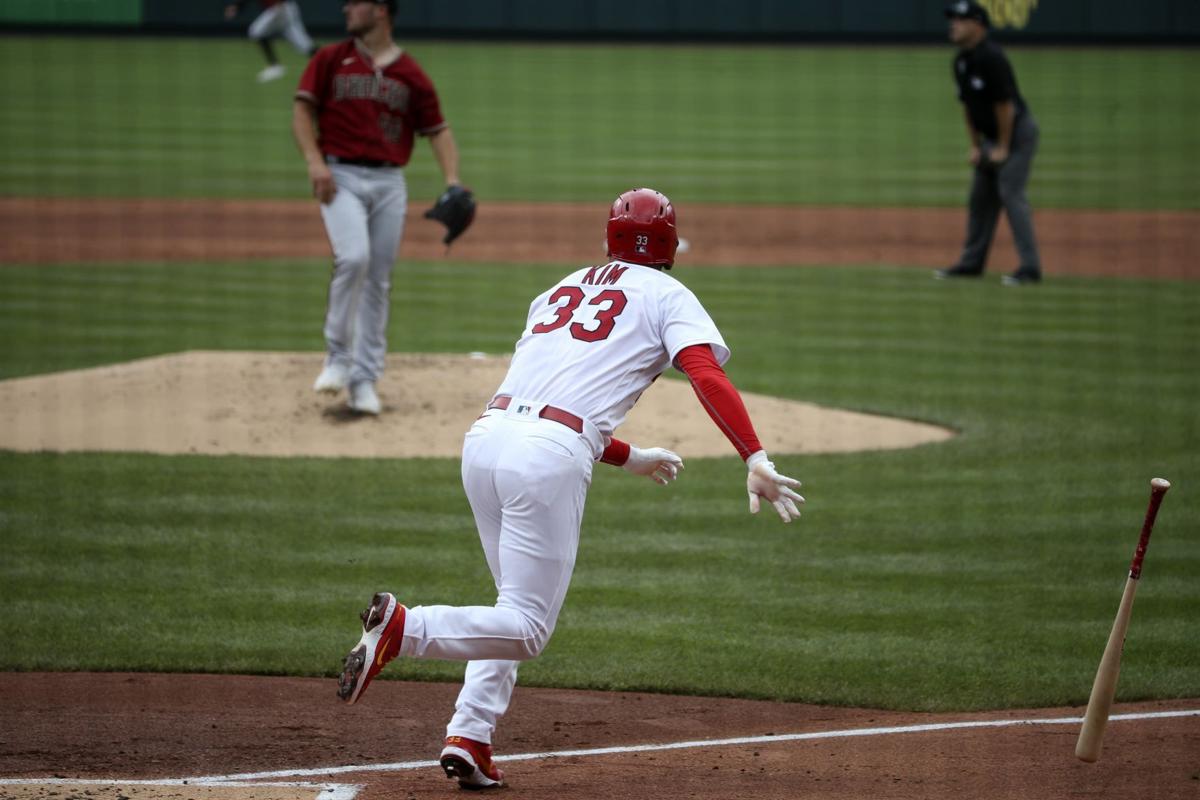 What started at a bicycle race and put him on the road with the Cardinals and in an elevator with the champ continues today in a press box car…
As Cardinals lefthander Kwang Hyun Kim quested Wednesday for his first victory in 11 starts and in more than two months, he checked off a couple of firsts. His two-out drive over the head of Arizona left fielder Josh Rojas in the second inning was his first extra-base hit (he has only two hits overall in 16 at-bats) and accounted for his first two runs batted in as a major leaguer.
Kim, who connected off Riley Smith, provided the first two runs of the game. When he returned to the dugout after the inning, Kim was met by cheering teammates and one who bowed to the South Korean, Adam Wainwright.
"He's got a really good swing," said first baseman Paul Goldschmidt. "Every time he's hitting, I'm confident he's going to hit the ball hard. That was a big hit right there. Zero-zero. They had two outs. If they could have got out of that, it could have been different. But we got the momentum going in our favor and were able to keep going."
Kim can take a bow now, too. He encountered traffic that included seven base runners in five innings. But he allowed just one to score as the Cardinals completed a three-game sweep of the woebegotten Diamondbacks with a 7-4 victory that was Kim's second of the season and first since April 23, the day he also got his first big-league hit, an infield single.
Goldschmidt and Tyler O'Neill both had two doubles and a single — Goldschmidt also flied deep to the track — and Yadier Molina had two hits on a day in which the Cardinals scored five of their seven runs with two-out hits, including the one by Kim, and others by Molina, Goldschmidt and Tommy Edman. All three of the Cardinals' runs the night before had come with two out as the lineup is beginning to show some situational hitting form. They had no homers but had five doubles.
Manager Mike Shildt noted that most of the two-out hits in both games also came with two strikes.
"The two-strike approach has been really good," he said. "It's not a situation where you're barely trying to tap into play but you try to take a tough at-bat. There's a lot of positive things we've done the last six games offensively.
"We took some unbelievably great at-bats today."
The Cardinals scored in five of their eight innings at-bat. "Clutch hitting, I guess," said Goldschmidt. "There's a lot of different ways to score."
O'Neill, who also scored three runs, counts himself at the top of the list of hitters who haven't produced as consistently as they would have liked. "I haven't been the best at getting guys in in scoring position lately," he said. "My timing's been just a tick off."
The Cardinals wrapped up the first half of their schedule with a 40-41 mark after their fourth win in five games. The Diamondbacks finished the month of June. Finally. Arizona, which has lost an astonishing 28 of its past 29 road games, wound up June with a 3-24 record, which is only slightly worse than its 5-24 record in May.
Kim fanned five, walked three and hit one and his pitch count had risen to 95 at the end of five and he gave way to a succession of relievers, including John Gant, who had two scoreless innings, and Alex Reyes, who posted his 20th save in 20 tries.
He smiled as he discussed his hitting but didn't take much credit for it. Through his translator, Kim (2-5) said, "It isn't often that I hit the ball to the outfield. I was fortunate that the outfielder was playing (shallow). I changed my bat to a lighter one and practiced with the bat. I was lucky today."
Kim now has one more hit than Wainwright this season but Wainwright has nearly twice as many at-bats. "I know that through his career, 'Waino' is a great hitter," said Kim. "The other day I asked Waino, 'When are you going to show me a home run?'
"Waino replied, 'As soon as possible,'" said Kim. Wainwright is set to pitch at Coors Field in Colorado on Thursday.
"I've never pitched there," Kim said, "but I know it's a hitter-friendly ballpark. I'll want to see him (homer) tomorrow and we can do the 'bow' ceremony again."
Kim's pitching performance was durable and efficient, if not dazzling. "I had trouble with my fastball control today," he said. "The team was winning consecutive games and I knew I had to do my part to (keep) the winning going on. It's not a good record but it's a new record after not getting a win for two months.
"But I know I have to improve the control with my fastball the next time I'm on the mound."
With the score 7-1 newcomer Roel Ramirez came in. The righthander, whose only previous big-league appearance resulted in four consecutive home runs allowed to the Chicago White Sox in his one inning in 2020, did better on Wednesday. A little. He didn't serve up any homers but he did walk two and permit a base hit to load the bases with one out in the eighth before being relieved by Ryan Helsley.
Helsley, who had permitted only one of 17 inherited runners to score, allowed all three to come home this time on a walk, a wild pitch and a groundout. And Ramirez's career ERA still is 81.00.
Reyes, however, restored order with a perfect ninth after working two innings for a save the previous night as the Cardinals finished June 10-17 despite their recent surge.
"We haven't played well the last month," said Goldschmidt. "So we're just trying to play well each day and get as many wins as we can."
That seems a simple enough philosophy. But until the Cardinals can climb above .500, they can't have too many grandiose notions.