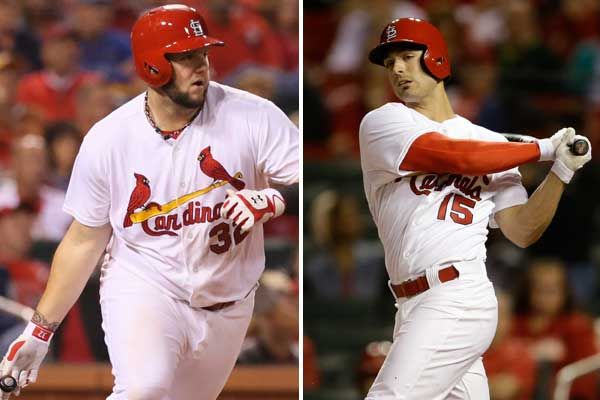 SURPRISE, Ariz. • The pathways Cardinals general manager John Mozeliak can take to improve the club's offense this winter will continue to reveal themselves this week at the general manager meetings, baseball's annual pilot light for the Hot Stove months. But the destination he intends to reach has become clear.
Short-term certainty has an appeal.
"For us, I feel we could just play with what we have," Mozeliak said Monday while watching an Arizona Fall League game featuring a handful of his team's prospects. "But that puts you in a pretty fragile state if something were to go wrong. That's something we're working through now in the market and with different trade possibilities, too. The thing that is tough is addressing that without taking away opportunities for certain players. If we were to go all-in on something it might change the situation (or block) another player."
The meetings opened Monday evening at the Arizona Biltmore, and they will continue with meetings throughout today. Mozeliak called the annual gathering of front office executives "the kickoff to the offseason." He's used it to spark deals, if not complete them. A year ago, at the general manager meetings in Orlando, Fla., Mozeliak had a face-to-face meeting with free agent Jhonny Peralta that kindled what became an offer and, within a few weeks, the signing of the Cardinals' starting shortstop. The word used most often Monday to describe the role the GM meetings play was "groundwork."
Teams are laying groundwork.
Agents are laying groundwork.
Mozeliak had some time Monday morning before driving from Phoenix to Surprise Stadium for the game to work over some ground with a few teams in regard to trades. He intends to "carve up" some time to meet with agents over the next two days.
The Cardinals are in the market for a hitter, preferably one who can play right field, first base, or possibly both. Mozeliak repeated Monday that the club is comfortable with the incumbents at that those positions — Matt Adams at first base and Randal Grichuk with prospect Stephen Piscotty in right field — but all three offer some shade of uncertainty. The word Mozeliak has relied on this offseason to describe the roster is "fragile." Without an addition — a known quantity of sorts, even in a split-shift role — the Cardinals are vulnerable if any of the young players they are banking on struggle.
"We're more exposed at first base or a corner outfield spot if we're not having success," Mozeliak said. "If you have the opportunity to get impact, you should try, but that doesn't necessarily mean that we will have that opportunity. And it might not be this year. It might be next year that we chase it. That part of it is definitely fluid."
The Cardinals have eyes for lefthanded relief that might alter the look of the bullpen — Andrew Miller is the prize available in the market in that role — and an infielder for the bench would be attractive.
Their plans this offseason shifted with the death of Oscar Taveras in a single-car accident in the Dominican Republic last month. The Cardinals intended to have Taveras and Grichuk as the leading contenders for right field, and Mozeliak championed the idea that Taveras, long the team's top prospect, was poised to turn promise into production. The Cardinals saw their biggest offensive deficiency from 2014 — right field — being addressed internally.
After waiting for at least a week out of respect for Taveras, Mozeliak and his staff began mining information about an area of the market they intended to observe this winter and they will now frequent.
It is one area that offers a spectrum of options.
The market for outfielders and first basemen blinked first Monday when the New York Mets announced a two-year deal with veteran Michael Cuddyer. The 35-year-old fit several of the traits that the Cardinals are seeking save for the draft pick attached to him by the Colorado Rockies when they made him a qualifying offer. Cuddyer effectively rejected the one-year, $15.3 million contract from the Rockies when he accepted a two-year deal with the Mets for a reported $21 million.
Other free agents who fit the profile include Nick Markakis, Mike Morse, Alex Rios, and slugger Nelson Cruz. All come with varying degrees of commitment — dollars and years — and injury or performance risk.
The trade market is similarly varied. The Los Angeles Dodgers have an abundance of high-priced outfielders, Colorado could entertain offers for Carlos Gonzalez, and a few other teams are looking to swap an outfielder for pitching depth. The Cardinals do have that to move.
They also have payroll flexibility to absorb a heavier contract.
What Mozeliak wants to avoid is acquiring a player who would, in later years, take playing time from one of the young players — Piscotty, for example — who are advancing on the majors.
"I feel one of the successes that we've had is we haven't really blocked'' young players, Mozeliak said. "Players have had the opportunity to play. I'm hopeful that we don't have to go down that path. So it's more of a situation if we could find a way to get a stopgap to give us protection instead of something long-term. I think that would be safe. … There are a lot of different ways to address this. How we're trying to pin down (possible moves) is tough because there are so many different ways we could look at this."
A year ago, the Cardinals' needs and their target were rather isolated. Despite some discussions about possible trades, Mozeliak had on his shopping list a righthanded-hitting shortstop who, preferably, was not tied to a compensation draft pick and could be had for money, not in an exchange of talent. The list had one name: Peralta. Mozeliak said Monday, sitting down the third-base line at the Arizona Fall League game, that the team was "working in a very defined silo."
The GM meetings are going to be a good chance to survey a larger landscape of options.
"You leave here with a lot more insight than you had before," Mozeliak said. "But you also realize in this business it's always sort of ongoing. It's not a steady state. It's opportunities throughout the offseason to try to improve. What you know today may change tomorrow as far as certainties."