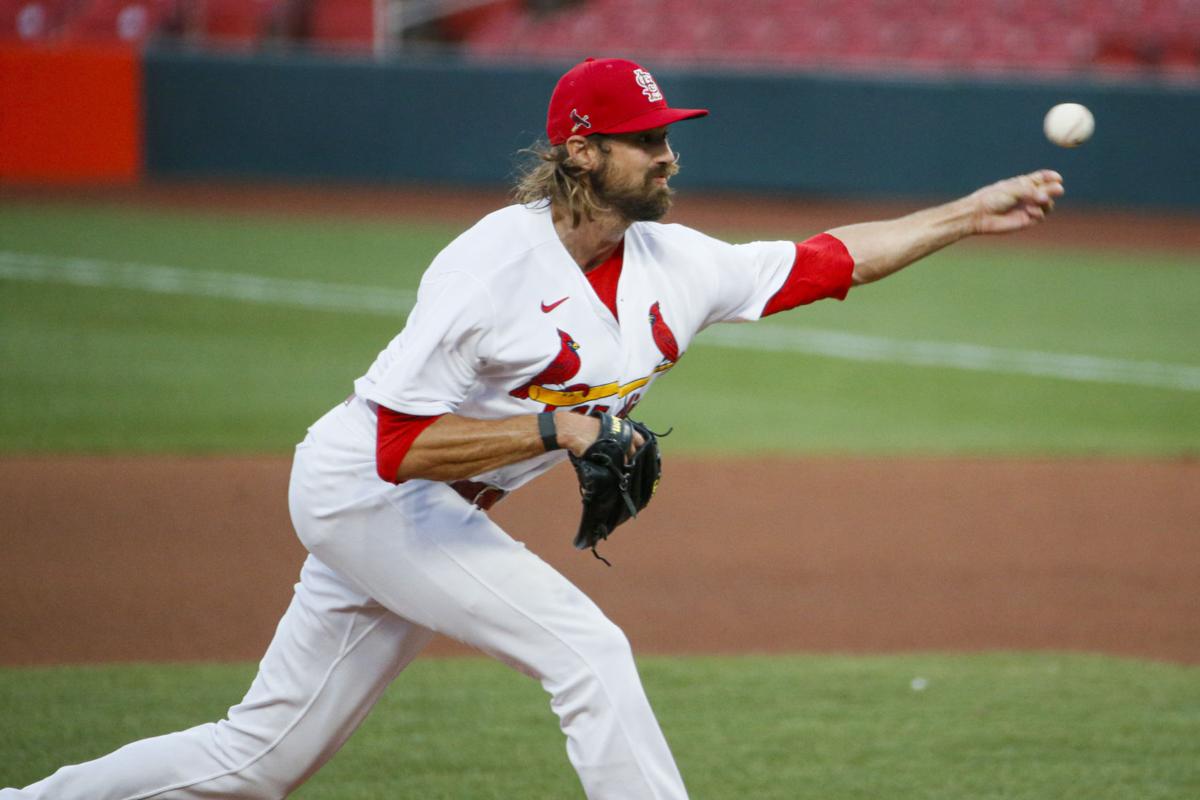 So far, Major League Baseball has said that spring training camps in Florida and Arizona are to begin Feb. 17 or so and that the regular season will start on April 1. Cardinals reliever Andrew Miller says he has no reason to believe otherwise.
Miller, an associate player representative for the players' association and part of that body's executive subcommittee, told the Post-Dispatch Wednesday that "the expectation is that we stick to the schedule that's out there. We got through the season last year. Other sports are successfully playing their seasons. Prepare to arrive on Feb. 17 and go from there.
"We don't see any reason why we can't make that. We successfully navigated a season last year. We're much further along as how to understand the (corona)virus and how to deal with it. We have vaccines on the way.
"We'll certainly have protocols carrying over from last year — certainly from the beginning of the year and some of them probably for the whole year. Hopefully, fan attendance will grow throughout the season although I don't expect stands to be full when the season opens in April. It's something that's doable. We showed that last year."
But the longer it goes without much more than a statement from MLB, there still is a feeling that the camps and season would be delayed in starting due largely to health concerns at various levels.
"We can appreciate that we all want fans in the stands for various reasons," Miller said. "Baseball teams are businesses and there's a lot of money on the line and we understand that fans in the stands are an important part of that. But it's my understanding that there's nothing that says they have to make a certain amount of money or they have to have a certain number of fans available in order to play the season. There's all sorts of sacrifices being made that are not exclusive to baseball. But we expect to play. And we expect to play 162 games."
Miller, a 35-year-old whose contract vested for 2021 at $12 million once he reached a certain number of appearances last season when he had a 2.77 earned-run average, doesn't have to wait out a long cold winter hopeful of a thaw, as most free agents have had to do.
"I'm looking for my friends and teammates to do well and land in places so that they know where they're going," he said. "I don't think this whole offseason is good for baseball. It isn't good for players and I'd like for it to pick up. There are things that are going on that have caused this offseason to be slower than usual. At the same time, it's not a pattern that we're unfamiliar with from the past few years.
"Last year was tough. We all didn't do as well as we wanted to financially and there's a lot of uncertainty going into this year. Is there a DH or isn't there a DH? That affects players and teams. But free agency, as I understand it, is something that gathers momentum. If nobody doesn't jump in, there's no reason. Everybody's kind of waiting for somebody to make the first move.
"Maybe when the big names go off the board, everything starts falling into place. I don't have the answer to that. I'm sure somebody a lot smarter than me does."
But there are two free agents who are of particular interest locally — catcher Yadier Molina and pitcher Adam Wainwright, who have been with the Cardinals 17 and 16 seasons respectively.
Asked if the club absolutely needed to re-sign the pair, Miller said, "I don't know if I want to say 'need,' but it's pretty darn close to that. I want both of them back.
"Those guys are such important parts of the organization and they make us all better. They're both great players but the value of what they do to the people around them is through the roof. They're as good as anybody in baseball at that. Having them gives us the best chance to win the World Series and I hope to see both of them in Jupiter (Florida) soon.
"That's a question that really boils down to Mr. DeWitt (club chairman Bill DeWitt Jr.) and Mo (president of baseball operations John Mozeliak). But I'm not doubting that the organization understands how beloved those guys are in St. Louis. Every time they take the field or just step out of their cars in St. Louis, they practically are legends already.
"I don't know what's going on behind the scenes but you're not going to find a bigger supporter of bringing them back than me."