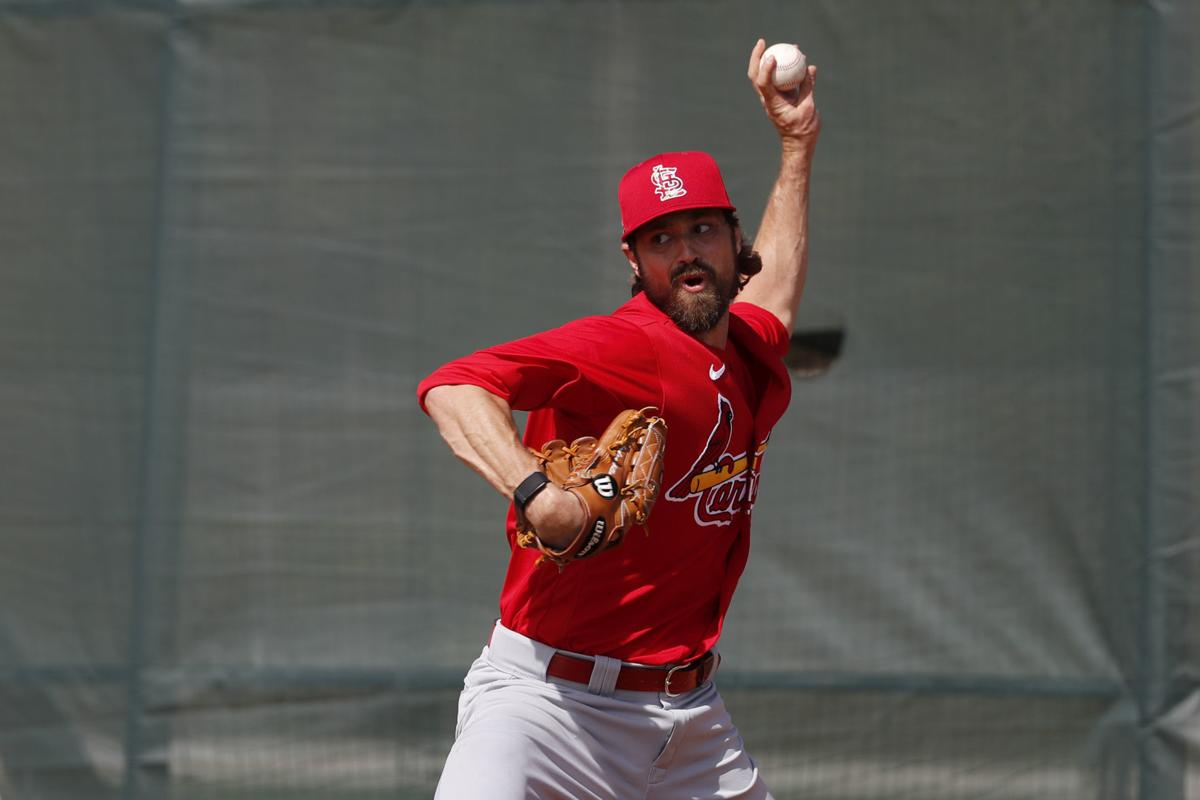 It's been a good few days on a couple of fronts for Cardinals reliever Andrew Miller.
First, as a players' association representative serving on the association's executive committee, he had a hand in helping forge an agreement with the owners that guaranteed the players service time no matter if the coronavirus-influenced stoppage of baseball continues for a whole season and one that will pay them a total of $170 million over the next two months. And the mysterious arm/hand ailment that limited Miller to one game before spring training was halted is becoming less mysterious.
Regarding the agreement, ratified by the players on Thursday night and Friday by the owners, Miller told the Post-Dispatch, "It's a deal that's nice to have been struck so there's a lot less uncertainty for both sides. Ultimately, we players valued service time and our progression through that system as our No. 1.
"This deal protects us through a partial season, where we most likely end up or the absolutely doomsday which we're all hoping to avoid in the event of a lost season. And the amount of money that MLB came up with is certainly nothing to turn your nose up to."
That no-season scenario still is a possibility, of course, and Miller said, "That's a situation where everybody loses — the players, the owners, the fans and the amount of people that we're starting to realize rely on the sports industry as their line of work. There's a lot of people that make games happen, especially in a place like St. Louis putting three, four million fans through there.
"We want to get back out there and give our fans something to enjoy — to give them a break from these tough times."
Miller is working out at his home in Tampa, Fla., and he said, "All things considered, I'm doing well but it's hard to really get a feel for much when you're throwing in the driveway against a net. It's not an ideal situation for us to train but we'll all have to find a way."
There is no official diagnosis yet but Miller said he had changed medications which has seemed to help and his physical therapy has been progressing. "There are some explanations for some of what I'm going through and I have a lot of appreciation for the amount of time (head athletic trainer) Adam Olsen and Dr. (Brian) Mahaffey have put in helping me to look for some answers," Miller said.
"I think I have answers that make a lot of sense and they're not the type of thing that brings any sort of concern to my health and my livelihood.
"I'm satisfied where we are and part of it's on me to keep it going."
With the service time a key part of their negotiating, the players had to give on something — and that is that they can't challenge the loss of their salaries if the season is canceled. If the season is played, they will be paid pro-rated on how many games are played.
If there are no games this year, anyone currently on a 40-man roster, 60-day injured list or an outright assignment to the minors with a major league contract would receive 2020 service time equaling what the player accrued in 2019. If a partial season is played, service time would be the equivalent of what the player would have received over a full schedule.
Another part of the agreement is that management was given the right to cut the amateur draft in both 2020 and 2021, perhaps as drastically as from 40 rounds to five this year and to 20 rounds next year. That draft, slated for June 10, likely will not be held until at least July.
Bonuses for draft picks will be deferred, with picks receiving an initial payment of $100,000 and getting the rest in equal amounts in 2021 and 2022.
There was no word on scheduling other than both sides have agreed to consider playing past the usual end of the postseason in late October or early November, even if it involves using neutral sites and domes. There would be a large increase in doubleheaders to play as many games as possible or to even play without fans.
"There was a pretty clear indication from both sides that as soon as it is safe, we'll play as many games as possible," said Miller. "You don't want to make it sound like everything is about money but it's an industry that survives when games are being played."
The service time part of the agreement means that such impending free agents as Mookie Betts, Trevor Bauer, Marcus Stroman, George Springer and JT Realmuto would be eligible for free agency, even if no games are played. Among key Cardinals, catcher Yadier Molina could be a free agent, although he says he doesn't want to play anywhere else and, if their options aren't picked up for 2021, both Miller and second baseman Kolten Wong could be free agents.
Trades and signings have been frozen, and optional assignments to the minor leagues must be made by Saturday. The Cardinals appear to have made all their optional assignments already.