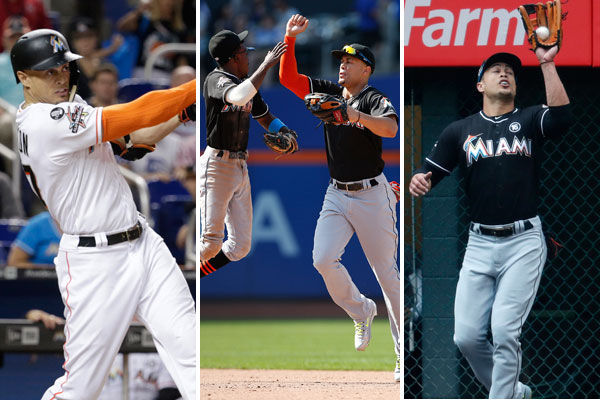 As the Cardinals' front office and other baseball executives swarm this week to the Waldorf Astoria Orlando, they do so with openings on their rosters and wish lists in hand, fittingly camped on the edge of "The Happiest Place on Earth," but not yet there, in person or transaction.
There will be many times before a scheduled cocktail hour or after a golf outing or in between meetings — so, so many meetings — for two executives to steal a moment and talk in person about a deal that has been simmering over the phone for a few weeks. The market for trades and then for free agents will start to move with the answer to a question, asked privately in the hotel lobby, that goes something like this:
"Does that deal have legs?"
The first formal gathering of the offseason, the GM meetings, opens Sunday morning, and what should be the Cardinals' most pivotal winter in years will begin gathering momentum soon after. The Cardinals have had discussions already with Miami about trading for MVP candidate Giancarlo Stanton, the biggest name and brawniest hitter available this winter. Other players on the Marlins' roster also interest the Cardinals. Both teams expect conversations to continue this week and gain clarity, with the Cardinals described by one source as "determined" in their interest. The Cardinals also intend to hold talks about free-agent relievers who could solve their late-inning opening. Their wants aren't secret.
With a billion-dollar TV deal about to start, ample payroll space and a farm system they believe hasn't been this deep in years, the Cardinals are positioned as well as any team to make significant moves in the coming months.
They also, well, have significant needs for the coming season.
"We've had stronger rosters in the past than we do, and ultimately being well-positioned is coming off a World Series win or having a roster that is already set for the World Series," said general manager Michael Girsch. "Being well-positioned to make transactions? We might be better positioned to make moves. That's not the same thing as being well-positioned with a great big league roster and not having a bunch of spots to fill. We're out to improve."
Girsch, promoted this past July, will be attending his first GM meetings as the GM, and he will have expanded responsibilities. John Mozeliak, president of baseball operations, continues to run the point, but Girsch will share in the media availability and other meetings. He joked that agents may be more eager to talk to him, too.
There is usually a picture taken of the 30 GMs at the meetings, but the modern front office has complicated even a simple class photo. Some teams have split the GM duties and are unsure which executive should appear. Like the Cubs, who have Theo Epstein and Jed Hoyer atop the front office, and Cleveland and other teams, the Cardinals now have a president and general manager.
By title, Girsch will be in the picture.
Girsch will join new assistant general manager Moises Rodriguez and John Vuch, the team's head of baseball administration, for Sunday's meetings about arbitration standards and trends. Mozeliak, Girsch and Rodriguez will be the three representatives for the Cardinals as the GM meetings officially open Monday at the Lake Buena Vista, Fla., hotel.
Unlike the hothouse of the winter meetings, which have a trade show and minor-league meetings as well as more media and job-seekers, the GM meetings hinge around the commissioner's agenda. There will be discussions about pace of play and the 10-day disabled list, clarification on Japan superstar Shohei Ohtani's status as a free agent, and fallout from baseball's investigation into Atlanta's front office. In past GM meetings there have been opportunities for teams to express an interest in playing abroad. There is also time to talk trades and negotiate with agents — and to do so face to face.
"Here is what we're trying to accomplish. What are you trying to accomplish?" Girsch said, describing the first few weeks of the winter. "A lot of that has already happened. But this takes it to the next step. Everybody has had the conversation with 27 other teams at this point, so you have a little more sense of the direction teams are going after that first round (of phone calls). Now I know the six or so teams that we really seem to have a chance to have a match with, or have a meaningful connection with. Everybody is sort of narrowing down to speaking about what can actually happen."
The Cardinals do not publicly discuss specific free agents. Baseball rules prohibit talking about players on other teams.
The Cardinals have eyes on both talent streams, and sources indicate that they may have the best combination of prospects and payroll to make a play for Stanton, or one of the Marlins' other All-Star-caliber outfielders: Christian Yelich or Marcell Ozuna. With a new owner in place, the Marlins are looking to slim their payroll. Stanton, already a Silver Slugger Award winner who could be the National League's MVP, has $295 million and 10 years remaining on his contract and would be a bulk shed for the Marlins. Other teams want the Marlins to cover some of that cost — to share in the risk and length of the contract — but that's only one complication.
Stanton's deal also includes an opt-out after 2020, and Stanton holds all the power with a no-trade clause. He has not publicly indicated a preference.
The Cardinals do not know if Stanton would accept a deal to them.
That's not unusual at this point in the offseason as negotiations between teams and with agents are only starting to focus. Speaking in general teams, Girsch described how "there are things we're proposing to teams and things other teams are proposing to us. What makes sense?"
Clubs like the Marlins are exploring numerous possibilities, and the Cardinals recognize talks with Miami about Stanton overlap with what Miami intends to do with Yelich, who has a more appealing contract, or Ozuna. Reliever Brad Ziegler also interests the Cardinals, though they see many free agent options at reliever, including Juan Nicasio, Bryan Shaw, Anthony Swarzak, and former Colorado closer Greg Holland. That market, too, is still developing. Whether the Blue Jays would be willing to trade former MVP Josh Donaldson remains an interest to the Cardinals, as does gauging the availability of slick-fielding shortstops.
The Cardinals believe they have the ability to move multiple young talents to a team that wants to reset or take a step back to rebuild. The Cardinals are aware that a deal with the Marlins, especially if they cover some of Stanton's cost, would probably require at least one of their top pitching prospects.
The Cardinals have emerged from recent GM meetings with momentum for contracts with Jhonny Peralta and, last year, lefty Brett Cecil. In 2014 they used the GM meetings to get the framework of the Jason Heyward trade.
In the past four or five years, Girsch and Mozeliak have divided the conversations, and that split has continued with Girsch moving into the GM role. Mozeliak continues to talk with executives and agents he's had two decades of experience with, while Girsch has had the discussions with the executives and agents he knows best — or are new to the mix. This week gives them all a chance to put down the phones and make eye contact.
Making a deal comes later.
"The way we look at it — the way I look at it — is we need to get better," Girsch said. "If that involves a great defender, then it involves a great defender. We need to get better. There are areas where it is easier to get better. We'll figure that out.
"At some point, it's really as simple as we just have to get better."