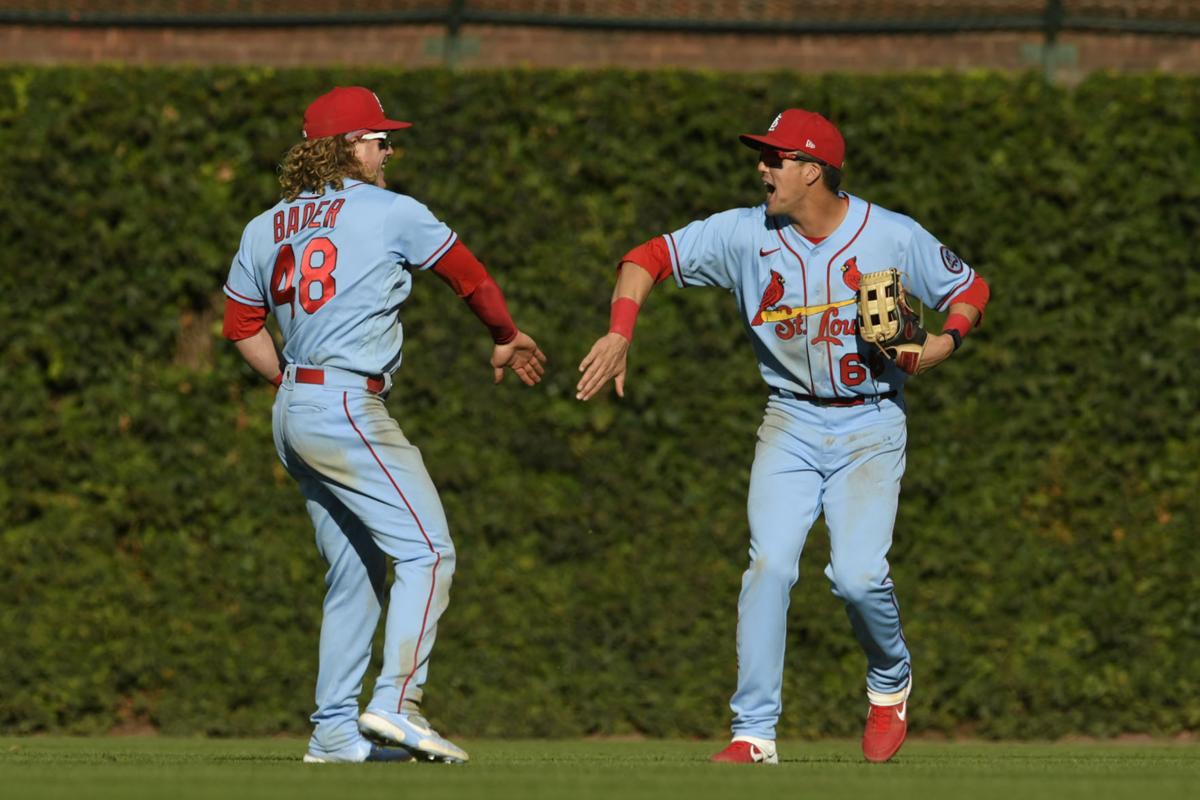 CHICAGO — As Cardinals rookie Lars Nootbaar began listing all the reasons he's found ways to contribute significant moments despite a limited role and limited success at the plate, one of them walked by.
"What did he say?" coach Willie McGee asked.
"This guy helps me a ton," Nootbaar repeated, motioning to McGee.
"Sheesh," the former MVP grinned, stepping out of the dugout and away from such praise. "Best seat in the house. I sit here and watch him do his thing."
Throughout the Cardinals' record 15-game winning streak, Nootbaar's thing has been coming off the bench or sliding into a spot start and doing something small that, in reflection, looms large.
Despite a zero-for-21 streak going into Friday night's game, Nootbaar had been productive beyond what his average implied. He worked a walk in Milwaukee and stole a base that set up the winning run. He drew another pinch-hit walk in the Cardinals' rally to overtake a five-run deficit this past week. He had the catch in New York that robbed a home run from Pete Alonso, effectively ending the Mets' playoff aspirations. And on Saturday, Nootbaar delivered the game-tying RBI with a single in the seventh in the Cardinals' 8-5 victory over the Cubs.
"When you're on a streak like this, it's easy to stay locked in," Nootbaar said. "In those situations, in any situation, you want to be ready and sharp when my number gets called."
Throughout his climb to the majors, Nootbaar, like all prospects, has been an everyday player, counted on to produce at the plate and his advancement determined mostly by what he does with his swing. A lesson many young players learn and Nootbaar has excelled at is recalibrating how to measure production. There are more ways to help a team win a game than with a hit, and when Nootbaar wasn't getting one he still was contributing.
He said that view of the game started in spring training during detailed meetings about how 90 extra feet on the bases could change a game and here's what to look for to take it. And from the dugout, that "best seat in the house," he watched Paul Goldschmidt and others prove it.
"You have a guy like 'Goldy' and it's not just the hits," Nootbaar said. "He base-runs extremely well. He's super smart on the basepaths. He plays great defense. It seems like he never makes a mental mistake. So for me watching him every single day, it's like, wow, there's not just one particular way you can help out this team. He does it in so many different ways. Every single category. A guy like me, I'm young, and I'm looking up at him and watching every single day, and saying OK, that's a way I can help this. There's another way. There's another."
A year ago, during the lockdown, Nootbaar got a job working the dawn shift at a manufacturer of fighter jets. He called it "muscle work." Then he'd really hit the weights, work out, and prepare for spring. It was there, during major-league camp, that coaches recognized Nootbaar's ability to "evaluate and stay pretty even keel and just go play," Cardinals manager Mike Shildt said. "Sees the game. Tries to be productive in every way."
McGee has helped hone that by touring the field before each series with Nootbaar and discussing the angles and ricochets he might face as a late-game replacement in left, right or center. He internalizes tips from third-base coach Ron "Pop" Warner about the habits of relievers that invite a stolen base if Nootbaar can snag that pinch-hit walk. And each time, whether he steals a homer or swipes a run, he is greeted with enthusiasm from teammates. That reinforces the importance of the moments beyond the bat.
So he took note Friday night when after each of his two homers in his first big-league, multi-homer game the congratulations he got felt familiar.
"I go back in the dugout and everyone is congratulating me, but it's the same praise I get for a pinch-hit walk or something else like that, too," Nootbaar said. "Every at-bat matters. Every opportunity matters. No opportunity is taken lightly."
Transaction mambo: Hudson added, J. Miller IL'd
In a series of overnight roster moves, the Cardinals cleared the way for Dakota Hudson to remain on the active roster while sending rookie Jake Woodford on quite a journey and never having him leave the team or change his assigned Sunday start.
Hudson made his return a year after undergoing Tommy John surgery with 3 2/3 strong innings Friday night, but he was on the roster as the Cardinals' 29th man for the doubleheader. That meant the Cardinals had to clear a spot for him on the 28-man roster. They did so late Friday by optioning Woodford to Class AAA Memphis. That was a placeholder move. Early Saturday morning, once they could, the Cardinals placed reliever Justin Miller (elbow) on the injured list so that Woodford could return without spending the minimum 10 days in the minors.
Timing was the reason Hudson didn't swap with Miller.
Miller finished Friday's night game, so the earliest the righthander could go on the IL was Saturday. The Cardinals said he's had difficulty recovering after appearances. He was on the IL recently because of a sore elbow.
Miller will be eligible to return to the roster if the Cardinals reach the postseason, allowing the team an expedited way to activate Hudson with reducing depth.
Hicks joins Memphis, starts
With an assignment to the Arizona Fall League coming in a few weeks, Jordan Hicks, the Cardinals' fireball closer, made a sudden appearance with Class AAA Memphis on Saturday night as the Redbirds' starter. Hicks has been going through his rehab and simulated games at the Cardinals' complex in Jupiter, Fla., but made the drive up to Jacksonville, Fla., to join the Redbirds for his first official rehab appearance.
Hicks threw 18 pitches and faced three batters.
He allowed a single and two walks. All three batters eventually scored after Hicks had turned the inning over to a teammate.
Hicks, 25, has been limited to 10 innings in the majors since midseason 2019 due elbow surgery, and he opted out of 2020 to focus on his recovery. The Cardinals' plan for the righthander is to have him compete in the prospect-oriented AFL, get scheduled starts there next month, and build momentum and health for 2022.
Sosa on the mend
Shortstop Edmundo Sosa's right hand remained tender and sore Saturday, but the Cardinals remained encouraged that the fastball that struck him Friday did not cause a fracture. X-rays taken at the ballpark did not show any damage, and Shildt said addition scans were not necessary because of the confidence the medical team had in the initial pictures. The Cardinals planned to have Sosa go through some exercises to determine if he could contribute as a pinch-runner or defensive replacement, depending on his grip strength, in the coming days.
"Very much in a day-to-day," Shildt said. "At least a couple of days before he resumes baseball activities."