On the same day that he got to know Cardinals fans on Monday during Day 3 of Winter Warm-up, recently signed catcher Willson Contreras shared his plans for how he hopes to get to know his new teammates with spring training and the 2023 season nearing.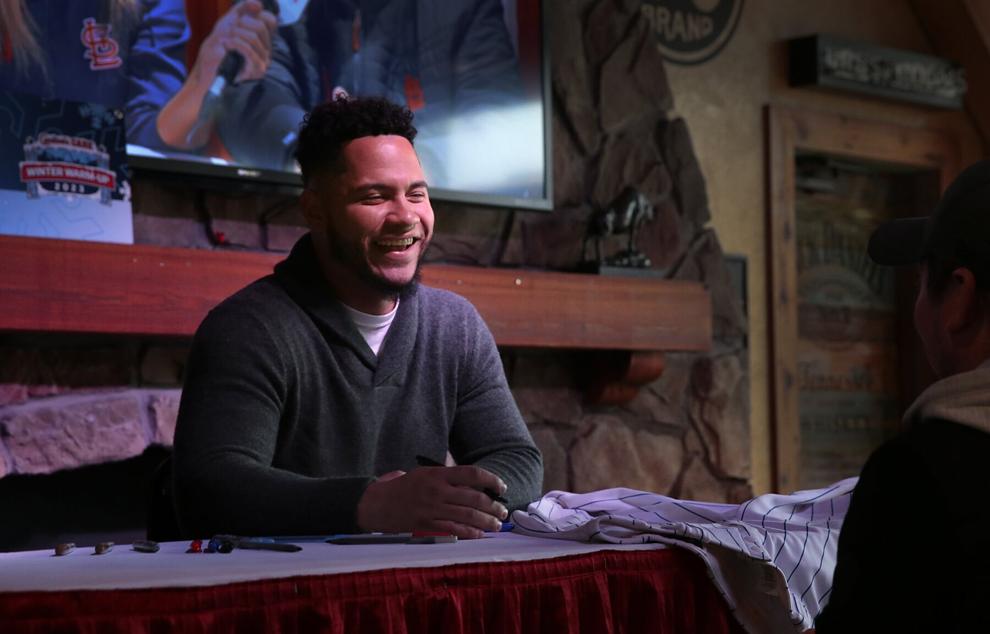 Contreras' plan, which he said was texted to Adam Wainwright when the veteran right-handed starting pitcher asked, is to report to the Cardinals' training complex in Jupiter, Florida, next week and continue reporting there at least twice a week (on Mondays and Thursdays) in the lead up to spring training. He's already become familiar with the Cardinals complex from an earlier trip. Now he looks to become familiar with his new pitching staff.
"It's really important for me to get to know the guys, get to know what they like to do, what they're working on," Contreras said. "What we need to get better at and create that relationship that is going to lead us to have a good year."
The only hiccup for Contreras this spring: not playing for Team Venezuela during this year's World Baseball Classic.
"For me, it was it was not an easy decision," Contreras said. "But I know my responsibilities. I know the dream of every baseball player is to play in the World Baseball Classic, but we all know that the situation with my ankle was something that I finished last year with, and I don't want to risk my body in something that won't help the (Cardinals) at all."
The ankle situation Contreras referred to was a left ankle sprain that kept him out for part of September to end this past season with the Cubs. 
The time spent catching up and familiarizing himself with the pitching staff could be limited for two of the Cardinals' veteran starters. Both Wainwright and Miles Mikolas are committed to pitch for Team USA in the WBC. That'll give Contreras a chance to see some of the younger arms in the organization.
After spending his first seven seasons in the big leagues with the Cubs, Contreras said he already comes in with some familiarity with the pitching staff he'll be catching. The three-time All-Star took 297 at-bats against Cardinals pitchers over his career, which is second behind the Brewers for the most he's had against a single opponent in his career. In those opportunities, Contreras batted .249 with an .809 OPS and 15 home runs.
The view will be different this time.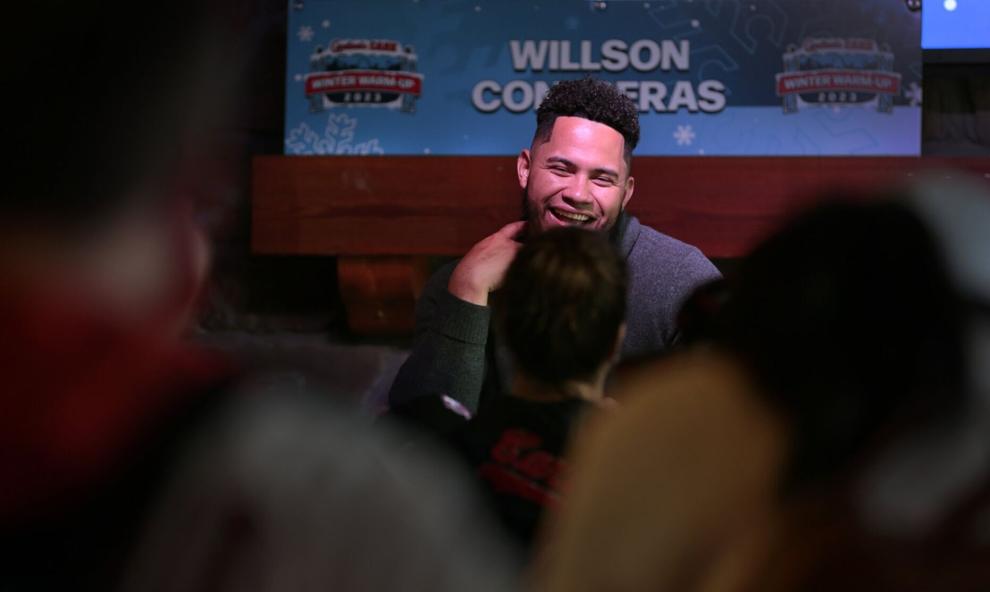 "One thing is facing them and one thing is catching them," Contreras said. "For me, it's about details. What little details they like because every pitcher is different and every pitcher has little details that they like to see from a catcher."
Cards chairman sees new rules as positives
The pitch clocks, pick-off limits, bigger bases and shift limitations that have been used at various levels throughout the minor leagues in recent years will make their way to the majors this spring.
Cardinals chairman Bill DeWitt Jr. — a voting member on Major League Baseball's rules committee — sees no unintended consequences from the introduction of the new rules all at once.
"Well, they're different," DeWitt said of the rules being introduced. "I don't think they sort of connect. Maybe in a way they do, but I was a big advocate for all of them really."
Of the new rules being introduced, DeWitt said the shift ban was one that he felt a particular way about and how it could affect left-handed hitters and how shifts against lefties could be "unfair."
The pitch clock will force pitchers to deliver a throw in less than 15 seconds with no runners on base and 20 with runners on, while requiring batters to be in the box and ready to hit by the eight-second mark to avoid being penalized. The improvements to the pace of play at the minor-league level made DeWitt a supporter.
"You see what happens in the minor leagues, and by and large, the players liked it because they don't want three-hour and 10-minute games," DeWitt said. "They want to play in two hours and 40 minutes — whatever it turns out to be."
Data compiled by the Post-Dispatch last April revealed Cardinals minor league games at the Class AAA level were shortened by more than 30 minutes on average when compared with games played in 2021.
DeWitt called the pick-off rules that will limit pitchers to two disengagements "interesting." That rule change and the increase in the size of bases from 15 inches to 18 are expected to bring more stolen bases.
"I'm excited to see it all play out," DeWitt said.
Cardinals due for City Connects in 2024, etc.
The City Connect jerseys that Major League Baseball and Nike introduced in 2021 and returned in 2022 to expand to 14 of the 30 MLB teams will reach St. Louis by 2024. During a fan question-and-answer session at Ballpark Village, Cardinals president Bill DeWitt III confirmed the alternate, city-inspired jerseys are coming in a year and teased they will incorporate some red. ... Coming off a season in which he was limited to 21⅔ innings because of injuries, sinker-throwing righty Drew VerHagen will make greater use of a four-seam fastball in 2023 after the Cardinals presented him with a plan to increase the effectiveness of his curveball and slider with the use of the heater. ... Paul DeJong continues to train in Jupiter, Florida, where some changes have already been made to his swing with the elimination of a leg kick.