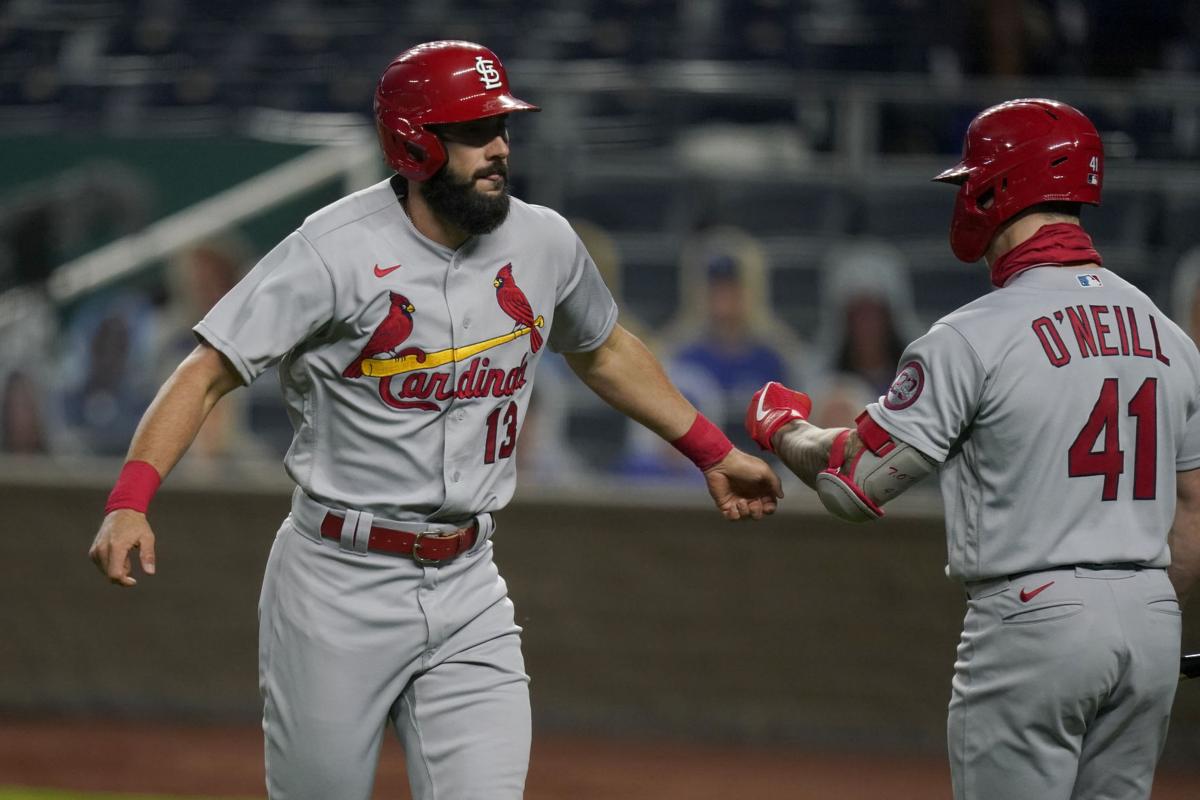 KANSAS CITY — Giovanny Gallegos, recovered from a strained right groin, rejoined the Cardinals' bullpen — which didn't need a lot of help based on recent games in which five different relievers, including Gallegos, had the club's past five saves.
But the Cardinals' offense, meandering at best for much of the season, got a potential jolt with the return of right fielder Dexter Fowler — who had been tending to a stomach ailment.
Fowler, who started Monday night against the Kansas City Royals, was hitting .278 with four homers and 14 runs batted in for 68 at-bats before he went out of the lineup. He was one for four in his return, in a game Kansas City won 4-1. Fowler struck out to end the game.
The almost daily roster juggling put outfielder Justin Williams and reliever Nabil Crismatt on option and, officially, back to St. Louis. That's the new site for the alternate training site where about seven or eight players will work out until the Cardinals return home on Thursday.
In another 40-man maneuver, reliever Roel Ramirez, who famously allowed four homers in succession in one inning last month in Chicago, was designated for assignment.
Gallegos is the staff leader in saves, with four. But manager Mike Shildt, citing the bullpen depth, said, "We've been managing based on availability and based on best matchups and I think we'll continue to look in that area.
"The good news is that you can match (Gallegos) against anybody."
Gallegos came in Monday with the Cards trailing in the eighth and gave up a run and two hits.
Fowler, who was on the COVID portion of the injured list to guard against the medication he was taking affecting his immunity to the virus, is "on the right side of where he needs to be on this," Cardinals president of baseball operations John Mozeliak said. "He was taking a very high of dosage when he began. And to be where we are today, we think it's much more manageable and he's almost through it. I think his risk is fairly minimal."
Fowler had both discomfort and a lessening of energy while he was playing with the ailment, Mozeliak said.
"We're playing a very unique schedule which doesn't allow you a lot of breathing room. It just made sense during that period to go on this medication to allow himself to reset and he's done that," Mozeliak said. "We're hopeful he can start where he left off."
Shildt added, "I think we'll evaluate him day by day. My understanding is him being back is that he's ready to go and get after it on a daily basis. If it doesn't look right or feel right we'll make adjustments. I have expectations he looks to be an everyday fixture."
There might be another move in the next day or so. Righthanded reliever Kodi Whitley, who had been out with COVID and then a sore elbow after being impressive in the first week of the season, threw well Saturday.
"In the next day or so, I imagine you might see him activated as well," Mozeliak said,
Pitching patter
Righthander Dakota Hudson will return to St. Louis on Tuesday to have the soreness near his right elbow evaluated by Dr. George Paletta, the club's head orthopedic surgeon.
"And then we'll sort of know the next steps," Mozeliak said.
So far, the injury is being treated as a flexor tendon strain but Hudson likely is out for any postseason action as well as missing the final week of the season.
The next step in the rotation is for lefthander Austin Gomber, who relieved Hudson in the third inning on Thursday in Pittsburgh after Hudson felt some tightness, to make Tuesday's start here.
Righthander Daniel Ponce de Leon has made two starts on this trip but the second came on three days' rest.
"We could bring Ponce back, and that would be twice on short rest," said Shildt, "and I don't think that's fair to him. And Gomber has got the ability to throw up to 80 pitches. He's by far the most built up and the most available guy in that capacity, so that pretty much sums up the decision.
"Gomber has pitched well and has started before. . . . so it was really a pretty clear decision."
Gomber made two starts on the Cardinals' last homestand, working a total of 5 2/3 innings without allowing a run. His first major-league road win as a starter came here two years ago, when he pitched four-hit ball over five scoreless innings.
Home away from home
Before Tuesday's game, the Cardinals had won their past eight games at Kauffman Stadium, outscoring the Royals 60-15 and tossing three shutouts. No one has been more comfortable here than Matt Carpenter, who served as the designated hitter on Monday. Carpenter, who ended a dreadful slump with a key single in the seventh inning Sunday in Pittsburgh, smashed a 439-foot homer to right center off Royals starter Carlos Hernandez in the first inning.
After his fourth homer of the season, Carpenter was hitting an even .400 here (30 for 75) in his career with six homers and 19 RBIs in 20 games.
---
CARDINALS QUICK HITS
COMMISH'S BOLD PREDICTION
QUESTION: What's your prediction for how this final week will play out between the Cardinals, Reds and Brewers? How could the Cardinals make it onto the playoff bracket? How could they blow the opportunity and go home to crank up the Hot Stove?
COMMISH: There seems little way the Cardinals can miss the field. They have three games with the lowly Royals while the Brewers and Reds are playing each other in Cincinnati (somebody loses every day). And then, while the Cardinals are playing the Brewers this weekend in St. Louis, the Reds are in Minnesota.
I actually see the Cardinals finishing fifth in the overall standings and going to San Diego (fourth) for the first round. And then playing the Dodgers in Arlington, Texas, if they win the wild-card round.
---
Follow-up: Assuming the Cards make the playoffs, looks like they'll be facing the Dodgers, Padres, Braves or Cubs. Which of those teams do they match up best against?
COMMISH: The Cardinals would match up best against the Cubs, by virtue of having played 10 games at Wrigley Field this season (where the best-of-three first round would be played). The Dodgers would be the worst matchup because they're the one team that clearly is better than the others you mentioned.
WHICH PLAYERS GET 'LAID OFF'?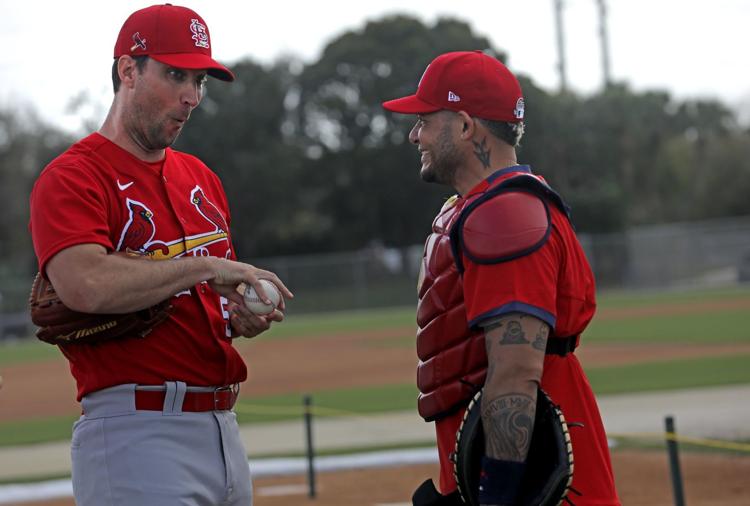 QUESTION: Looks like the Cards' organizational payroll is tight if they are laying off staff and coaches. Which players do you think will be "laid off"? Waino, Molina, Wong? I think the best option is trading C-Mart for a couple of prospects.
COMMISH: I don't see any reason why the Cardinals wouldn't retain Wainwright, who has been their best starter. He isn't likely to ask for outlandish money. Molina probably will explore the free agent market, for a while, anyway.
Wong's $12.5 million club option will be a hard call for the Cardinals. His defense is exceptional. His offense has been about average this year. And Edman can play second base, just not nearly as well as Wong. The Cardinals could pick up the option but not commit further to Wong beyond next season.
As for Martinez, the Cardinals are hoping he starts pitching well again, so he might be more attractive in trade. He is a signed player and not at ridiculous prices but I would try to get whatever I could get of value for him — some sort of outfielder, perhaps.
---
Follow-up: With budgets being tight, how does that affect the players with the big contracts (Carpenter, Fowler, A. Miller) and re-signing Waino and Yadi?
COMMISH: The tight budget will affect only the last two — Wainwright and Molina, who will be true free agents; more so Molina, who will have to come down a lot from $20 million a year.
Carpenter, Fowler and now A. Miller (he has reached his roll-over) are signed players, whether the Cardinals keep them or release them. The Cardinals owe money totaling just under $50 million for the three.
HOW TO FIX THE OFFENSE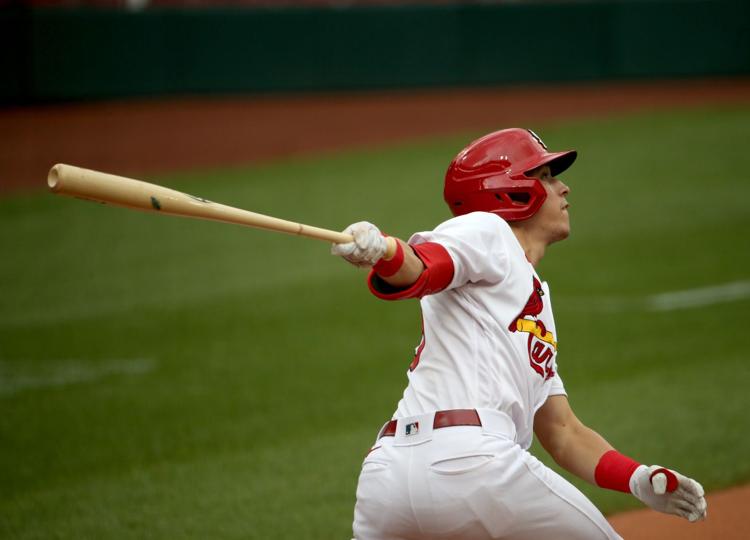 QUESTION: Play GM for a day: What would you do to fix this puny offense? For the purposes of this exercise, assume that no one is an untouchable — including the coaching staff.
COMMISH: The Cardinals must get an outfielder, preferably one who is a lefthanded hitter. Carlson plays every day. And Edman plays every day, even if it's at third base where Carpenter becomes a highly-paid utility player.
No one is untouchable with the possible exceptions of Goldschmidt, DeJong, Reyes and Cabrera. Flaherty, too, probably.
THE BOTTOM LINE ON CARPENTER
QUESTION: Have the Cardinals played enough games that the organization now knows what they can expect from Matt Carpenter going forward?
COMMISH: They have an idea about Carpenter, and it is not an optimistic one.
He is not a regular player in their minds for next year.
---
Follow-up: It's clear Carpenter is in the declining years of his career and NOT an everyday player. What has contributed most to it: advancing age, the shift or his approach at the plate?
COMMISH: All of the above, probably. Carpenter surely has grounded into more outs in short right field than anybody in the game because of the more pronounced shifts thrown at him.
He has not really adapted to hitting the ball to the opposite field other than a single Sunday and a good series of games on the previous home stand. And he declines to bunt for a hit.
WONG WORTH THE MONEY?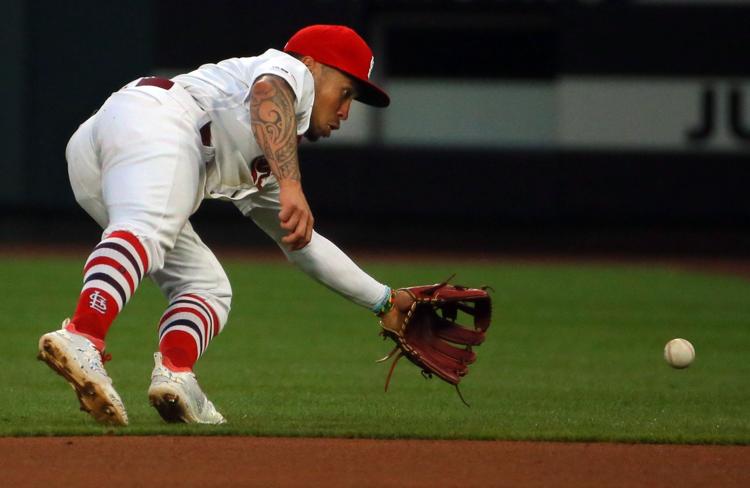 COMMENT: While I agree that Cards need a big bat in the outfield. I do not agree with Kolten Wong being traded for that outfielder. He has matured and become the best defensive second baseman in the game. He's a good leadoff man and a much-improved hitter. I see him as a core player.
COMMISH: The Cardinals basically have to decide if Kolten Wong is $12.5 million worth of a complete player.
I think he is worth the investment for one year if the club picks up that option for 2021. But understand that some unusual, and in some cases, unpopular decisions will be made this winter because the economic landscape has changed in the game, with no gate revenue to be had this season and cutbacks everywhere in front offices and in the minor leagues.
WHO'S THE REAL JACK FLAHERTY?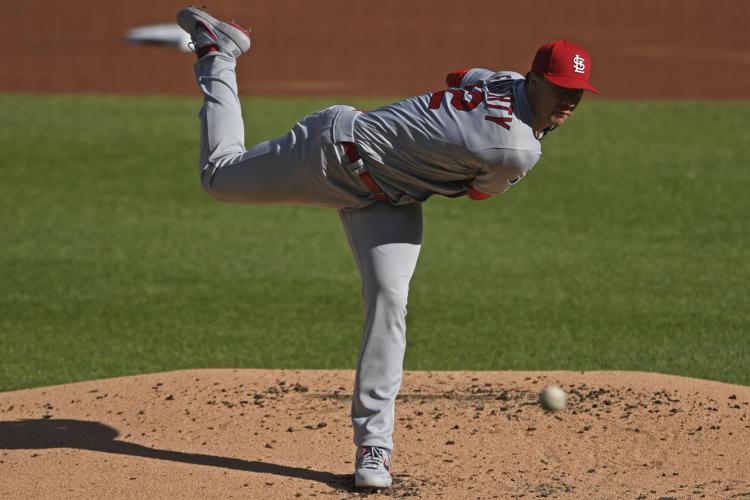 QUESTION: Who's the real Jack Flaherty? The confused underachiever who couldn't retire a Brewer to save himself? Or the guy who was unhittable Sunday vs. the Pirates? Will such fluctuations hurt his future earning power?
COMMISH: The real one, presumably, was the Jack Flaherty who pitched Sunday — although he will be facing a better lineup Friday against Milwaukee and any other clubs he might face this season.
I don't think we should put too much stock in individual performances in this unusual season. The focus should be on the fact that every team apparently will make it to the finish line, whenever that may be for each team.
BULLPEN OR ROTATION FOR REYES AND CABRERA?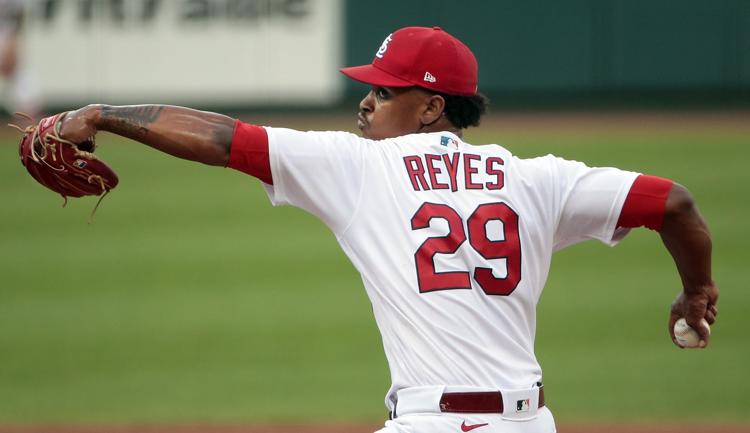 QUESTION: Seen anybody lately who looks like closer material for 2021? Alex Reyes maybe?
COMMISH: I would consider Reyes closer material but I'd rather see him in the rotation, with the expected return of Hicks to the late-inning roles, even if they aren't always the ninth innings. The bullpen will continue to be a Cardinals strength whether Reyes is in it or not.
---
Follow-up: Genesis Cabrera has been getting some big outs and making tough pitches when needed. Do the Cards see him as an eventual starter or has he found his niche in the bullpen?
COMMISH: I think the Cardinals had envisioned Cabrera as a starter but, from what I've seen, I would leave him right where he is. He throws hard with a good breaking ball and is just wild enough to keep hitters very wary.
TRADE VALUE OF CARDS' YOUNG PITCHERS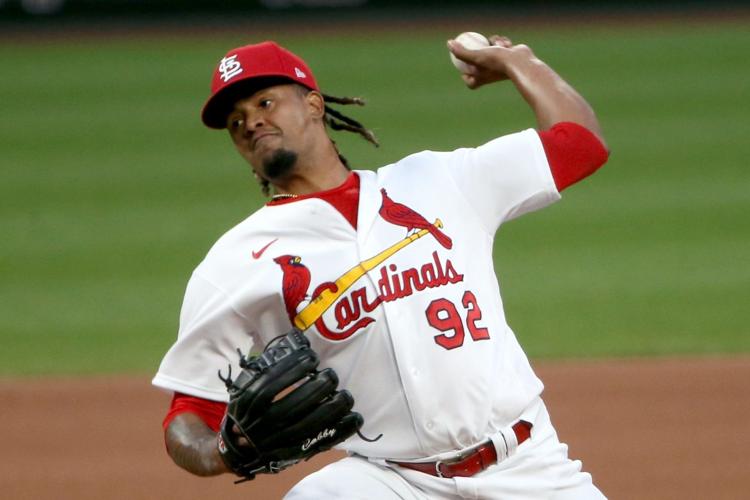 A reader listed nine young pitchers who have appeared for STL in 2020, plus Carlos Martinez, and asked Commish to rank them in terms of trade value "in the eyes of other teams." His response:
1. Flaherty
2. Cabrera
3. Reyes
4. Helsley
5. Oviedo
6. Gallegos
7. Gomber
8. Ponce de Leon
9. Woodford
10. Martinez
Only Martinez has a contract beyond this year, although the others are all under control. Martinez will in the final year of a five-year deal, which, in theory, pays him $11.5 million next season, with club options for much more in 2022 and 2023.
O'NEILL STILL HERE IN 2021?
QUESTION: What do you think will be Tyler O'Neill's fate? He's gotten a few key hits lately and is solid defensively, but still strikes out too much and is batting below the Mendoza line. Is he still the starting LF next year?
COMMISH: Tyler O'Neill is on my team, although he might be a platoon player or fourth outfielder. He is better outfielder than I thought, faster than most had thought, and his below-.190 average belies the fact that he has delivered in the clutch as he did in two games in Pittsburgh.
But, yes, three strikeouts in four at-bats Sunday has been an all-too-common occurrence.
BANGING THE DRUM FOR VOIT
COMMENT: Sorry to harp on Luke Voit, but he has 21 HRs and 49 RBIs in 49 games. That would play well in the Cards lineup. Who missed on this? And the answer cannot be he was blocked or he was not good defensively. With a bat that good, they should have made room for him.
COMMISH: You can harp on Voit all you want. Everybody else does. And it's great he's doing what he's been doing. But he was a minor league player when the trade was made and the Yankees had him in their minors until highly touted first baseman Greg Bird got hurt and then didn't produce.
The rest is history. Luke Voit was in the right place at the right time. And, when the door opened, he charged through it.
But, nobody in St. Louis — I mean, nobody — saw this coming.
NOBODY'S KNOCKING OZUNA NOW
QUESTION: Your thoughts on Marcell Ozuna? Was it just timing? Is he an up-and-down player? Was it a "fit" thing? I doubt that the Cards would have been so uninspired to sign him if he played this way for them.
COMMISH: I didn't like it when the Cardinals didn't re-sign Ozuna, and said so at the time. He had a hand injury that bothered him last season but it seems healed now.
I know the Cardinals said they wanted to find out what they had in their outfield. Well, for the most part, they found out.
If Ozuna had hit this way last year. he would still be here, especially if the Cardinals would have known they were going to have a DH, as the Braves were fortunate to find out.
WHO'S ON THIRD AS WE WAIT FOR GORMAN?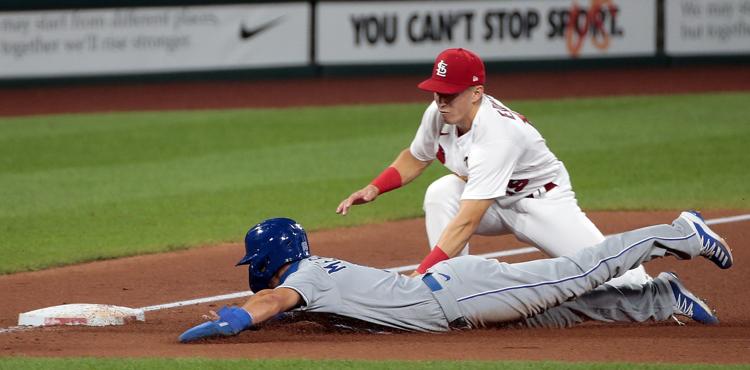 QUESTION: The Cardinals need to find a third baseman with pop to bridge the gap until Nolan Gorman is ready for prime time. Any pending free agents fit the bill?
COMMISH: There's always Nolan Arenado, of course, but the Rockies third baseman can opt out of his $33 million a year contract after next season. I'm OK with Edman at third if the outfield gets a significant uptick.
The free agent crop of third basemen doesn't really intrigue me, especially since you're looking at only two years, at most, before Gorman would be ready.
---
Follow-up: Justin Turner is a free agent after the season. He would certainly fit the bill at 3rd base for two years and an option.
COMMISH: Depending on the price, of course. Justin Turner is a good player and a winning player. But everything, especially in this day and age, has a price (his 2020 salary was $20 million).
EITHER WAY, DOES KNIZNER STAY?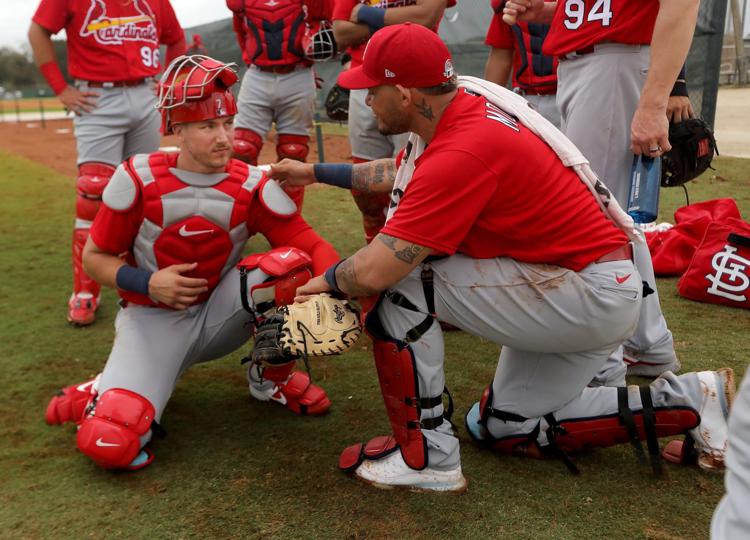 QUESTION: What is Andrew Knizner's future with the Cardinals?
COMMISH: It's this simple:
If Molina is here next season, Knizner figures as the lead backup.
If Molina isn't here, Knizner figures to be a candidate to be a starter, with some veteran likely brought in to compete with him.
BRING BACK BRAD MILLER?
QUESTION: What are the chances the Cards re-sign Brad Miller? He has been a pleasant surprise..
COMMISH: Chances are good the Cardinals would re-sign Brad Miller, as long as he doesn't want a whole lot more than the $2 million he got this year. He has provided lefthanded punch in the middle of the lineup, but he has skidded below .240 now.
PROSPECT WATCH: OVIEDO AND MONTERO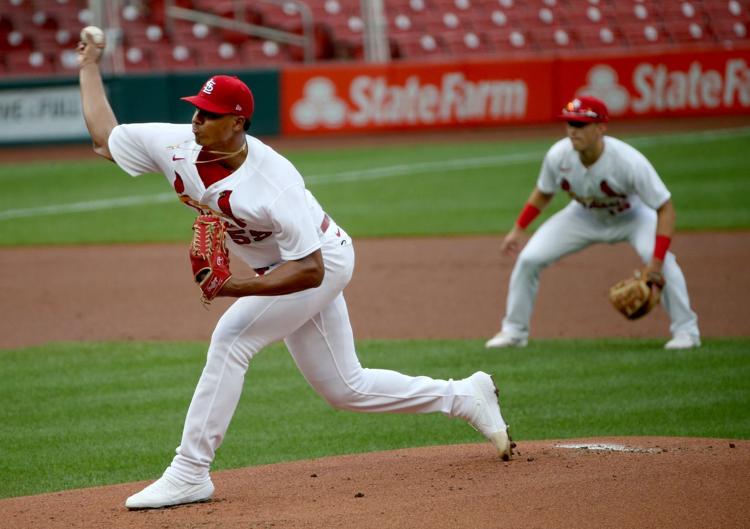 QUESTION: Do the Cards see Oviedo as a possible starter in the future? What has his performance taught them -- that he needs more seasoning?
COMMISH: Oviedo is seen as a starting rotation candidate but could use another year or part of one as seasoning, assuming there would be some minor league team to which the Cardinals could send him next year.
---
QUESTION: When are we going to see the 2018 Texas League MVP Elehuris Montero?
COMMISH: Not this year. And that was Class A Midwest League MVP Elehuris Montero, before Montero got to Springfield in the Texas League and, bothered by injuries, hit .188 in 2019.
He was able to play no minor league ball this year, so he just needs more time. He was supposed to be at Springfield all season this year, if there had been a minor league season.
CARDS CHAT RARITY: LOYAL FAN SALUTES 'MO'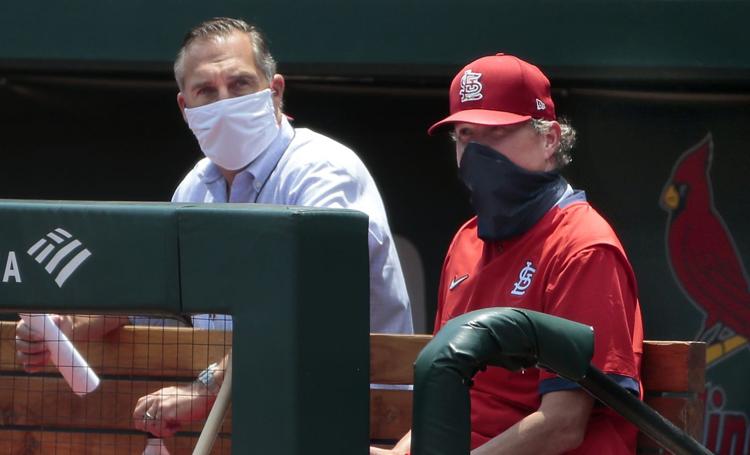 COMMENT: I'm as frustrated with the Cardinals' lack of consistent offense as anyone, but in this insane, doubleheader-filled schedule, I have to give 'Mo' credit for assembling amazingly deep pitching. Doubtful that any other team could have survived the injuries and schedule and still be in position to make the playoffs.
COMMISH: Everyone, from the front office, to the players, to the support staff, should be credited for even giving the Cardinals a chance to be in the postseason. There is no question that their road has the bumpiest and anything that happens after this week is a bonus.
Expectations probably are minimal, but they have been that way since the first of August, when the first COVID outbreak hit the Cardinals.
UPSET ABOUT THE UMPING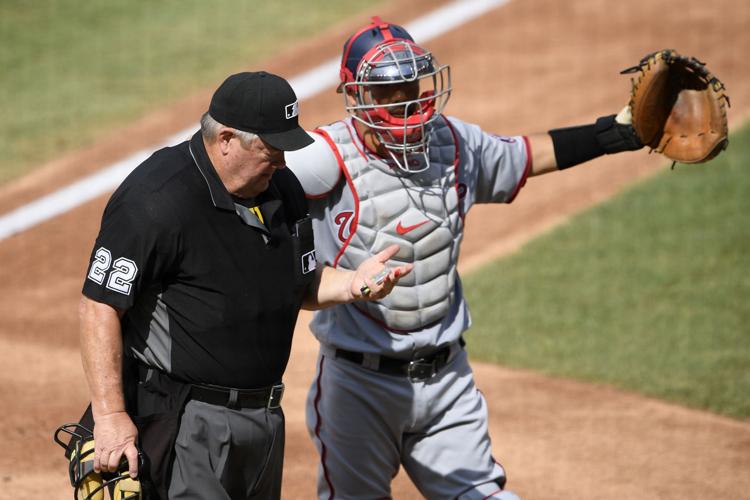 QUESTION: Does the umpires' union police itself as far as umps consistently making bad calls? Are they graded on their performance? Doesn't an umpire like Joe West serve as a bad example to other younger umpires? He acts like he is the second coming of Doug Harvey.
COMMISH: Not just because he is a good friend of mine, but Joe West is among the best umpires -- although too much of a showman, I understand, for some tastes. But he will make calls that some umpires don't have the nerve to make.
The umpires have numerous supervisors who look at games constantly and the commissioner's office looks, too, so there is plenty of policing. Unfortunately, this season, a lot of veteran umpires have opted out because of COVID-19 and a number of umpires are here who weren't ready to be here, probably. The umpiring hasn't been as good, certainly.
---
Follow-up: How does MLB group an umpires crew? Longevity, personality, performance (or lack thereof)? I assume these four guys are together for the season. What if you get teamed with the "Singing Cowboy" and want out?
COMMISH: The umpiring crew chiefs traditionally get to chose their next in command and then the commissioner's office assigns the rest of the four-man crews.
The crew chiefs mostly have been based on longevity, although this year eight of them opted out, so there have been changes in some crew chiefs you wouldn't have had and some changes in umpires who wouldn't be here. I would never opt out of a chance to work with the Singing Cowboy although, God knows, I've spent enough time with him.
Keep up with the latest Cardinals coverage from our award-winning team of reporters and columnists.