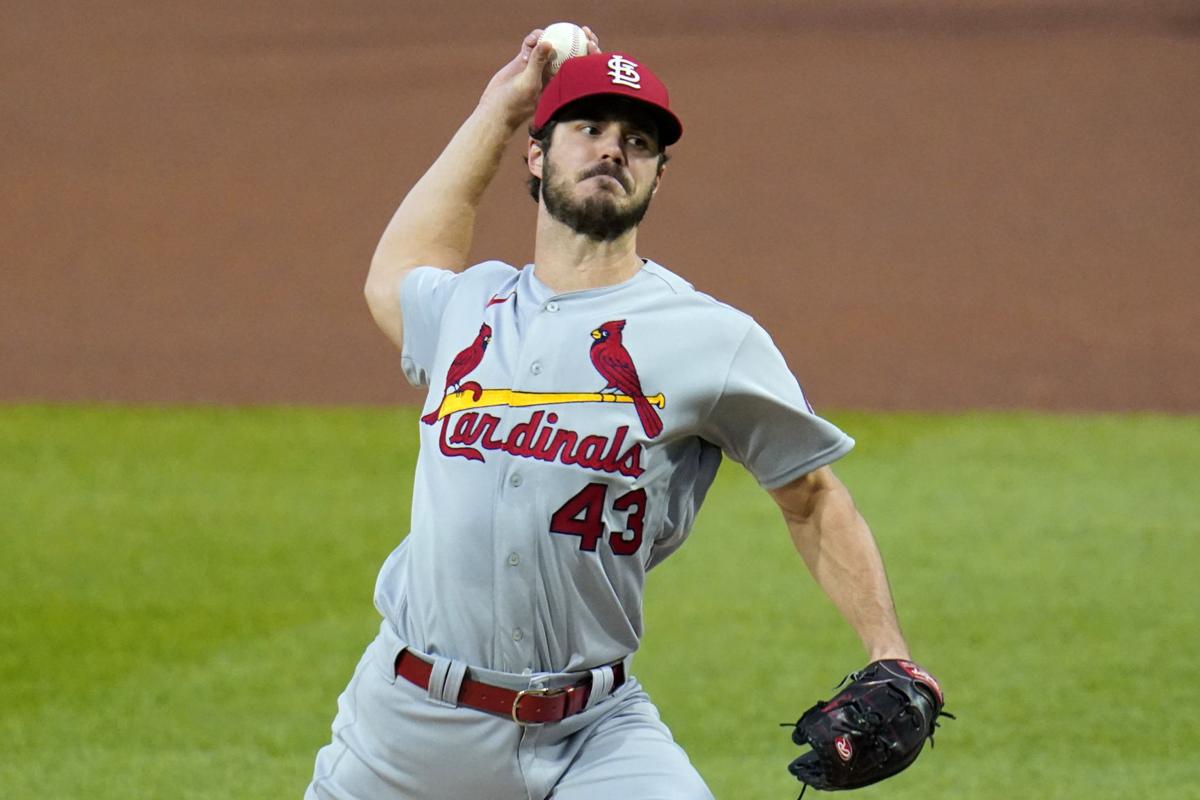 Cardinals manager Mike Shildt still is noncommittal, officially, on whether righthander Dakota Hudson, fresh off his fifth rehab outing, will make a start for the Cardinals in a doubleheader Friday in Chicago.
But Hudson, dressed out with his teammates before Saturday's game for the first time this season, said he is ready. For anything.
Asked if he envisioned pitching for the Cardinals before the season was over, he said, "I've been envisioning it since I tore my UCL last year.
"I'm here to compete. If I'm not the guy for the job, they won't give me the job. I'm here to win. Whatever situation that is, I don't know. I'm just here for whatever the team needs and try to make a push."
On Friday in Memphis, Hudson allowed two hits, three walks and one earned run while pitching five innings and throwing 68 pitches for the Redbirds against Louisville. The date was Sept. 17, precisely one year to the night that Hudson experienced an ulnar collateral ligament problem in Pittsburgh that led to him having Tommy John elbow surgery.
"I can't tell you that it wasn't a little eerie being out there on the exact day," Hudson said Saturday. "But I got through it, felt pretty strong, feel pretty good bouncing back today and I'm just keeping the trend as positive as I can."
Hudson was back pitching before the customary year off after Tommy John surgery and said people told him not to expect to pitch this year.
"Every single one of them," he said. "But the first thing 'Waino' (Adam Wainwright)' said in spring training was, 'I know a guy (himself) who got back in less than a year.' I kind of took that mentality," Hudson said. "If he can do it (Wainwright was back for spring training in 2012), why not me?"
Hudson had circled that Sept. 17 date on his calendar.
"I'll remember it," he said. "Not that it's going to affect me in the future."
The top winner (at 16) for the 2019 National League Central Division champions, Hudson had a 2.77 earned-run average last year before being hurt. But with patience this year, he also has had confidence.
"The biggest thing was I saw a stat out there that 90% of guys who have Tommy John bounce back," he said. "The regular progression for the rehab is 11 months — if it's perfect. I was trying to be perfect on that end and go from there. The fact that I'm even throwing is pretty exciting."
Hudson would be excited enough to be pitching in any game, let alone games that have something at stake.
"This is what every baseball player wants to be able to experience — postseason baseball. This is what everyone dreams of. To say that it's not my dream would be wrong," he said.
Hudson also has been dong some hitting, not successfully, so far. But he wants to contribute if asked to hit.
"I've got to go for some kind of swing. If they tell you, 'Don't swing,' that's not in my blood," he said.
Hudson spent part of Saturday making acquaintances with the many new teammates who have come on board since spring training, when he last was around the team.
"I was introducing myself to half the team," he said. "I (had) my name tag on and everything."
As for talking to veterans such as Jon Lester, Hudson cracked, "I may be tiptoeing my way into those conversations because I don't want to be 'that guy who just showed up and he's already annoying me.' But I'm excited about it. I've watched him pitch for a long time."
Shildt said the plan is for Hudson to throw a bullpen session, probably on Monday.
"And then we'll have a little formal announcement," Shildt said. "But we've got to temper some expectations because he is coming off a pretty advanced surgery. We want to make sure we're taking care of him."
Jack Flaherty, recovering from a shoulder strain, threw another 30-pitch bullpen session Saturday, featuring fastballs and breaking balls.
Busch section is renamed 'Freese's Landing'
As a tribute to World Series MVP David Freese, whose game-winning homer in Game 6 of the 2011 World Series landed on the grassy lawn beyond center field, the Cardinals are renaming the seats that overlook that spot for the St. Louis native. 'Freese's Landing' will be the name of the all-inclusive section of seats in center field under the scoreboard and the retired numbers.
The section was previously known as 'Homer's Landing.' The change was announced during Saturday's game as part of the 10-year reunion of the team.
Freese, who retired after 2019, has had an increasing presence with the team this year. The third baseman tied Game 6 in the ninth inning with a two-run triple, and then won the game with his leadoff homer to the 11th inning. His 21 RBIs during that title run remain the all-time record for a single postseason.
Notable
When outfielder Dylan Carlson homered from both sides of the plate on Friday, including a grand slam, he became the fifth rookie switch hitter to have two grand slams in a season. He is the first Cardinals rookie to hit two homers that included a grand slam in the same game.
• Righthander Brandon Dickson, who was a part of the 2011 Cardinals World Series champions but was not here on Saturday, was released at Memphis. He had been with the Cardinals for two games this month.