The Cardinals believe there is enough time remaining on the schedule to have Jack Flaherty return as a starter because of what he could provide in that role if their season goes as long as they hope.
A day removed from an intensive bullpen to simulate two innings out near his home in Los Angeles, Flaherty returned to St. Louis on Saturday and will meet officials Sunday to determine how soon he can begin a rehab assignment. The right-hander, sidelined twice this season by shoulder trouble, will throw a bullpen session at Busch Stadium in front of coaches so they can make a call on his readiness to face hitters.
That's when the countdown to a return will start.
"If he can give us the last month as a starter and then October, the playoffs, that's what we would like," manager Oliver Marmol said. "We will see how he comes out of this rehab process. But we're encouraged. We're definitely encouraged."
After missing spring training with bursitis, Flaherty worked to regain the mechanics that did not put a strain on his shoulder. He returned from his rehab assignment one start earlier than initially planned — and that return lasted three starts before soreness returned. In three games, Flaherty had a 5.63 ERA and more walks (nine) than strikeouts (six) in eight innings. Placed on the injured list after a June 26 start, Flaherty was later moved to the 60-day IL. The earliest he can return is Aug. 26.
Marmol agreed that week or the first week of September is the current target.
"We were here before and I said I felt really good, and it's a lot of the same, (so) I'm just hoping it stays that way," Flaherty said after playing catch Saturday. "Felt like I started to get out of whack there (in June) as I got into real starts. All you can do is put in the work and hope everything takes care of itself."
Counting on DeJong, the 'Dude'
Marmol rechecked the numbers Saturday morning in his office before answering a question about why in the eighth inning of Friday's game he stuck with shortstop Paul DeJong. The reward for the decision was DeJong defying the Yankees' All-Star closer with a two-run double that flipped the game for the Cardinals.
The data suggested Brendan Donovan should take the at-bat. He's a left-handed swing to DeJong's right-handed swing vs. Holmes. The rookie is contact oriented vs. DeJong's swing-and-slug undermined by a high groundball rate. DeJong's four-for-six vs. Holmes wasn't helpful because it's a small sample size and before Holmes developed the elite pitch he has now.
The projected OPS said Donovan had the edge.
Marmol saw a chance to give DeJong something more valuable.
"What do you want out of DeJong?" Marmol said. "You want him to feel like he's a dude who can contribute and produce in the middle of that lineup and protect some of those other guys in front of him. There is a mentality to it. The amount that you're gaining in the head-to-head projection — is it worth what you're losing from a mentality and competitive side? It's something you balance."
Goldschmidt joins Team USA for WBC
Paul Goldschmidt, who earned the nickname "America's First Baseman," will join teammate Nolan Arenado to defend their World Baseball Classic championship with Team USA this coming spring. Goldschmidt accepted an invitation from the Team USA organizers, who announced his spot on the roster Saturday.
Goldschmidt, Arenado and shortstop Trevor Story are the infielders committed to play in the international tournament for Team USA next month. Angels outfielder Mike Trout has also agreed to play and captain the team.
The games run from March 8-21, and players are excused from their spring training camps for as long as their national teams are active. Team USA will begin play in Phoenix, and the championship game will be held in Miami.
Cardinals to open 2023 at home
For the first time since 2017 and only the second time since 2011, the Cardinals are scheduled to open a season at home in 2023. In the last week of March, the Cardinals will host Toronto to begin the 2023, according to two officials who have seen the final schedule. It is scheduled to be released shortly.
Twice in recent seasons, this summer and the shortened 2020 schedule, the Cardinals have opened at home due to a rewrite of the schedule, first because of the pandemic and then, this year, due to the owners' lockout. Major League Baseball's true opening day has otherwise been a rarity at the current downtown ballpark. Since Busch Stadium III opened in 2006, the Cardinals have only had MLB's opening day scheduled for a home game six times (2007, 2008, 2009, 2011, 2017, and now 2023).
As an organizational view, the Cardinals do not mind opening a season on the road in order to limit April games that conflict with school nights, to reduce the chance of foul weather postponing games, and to count on the pageantry of the home opener being the draw whether it's the first game of a season or seventh or 10th.Paniagua repeats as minors' monthly winnerClass A righthander Inohan Paniagua won his second consecutive pitcher of the month award in the Cardinals' organization to join an exclusive list of pitchers. The other pitchers to do so were Bud Smith, Rick Ankiel, and Gordon Graceffo, who also won this year. Paniagua, 22, had a 1.17 ERA overall in July and had 22 strikeouts in 23 innings over four starts.
The Cardinals have a call to make on Paniagua as he nears eligibility for roster protection and they're intrigued by the stride he's made this season with command. Overall, he's 6-5 with a 2.58 ERA and 115 strikeouts in 108 1/3 at Low-A and High-A combined.
The Cardinals split the player of the month award between Class AA outfielder Chase Pinder (25 RBIs) and Class A outfielder Patrick Romeri (.390 average, .780 slugging).
Joe Torre, Juan Yepez & more
Hall of Fame manager Joe Torre, the former Cardinals MVP who also oversaw the Yankees' run of four World Series titles in five years from 1996-2000, was honored before Saturday's game. A bobblehead of him wearing his Cardinals' road grays was the day's giveaway. … Juan Yepez (forearm) has started throwing with greater intensity and expects to be able to play a position when he starts a rehab assignment in the near future. Yepez has been able to hit without issue, and the Cardinals were considering sending him out for at-bats as a designated hitter. Yepez said soreness when throwing has alleviated to a point he'll be able to play the field. … Goldschmidt received the team's Heart and Hustle award before Saturday's game. … Harrison Bader, traded this past week to his hometown Yankees for Saturday starter Jordan Montgomery, will wear No. 22 in pinstripes. … Former Cub Anthony Rizzo remained out of the Yankees' lineup due to back soreness.
Photos: St. Louis Cardinals beat the New York Yankees 1-0
New York Yankees vs St. Louis Cardinals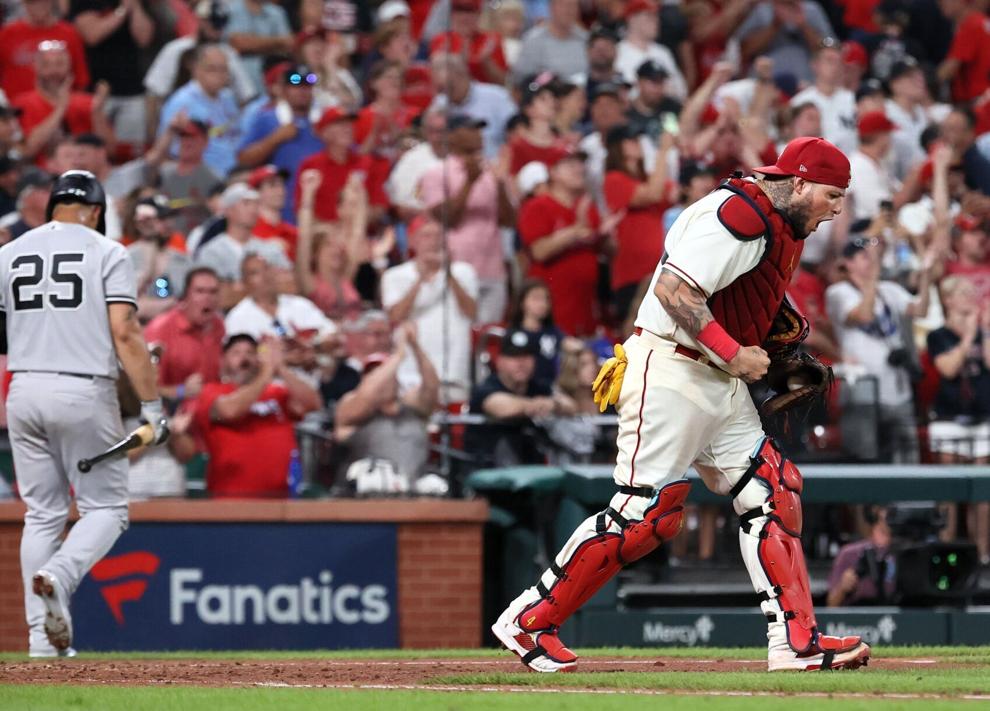 New York Yankees vs St. Louis Cardinals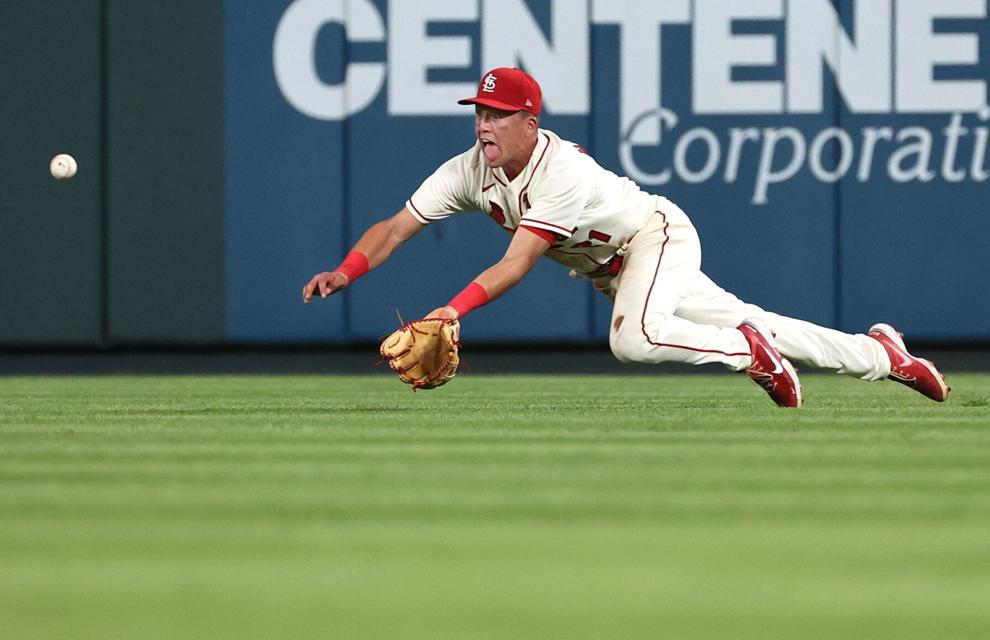 New York Yankees vs St. Louis Cardinals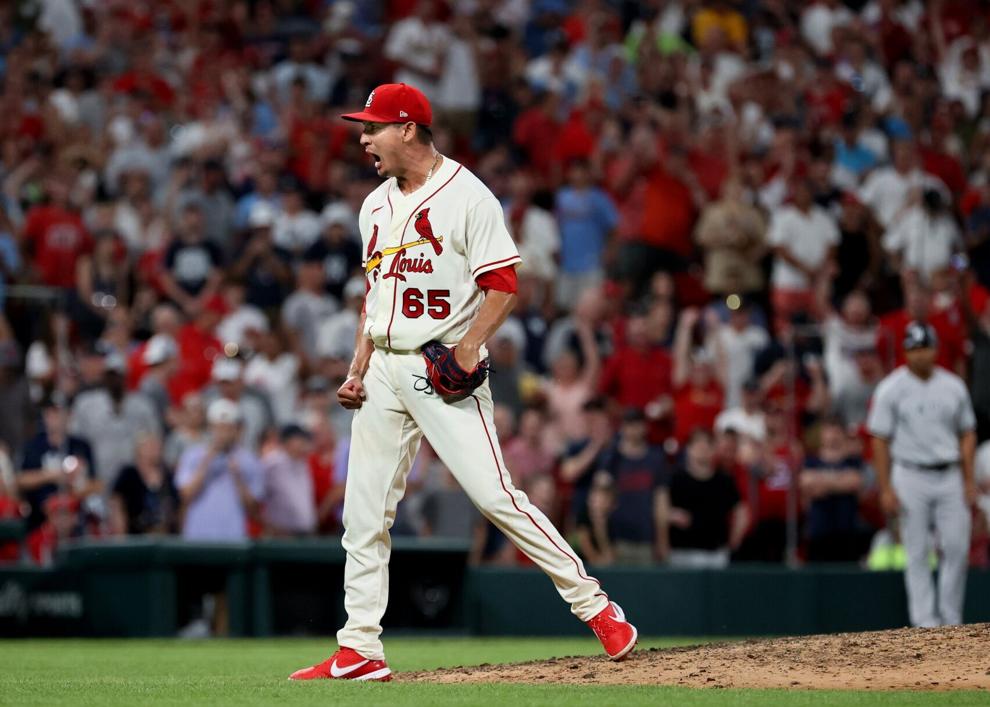 New York Yankees vs St. Louis Cardinals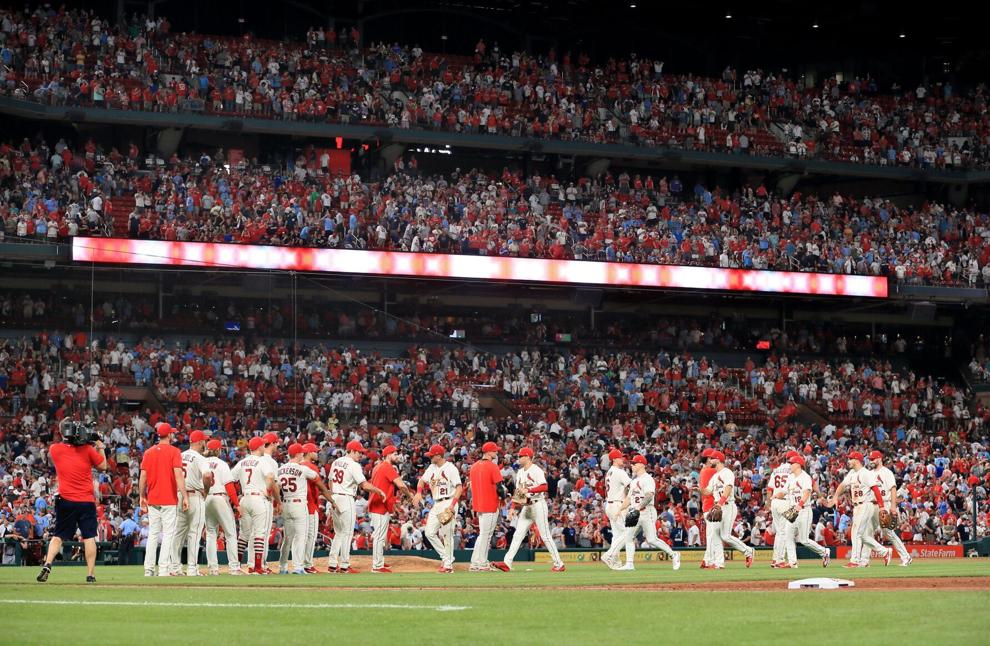 New York Yankees vs St. Louis Cardinals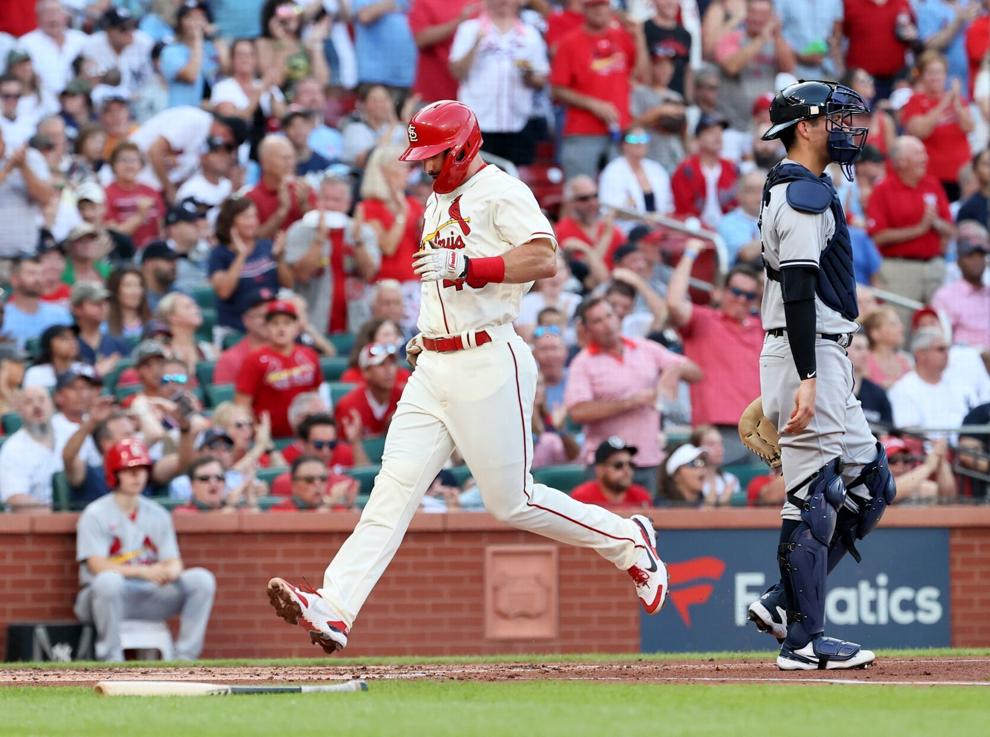 New York Yankees vs St. Louis Cardinals
New York Yankees vs St. Louis Cardinals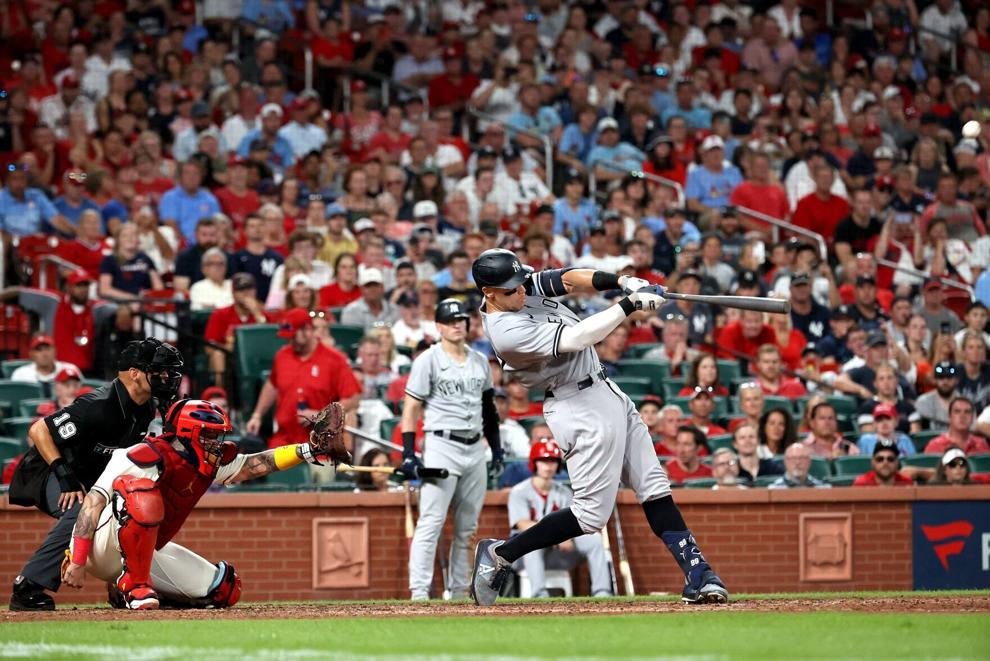 New York Yankees vs St. Louis Cardinals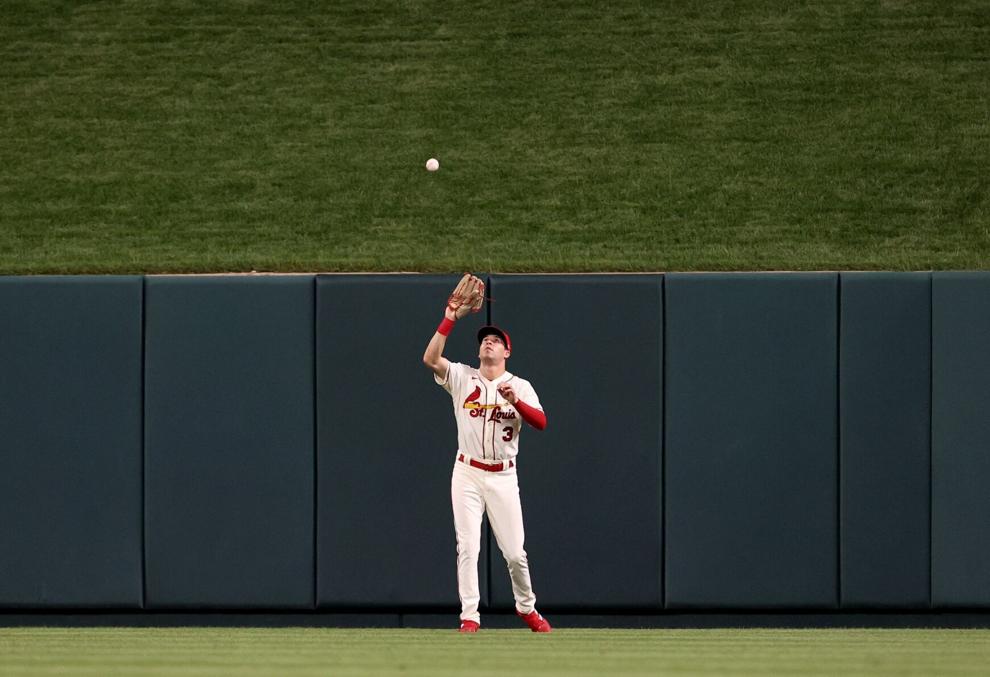 New York Yankees vs St. Louis Cardinals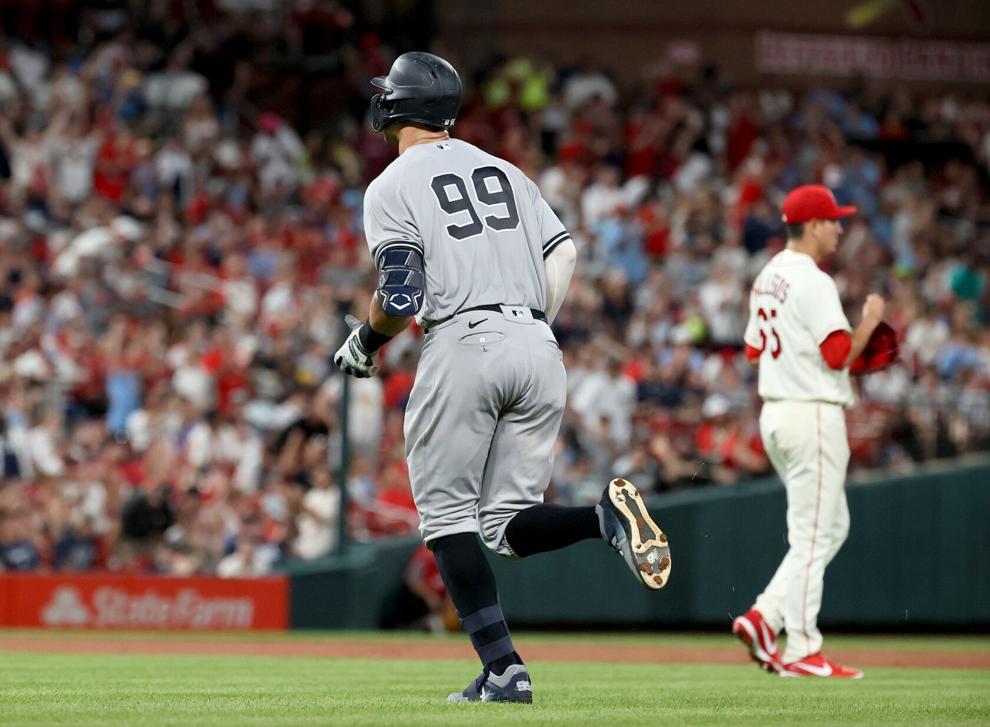 New York Yankees vs St. Louis Cardinals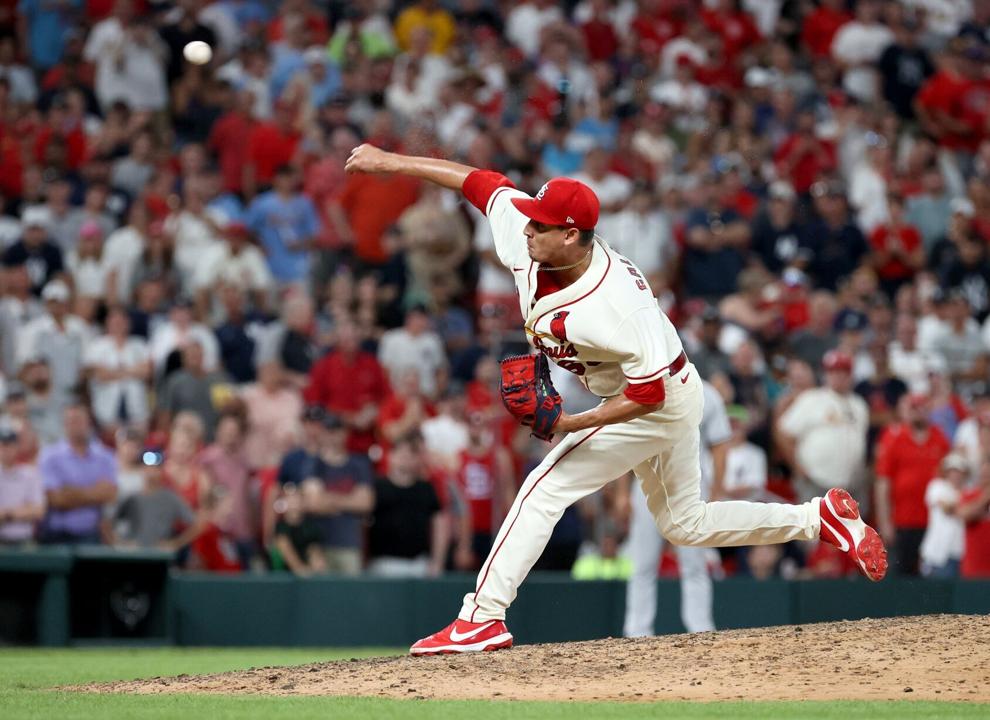 New York Yankees vs St. Louis Cardinals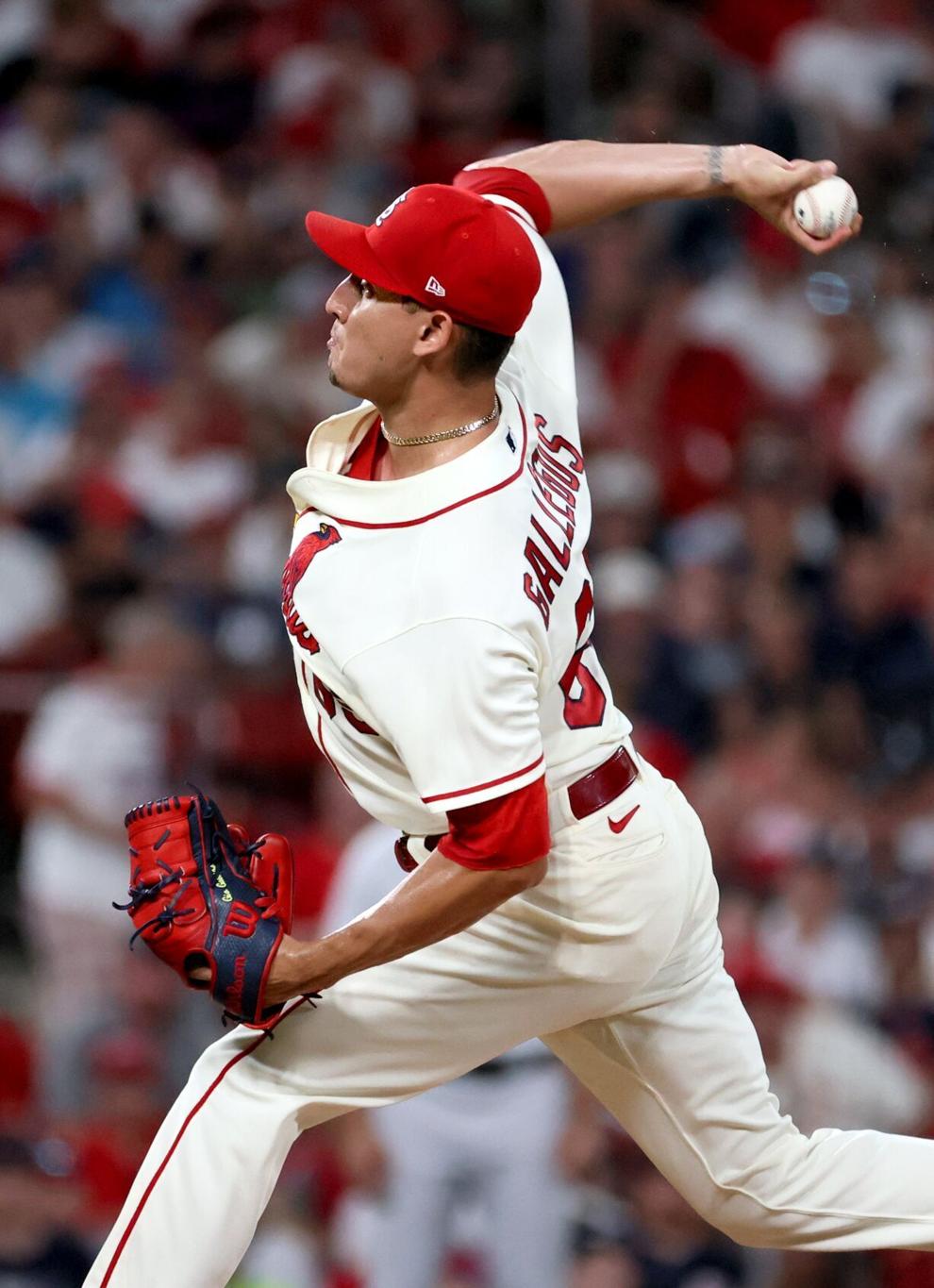 New York Yankees vs St. Louis Cardinals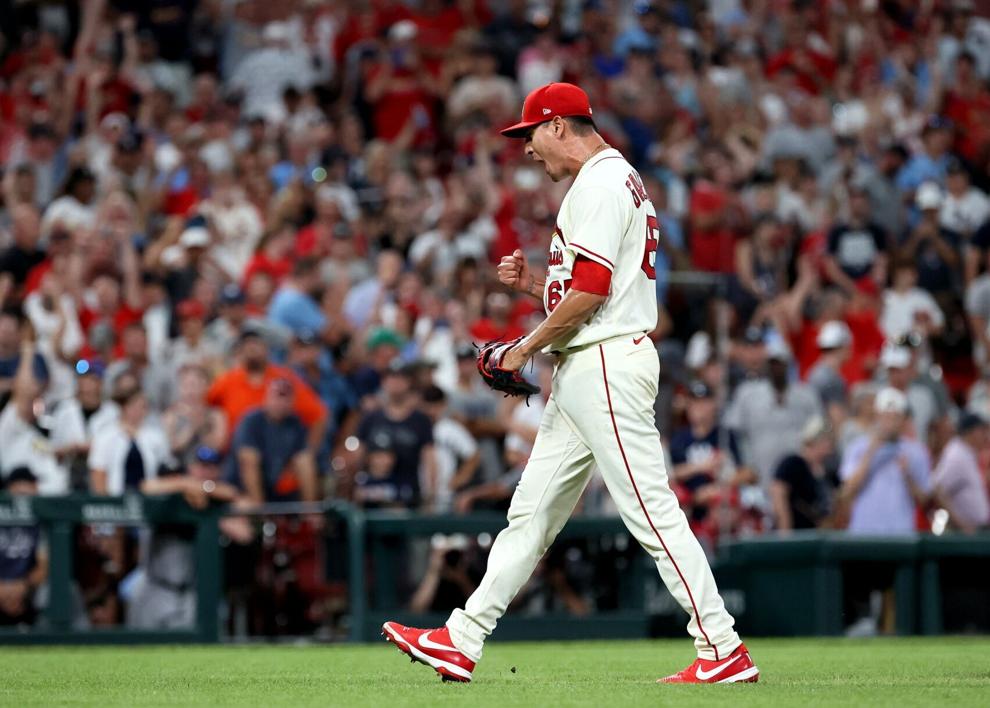 New York Yankees vs St. Louis Cardinals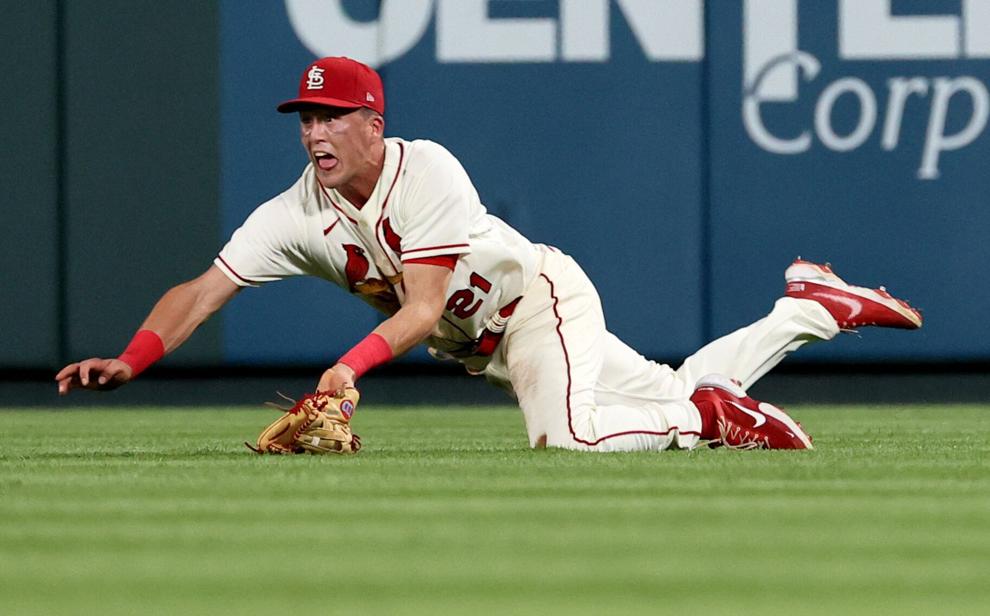 New York Yankees vs St. Louis Cardinals
New York Yankees vs St. Louis Cardinals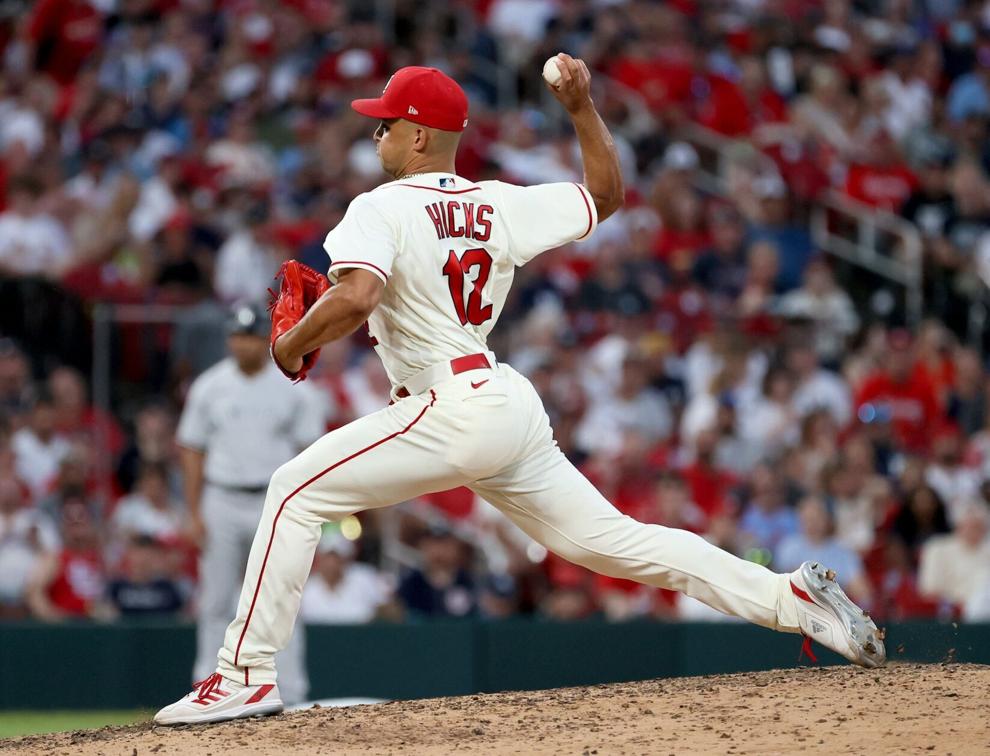 New York Yankees vs St. Louis Cardinals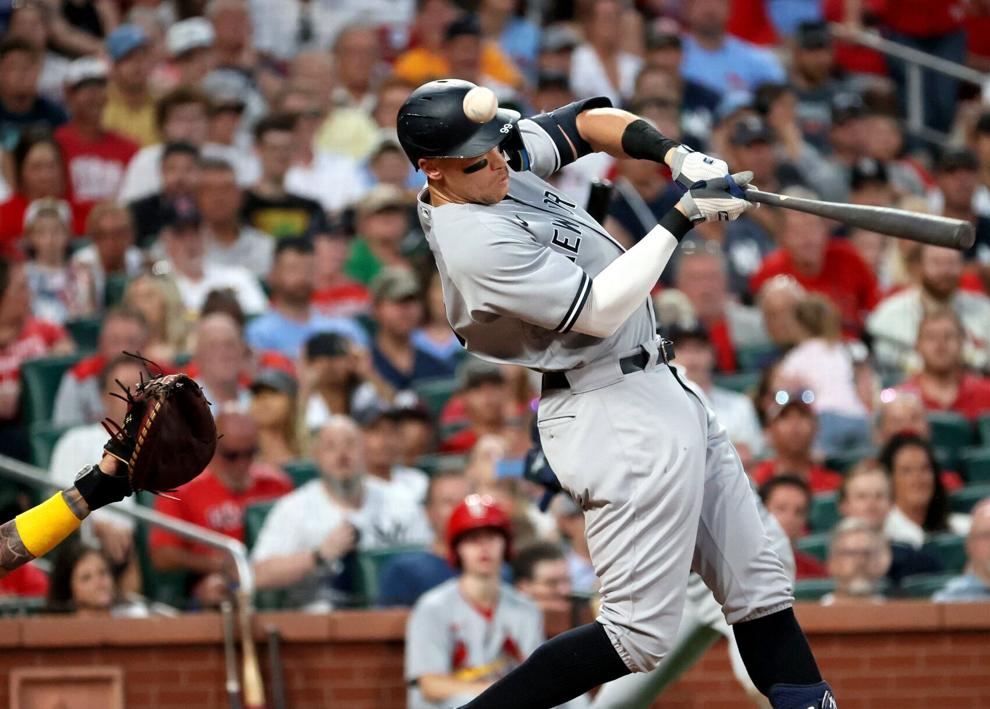 New York Yankees vs St. Louis Cardinals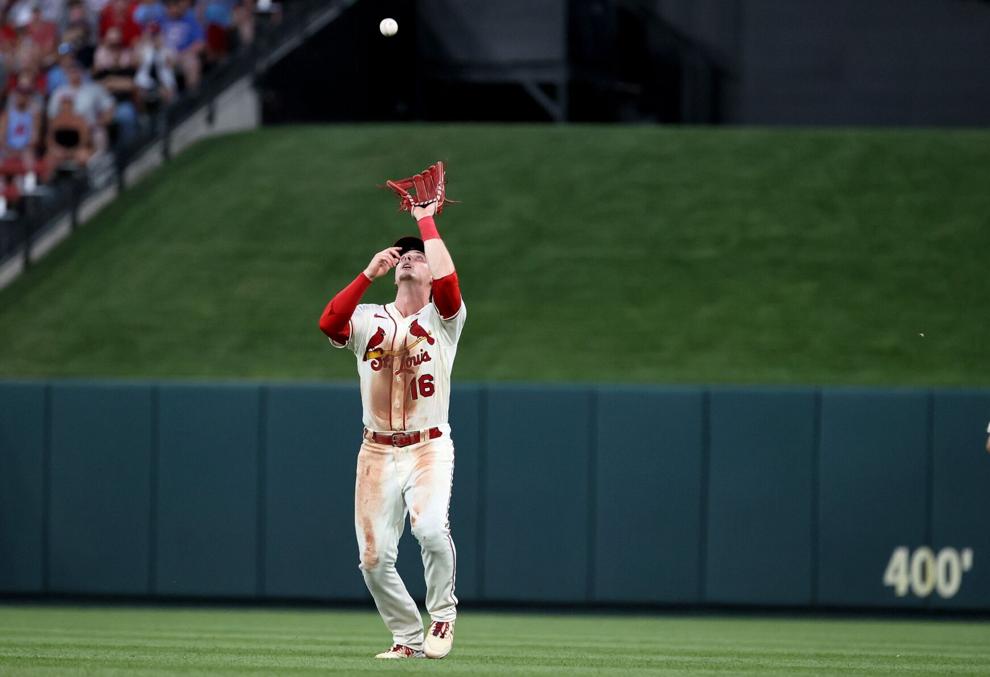 New York Yankees vs St. Louis Cardinals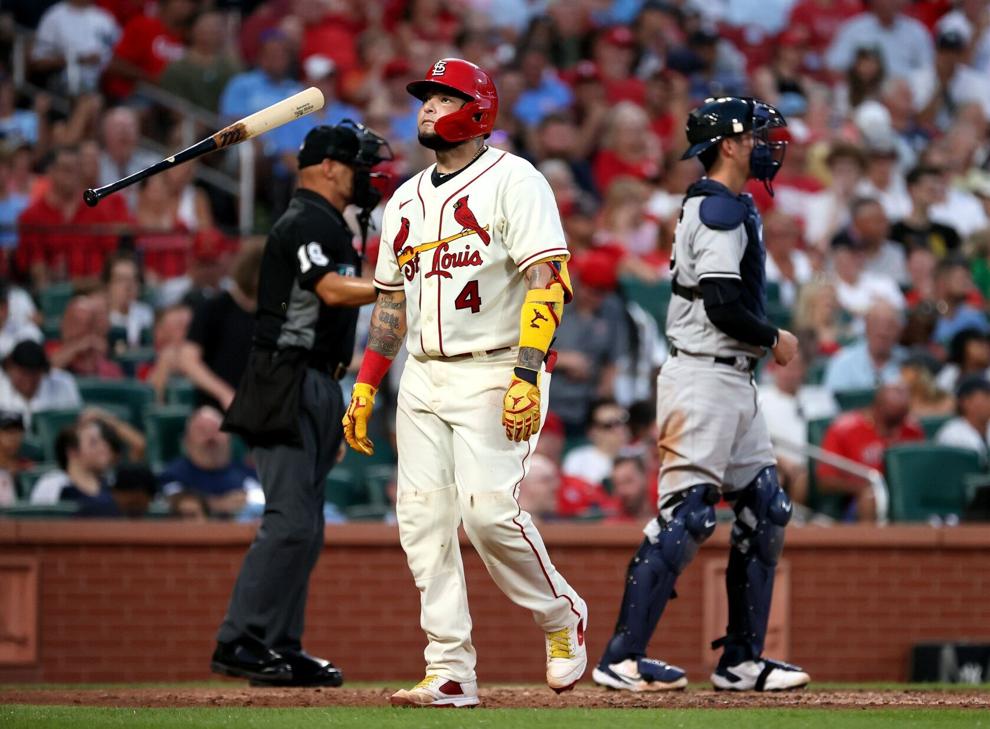 New York Yankees vs St. Louis Cardinals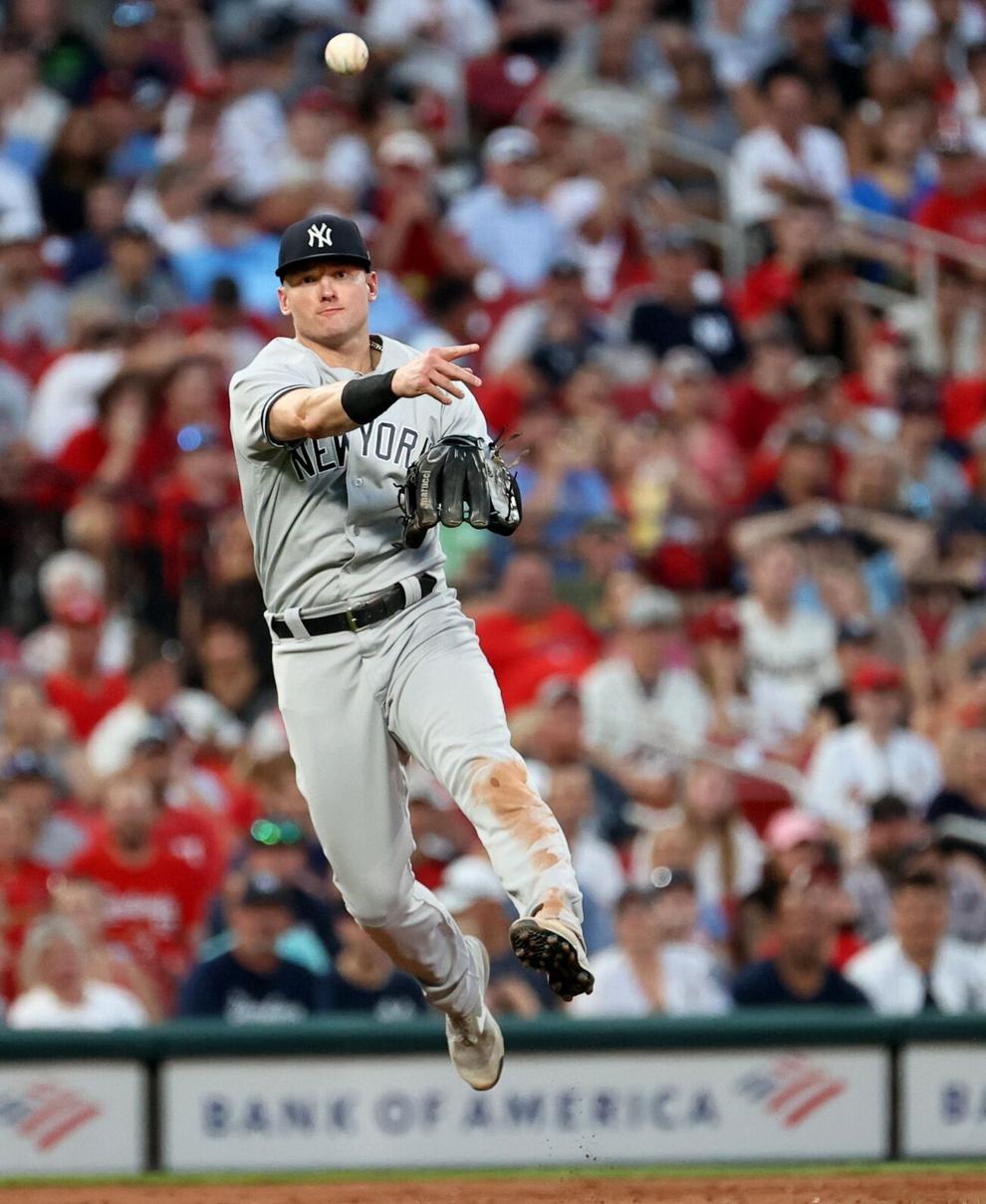 New York Yankees vs St. Louis Cardinals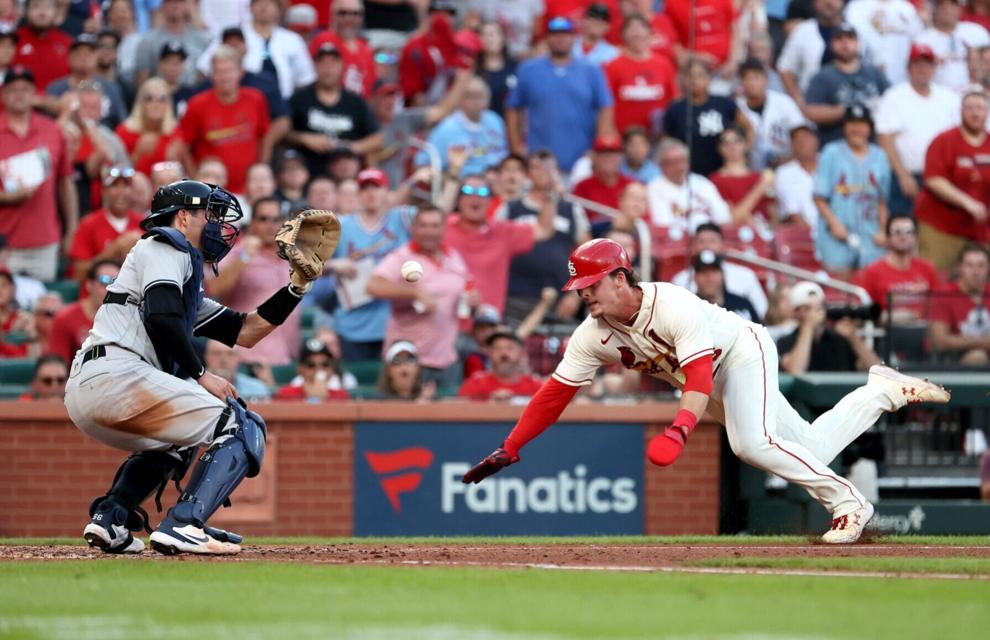 New York Yankees vs St. Louis Cardinals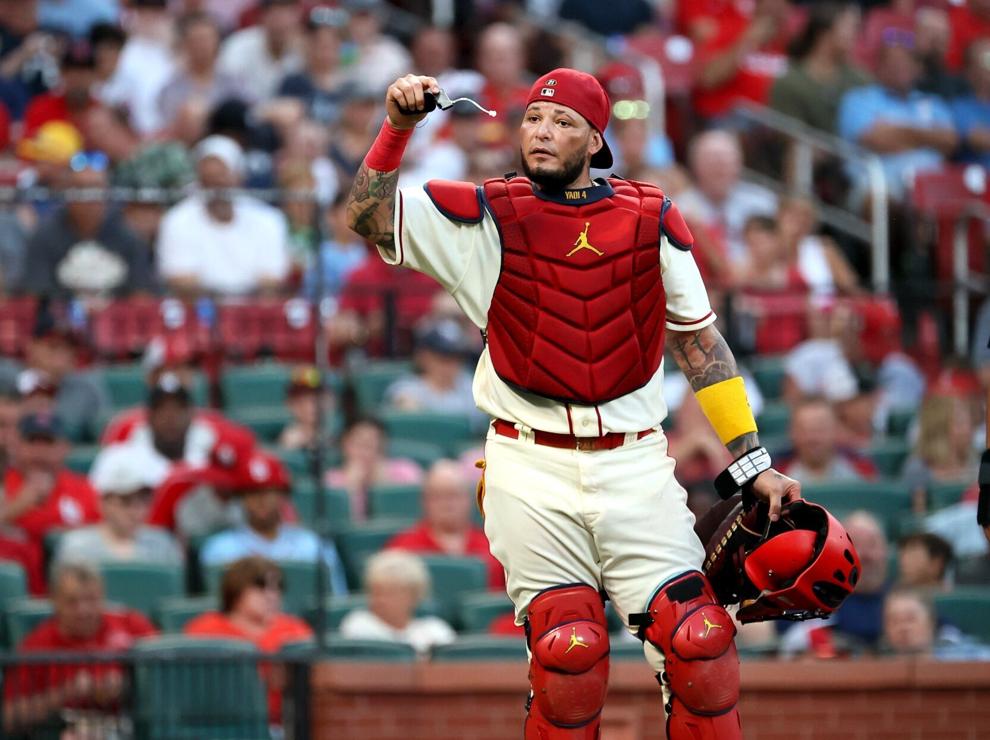 New York Yankees vs St. Louis Cardinals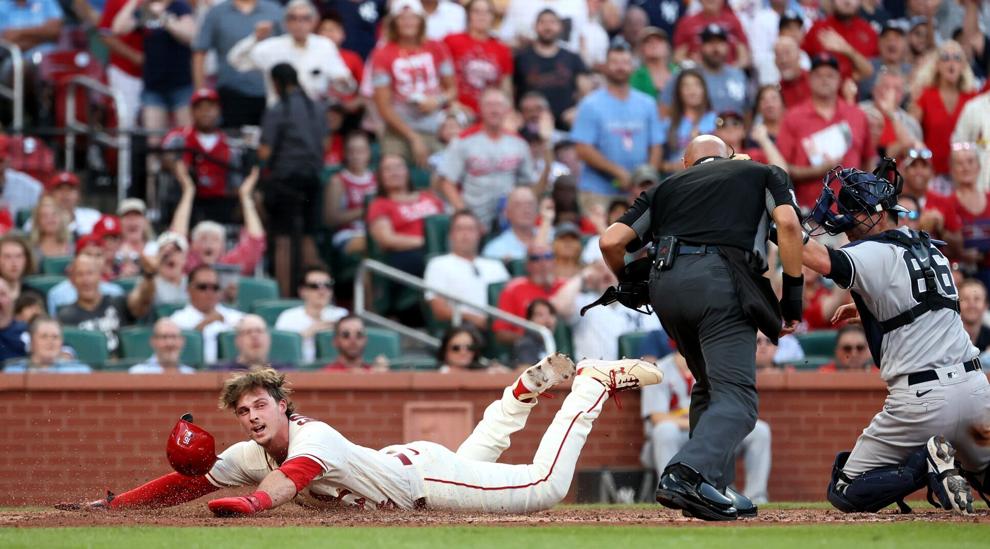 New York Yankees vs St. Louis Cardinals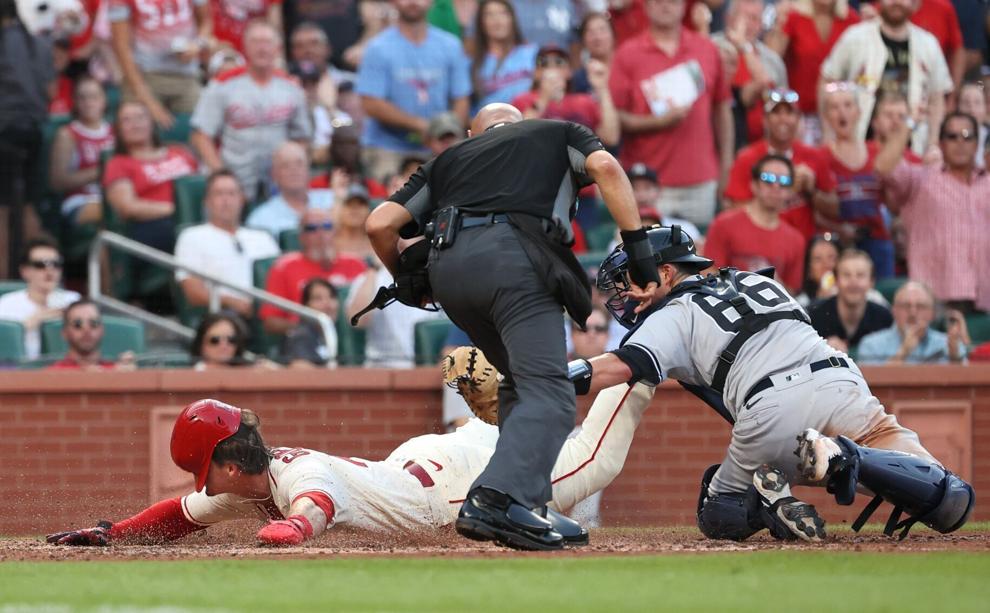 New York Yankees vs St. Louis Cardinals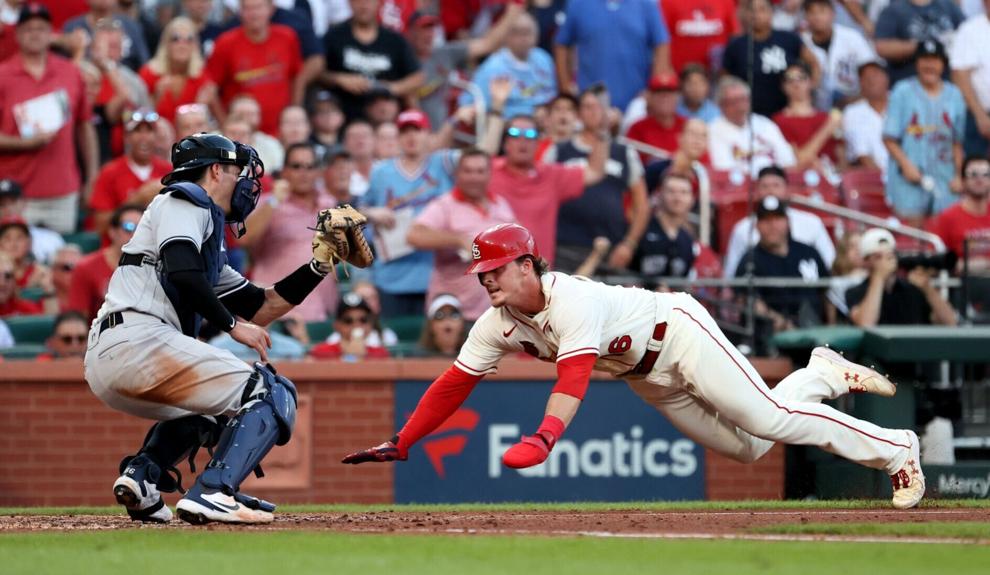 New York Yankees vs St. Louis Cardinals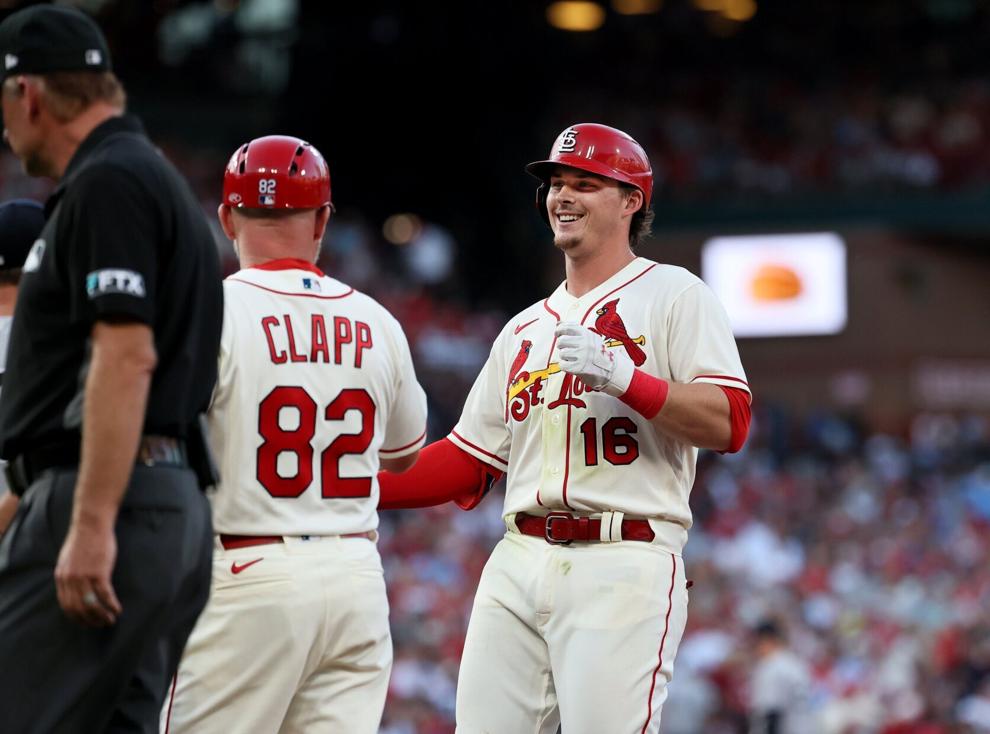 New York Yankees vs St. Louis Cardinals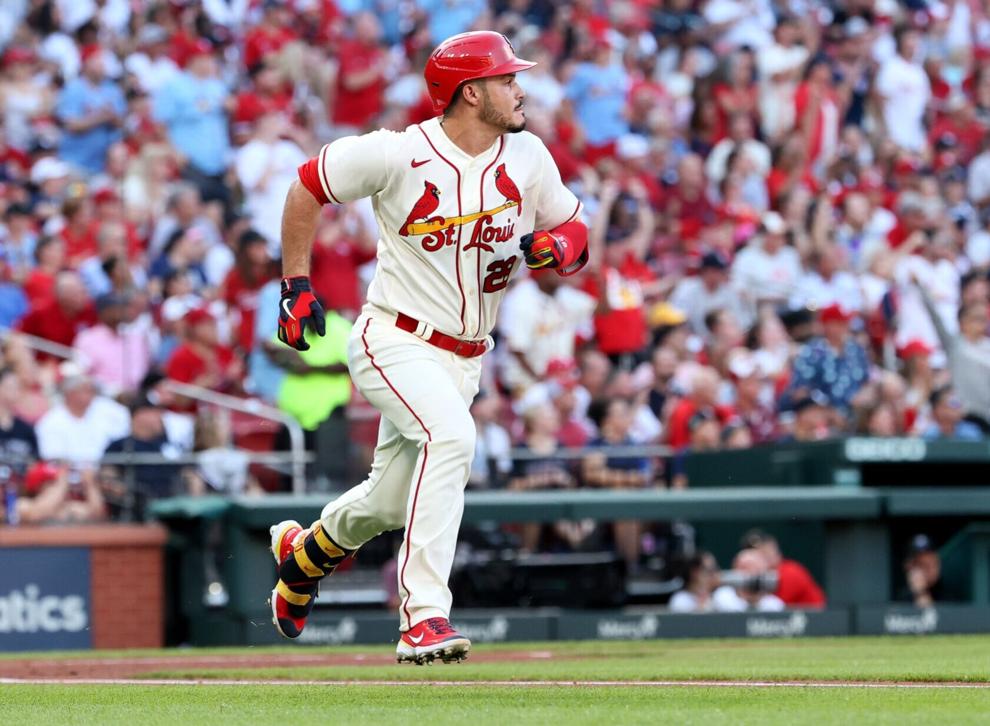 New York Yankees vs St. Louis Cardinals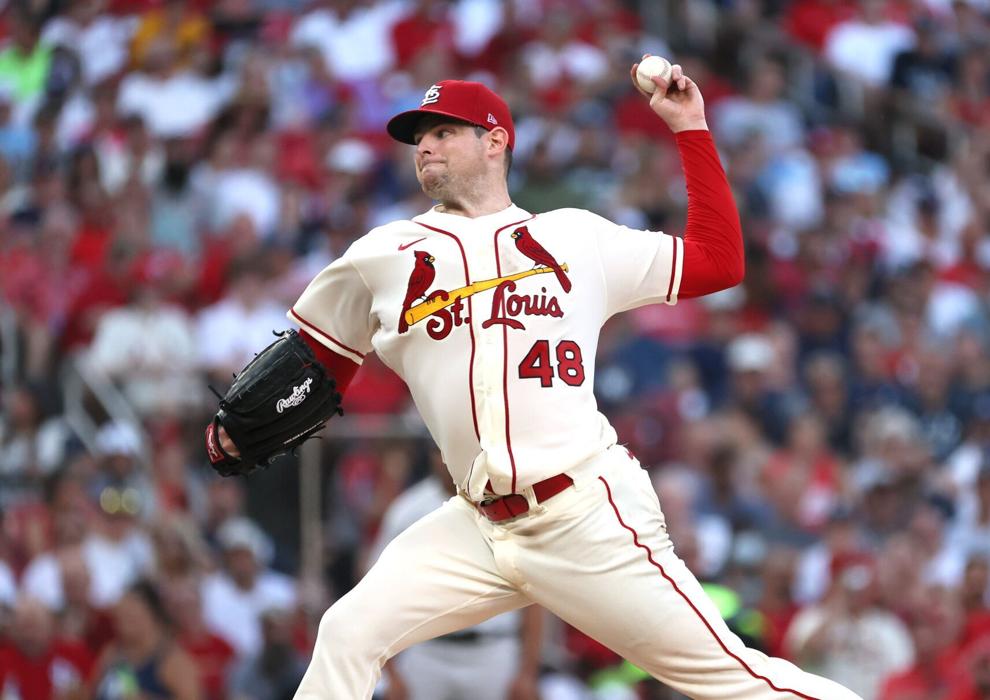 New York Yankees vs St. Louis Cardinals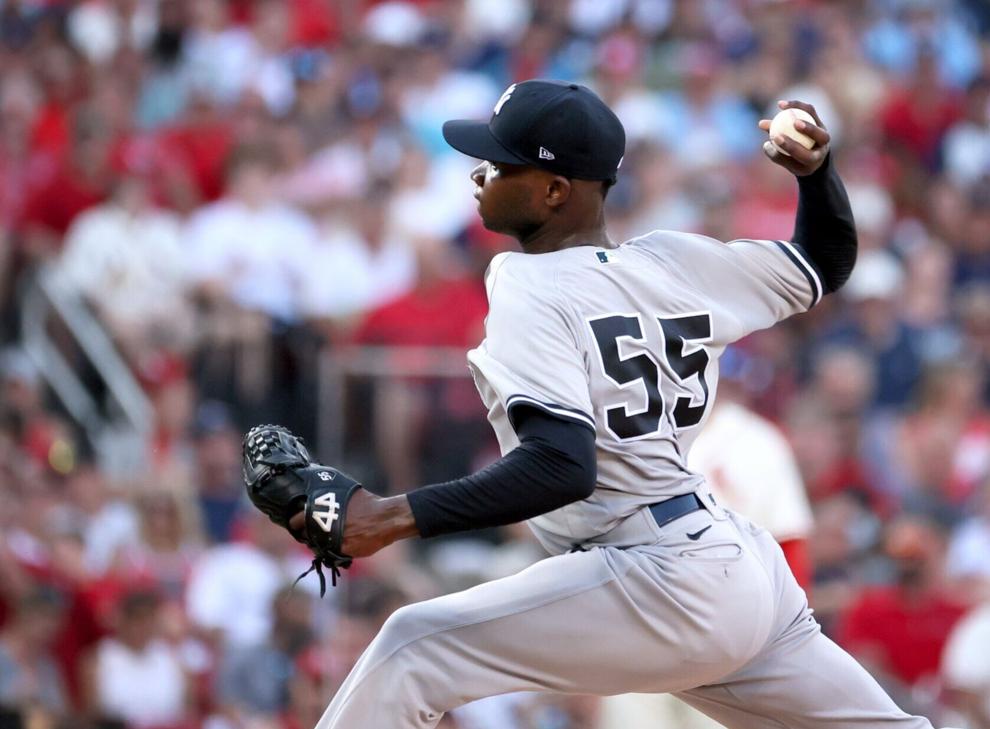 New York Yankees vs St. Louis Cardinals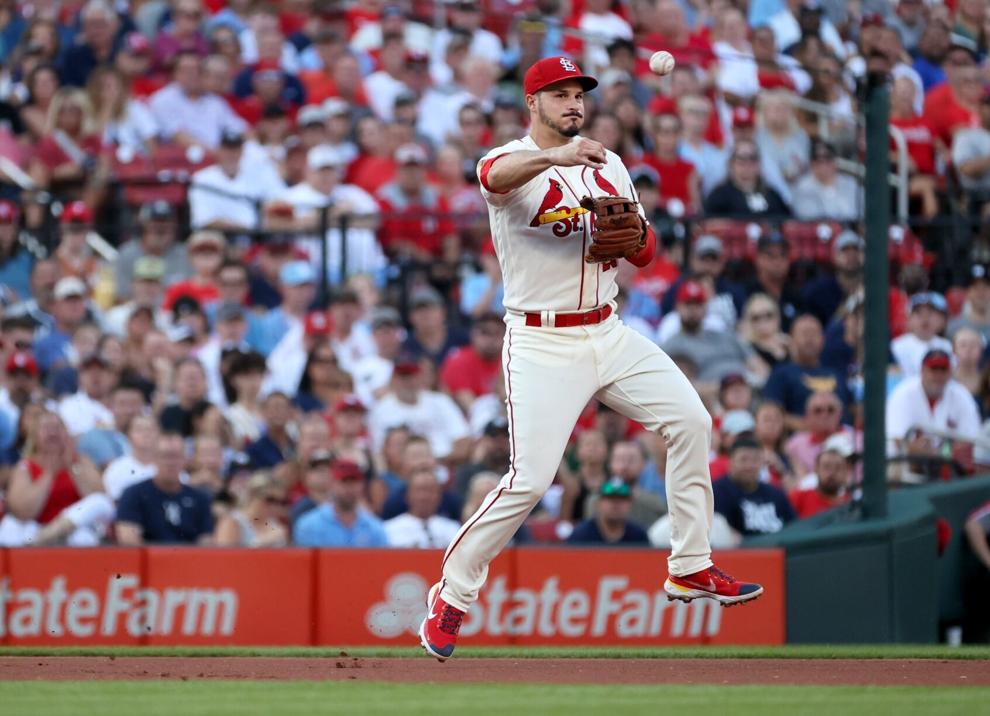 New York Yankees vs St. Louis Cardinals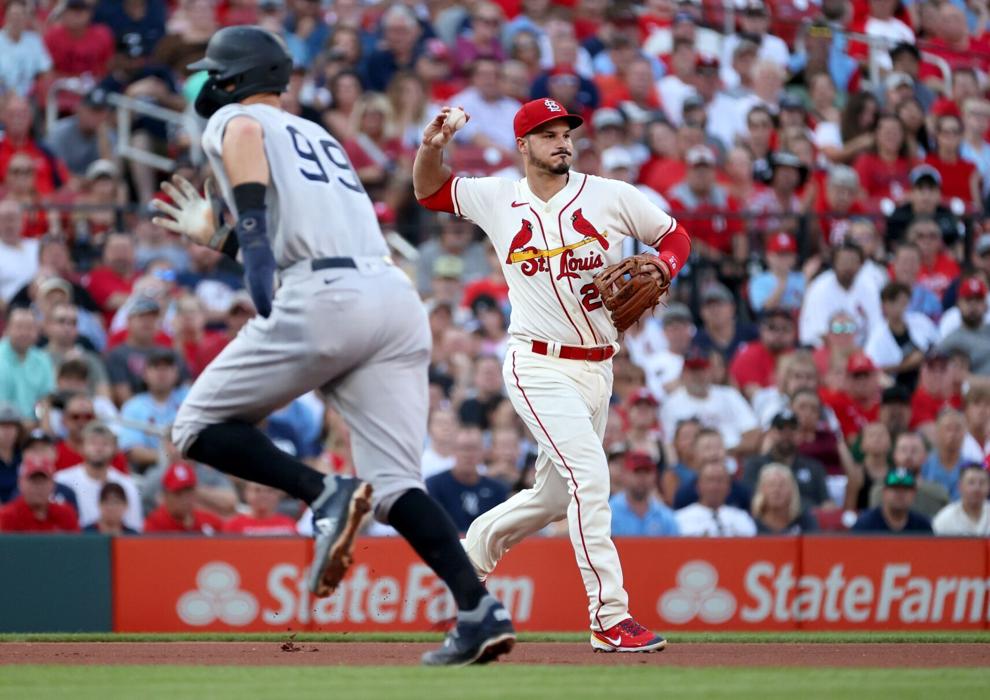 New York Yankees vs St. Louis Cardinals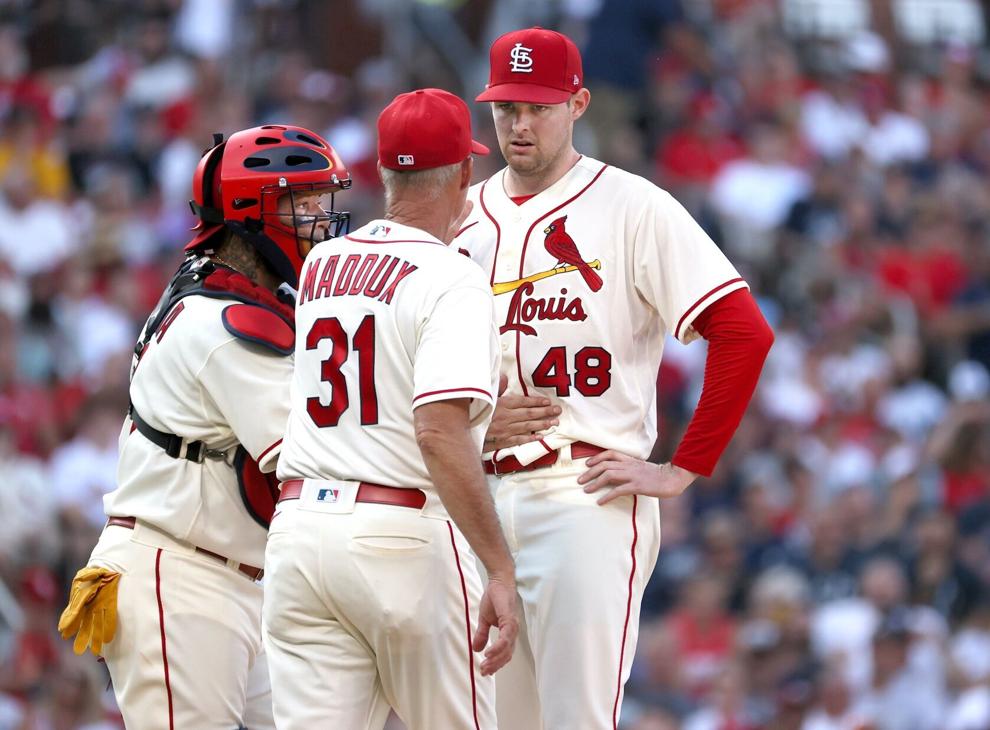 New York Yankees vs St. Louis Cardinals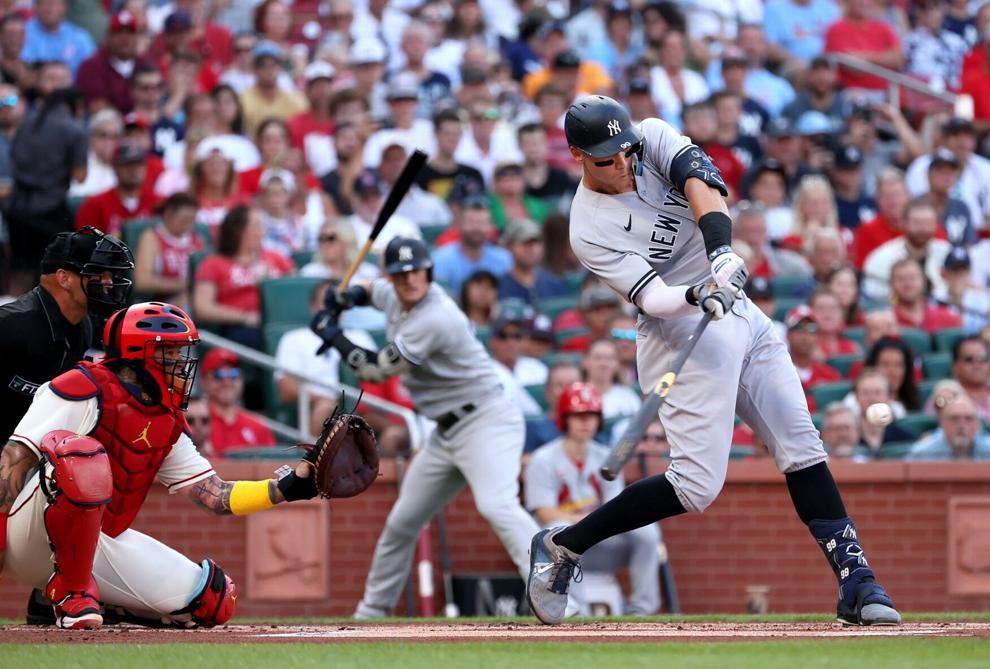 New York Yankees vs St. Louis Cardinals
New York Yankees vs St. Louis Cardinals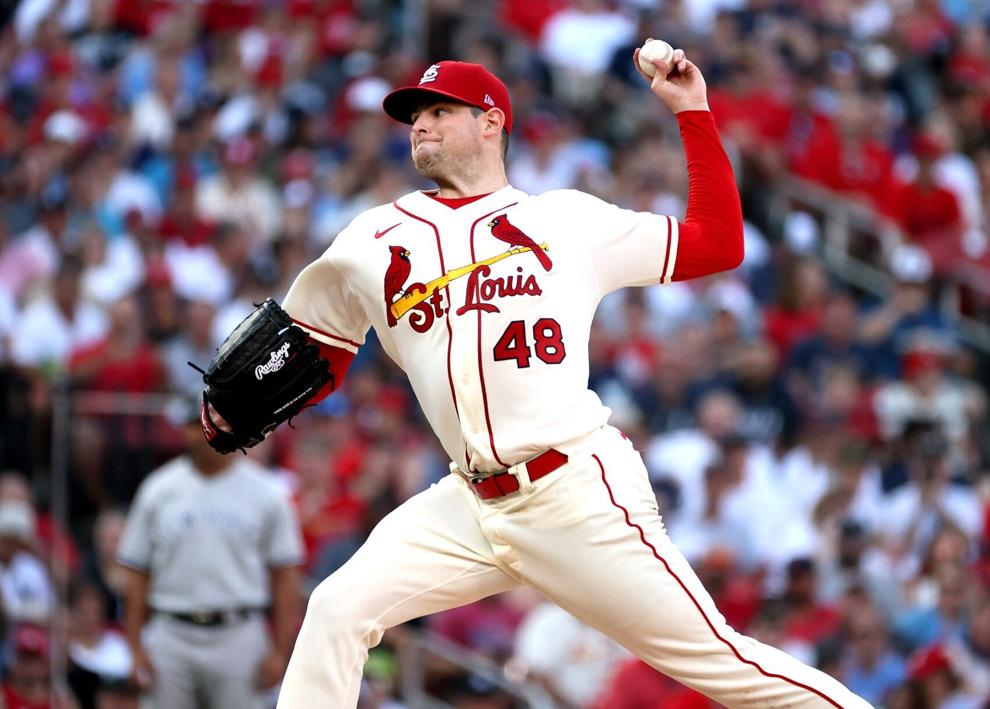 New York Yankees vs St. Louis Cardinals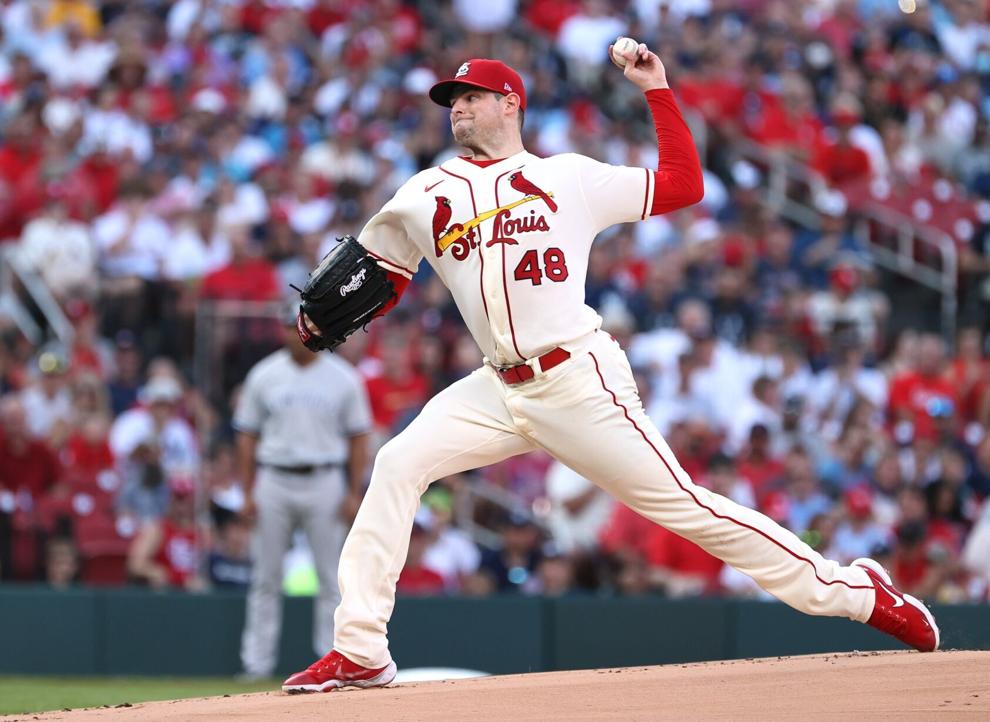 New York Yankees vs St. Louis Cardinals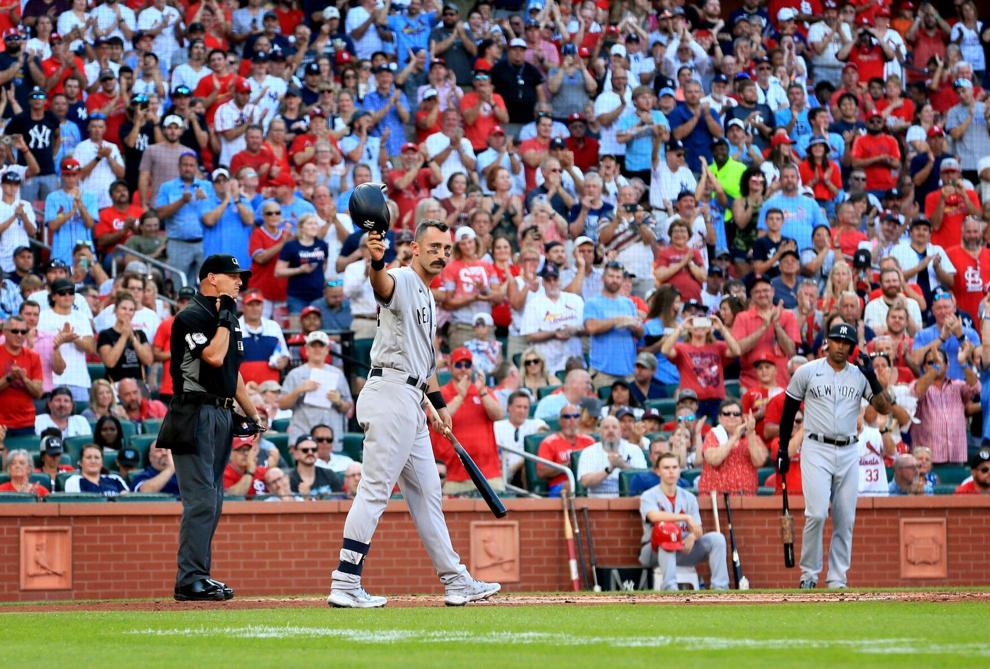 New York Yankees vs St. Louis Cardinals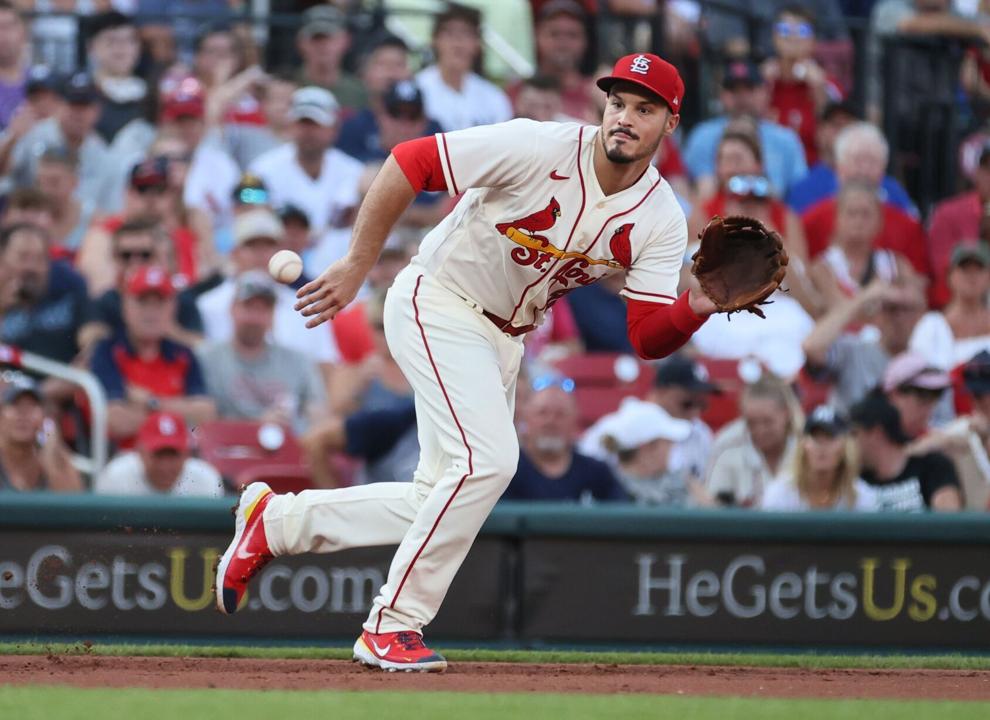 New York Yankees vs St. Louis Cardinals