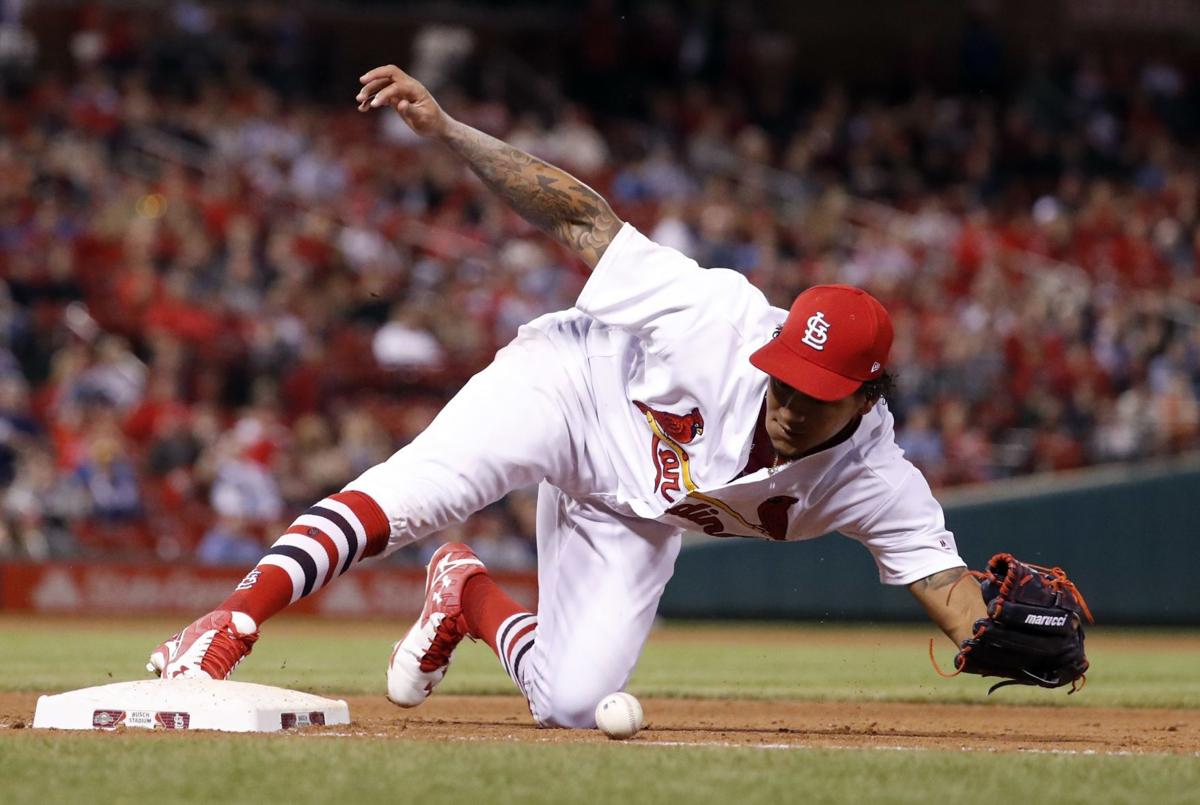 The All-Star break in July is more than two months away but that is a target date of sorts for two Cardinals pitchers on the injured list.
Carlos Martinez, who is expected back in the bullpen sometime next month when his right shoulder is deemed sound enough, said Saturday that he still wanted to start again after the All-Star break. And reliever Mike Mayers, on the IL with a lat problem, said he hoped to be back in the bullpen in July.
Martinez will head to the Cardinals' camp in Jupiter, Fla., on Sunday to ramp up his rehab. He will face hitters in a live batting practice session on Monday and Thursday and then come back here to be re-evaluated.
Martinez said he thought he was going to Memphis for a couple of outings after that, but manager Mike Shildt, who was among those who met with the righthander Saturday before the game, wouldn't go quite that far.
"We're all hopeful he'll be able to go somewhere and get some work in," Shildt said.
Martinez said, "I feel so much better. Right now I'm 85 percent, 90 percent. In two weeks ... I think I'm going to be great. When I come back to the major leagues, I'm going to be 100 percent."
Martinez said he still would stop a little short of going all out just yet. "Sometimes, I'm not hurt but I get a little sore and that's why I want to be easy and try to be smart," said the 27-year-old.
"I know I'm going to be a little sore but my mind's OK so I think I can make the bullpen. Sometimes, when I throw a lot of pitches, I have a lot of soreness. But right now, I feel good. I threw like 30, 35 pitches (on Friday) and I feel great, like a normal bullpen. I hope I will feel great for the next couple of days."
He said he's all right with being a reliever. "I think one inning is OK for my arm, right now," he said. "I'm comfortable with the decision. But, at the All-Star break, if I feel good, I'm going to tell Mike that maybe I can come back as a starter."
"He hasn't told me that," said Shildt, smiling, "but I understand."
NO TIMETABLE YET FOR MAYERS
Mayers has no such timetable yet. "When I get to the field, they tell me what to do. I don't know the long-term schedule is," he said.
"They've told me to go day by day and try not to look too far ahead. If you start too early, you're going to get some setbacks."
Before he does anything more, Mayers said, "I have to get my range of motion back. Then, get my strength back up. When that happens, I can start throwing.
"My goal is All-Star break," he said.
"It stinks because I feel like I was throwing well. But I'll be fresh for the second half. Very fresh."
GYORKO DOESN'T WANT TO RELIEVE
Infielder Jedd Gyorko, while savoring the ball he threw for a 68 mph changeup to strike out Cincinnati's Phillip Ervin Friday night to exit the ninth inning, said he is not looking to return to the bullpen in July, or any other time.
Gyorko, who said he preferred hitting home runs to pitching strikeouts, said, "It's never good that I'm pitching. It usually means something bad has happened."
His only other pro pitching experience came last June when he pitched an inning against Miami and allowed a homer to Lewis Brinson. But Friday here was his first strikeout since high school in Morgantown, W. Va.
Catcher Yadier Molina gave Gyorko the ball after the strikeout and Gyorko said, "I put that one at the top of the list.
"I had a hard time getting high school kids out," he said. "Maybe I've found my calling."
Asked if he could go back-to-back days, Gyorko said, "Let's hope we don't get to that point."
HOME RUN HAVEN
With a clean slate Saturday for only the sixth time in 26 games, the Cardinals still have allowed 51 home runs. In 15 home games, they have tossed 28 homers, or just under two per outing. In 11 road games, they have thrown 23 homers, or just more than two per outing.
Shildt pointed out that 35 of the home runs had come with nobody on base. "But is (51) a higher number than we would like? Absolutely. Is it something that we're overly concerned about? Not necessarily."
OUTFIELD PERFORMance
Center fielder Harrison Bader, back on the roster after recovering from a right hamstring strain, still hasn't started. But Shildt said, "He will soon."
Bader, who came into Saturday's game in the sixth inning on a double switch, got his first hit with a man in scoring position and first hit in 15 at-bats overall since April 7, when he singled home Dexter Fowler. Tyler O'Neill, another extra outfielder just off the injured list, had a pinch hit in the next inning.
Left fielder Marcell Ozuna drove in five runs with a homer and double, right fielder Jose Martinez had a single and center fielder Fowler was on base twice and threw out a runner at home.