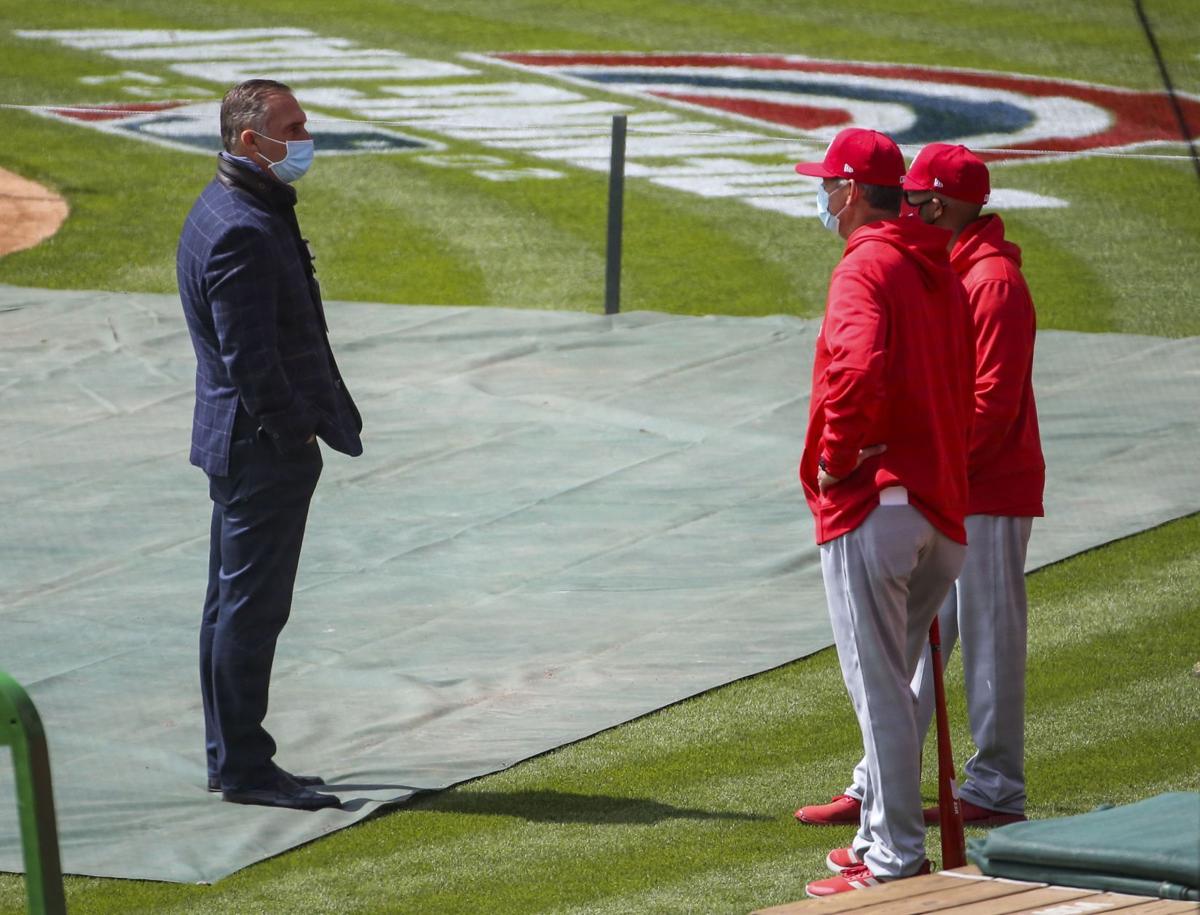 Despite being under .500, the Cardinals are not really "sellers," in the trade market, president of baseball operations John Mozeliak said Friday before the club's game with San Francisco.
"I would find that very hard for us to get to that point," he said. "First off, our roster isn't really set up that way. Probably, some of the players who would have the most interest we see as part of our future."
The trade deadline is July 30 and Mozeliak said, "I think we just have to remain open minded. We're not hiding from the fact that if we felt like something made sense from a pitching standpoint we're going to pursue it. In fairness to the everyday club, we just really haven't been healthy all year. To see the outfield take the field as what we hoped it would be when we broke camp, that's encouraging."
Focus on DeJong
Addressing one of the disappointing aspects of the first half — the play of shortstop Paul DeJong, Mozeliak said, "We hope that we can get him to go where we think he's capable of going. Overall, we have some optimism there. But now you've got to do it."
Edmundo Sosa has been a capable replacement at the position but Mozeliak said, "Right. But when 'Paulie D' was at his highest level, that's hard to have someone step in and replace.
"I feel like we have a little more glaring issue right now on the pitching side."
Mikolas, Flaherty progress
Cardinals starting pitching news was significant Friday afternoon as manager Mike Shildt reported that righthander Miles Mikolas (forearm flexor problem) had thrown a batting practice session to three hitters and that staff ace Jack Flaherty (torn oblique muscle) had thrown for an extended time off the bullpen mound.
Mikolas and Flaherty would seem to be getting ever closer to medical rehabilitation assignments this month, in Mikolas' case, and Flaherty perhaps a little later.
"We see a trajectory that's positive but there's still some hurdles to jump over, for both of them," Shildt said.
But reliever Jordan Hicks, who still is battling elbow inflammation after having Tommy John surgery two years ago, isn't near where the aforementioned pitchers are and Shildt couldn't answer whether Hicks would pitch this any more this year.
Hicks played light catch — 50 throws from 60 feet on flat ground — on Friday for the second time since going on the 60-day injured list, on May 14 after he had appeared in 11 games.
"He's significantly behind where those guys are," Shildt said.
Mozeliak said, "Obviously we're being very patient with Mr. Hicks. He's really encouraged about where he is. I assure you he would love to be moving forward at a quicker pace but he recognizes . . . he has to be patient. But he is hopeful he pitches this year."
Righhander Daniel Ponce de Leon (shoulder inflammation) also threw a side session Friday.
Oviedo, Woodford on horizon
Lefthanders Kwang Hyun Kim and Wade LeBlanc are the scheduled starters for the rest of the San Francisco series over the weekend. They probably will be followed Monday and Tuesday for Chicago by righthanders Johan Oviedo, who has started for much of the season, and Jake Woodford, who has been transitioning to be a starter after working exclusively out of the bullpen.
Both have been pitching at Memphis.
Shildt, asked if Oviedo would start, said, "I think that's reasonable." And Woodford? "I think you can do some math."
First pick signed
The Cardinals signed their No. 1 draft pick, Mike McGreevy, a Cal-Santa Barbara pitcher, for a bonus thought to be about $2.8 million. The slot value for McGreevy at the 18th pick in the first round is $3.481 million. But the Cardinals are believed to want to use some of that potential money to land second-round pick Joshua Baez, a Boston area high school slugger who has signed with college power Vanderbilt.
McGreevy came to town Thursday from the family home in San Clemente, California, and while in St. Louis, he already has sampled the gooey butter cake.
"Unbelievable," McGreevy said. And his father took on the toasted ravioli.
The family, including McGreevy's mother and brother, watched Friday's game and then it will be on to Jupiter, Florida, and the Cardinals' training camp where McGreevy will be tested and assessed. His first duty assignment hasn't been determined.
Classified as a quick worker, McGreevy said, "Being a former shortstop, I hated to play behind a pitcher taking his time.
When he signed his contract, McGreevy said he paid no attention to the numbers.
"I just didn't want to mess up the signature," McGreevy siad. "I wanted to make sure I had the date right and spelled my brother's, and my mom's and my dad's name right."
Lefty relievers swapped
The Cardinals exchanged lefthanders in the bullpen, purchasing the contract of lefthander T.J. McFarland, who had been at Memphis, and sending lefthander Brandon Waddell there and he was placed on its COVID injured list.
McFarland, who was signed after being let go by the Washington Nationals, is a sinkerball specialist who was 1-0 with a 2.57 earned-run average with one save in seven innings over four games with Memphis.
Waddell had a 4.15 ERA in 4 2/3 innings for the Cardinals, who got him after Baltimore let him go. But Waddell walked five in that time.
Mozeliak said the Cardinals didn't learn of Waddell's of positive COVID test until after the option. He said Waddell showed only mild symptoms.
Arenado pens message to Cubans
On the cap he wore during the game Friday, Cardinals third baseman Nolan Arenado wrote, in black pen, "Patria Y Vida," a rallying hashtag and phrase adopted by protestors in Cuba that means "my homeland and my life." Protests have gripped Cuba in recent weeks because of shortages of food and medicine and a weak economy that was further cratered by the pandemic.
Arenado and his cousin, Rockies infielder Joshua Fuentes, wrote the phrase on their caps for games Friday. Their grandfather was a political prisoner in Cuba, and Arenado's father, Fernando, left the island at age 7 in the late 1960s, eventually growing up in Southern California and raising three boys there.
Arenado visited Cuba with his family in November 2016.