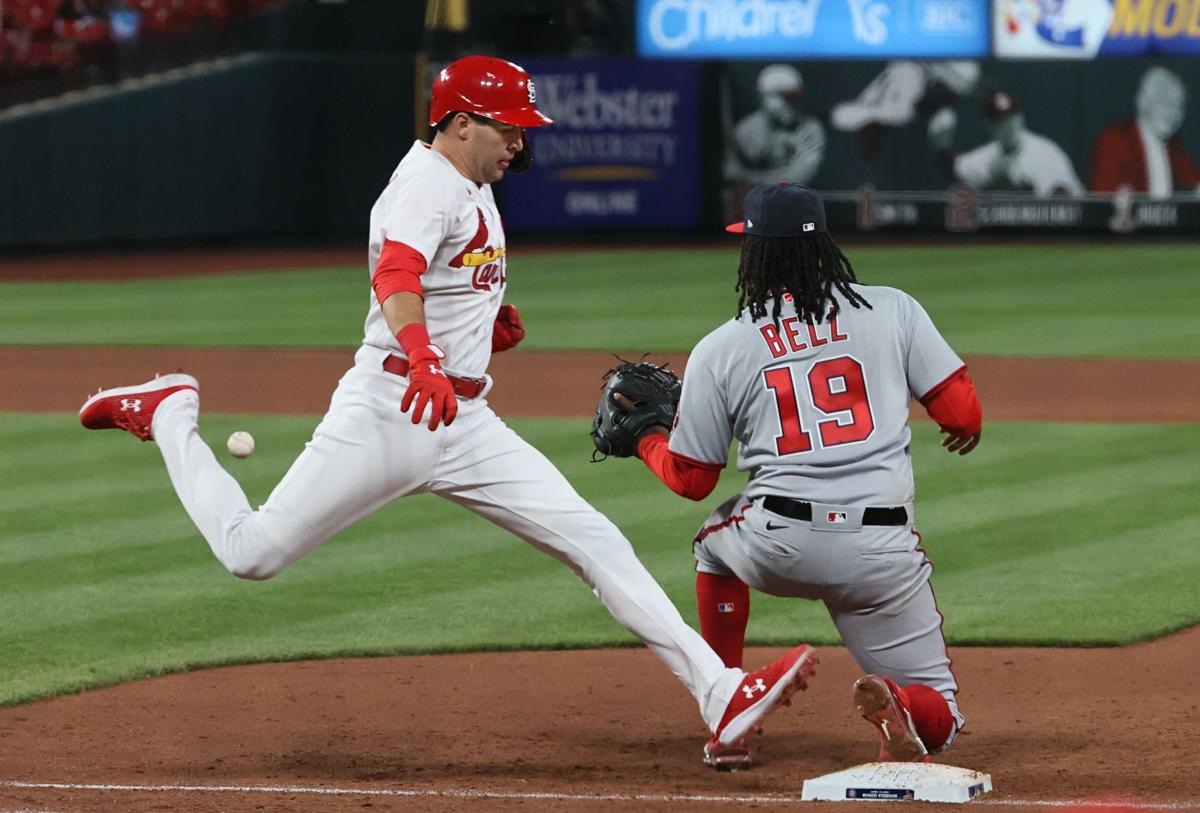 WASHINGTON — The early, advertised reasons why the Cardinals stashed rookie Dylan Carlson in the lower third of the lineup was to illustrate the depth they wanted to have and not apply the pressure they wanted to avoid.
"Being down in the lineup (and) not feeling he has to carry more," manager Mike Shildt said Monday afternoon. "Sometimes you protect guys a little bit further down in the lineup."
And sometimes they are needed higher.
Coming out of Sunday's shutout in Philadelphia and persisting questions about production from the middle of the order, the Cardinals made a slight swap — small in movement, but significant in symbolism. Carlson and Matt Carpenter exchanged places, with the rookie rising to No. 5 and the veteran, with his .069 average, shifting to No. 7. It was the highest Carlson has hit in the order so far this season after finishing last year as the Cardinals' cleanup hitter in playoffs.
"I don't think it's a big ask for either of them," Shildt said.
Regardless of his spot in the lineup, Carlson, 22, steadily has asserted his place in the Cardinals' offense. The shutout Sunday was only the second time in his past 10 starts that he did not have a hit.
Then on Monday, in the Cards' 12-5 rout of Washington, he reached base twice in his first three plate appearances and finished one for three, with a triple. He scored two runs to increase his total to 11, which leads all rookies in the majors. Carlson's OPS now is .917, the second-best on the team to Yadier Molina's.932.
A studious, steady hitter as he climbed to the majors, Carlson has shown those same traits in the opening weeks of this season, and what's stood out about the rookie outfielder is what Shildt has returned to again and again as the noun he wants most from players and the Cardinals have not seen from their offense.
"Consistent at-bats, seeing the strike zone, taking his walks, putting good swings on it, good at-bats from both sides of the plate," Shildt listed. "We're looking for those consistent good at-bats. But Dylan has been able to do that. He's been able to get results as well. Put him in the five hole and feel comfortable wherever Dylan hits he's going to give us a good at-bat. It's more of a look for Dylan."
Lineup dynamics have come to dominate many of the pregame interviews with Shildt in part because the team has cycled through cleanup hitters — Molina is the latest — and the lineup has been top-heavy with production. To start the season, Shildt said Carlson batting seventh was "a good spot (to) add length to your lineup."
Shildt has favored Carpenter recently in the fifth spot against righthanded pitchers because it helps break up the run of righthanders. Carpenter was one for three Monday
Committed for now to batting Paul Goldschmidt second and Nolan Arenado third, Shildt has three righthanded hitters in a row with Molina at cleanup. He wanted a lefty there. Bookending that trio with leadoff hitter Tommy Edman and Carlson, both switch-hitters, gives Shildt that balance and, against a lefty, five consecutive righthanded batters to deal with. It's the latest look. It could last.
"The lineup is always fluid," Shildt said.
O'Neill is on deck
Tyler O'Neill could rejoin the lineup as early as Friday, when the Cardinals begin a homestand against Cincinnati. O'Neill, placed on the injured list because of a groin strain, has been running at full speed and participating in simulated game situations at the Cardinals' alternate-site camp in Sauget, Illinois.
O'Neill hit a home run in a recent scrimmage setting, Shildt said.
His return will lead to a shuffling of the outfield and could slide leadoff hitter Tommy Edman back to second base more often and rookie Justin Williams back to right field. O'Neill homered on opening day and had a .143 average with three RBIs, four hits, and 14 strikeouts in 28 at-bats when he went on the IL.
Harrison Bader (forearm strain) was cleared to participate in live batting practice Monday at the alternate site. He has been limited to soft tossing and hitting off a tee as the Cardinals ease him back from the flexor tendon injury that ended his spring training. Bader has been throwing about 120 feet without difficulty. He had soreness when swinging the bat during spring, and that prompted the platelet-rich plasma treatment he's returning from.
Mikolas on the mend
If he's able to recover from another live batting practice session this week — one that is set to include breaking balls — Miles Mikolas will start on a throwing schedule similar to a starter in spring training. That could put him three to four weeks away from having the arm strength to rejoin the rotation.
Mikolas, his spring halted because of shoulder trouble, threw a live batting practice session Sunday to hitters at the alternate-site camp. He threw exclusively fastballs and changeups. Shildt said the righthander was encouraged by the outing, and that his next step will be mixing in his breaking pitches and seeing how the shoulder responds.
Then "he'll get back in the trajectory of ramped-up as a starter," the manager explained. "He's still got another step or so to go."
Extra bases
Cincinnati outfielder Nicholas Castellanos lost his appeal and will have to serve the two-game suspension he received for taunting and looming over Cardinals pitcher Jake Woodford after a play at the plate.
The event happened in the opening weekend of the season, and Castellanos will serve his suspension before the Reds visit St. Louis this weekend. He is to sit out games Tuesday and Wednesday against Arizona.
• The Cardinals will be the last team in the majors this season to play in a one-run game. Every other team had played in at least two by the end of last weekend.