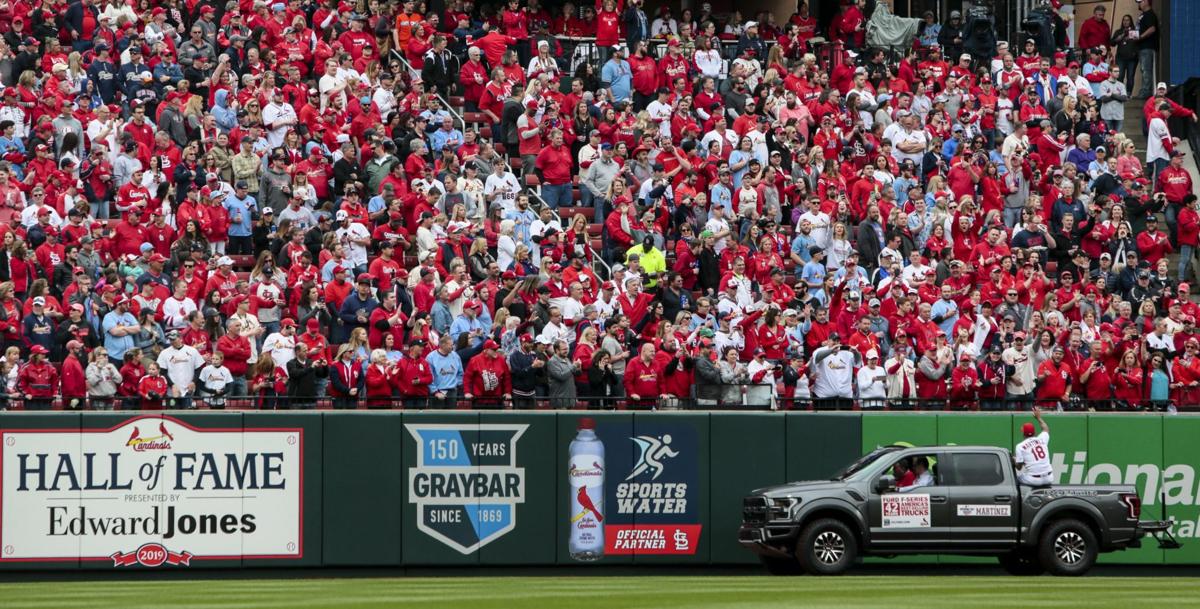 When he will be ready and how the Cardinals will use him when he is are questions pitcher Carlos Martinez can face only after he's given the answer why this rehab will be different.
Martinez, fresh from Florida, joined his teammates for opening day Friday at Busch Stadium and he will continue his recovery from persisting shoulder weakness in St. Louis. Three times last season and once already this season, Martinez had trouble within his right shoulder radiate into a different injury. He's tried a variety of treatments and workouts and late last year even shifted to the bullpen.
"We recognize that what we've been doing in the past is not sustainable, and so things have to change," said John Mozeliak, president of baseball operations. "You ask about role. Of course that is going to come into play. Also usage. And trying to figure out a way to keep him in a better spot. I think part of that equation is his preparation. What he puts into it."
Martinez said he has been throwing at about 80 percent intensity at distances of 120 feet. He'll advance to throw lightly off the mound, and he's scheduled for his first bullpen session on April 13. He will be doing all of his work, and likely that bullpen, in St. Louis, under the guidance of the Cardinals' training staff. When he's ready to face hitters, he may relocate to Jupiter, Fla., to participate in extended spring training.
The righthander, the Cardinals' opening day starter a year ago, has not had any difficulty recovering the day after his throws or any weakness as a result of the cuff strain, he said.
"I'm going to be intelligent," he said. "I don't want to be quick."
If pressed to give him a grade on his work and his adherence this time to the rehab program, Mozeliak said Martinez has "been an A." He said the righthander is in "compliance" with the requirements.
Once he's off the mound, the Cardinals will decide if they have time to build his strength up to start or an opening in the bullpen where they need him.
"Need is a variable in that decision-making, yes," Mozeliak said. "Clearly I think part of that is also what we think from a time standpoint. If you're saying we would like him to come back as a starter, you also have to accept that's going to be a much longer ride. We're not at that cliff yet."
CECIL HAS SURGERY, GIVES UP VIDEO GAMES
Lefty reliever Brett Cecil had surgery Monday to alleviate the symptoms of carpal tunnel syndrome, and while he argued there's no connection between the injury and his fondness for video game play he's not taking any chances. Cecil said he's stashed his game system and won't play again until after he retires from baseball.
"Just to get the notion out of my head and out of everybody else's head," he said, and then added a quip. "Plus, I'm going to be pretty terrible at playing when I get come back."
Cecil had surgery in his left wrist to reduce pressure on a nerve, and he had another procedure done for his arm that decompressed the media nerve, he said. He will be unable to throw with his arm for six weeks, and it's likely he'll next be available to pitch after the All-Star break. The relief isn't just within his arm; it's off his mind.
Cecil has experienced some numbing sensations in his left arm for the previous five years, he said. He would place his left hand on the top of the steering wheel when driving and feel his arm go numb. So, he stopped driving like that. The tingling and trouble would fade, and he would dismiss it as part of pitching. He and the Cardinals had discussed different causes for the numbness he felt in his fingers, and during spring training explored if there was a pinching sensation happening within his left shoulder.
Carpal tunnel was the eventual diagnosis.
Cecil said he spoke with another pitcher about whether the injury could have been traced back to video game play. He and teammates would play a hockey video game, and for a short time he had a console in the locker next to his at Busch Stadium, and he would travel with one. He wants to talk with the doctor still, but with the issue spiraling through his forearm and to his elbow he thinks the symptoms were caused by his arm's other repetitive use: throwing.
"You never really know what the cause, but the first time I ever say anything about my hand going numb was five years ago," Cecil said. "I think with a thing like this it takes awhile to get in this position. It's just the repetitive use of doing the same thing over and over, and I pitch and play catch a whole (heck) of a lot more than I've played video games. I'm in a better spot now."
OZUNA BRUISED, GYORKO ACTIVATED
Marcell Ozuna sustained a deep bruise on his rib cage when he was hit by a pitch during the final week of spring training, and that has been identified as the cause for soreness that kept him from Wednesday's game in Pittsburgh. The outfielder first brought attention to the soreness on the eve of opening day, and the Cardinals sought an MRI Thursday to determine if he had a muscle injury limiting him.
"Most of all, get him on track from a baseball standpoint," Mozeliak said, adding that he'd like to see Ozuna more "aggressive" in the field and at the plate.
The Cardinals, as advertised, added Jedd Gyorko (calf muscle strain) to the active roster before Friday's opener and optioned infielder Drew Robinson to Class AAA Memphis. Robinson will continue to play multiple positions, including regular appearances in the outfield.INTERIOR (RE)DESIGNThe walls in and around the Cardinals' clubhouse had been painted and redecorated during the offseason to illustrate the history of the team – and honors given individual players. Immediately outside the clubhouse is a collage of pictures capturing the great players and great moments from every decade of Cardinals' baseball. It includes all of the Hall of Fame players as well as individuals like Albert Pujols for the 2000s and David Freese for his role in the 2011 World Series championshipsAlong the hallway the players take from the clubhouse to their parking lot there are lists of the MVPs and other awards won by Cardinals.Shildt also redesigned the layout and décor of the manager's office, relocating the desk to a corner to add more seating, open up space for conversation, and create an area for his daily "ball talk" sessions. Shildt also added photos of George Kissell, phrases from the "Cardinals Core" program, and a red wall with the team's interlocking "STL" on it.HUDSON, ETC.Dakota Hudson, available out of the bullpen again Friday, is scheduled to make his next start Tuesday against the Dodgers. … The postponement of the home opener did mean three Cardinals Hall of Famers were unable to attend due to previous commitments or family events: Chris Carpenter, Mark McGwire, and Cooperstown inductee and former manager Joe Torre. … Austin Gomber, Memphis' opening day starter, got the win in the Redbirds' victory at AutoZone Park on Thursday. He did not walk a batter and struck out six in five innings. … Veteran reliever Luke Gregerson (shoulder) began his rehab assignment with an inning of work for High-A Palm Beach. He allowed a run on two hits. He can have a maximum of 30 days on a rehab assignment before returning to the majors or having a setback that puts him back on the injured list.