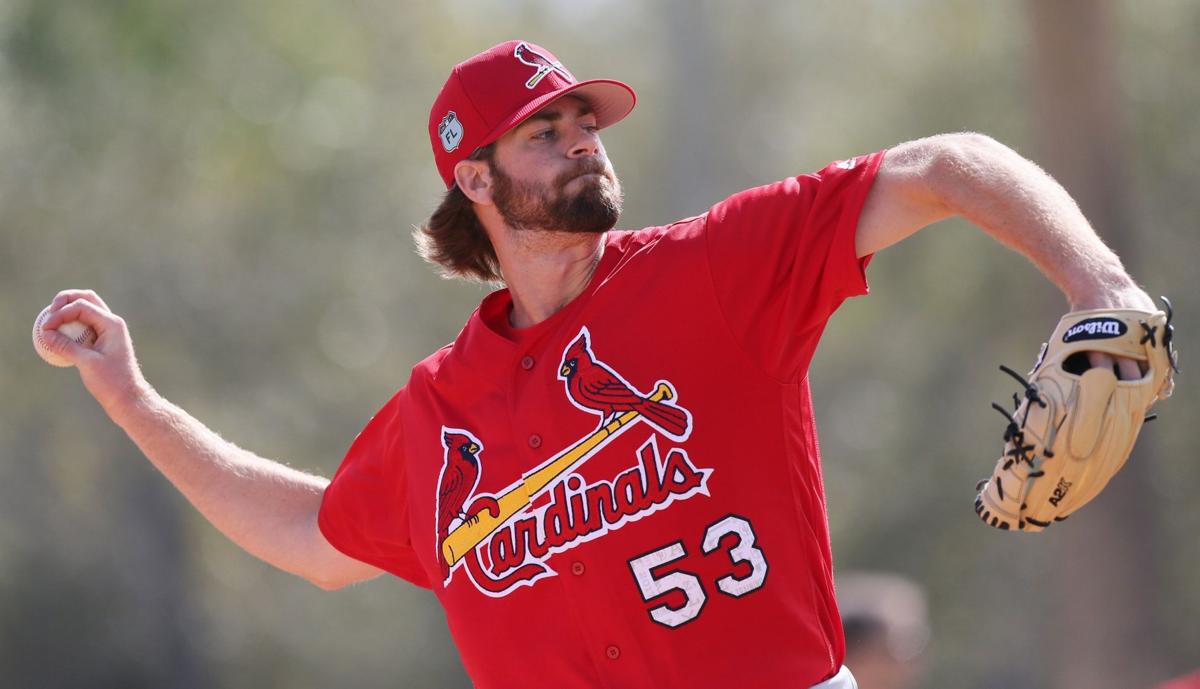 JUPITER, Fla.• Cardinals pitching coach Derek Lilliquist already had been pleasantly surprised by newcomer John Gant's command and repertoire, revising his opinion from what he saw Gant display last year with the Atlanta Braves when the Cardinals roughed him up a couple of times early in the season.
Gant already had a built-in advantage, perhaps, because of his unusual delivery in which he raises his left leg twice before unleashing to the plate. But Lilliquist asked Gant to consider something else — raising his leg just once before tossing — which Gant did successfully one time on Saturday as he fired three perfect innings, striking out three, in a 2-2 exhibition tie in 10 innings with the Braves.
"Disrupt timing," said Lilliquist. "First pitch of an inning. Two strikes. He can sit there and do it five times if he wanted to. So you never know."
It isn't certain just where Gant fits into the Cardinals' plans for this season, whether he is a starter or a reliever or both. But, off what the staff has seen in a spring in which Gant has given up just one run and three hits in eight innings, there may just be a spot for the two-stepper.
Lilliquist allowed as much but he added, "We're also waiting for the other contenders to show, as well."
Gant, for the moment, is taking the starts which would have been made by Carlos Martinez, who is competing in the World Baseball Classic for the Dominican Republic. Erstwhile reliever Trevor Rosenthal, one of those "contenders," has been out with a lat problem but will throw a bullpen session on Sunday and may be ready for game action again later in the week.
"We'll see what the medical people say," said Lilliquist. "He's getting better."
But Rosenthal's bid to become a starter this spring probably will run out of time.
Young Luke Weaver, who has had one start this spring, will back up Adam Wainwright on Sunday in Weaver's first game action in some two weeks. Gant, who was 1-4 for Atlanta with a 4.86 earned-run average as a combo pitcher over 20 appearances last year, is on call for anything.
"We'll build him up (innings-wise) and see what we get," said Lilliquist..
Afterward, Gant said he had fun competing against some of his friends.
"I was just trying to throw strikes and get them to put the balls in play," the 24-year-old said. "I wouldn't say that everything was working perfect, but it ended up working out."
Bench coach David Bell, who was managing Saturday after Mike Matheny went home sick in the morning, pulled Gant after just 31 pitches, 22 of which were strikes, because he had other pitchers that needed to pitch. But Bell said Gant likely could have gone longer.
"He's really opening some eyes," said Bell. "I know he's had success in the past but I think he's really put himself into a position where we're taking a close look at him. Today he was very sharp. He located his fastball very well. I think he was feeling very confident and wanted to go back out there. He had more in the tank, for sure.
"He has a really good breaking ball and a changeup. And there has to be some sort of deception, too, with the windup. I'm not exactly sure what that is."
Gant, who has a 33-22 career minor-league record in the Atlanta and New York Mets systems, said, "It's nice to have a good outing. (But) I think you need to have a short-term memory if things are going good or bad. It is officially in the past now. I'm looking toward tomorrow."
Young guns
Young righthander Jack Flaherty had a strikeout and then niftily covered first base on the back of a double play that ended the seventh inning. Flaherty also pitched around a leadoff walk and a single in the eighth, getting his third strikeout and a popup.
"He was really good," said Bell, who used the same phrasing to describe the outing of Daniel Poncedeleon. Another promising righthander, Poncedeleon had a perfect ninth and 10th innings for the Cardinals, striking out three.
"He looks like a different guy this year," said Bell. "He dominated today."
Lilliquist said, "They're confident in this camp more so than last camp. They've caught the attention of some people. Their stuff, obviously, is 'plus-plus' (both threw in the mid-90s Saturday). Now it's just a matter of letting their talent come out."
Flaherty is 21 and Poncedeleon is 25.
Matheny hopes to be back Sunday
Matheny texted Bell after the game and said he planned to be back Sunday and general manager John Mozeliak said he hoped Matheny would return.
"We'll see how he feels," Mozeliak said. "But we don't want him getting anybody else sick either."
Bell said that if Matheny has a "bug, I'm going to tell him to stay home another day. But I don't think he'll listen to me."
Carpenter plays, briefly
Matt Carpenter returned to first base — hitting ninth again — as he continued to heal from lower back tightness. Carpenter bunted for a hit in his lone at-bat on Thursday but he didn't swing or bat on Saturday, being pulled for a pinch hitter in the third inning.
"His priority today was just to get innings in the field," said Bell. "He had the option to go up there (to hit) but I think he's so competitive, he didn't want to give up (and not swing)."
Shortstop Aledmys Diaz sat out a third straight start as he recovers from a hamstring/leg cramp but he took part in full infield drills on a back field and should be ready for action on Sunday.
"He's really close," said Bell. "There's no reason to rush him. If this was the season, he'd probably be playing by now."