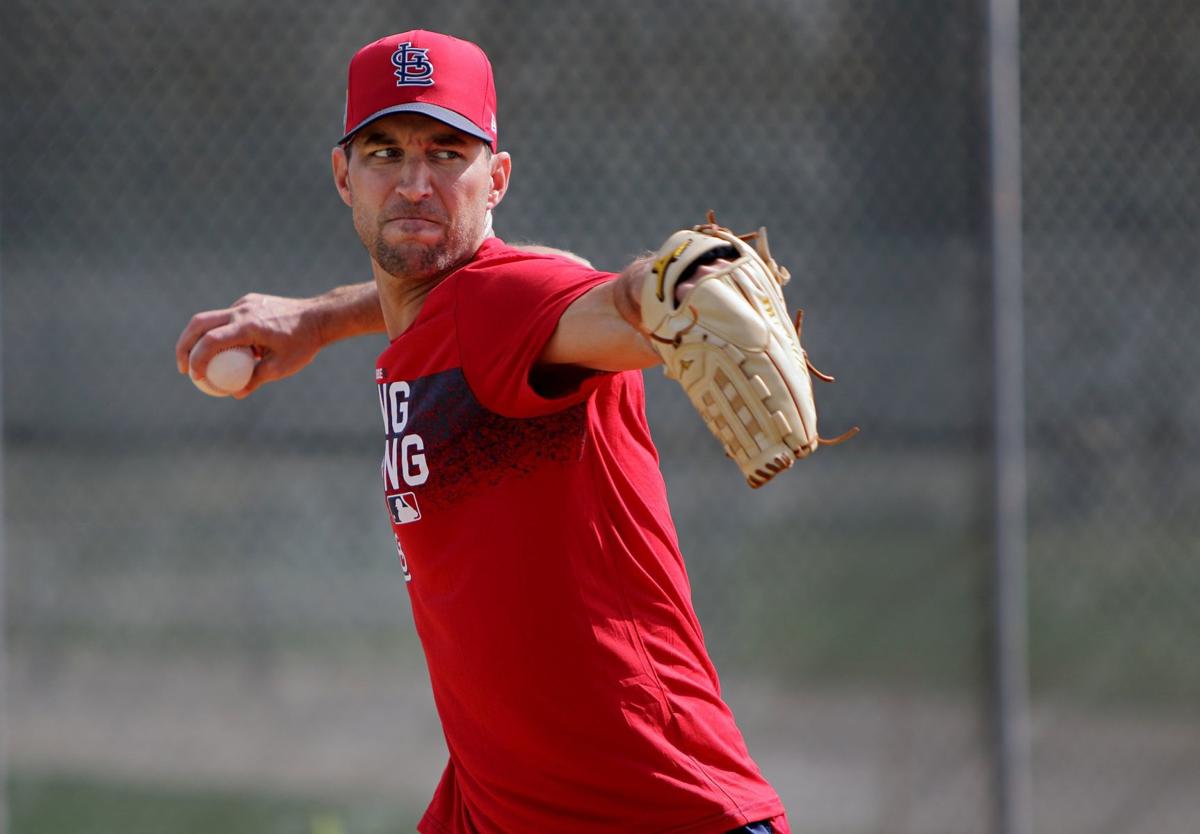 MILWAUKEE • It was a good day for Adam Wainwright although not so much for Jack Flaherty, or even Michael Wacha.
After undergoing two days of intensive running and movement drills and a final review by the Cardinals' training staff on Wednesday, Wainwright was adjudged to be healthy enough to come off the 10-day disabled list on Thursday.
"I think they invented tests for me to try to pass," cracked Wainwright.
This just happens to coincide with the home opener of the Cardinals season at 6:15 p.m. Thursday and Wainwright will be pitching that game, as had been the plan before he suffered a left hamstring injury after running sprints late in spring training.
The other shoe fell for prized righthander Flaherty, who already had been optioned to Class AAA Memphis late in camp but was called up to take Wainwright's place and fanned nine in five innings of one-run ball here on Tuesday.
Flaherty was told Wednesday afternoon that he was being sent back to Memphis and he wasn't happy about it, declining to comment to a reporter several times as he packed his bags. "I've got nothing to say," Flaherty said.
But manager Mike Matheny noted that Flaherty sports an intense, nonsmiling look most of the time.
"There's a maturity to this kid," said Matheny. "He takes a lot of pride in putting out the product he put out last night.
"I know he wants to keep doing that here and I don't blame him. It's like I told him in spring training, 'You've pitched good enough to be on a big-league team.'
"Jack will be a big-league pitcher and a big-league starter. I think he'll be around a long time."
Wacha, meantime had his potential home-opener start moved back to Saturday and Wainwright said he had talked to Wacha about that.
"Good friend, solid pro," said Wainwright. "He and I had the same attitude about it. When we were called, we were going to be ready."
Thursday's start, said the 36-year-old Wainwright, "means a lot to me. I had already, in my mind, gotten myself ready to pitch tomorrow or whenever. I'm taking the same approach with every game this year. Every game is going to be like it's the last game I ever pitch."
Matheny said this decision "was not about sentimental reasons, but it's nice it worked out that way."
Wainwright was hopeful of convincing Matheny and the medical department that he was ready to pitch but he insisted he "didn't do anything out of the ordinary to try to prove that I was ready. I went to them and I said, 'I'm ready to play. Put me through every test you want to put me through.' I did no lobbying. I didn't go into the manager's office and say, 'I want (to pitch) tomorrow.'
"I was also respectful of Wacha and his position of also pitching tomorrow, when he also is a very deserving candidate."
At the time of the injury, Wainwright implored Matheny not to disable him because the pitcher didn't consider the injury serious. "If it had been the playoffs, I would not have mentioned anything and I would have gone out and pitched fine," said Wainwright.
Matheny was steadfast in ignoring Wainwright's pleas. "When he has an MRI that shows he has a hamstring (injury), he no longer has a say," Matheny said. "You can't out-will an MRI. He still wants to argue that point but it's falling on deaf ears."
Flaherty was in line for his first big-league victory before Tyler Lyons and Dominic Leone each allowed two runs over the last two innings, with Leone serving up back-to-back homers with two out in the ninth to Christian Yelich and Ryan Braun.
NOTHING WRONGWITH CARPENTER
Third baseman/second baseman Matt Carpenter was double-switched out of the game after the eighth inning on Monday and after the seventh on Tuesday but there is no health issue.
Carpenter had batted near the end of the innings in question and the Cardinals wanted to employ their bullpen a certain way, bringing another infielder into the game at the same time to hit in the pitcher's spot.
Carpenter's No. 3 spot in the order did come up in the ninth inning on Tuesday but there were two outs and nobody on when Greg Garcia struck out.
"I'm 100 percent," said Carpenter, who has had back and shoulder problems in the last two years. "The odds of me coming up (again) were slim. I'm always in support of it."
Matheny said he probably would continue to make such a move because of the strong defense that Garcia and Yairo Munoz would offer.
Asked about the risk of removing his No. 3 hitter in the seventh inning, Matheny said, "With a three-run lead, we'll take that chance. A one-run lead, to be honest. If you want to try to hold onto a lead, you've got to trust your guys. But everything you do is open to skeptics.
"But he's a pro. What other guy do you know that has had the success he's had that will say he'll play first, second, third or wherever you want? It's a unique mindset."