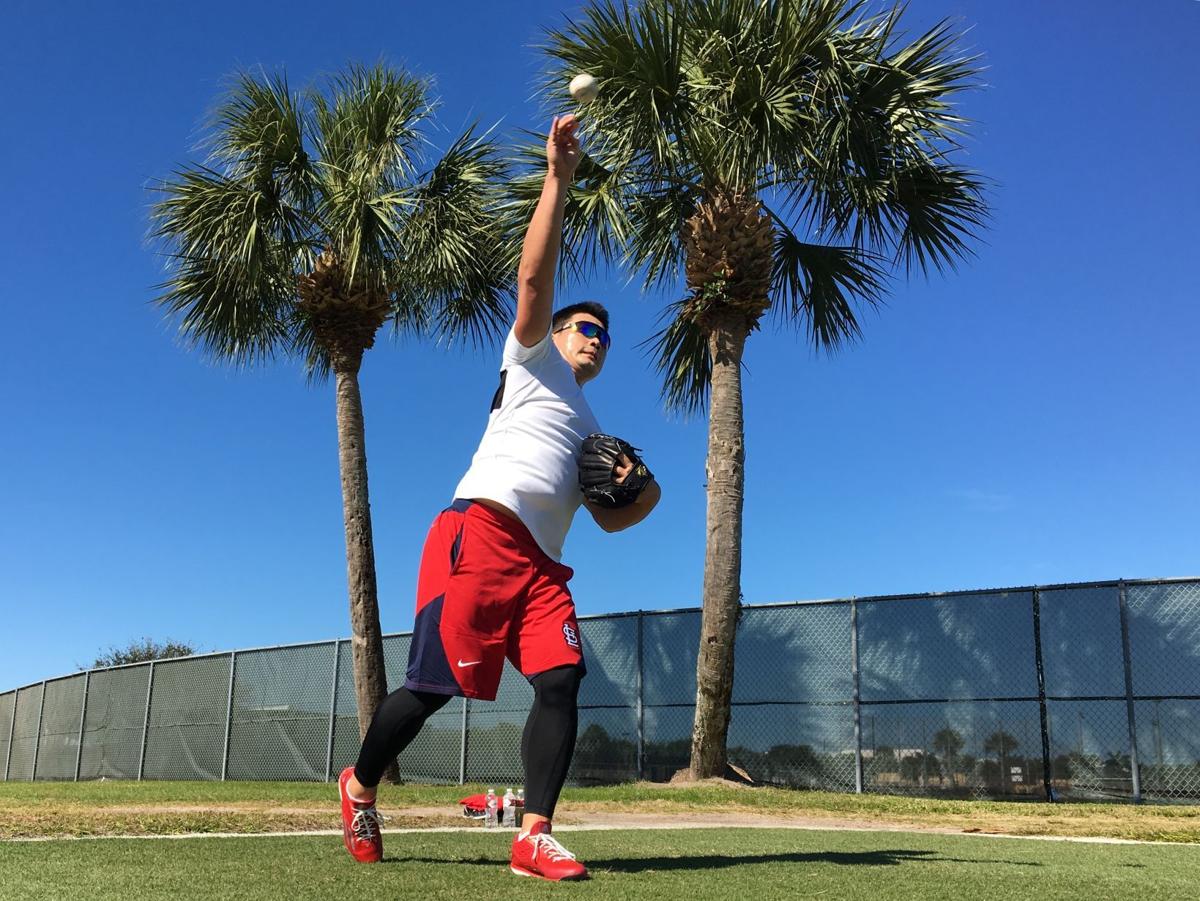 JUPITER, Fla. • Any curiosity, anticipation or anxiety that might have stowed away with him on the 14½-hour journey from Seoul, South Korea, faded Friday when Seung Hwan Oh, on a new team and in a foreign country, found something familiar.
"This is not as strange," he said, through a translator, as he took in the scene around him. "It's baseball."
Expressing several times how he intended to arrive as early as possible, Oh joined another wave of Cardinals who have joined informal workouts with almost a week to go before Thursday's first official day of spring training workouts.
The righthander was able to finalize his work visa Tuesday in South Korea, board a flight for Detroit on Thursday, connect to Florida that same day and unpack his gear Friday at the Cardinals' Roger Dean Stadium facility, some 14 time zones away from where he started.
Oh worked mostly on his own Friday, going through a series of running drills and sprints in the outfield before playing catch on flat ground.
While running, throwing, or just walking toward the clubhouse, Oh repeatedly stopped to peek at his new teammates on the mound, asking for names. He caught glimpses of Kevin Siegrist and Adam Wainwright throwing light bullpen sessions; during an interview after his workout he kept glancing away to see Mitch Harris throw off the mound.
He explained that he wanted to arrive early to spring training to get to know the people in clubhouse as much as he wanted to get to know the town, the country, the routine …
All are new things for him, surrounding the one thing that is not. That one thing that brought him to the Cardinals: throwing a baseball.
"Actually, being in the major leagues is his dream," said Oh's agent, Douglas Kim, as he explained one of the reliever's answers to a question. "This part is not different. It's the decision to try and come to the majors that was important to him. When he chose to sign here that was the moment, that was the decision. He feels comfortable because this part he knows."
Oh, 33, spent the past 11 seasons in Asia's pro leagues, establishing the Korean record for career saves and then closing for Hanshin in Japan for two years.
The Cardinals signed him to a one-year deal that includes an option for 2017, and they intend to give him a look this spring as closer Trevor Rosenthal's setup man. He'll jockey with Siegrist, Seth Maness and Jonathan Broxton for the role. Jordan Walden also could elbow his way into the mix if he shows good health after a season corrupted by a shoulder injury.
Oh has 357 total saves from the highest level of competition in two countries, and that experience is one reason the Cardinals believe he can be a late-inning option.
Even while he was playing catch on flat ground, it was clear how much movement Oh puts on his pitches. He digs in with his fingers on his fastball, and he twists his wrist just so on an offspeed pitch to create a downward flight. Manager Mike Matheny agreed that Oh's pitches have a dash of "funk."
"That's it," he said. "Everything moving. You see everything moving and you see a guy who has pitched in high-leverage situations. This guy has pitched in front of 50,000 people. It's the same kind of pressures, and someone who has continually looked good in those situations is always nice to see if they can make it translate here. I can't see why it wouldn't. Everything is going in a certain direction. He seems to have a poise about him."
To get to know his new reliever before the Cardinals signed him, Matheny scanned video from the KBO and Japan's professional league. Like the former catcher and game-caller that he is, Matheny surveyed how Oh used his stuff — not just the stuff.
He saw him "tease a little bit," playing to different situations.
"There was a mentality with how he was going about his at-bats and getting hitters out that was pretty unique," Matheny said. "I would watch counts and situations, what he was doing with that first hitter. It looked like he was being a little more aggressive. He got turned up. You could see he knew the game situations and he knew he had a little bit to play and he would just go and toy with guys a little bit, capitalize on their over-aggressiveness."
Exhibition games will offer Matheny a chance to see, in person, Oh in different situations and also how he uses that different stuff. It also will be used to get to know how best to communicate with Oh. Before pitchers and catchers officially report Wednesday, a translator and assistant for Oh will begin work. The newly hired Cardinals employee will be permitted to visit the mound with pitching coach Derek Lilliquist and Matheny.
Matheny suggested that with a late-inning reliever there are rarely times when a visit to the mound is anything more than replacing the reliever or giving him a chance to reset, rest.
The times that Lilliquist or Matheny would visit the mound to suggest pitching carefully around a hitter might need a translator. But how to communicate the strategy will be discussed in spring and in the dugout and in meetings long before it would be necessary in the regular-season game, Matheny said.
Oh said he has been throwing since just before signing with the Cardinals, and he's ready to throw off the mound before the first official workout. He worked out in Guam with a personal trainer and then returned to Seoul after signing to wait through the work visa process. Getting to Jupiter early wasn't about getting work, it was about getting a feel.
He left Friday with a real estate agent to look for rental property in the area.
But first he wanted to thank Matheny.
His arrival at spring training might have been a few days later had it not been for the manager. During Oh's work visa meeting with officials at the U.S. Embassy in Seoul, one asked him to name his manager. Oh told him Mike Matheny. His work visa came a day or two earlier than expected, and Oh and Kim told Matheny that answer was probably why.
"This is the first time for this long of a time in the States,'' Oh said, through Kim as translator. "I really needed to create relationships with the other players before the reporting date. I want to introduce myself. I already feel comfortable."