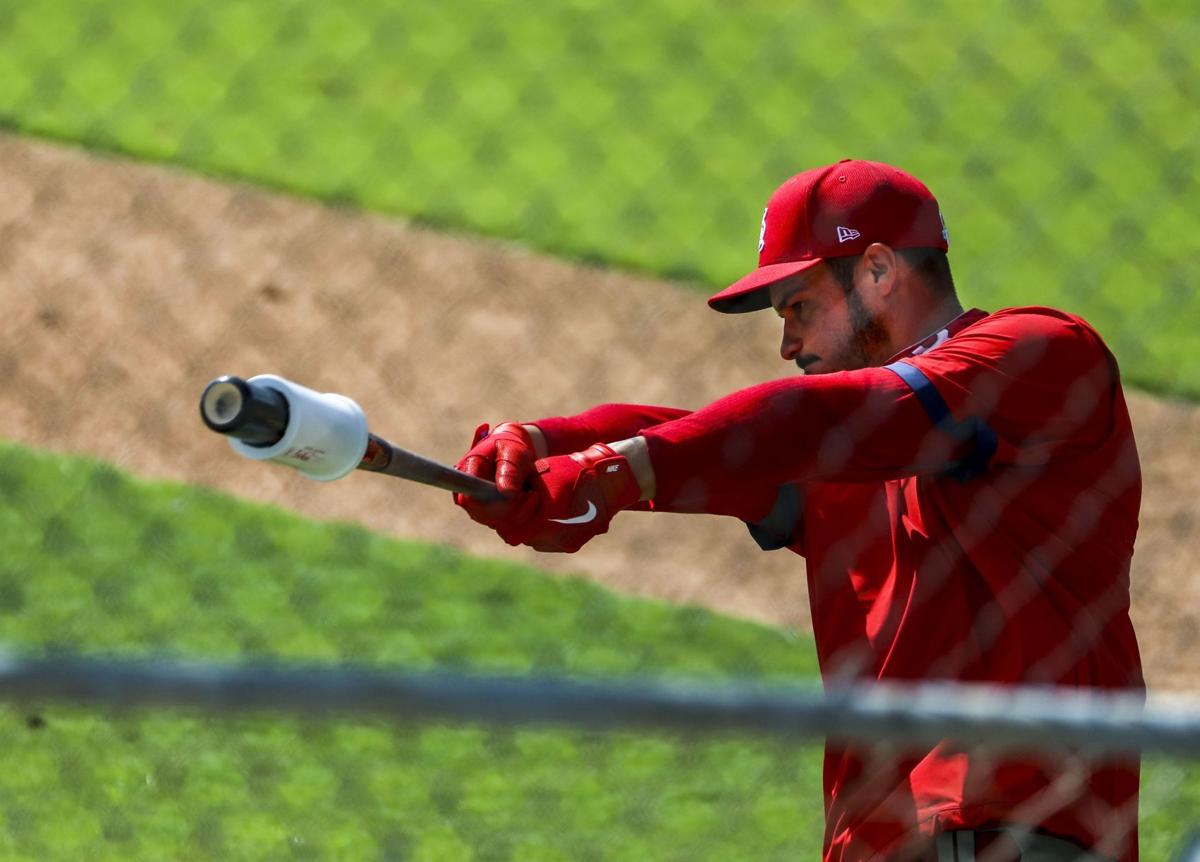 JUPITER, Fla. — An annual scene that signals the arrival of the Cardinals as a complete team, their full squad decked in red and out under the Florida sun for the first time, is when at least 30 players line up along the right-field line on Field 1 and face at least 30 teammates to play catch.
The percussion of the baseballs shuttling between 60 gloves fills the air, like a birdcall that's arrhythmic, chaotic, and as beautiful as any music.
It was absent to the ear Monday.
"All of sudden you hear the ball popping in the glove, in a fashion that is not normal because there are so many people playing catch," said John Mozeliak, president of baseball operations. "It's a very unique sound. And one that is always sort of our version of the trumpet that says go. That's a little different now. Some of that intimacy that all of us are used to experiencing is definitely not easily replicated."
The Cardinals opened spring training's official workouts for their full squad Monday spread all over their Roger Dean Stadium complex. Instead of all along the right-field line at Field 1, social distancing guidelines sent some to the left-field line, others to Field 4, or Field 6. When Nolan Arenado faced lefty Tyler Webb for his first turn at live BP with his new team it did not draw a crowd — because fans are not permitted this spring, and even his teammates have been urged to keep their distance. Chairman Bill DeWitt Jr. and Mozeliak, both behind masks, did not even watch from the same bench.
A question confronting the Cardinals and Major League Baseball's 29 other clubs this spring is how to bring players together as a team when protocols make it difficult to bring a team together as a group.
The traditional start to the Cardinals' first full-squad workout is a team meeting in the clubhouse — with representatives from all the wings of the baseball operations wedged into the same room. It is an image out of place in a pandemic. The meeting allows players to put faces to titles and for the manager, from Tony La Russa to Mike Shildt, to establish a theme for camp and expectations for the seasons. Last year, Mozeliak used the meeting to address the organization about sign stealing in the wake of Houston's trashcan scandal and urged them to find their "moral compass." In 2019, Shildt posted a sign that listed the Cardinals' 11 titles in a four-by-three grid, leaving the 12th line blank.
The message didn't require nuance.
This year's did. Instead of one clubhouse meeting, the Cardinals accomplished it in shifts. On a team Zoom call meant to go through COVID-19 protocol orientation, the Cardinals also introduced the department heads. Shildt met with pitchers and catchers in small groups over the past week, and on Monday position players went through physicals and other stations. Shildt was the last one. He met with four different groups of players to relay the same theme.
"Everybody is hearing the same message that we want to be heard that affects the collective group," Shildt said. "And it actually, in some ways, may even be a better way of going about it. When you're in a bigger group, things can get lost in translation, literally and also figuratively. It's just a hard thing to track with a lot of people and a lot of information. So, we're doing it in a small setting. It feels a little more intimate, a little more personal."
Gone are the impromptu or accidental conversations that happen in the hallways of the clubhouse or around the table. Some have been moved outside, where the tents made available have become the venues for baseball talk. Arenado said there has been a lot of conversation in them — especially as he gets to know his new teammates, their families, where they are from, and share his background, too.
The clubhouse is not the only place chemistry can crackle.
Masks don't hold back conversation, even at a social distance.
"If anything," Arenado said, "I don't know what some of their faces look like. That's the only difference."
Arenado joined Paul Goldschmidt, Matt Carpenter, and Yadier Molina in a hitting group to face Webb and Jake Woodford in the last round of live batting practice for the day. Players were placed in small groups based on position, service time, and a balance of lefthanded and righthanded hitters for the benefit of the pitchers.
As bench coach Oliver Marmol mapped out the schedule, it became clear that one group of hitters would possibly face Genesis Cabrera, Ryan Helsley, Giovanny Gallegos, and Alex Reyes in their first looks at live pitching in months.
"You know, welcome to camp," Shildt said.
"Flamethrowers," said outfielder Tyler O'Neill.
The outfielders split into two groups, putting O'Neill on Field 3 against Cabrera and Helsley with what could be the Cardinals' opening day outfield. Harrison Bader and Dylan Carlson completed the hitting group with O'Neill.
As he detailed the three questions he would like the club to answer in the next five weeks, Mozeliak said sorting through the outfield is one because "there will be some competition in the outfield between now and the time we open." He added that the rotation had to be settled because with an opening or two in the rotation, the pitchers who fill those spots will then shape who goes to the bullpen. Mozeliak said in past springs "we've come to camp and we're head-scratching for a fourth or fifth starter. That part is not the same level of stress."
The third "underlying overall question" he said is "how do we maximize or utilize Matt Carpenter as we come through this camp?"
Carpenter's role will hinge on his production, just as who wins the playing time in the outfield will be based on performance — because the overarching question for the Cardinals is one Mozeliak left off his list, but not unanswered: What he wanted to see from the offense?
They have been subpar at scoring for two years.
"I think it's very easily measured," Mozeliak said. "You either score runs, or you don't. What I look at our offense last year one of the frustrations is it seemed to be at times where it might just stall. … Not to sound like a wise guy or something, but really the simplest thing you need to see out of your offense is the ability to score more runs."
The Grapefruit League with its shriveled, 24-game schedule will be the first pop quiz. With limited innings, limited games, and limited rosters, the quality of opposing pitching should be a truer test of the offense than past springs, and the Cardinals also play in arguably the most difficult spring training ballpark for hitters in Florida. In the closing moments of Monday's first workout, the agents of change for the Cardinals' offense were at work on adjacent fields. O'Neill, Carlson, and Bader took their turns against Helsley, and Arenado was across the way against Woodford. Distance remained the rule. Silence was the reminder. The absence of fans changed the soundtrack of spring as much as the scattering of players for catch.
There were times when it was obvious how isolating this spring was, on purpose, and for small groups of players. Fittingly, what they can only rarely be as a roster this spring is exactly how they become a team and how they improve as an offense.
"The buzz in this camp is like many others," Mozeliak said. "There's also that little bit of we feel we're going to be pretty good, so let's go to work."
Derrick Goold
@dgoold on Twitter