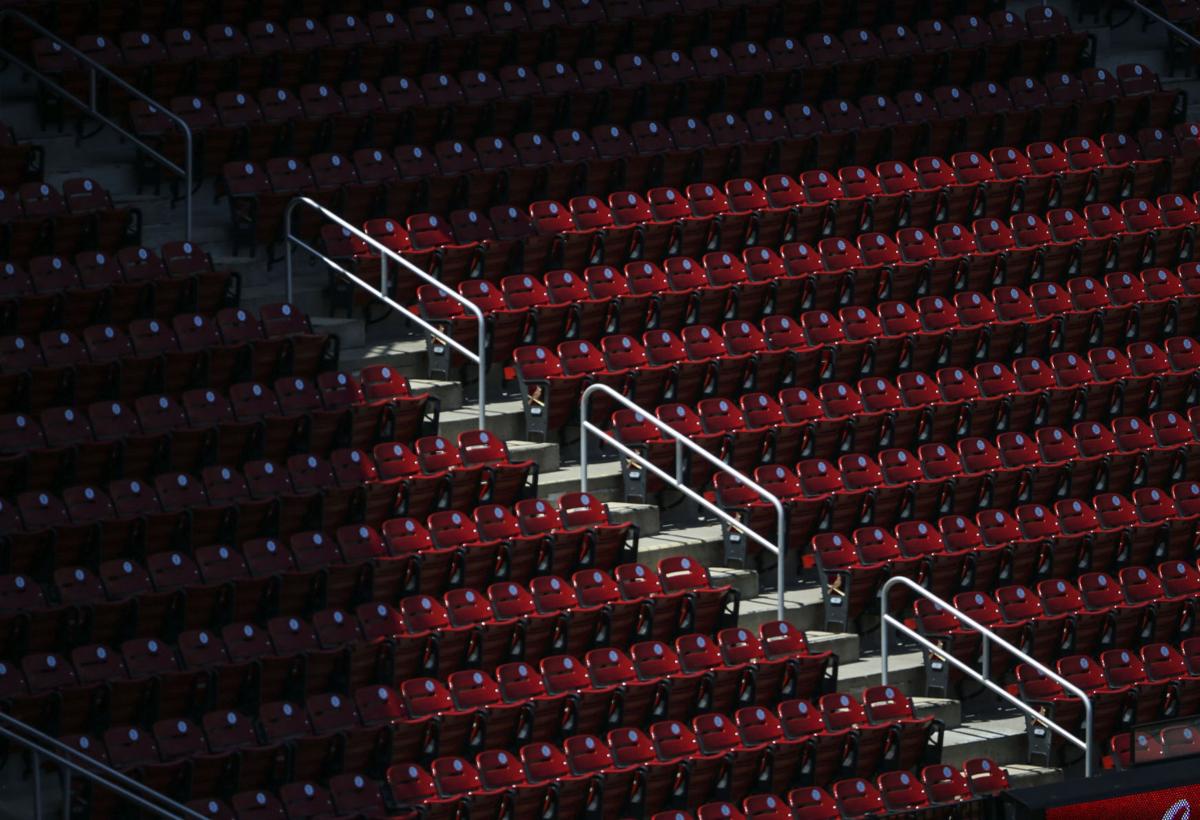 It took the Cardinals six days to clear quarantine in Milwaukee and less than two in St. Louis for new positive COVID-19 tests to plunge them again into the uncertainty and anxiety of a widening outbreak and the questions on when, or even how, the team will return to play.
The Cardinals late Thursday and early Friday learned that two players, Ryan Helsley and Austin Dean, had confirmed positive tests for the novel coronavirus, and a staff member also had a new positive. That brought the total positive tests in the past nine days to 16, and sent a shudder through the clubhouse. The new positives emerged after the team had gone at least two days without one and had traveled together to St. Louis for two workouts at Busch Stadium. Major League Baseball postponed the weekend series against the Cubs, and a plan for when the Cardinals will next play won't be clear until Sunday, at the earliest.
"You all are looking to what tomorrow looks like, and I don't know," said John Mozeliak, president of baseball operations, during a video conference with media late Friday. "No one does. If we had that answer, I would share it with you in a second. When we left Milwaukee, we kind of got ahead of ourselves. We're playing a game. We were marshaling ahead. And now we're not. The reality is, we don't know where this is headed. That's why I ask for your patience.
"There is so much uncertainty around this."
As a result of the new positives, the Cardinals had every member of the team and traveling party take a saliva test Friday and will do so again Saturday. The team used contact tracing to identify additional members who were in Milwaukee and may have been exposed. Those individuals had rapid testing Friday. Mozeliak said that instructions to the team was to self-isolate at their St. Louis home and anyone who was in contact with the clubhouse the previous two days "should be quarantined."
Unlike in Milwaukee, where players were locked into their hotel rooms and left to their devices, some of the Cardinals returned to their families in St. Louis. Mozeliak said he did not know of any families that had to be tested as a result of the latest turn of the outbreak.
The Cardinals will get the results of Friday's tests at some point Saturday, and MLB labs are likely to process Saturday's tests at an expedited pace. Given its experience in Milwaukee, the Cardinals are braced for the possibility the number of positives will grow, and that would throw the entire schedule in the coming week into question.
"I don't know what really our future looks like at this point," Mozeliak said. "I know that we've lost these three games (vs. Cubs), and we'll certainly take this day by day. For all the optimism we had a couple of days ago to be where we are today it's definitely frustrating for everybody involved. Now, we're just going to have to take it one day at a time and hopefully we get through this, we get back to playing baseball soon."
Helsley had experienced a low-grade fever Thursday, Mozeliak said. Dean and the unidentified staff member were asymptomatic.
What's troublesome for the Cardinals — and by extension Major League Baseball — is how the Cardinals needed two consecutive days without a positive test to leave quarantine in Milwaukee. They weren't 24 hours out of their hotel before one of the three new positives had the test that revealed the virus. In that time, the Cardinals flew together on a charter flight — where masks, gloves, distancing, and other protective actions are required — and had two workouts at Busch Stadium. Mozeliak said the new positives illustrate the wide bandwidth of incubation, calling one a "headscratcher" and the other an "outlier." Both are disconcerting. Contact tracing pegged one exposure at eight days before the positive, while the other one was within the previous three days or less. The Cardinals have traced the initial exposure to contact at least one player had with an associate outside of the team's testing perimeter before the team left on its first road trip.
They believe the virus — which manager Mike Shildt called an "invisible beast" — snaked through the roster and traveling party from there.
In addition to Dean and Helsley, six of the seven others players have acknowledged their positive tests: All-Stars Yadier Molina and Paul DeJong, infielders Edmundo Sosa and Rangel Ravelo, and relievers Junior Fernandez and Kodi Whitley. A total of seven staff members have tested positive. Soft-tissue specialist Jeff Wright and media relations director Brian Bartow confirmed their positives. Others have chosen to exercise their medical privacy.
Starter Carlos Martinez was placed on the injured list with the players who tested positive, but through his representative he declined to reveal the result of his test.
The Cardinals felt they could slow the spread and identify its reach by pulling the team apart in Milwaukee and going six days without contact. Several cities and states have adopted a 14-day quarantine suggestion. The daily testing to which Major League Baseball has access is designed to hasten a team's return from quarantine, though the specific length of isolation and policies is evolving with this season. The Cardinals have played five games, had the next 10 games postponed, and are now looking the possibility and another stretch in isolation. A one- or two-week shutdown would fit the public's 14-day guideline — and make it impossible for them to complete a 60-game schedule.
"Experts who we consulted with gave us advice that we could take that next step forward," Mozeliak said. "I don't know what the right answer is. Is it two days? Is it five days? Is it 10 days? Or is it two weeks? The whole country, the whole world, is facing these same questions. We're just caught in the middle of it."
The Miami Marlins, after more than half of their roster tested positive and prompted a weeklong isolation in Philadelphia, returned to play this past weekend.
On Friday, the Cardinals were set to host the Cubs and begin a stretch of 55 games in 52 games with seven, seven-inning doubleheaders scheduled. The lost series this weekend leaves them 55 games to play in 49 days, and that's if they can get clearance to play when Pittsburgh is supposed to visit Monday. A repeat of the six-day cycle of testing in Milwaukee would make that impossible, too.
Mozeliak said he learned of the first new positive test at around 9:30 p.m. Thursday night — 24 hours after his first evening at home since quarantine in Milwaukee. There was little sleep for him and members of his staff as they immediately began contact tracing, again.
By now, they know what Mozeliak called the "fire drill."
Test. Trace. Separate. Isolate.
What they don't know is so much else, as Mozeliak often Friday night answered questions with that phrase. They don't know as much now as they will tomorrow or the day after.
"We just don't know," Mozeliak said. "And we're learning as we go unfortunately. I wish we weren't learning about any of this."
Keep up with the latest Cardinals coverage from our award-winning team of reporters and columnists.