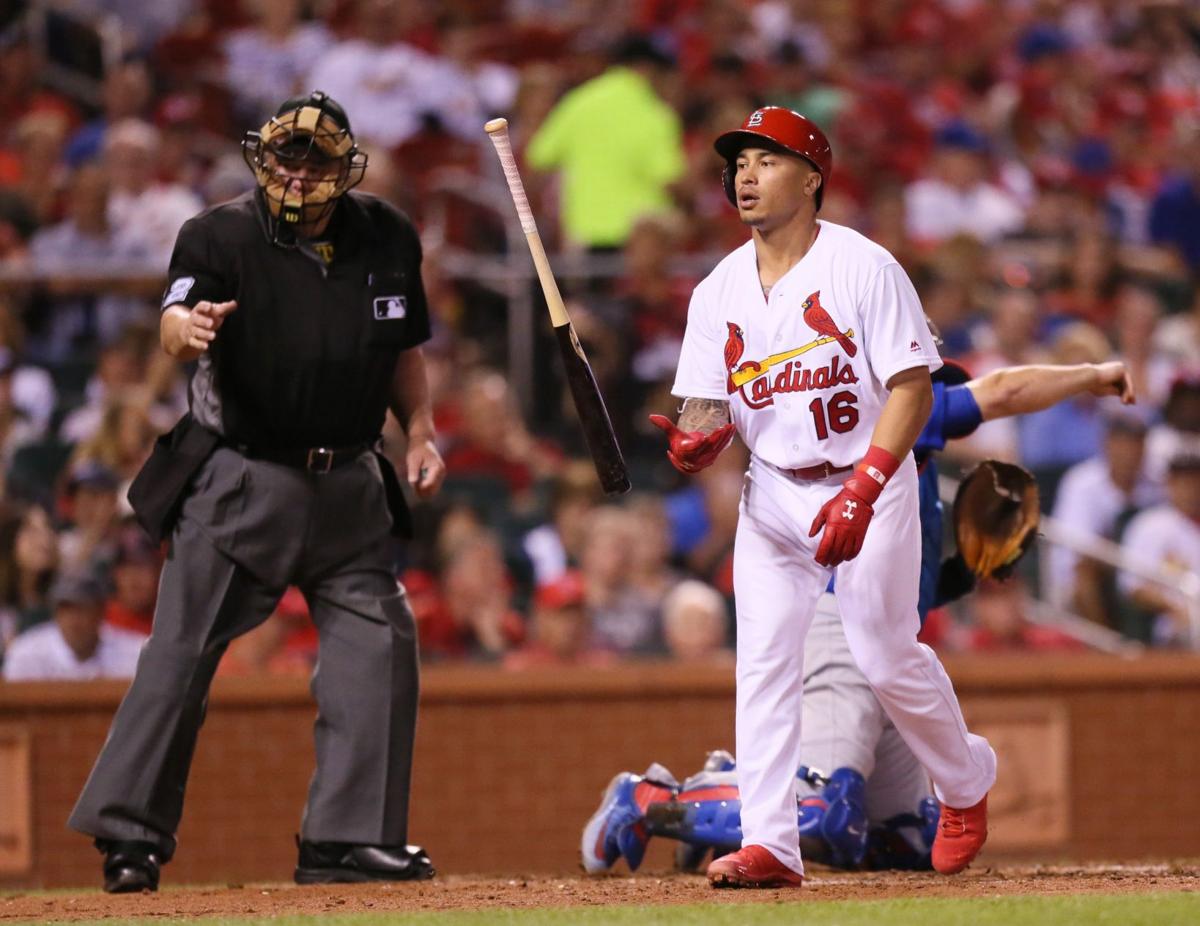 NATIONAL HARBOR, Md. • The contract Kolten Wong received from the Cardinals last spring and the playing time he didn't during the summer have led some teams this offseason to do the math and believe that the young second baseman could be a trade target.
There is one tripwire they've encountered, according to multiple sources.
The Cardinals aren't selling him. They're sold on him.
"I definitely don't feel like at this point anything that we've even sort of hinted on or thought about would make sense for us," general manager John Mozeliak said Tuesday at the winter meetings. "We're not actively shopping him."
Wong, who signed a five-year, $25.5-million extension with the Cardinals in March, has come to personify the revamp Mozeliak and the Cardinals want to make to the team's style. Mozeliak has repeatedly referred to Wong's athleticism and ability to play defense as the kind of traits he wants to build the roster around. The general manager has suggested that Wong should get an extensive look at second base, a commitment to be the starter there, just as the team made to center fielder Randal Grichuk toward the end of the 2016 season.
Mozeliak described how Wong as an everyday starter would be a "Gold Glove-caliber second baseman," and on Tuesday manager Mike Matheny echoed that sentiment.
"None of us have shied away from the fact this should be a top-tier defender at second base, and we're never going to back off that, and neither should he," Matheny said. "He has the whole winter to take some of the lessons he learned … and the experiences he can use to help him in the future. Kolten has had success at every level offensively, and that doesn't disappear. It's just part of the process for a young player."
So is being coveted by other teams.
Wong, 26, had only 361 plate appearances in 2016 after appearing in 150 games and getting 613 plate appearances in 2015.
That sometimes status, caused by a demotion to the minors and prolonged slumps, may have given other teams the impression the Cardinals would move him. A source described how the Kansas City Royals explored a trade with the Cardinals that would have involved Wong, even as the Cardinals have approached them about center fielder Lorenzo Cain. Multiple sources said at some point during this offseason the Angels contacted the Cardinals, interested in Wong. The Cardinals were said to have set a high price — one that gave interested teams the impression they were only interested in keeping him.
Mozeliak has long refused to label any player "untouchable."
He sees them all as, say, explore-able.
"That's what we're doing here," Mozeliak said. "We're trying to understand where there might be a pivot point for a club. Clearly someone at his age, at his athleticism — you're going to get calls. … Everybody is asked about at some level.
"You have to have the understanding of patience," Mozeliak added. "I also feel like with Kolten he understood some of those ups and downs last year. He's going to approach this year as a fresh start. Hopefully everybody involved takes advantage of that. He's one of those rare talents. By not being patient, by not understanding, there could be some bumps in the road."
PUNISHMENT PENDING
With Major League Baseball and the commissioner's office done with the collective bargaining agreement negotiations, the Cardinals expect to hear in the near future about the punishment they are facing as a result of 2015's hacking scandal. Mozeliak said he expects resolution "at some point this year." He meant by the end of the month.
More than two years ago an executive with the Cardinals illegally breached Houston's internal database and had access to the Astros' scouting reports, rankings, and internal memos about offers. That executive, former draft director Chris Correa, was sentenced at the beginning of this year to more than 40 months in prison for violating multiple federal laws. No other Cardinals executive was charged or implicated by the investigation or during sentencing.
The Cardinals remain braced for a penalty from baseball.
The commissioner's office has described its investigation as nearing an end, though officials said they're goal is to be thorough not expedient. The commissioner can impose financial penalties on the Cardinals, can assess damages, and can limit the Cardinals' pursuit of amateurs through spending limits or draft picks. With a new CBA in place, the commissioner also can exact the punishment under rules that will be in place for the next five years.
HOLLIDAY LEAVES 'VOID'
For every year he's been manager, Matheny has referred to longtime leftfielder Matt Holliday as "a pillar," one of the trio of players who helped hold the clubhouse up. Holliday agreed to a one-year, $13 million deal with the New York Yankees at the start of this week and will serve in the Bronx as a designated hitter, sometime first baseman, and veteran presence for a team suddenly thin on that commodity.
"For us, there's a void," Matheny said. "There's a void in the leadership component, and it's a great opportunity for some of the other guys to step up."