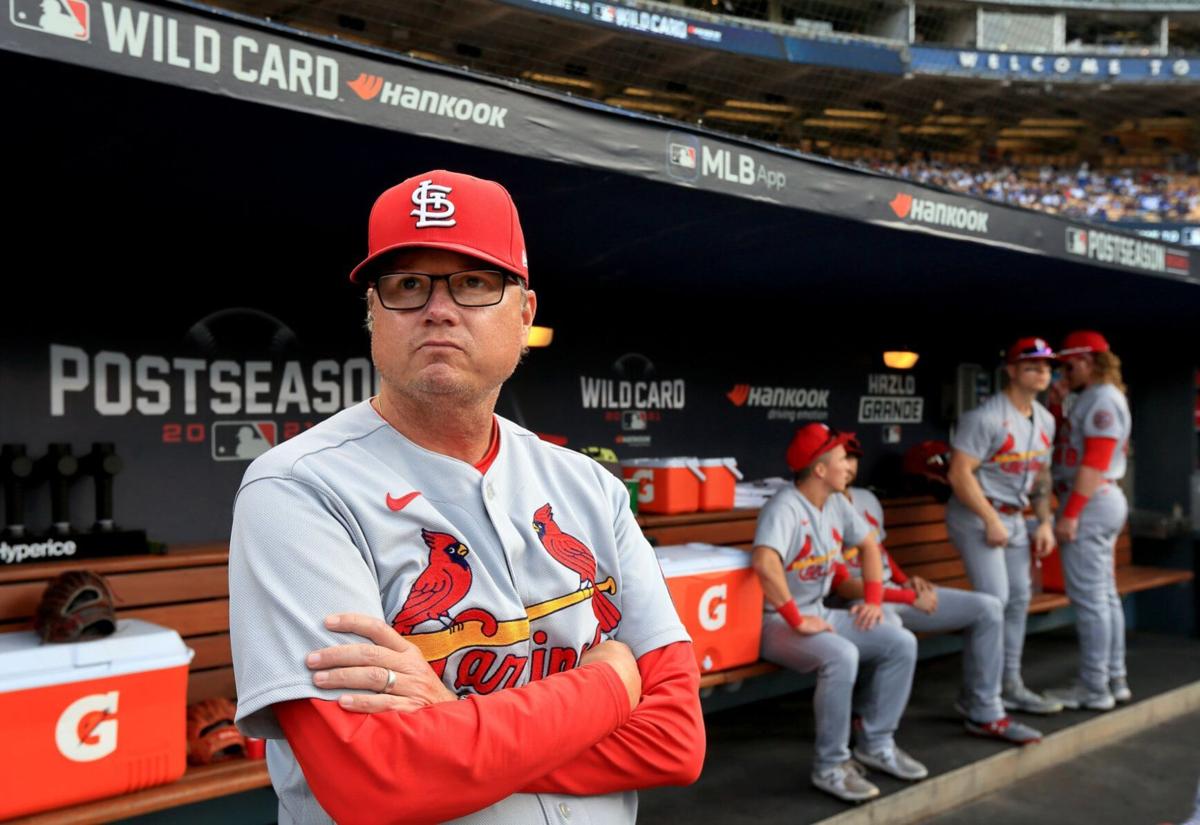 LOS ANGELES — In the throes of a season soggy with too many walks from the pitching staff and too inconsistent production from the lineup, the Cardinals' leadership had internal discussions on what changes might spur improvements. Teams around them in the standings elected to dismiss coaches — a few days after crediting a fictional hitting coach, the Mets fired their real one; the Padres dismissed their pitching coach before their pitching cratered.
The Cardinals, scrutiny intensifying on their staff, stayed with who they had.
"When things aren't going well, you're exploring areas where you think you can try to make a difference," said John Mozeliak, president of baseball operations. "Sometimes staffing or personnel changes are all you can do. In our case, we were looking what some of that might look like, but in the end we were patient and we stuck with this group."
During their turns through the press conference room this week at Dodger Stadium, Cardinals players such as Nolan Arenado and Paul Goldschmidt reference the stability of the coaching staff and its day-in, day-out temperament. Arenado called them "steady … nobody gets too high or too low through good times or bad times. They bring the same energy."
The front office has begun conversations with managers Mike Shildt's coaching staff about having them return for the 2022 season. Pitching coach Mike Maddux told the Post-Dispatch that he expects to return for the next season. Bench coach Oliver Marmol is Shildt's trusted lieutenant and could soon get some outside interest for dugout positions; Shildt has championed him for manager interviews. Mozeliak usually uses the weeks following the end of the season to finalize the staff.
Shildt, who will receive NL Manager of the Year votes this season, has a contract through 2022, so there will be discussions this offseason about an extension. He has piloted the team to the postseason in all three of his full seasons as manager.
Mozeliak noted that through the season, before the offense roared in September and the 17-game winning streak carried them to the wild card, he faced persisting questions about hitting coach Jeff Albert. Albert drew the most external discussion and was involved in the internal reset of the offensive approach in June. Coaches and players had to adjust.
The Cardinals hired Albert to oversee the overhaul of the entire organization's approach to hitting, infusing the Cardinals with more nimble use of technology and more advanced understanding of analytics at every level. The hitting lab growing in Jupiter, Fla., is part of that, and the organization sees Albert's work through a telescope — how it has developed prospects on the horizon. Some of the Cardinals' leading hitting prospects, Nolan Gorman, and Jordan Walker, had strong seasons, and a handful of others, like Juan Yepez, Nick Plummer, and Brandon Donovan, had breakout years.
"When we hired Jeff Albert it was not simply about working with major-league hitters," Mozeliak said. "It was about creating a process that was bottom-to-top, top-to-bottom, and I think over time we've been able to bring in new hitting coaches that understand technology, understand modern analytics. As in anything, if you move the pendulum too far in any direction sometimes you can feel a level of discomfort or discord."
The Cardinals added to Albert's coaching staff this past winter, creating a three-person team for batters with hitting coaches Jobel Jimenez and Patrick Elkins. The goal to offer a variety of voices and views for hitters, and there's been discussion this season about adding a former big-league player to the staff as well, a voice who has been in the box. Ryan Ludwick, rehired this season as a roving coach, spent time with the big-league team midseason.
The first week since the regular season ended has already seen upheaval of coaching staffs around the majors. The Mets declined the option on their manager, and coaching changes are to follow. The Cubs will have a new hitting coach. So will Cleveland and Texas. San Diego dismissed its manager, former Mizzou outfielder Jayce Tingler.
"In terms of what 2022 looks like it's a bit premature for me to weigh in," Mozeliak said. "Having said that there is a lot this group should be proud of. They did accomplish a lot."
Option choices obvious
Two longtime Cardinals will reach free agency this winter when the club declines their options after the end of the playoffs. Matt Carpenter and Carlos Martinez reached the end of their guaranteed deals and neither player expects their option for 2022 to be exercised.
Carpenter, 35, called the option "pretty irrelevant at this point."
Instead of triggering Carpenter's $18.5-million option for 2022, the Cardinals will pay the $2-million buyout. Martinez, 30, who ended the season on the injured list and did not join the team in the postseason, has stacked options for 2022 and 2023 at the end of his five-year, $51-million deal signed in 2017. The Cardinals will owe him a $500,000 buyout to decline the $17-million option for 2022.
Initial reports when Jon Lester signed with Washington this past winter said his deal included a mutual option. It does not, a source confirmed. He will be a free agent, and Lester, 37, said he will talk with his family before determining if he will pitch in 2022.
The other Cardinals players who will become free agents immediately after the World Series ends are lefties Andrew Miller, Kwang Hyun Kim, T. J. McFarland, Wade LeBlanc and J. A. Happ; and righthander Luis Garcia. There will be discussions with McFarland and Garcia about returning to the team in the same bullpen roles to excelled at during the team's second-half bounce. The Cardinals have had past interest in Happ and grew fond of LeBlanc if they turn toward depth moves for the rotation.
Extra bases
During his start Wednesday night, his 17th in the playoffs, Adam Wainwright surpassed Curt Schilling and CC Sabathia in career strikeouts for the postseason. He struck out five to reach 123, two behind Greg Maddux for 11th all time. … The start for Wainwright and Yadier Molina on Wednesday was their 15th together in the postseason, giving them 319 overall. They'll have a chance at surpassing the regular-season record for a tandem in 2022. They'll need 22 together. … Including postseason games, the Cardinals are 1,047-1,046-1 all-time against Dodgers.