MIAMI — Daniel Ponce de Leon made something of a command decision even before the Cardinals' game Monday night with the Miami Marlins began. He determined in the bullpen that he had no reliable breaking ball. So, with the guidance of catcher Yadier Molina, who had sensed the same, Ponce de Leon proceeded to throw four-seam fastball . . . after four-seam fastball . . . after four-seam fastball
Ponce de Leon threw 93 pitches. He estimated that some 10 were not four-seam fastballs (ranging from 91 to 93 mph). It wasn't that he didn't want to throw his breaking pitches.
"I definitely would go to them if any of my off-speed (pitches) were feeling good," he said.
But he said that none of them were really "serviceable, I guess you could say. So we stuck with the old No. 1 most of the game. I threw a couple of good curveballs in the middle innings so I thought (Molina) was going to call them (again), but he never did. And I wasn't going shake him (off)."
Manager Mike Shildt had said that the key for Ponce de Leon to be successful is to control counts, no matter what type of pitch got him there. Ponce de Leon not only controlled counts, he controlled the Marlins for five innings Monday night at loanDepot Park in a 4-1 Cardinals victory.
Ponce de Leon had said that pitching coach Mike Maddux had repeated the wisdom this spring that getting ahead in counts would bear fruit.
"When I get to two strikes, I'm pretty good," Ponce de Leon said. "So the goal was to get to two strikes as quickly as possible."
Facing a Marlins team he had pitched almost exclusively against in spring training, in which he walked seven in 12 2/3 innings over four games, Ponce de Leon walked nobody in the first four frames Monday. But he did graze Starling Marte's shirt twice, allowing the center fielder to reach base.
Finally he walked a hitter, Miguel Rojas, to lead off the fifth and a bunt single by speedy former Cardinal Magneuris Sierra — third baseman Nolan Arenado hoped to make a play at second but nobody was at the bag — and a couple deep fly balls to the outfield led to a run. Ponce de Leon came out of the game after the inning but he became the first Cardinals starter to pitch five innings and leave with the lead in the season's first four games.
Pitching to the dimensions of a big ballpark, Ponce de Leon recorded seven of his 15 outs on fly balls, some deeper than others, but outs nonetheless. He also became the first Cardinals starter to record a win, before a crowd of 4,605 heavily stocked with Redbirds fans.
"There was one ball that was struck pretty well (by Marte) that I thought was gone, at first," Ponce de Leon.
"That's the definition of pitching," was Shildt's assessment of Ponce de Leon's night. "You'd love to go out there with absolutely all your weapons working and firing exactly how you'd want them to fire, but some days it doesn't happen.
"He's got a fastball that just gets on guys — kind of a disappearing fastball. He was able to command it today. Great job of going with what he had."
On Miami lefthander Trevor Rogers' 25th pitch of the first inning — only nine of the first 24 had been strikes — Molina leaned into a changeup and created a little bit of history.
The Cardinals, thanks to three Rogers walks, a wild pitch and a passed ball by frustrated catcher Jorge Alfaro, already had been gifted a 1-0 lead when Molina batted with runners at second and third and two outs after a Tyler O'Neill strikeout.
Molina ripped Rogers' first pitch to him over the head of center fielder Marte and off the wall for a two-run double and a 3-0 lead. The double put him into eighth place in major-league annals for two-base hits by catchers, passing no less than Hall of Famer Johnny Bench, at No. 382.
"Not surprising," Shildt said. "He's earned every bit the right to be in all the company of the greats."
Rogers finally exited the first inning, having thrown 18 strikes out of 38 offerings. He would find himself thereafter, throwing 28 strikes out of his final 39 pitches but it was too late for him as he left after four.
Ponce de Leon said he had observed closely that first inning, in which he nearly batted, because he had been there before.
"I've been in many of those holes myself," he said. "I kind of knew what he was feeling out there and I don't want to feel that anymore in my life.
"Strikes," he said. A good motto to endorse.
John Curtiss, who had been warming up as early in the first, entered in the fifth for the Marlins and immediately was touched for a leadoff homer by leadoff man Tommy Edman, who lofted a 2-2 slider over the right-field wall.
"I'm never trying to hit home runs, obviously," Edman said.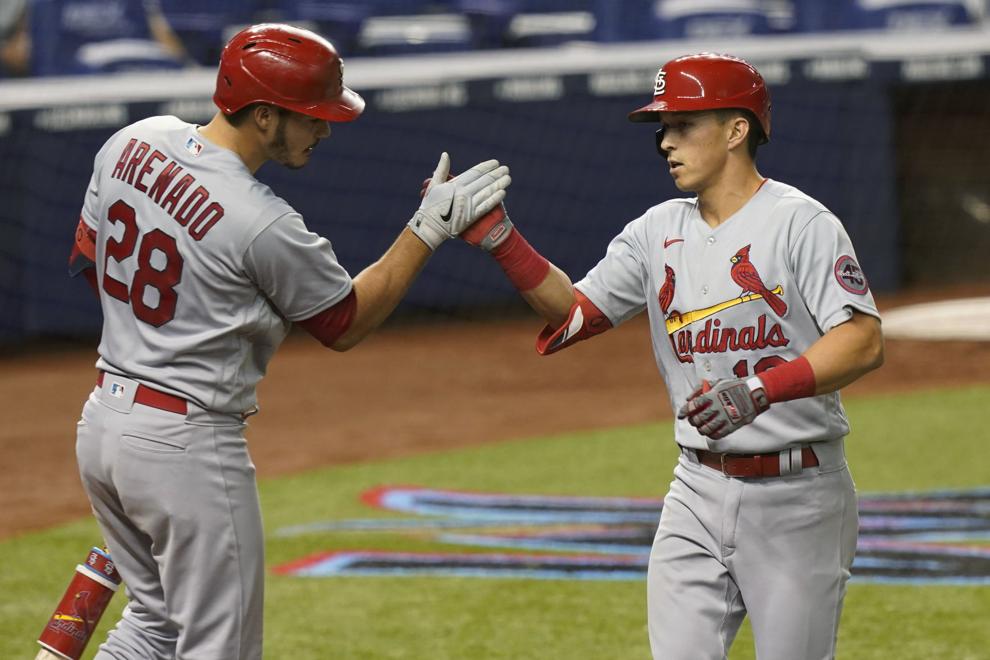 The home run was his first of the season, which was one more than the number of ground balls hit to him at second base as Cardinals pitchers, including those in the bullpen, recorded 11 of the 27 outs on fly balls.
"Ponce has such a great fastball and those guys just weren't doing anything with it," Edman said. "Obviously, he just kept throwing it."
Jordan Hicks, throwing his sinker at 100.3 mph, sailed through the sixth inning without incident and Giovanny Gallegos whipped through a perfect seventh and scoreless eighth, striking out two.
"You saw a really dirty changeup to go with a filthy slider and he's got a fastball that's got a lot of life," Shildt said of Gallegos. "The changeup is a third nasty weapon."
Alex Reyes posted the save with a scoreless, one-hit ninth and the Cardinals were even for the season at 2-2 as they played to their strength in the bullpen.
Still, no starter has gone past five innings but Shildt said, "We'll get these guys into the sixth and seventh before you know it."