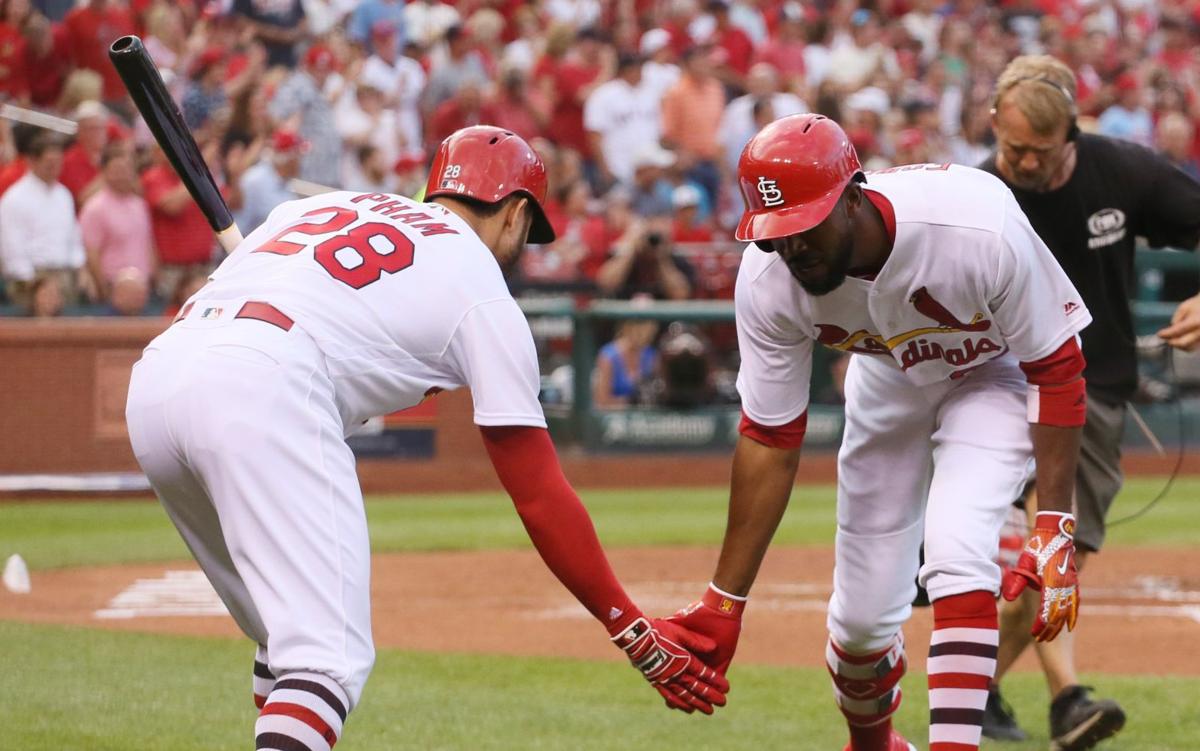 LAKE BUENA VISTA, Fla. • Before embarking on the offseason intent on recasting the middle of his club's lineup, Cardinals executive John Mozeliak took a detour to Las Vegas to discuss, in person, with Dexter Fowler one move the team doesn't plan to make and one move it probably will.
Over dinner in the city Fowler calls home in the offseason, Mozeliak assured the outfielder that the team had no interest in trading him this winter, but come spring training he should be prepared for a possible move from center field to a corner position, such as left field. Mozeliak wanted to be sure the veteran, who has played all but one inning of his big-league career in center, understood the team's thinking and how they saw a way to improve the defense.
"I wanted to meet with him face to face," Mozeliak confirmed Tuesday at baseball's general managers' meetings. "First off, I enjoy his company. Secondly, I did not want him to be hearing or reading about things that may or may not happen with him. I wanted him to know that he was not someone we were looking to trade. I did want him to understand that we may ask him to play a different position.
"I wanted to get his thoughts."
The Cardinals continue to circle possible deals for a new "middle-order hitter," as Mozeliak said Tuesday, and many of the market's best options play the outfield. The Cardinals have engaged in talks with the Miami Marlins about slugger Giancarlo Stanton as well as outfielders Christian Yelich and Marcell Ozuna. The Cardinals have no interest in the bidding expected to break out for free agent J.D. Martinez, but they have had internal discussions about Carlos Gonzalez, a free agent and a lefthanded hitter, which appeals to them.
Other options for that hitter the Cardinals want can be found on the infield, possibly if Toronto makes third baseman Josh Donaldson available for trade or if the Cardinals pursue free-agent first baseman Eric Hosmer.
Mozeliak said his staff has "a lot of different balls in the air," and as a result the Cardinals have prepared a few core players for position shifts. Whether the Cardinals acquire an outfielder or not, they want to explore improving the defense by playing Tommy Pham in center and shifting Fowler. Manager Mike Matheny has also talked with Matt Carpenter already this offseason about preparing to play a variety of positions — and how the All-Star could be an everyday player without an everyday position. Both veterans, Mozeliak and Matheny said, were open to the changes.
"Whenever your club is looking to improve," manager Mike Matheny said Tuesday near the lobby of the Waldorf Astoria Orlando, "you never know where that improvement is going to come."
These conversations are a shift from the Cardinals' stance just a year ago, when stability was a buzzword.
It was at the same GM meetings last fall that the Cardinals described the importance of giving a one-position promise to Carpenter, and that he would be the first baseman. A few weeks later, the Cardinals signed Fowler to a five-year, $82.5 million deal with a no-trade clause. Their intent was to have him be their fixture as center fielder and leadoff hitter, the two signature traits of his career.
Fowler has never started in the field at a position other than center, and two-thirds of his plate appearances in the majors have been as a leadoff hitter. At his introductory news conference, Fowler, 31, described the importance playing center and proving he could handle the position into his mid-30s. He reiterated similar views during the season, and even as he moved out of the leadoff spot into the middle of the order stressed that he preferred batting first.
As they talked in Las Vegas, Mozeliak wanted candor from Fowler, and that included discussing where he would like to hit in the order.
"He did like the leadoff spot," Mozeliak said. "But he also recognized he had a lot of success wherever you put him. In the end he wants to help us win."
Although hampered by leg and foot injuries throughout the season, Fowler had a career-high 18 homers and 64 RBIs for the Cardinals, and he slugged .488 with a .851 OPS, both higher than any season other than one he called Coors Field home. In 30 games batting third or fourth for the Cardinals, he went 44 for 148 (.297) with a .486 slugging percentage. Those same injuries — bone spurs, hamstring soreness, knee pain — slowed him in center, and Mozeliak said the veteran didn't offer more details about how limited he felt in center.
According to the plus-minus rating calculated by Bill James Online, Fowler had a career-worst minus-37, down from a plus-2 with the Cubs in 2016. By contrast, Pham was a plus-2 in center for the Cardinals as Fowler's sub. Pham's 10 Defensive Runs Saved in left ranked third at that position.
"I think there were times when people are trying to grind it out, and maybe the right answer is take the extra few days to get yourself 100 percent," Mozeliak said. "We had a tough season last year. We were trying to find a way to get over the hump, and I think everybody had an all-hands-on-deck approach. But I think (Fowler) realizes in hindsight he probably pushed himself a little too fast.
"When you look at putting our best defensive foot forward," Mozeliak concluded, "I think him giving us that flexibility made the most sense."
In 2016, Carpenter started at least 35 games each at second, first, and third base, and though he started this previous season at first he played third toward the end of the year with an injured shoulder to free up playing time for Jose Martinez. Coming out of the 2016 season, some players had approached management about having some certainty in their roles, their positions, their spots on the order. The Cardinals complied with a few commitments. This fall, players have been receptive to versatility.
In addition to Carpenter, the Cardinals could shift Jedd Gyorko and rookie Paul DeJong around to other positions to accommodate an addition or strengthen the defense. Gyorko has played third and second. While Mozeliak is eager to keep DeJong at shortstop, the rookie is also proficient at third and second.
The Cardinals are receiving interest from teams about the outfielders they have on their roster, and they have explored deals involving Randal Grichuk, Stephen Piscotty, and some of the younger, rising outfielders. Mozeliak made it clear Tuesday and in his conversation in Vegas with Fowler that the roster isn't set, and that moving Fowler from center is only a possibility he wanted the veteran to know about. Once some moves have been made for the roster, it will be clear if a move will be made in the outfield.
Matheny said he's not yet plotting out who will play where during spring training, except that Carpenter will play a little bit of everywhere and Fowler knows he could be somewhere other than center.
"Prepare accordingly," Matheny said. "Wait and see how the rest of this winter plays out and take it from there."