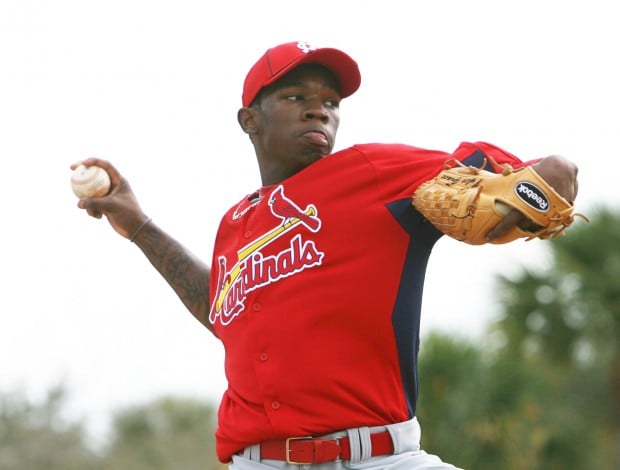 SURPRISE, Ariz. • There were times earlier in his professional career as he tried to stuff a wiry bundle of athleticism into the form-fitting mold of a pitcher that Tyrell Jenkins stood on the mound and shared something in common with the batter.
He, too, didn't have any idea where the next pitch or next at-bat would take him.
"I could honestly say in years past I would go out there and not know what was going to happen — if I was going to walk guys, if I was going to be successful, or if I wasn't going to be successful," Jenkins said. "This is the first time, this year, that I know what I'm going to do when I step on the mound. I have control of my stuff. I know I'm prepared. I know I'm going to throw strikes. I know."
This weekend the Arizona Fall League, considered baseball's finishing school for prospects, completed the season with Saturday's championship game. Eight Cardinals minor leaguers played in the invitation-only league, helping the Peoria Javelinas to a division title on the final day of the regular season, and not one of them asserted his place in the organization more than Jenkins. The 22-year-old righthander, the 50th overall pick in the 2010 draft, bloomed in the desert. With a spot on the 40-man roster at stake, Jenkins put an exclamation point on his season with a 2.22 ERA and 28 strikeouts in 24 1/3 innings (six starts) for Peoria.
Four years after the Cardinals drafted him out of high school as a raw, Baylor-bound athlete, Jenkins looks less like potential and more like a pitcher than ever before. He has simplified his mechanics. His delivery can be repeated. His fastball still has zip, but also movement. His changeup plays. He's working on a hard curve. And, most of all, his shoulder is finally healthy.
Health, like command, was something he didn't know if he had from start to start.
"I saw him as that athlete and it was like, 'OK, I'm waiting for a step backward.' He hasn't given me that," said Javelinas pitching coach Jason Simontacchi, the former Cardinals pitcher who was the Low-A pitching coach for the club this past season. "He has made strides forward, not side to side and definitely not backward. Two years ago it was just us working on mechanics. Now, we're working on what's between the ears and pitching. That's the fun part. Who wants to work on mechanics? That's the same repetitive stuff because you're trying to build muscle memory. But now we're dealing with the game. What kind of pitcher are you? He knows that. What your stuff does? He knows that. We don't have to worry about the foundation. Now we're focused on building."
During his a bullpen session Thursday, his final session of the AFL season, Jenkins was doing just that. This season, the coaches have talked to him a lot about his "power position" — his ability to keep his upper body balanced and moving toward the plate. He starts with his chest over his knees — his 6-foot-4 frame bent slightly at the waist — and then takes a quick stride toward the plate, unhinging without leaning. The results have been better control of his pitches, a fastball that regularly touched 95 mph in his last regular-season start of the AFL season, and ability to maintain his power without overtaxing his shoulder.
That is where all the trouble started.
Jenkins pitched fewer than 85 innings each of the past two seasons because shoulder pain eroded his development and kept him off the mound. He surrendered to surgery on his latissimus muscle in his right shoulder in August 2013. The doctors and Cardinals trace the damage to his muscle — which tore free from the bone at one point — to his mechanics. Specifically, his stride. His left foot was so far down the mound that his balance was off and much of the stress was put on his dragging-behind shoulder.
"My lat (muscle) gave way, and then it gave way again," Jenkins said. "I felt I needed that stride to get my velocity. I know back then I was just trying to throw as hard as I can and get it by everybody. I learned real quick that wouldn't work. You can't throw fastballs by everybody like you did in high school. But the damage was done."
Surgery repaired that. It also give him a reset button.
Working with minor-league pitching coordinator Tim Leveque, Jenkins rebuilt his mechanics during the 10-month rehab of his shoulder. For several weeks, all he did was throw a football with a short, punchy stride off the mound. That helped streamline his stride. He returned to games in mid-June, and after the expected inconsistency surged. Jenkins threw at least six innings in his final five starts for High-A Palm Beach. He completed six innings nine times after the All-Star break and finished with a 3.28 ERA in 13 starts. Including 74 innings for Palm Beach, his rehab starts and the Arizona Fall League, Jenkins had his first 100-inning season.
"Making every pitch I throw have a purpose," Jenkins said. "Have quick innings. Go deep. Pitch seven. That's one of the things that (manager Mike Matheny) and the coaches like — having a workhorse. … I know now that I have confidence that no matter what happens I'm one or two pitches from getting out of an inning. Two or three years ago, I'm rattled, I'm trying to force things. Now I have a sinker for a groundball. I have a changeup for soft contact. I can trust my stuff."
The Cardinals drafted Jenkins out of a Texas high school and needed a $1.3-million bonus to woo him away from a football commitment to Baylor. He gave up the gridiron for the mound and the Cardinals knew he and they would need patience. The shoulder trouble gave his development a staccato feel, and left him lagging as others in the Cardinals' class of young pitching prospects vaulted ahead. Two lefties drafted in the same year, John Gast and Tyler Lyons, already have debuted. The Cardinals' first-round picks in the next three years after Jenkins all have debuted: Kolten Wong (first round 2011), Michael Wacha (first round 2012) and Marco Gonzales (first round 2013). Jenkins joked about how long it feels like he's been a Cardinal, but he's younger still today than Wacha, Gonzales, or Wong.
To protect him in the upcoming Rule 5 draft, the Cardinals are expected to add him to the 40-man roster this week. He'll come to major-league spring training and his option years will begin.
He knows the pitcher he can be now.
Just as importantly, the Cardinals are starting to as well.
"It's almost like after a few years of him being in the same place," Simontacchi said, "right now you're waiting for him to start running and just take off."
Keep up with the latest Cardinals coverage from our award-winning team of reporters and columnists.