On some of the new signage near the team's clubhouse and at times on social media this season, there has been a smoother look to the Cardinals' traditional interlocking "STL" logo. Consider it a hint. The Cardinals have quietly integrated a balanced, less irregular and sharp "STL" logo in some of the team's branding.
It's appeared as part of tweets and on Fox Sports Midwest. The subtly different logo also appeared recently in advertising for Aug. 21's Star Trek Night, and it will be featured on the side of the cap given out to purchasers of the Star Trek theme ticket.
One of the subtler changes to logo is how the trapezoid that makes the top of the "T" in the current logo has been replaced with a balanced rectangle. The upturn at the top of the "S," which has been there for decades, is now mirrored with a downturn to the tail of the "S." The new look logo has not appeared on the team's official uniforms this season.
This is a slow roll out, and if adopted it would see widespread use in 2020.
A team executive declined comment because any tweaks to the logo or other branding changes aren't official until after the current season.
---
The STL logo is as historic as these Cardinals' Hall of Famers
JIM BOTTOMLEY, First Baseman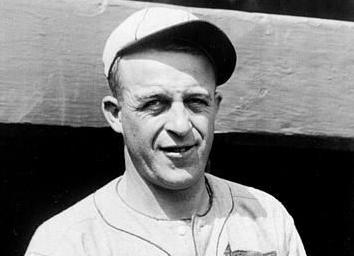 Played for St. Louis Cardinals: 1922-32
Year Inducted: 1974
"Sunny Jim" was a fan favorite and a stalwart on the 1926 and '31 World Series championship teams. He won the National League MVP award in 1928, when he led the league with 20 triples, 31 homers and 136 RBIs. Bottomley, a lefthanded swinger, had six consecutive seasons of 100-plus RBIs from 1924-29, and just missed the 100-mark in 1923 and '30. In 1924, he produced 12 of his 111 RBIs in one game -- when he went 6 for 6 in a nine-inning game at Brooklyn on Sept. 24. The 12 RBIs still stand as an MLB record, which he shares with Mark Whiten, who matched the feat as a Cardinals outfielder in 1993.
ROGERS HORNSBY, Second Baseman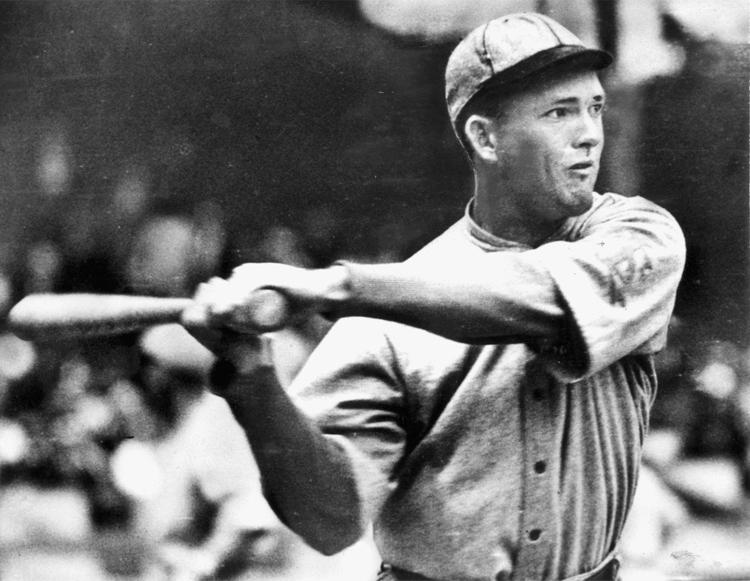 Played for Cardinals: 1915-26, 1933
Year Inducted: 1942
Hornsby, primarily a second baseman, is widely regarded as the greatest righthanded hitter in baseball history. He won six NL batting titles in a row from 1920-25, with these averages: .370, .397, .401, .384, .424 and .403. He won the Triple Crown (most homers and RBIs, highest batting average) in 1921 and '25, and is second to Ty Cobb for highest career average (.358).
"The Rajah" was player-manager for the 1926 World Series champion Cardinals, but they traded him after the season to the New York Giants for another future Hall of Fame second baseman, Frankie Frisch. Hornsby returned to the Cardinals in 1933, but played sparingly and was released in July. The St. Louis Browns immediately signed him to be a player-manager, and he lasted with the AL club through 1937. 
JESSE HAINES, Pitcher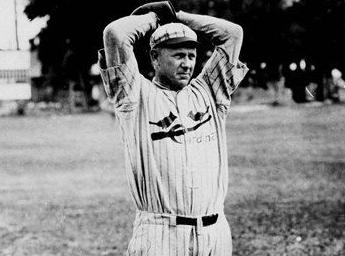 Played for St. Louis Cardinals: 1920-37
Year Inducted: 1970
"Pop" Haines was a three-time World Series champion and one of the 10 pitchers to throw a no-hitter in the organization. He started 387 games in his career, winning 210 and throwing 209 complete games. In the 1926 World Series, Haines went 2-0 with a 1.08 ERA against a Yankees team that featured Babe Ruth and Lou Gehrig in the lineup.
CHICK HAFEY, Outfielder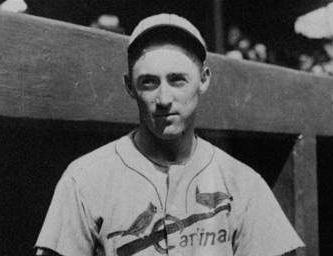 Played for St. Louis Cardinals: 1924-31
Year Inducted: 1971
Charles J. "Chick" Hafey was one of the first major leaguers to wear glasses during games. He spent the first eight seasons of his 13-year career with the Cardinals, winning the World Series twice. He won the NL batting title with a .349 average in 1931 -- his fifth consecutive season of hitting .329 or higher for the Cardinals -- but was traded after the season to the Reds for two unheralded players and cash. Hafey's career .317 BA ranks 61st all-time and his .526 slugging percentage is 55th.
FRANKIE FRISCH, Second Baseman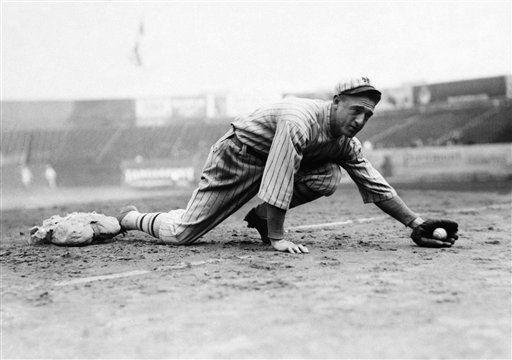 Played for St. Louis Cardinals: 1927-37
Year Inducted: 1947
In 1931, Frisch won the NL MVP award and a World Series championship with the Cardinals. His second title would come with the "Gashouse Gang"  in a 1934 season where he was an All Star, an MVP candidate and . . . manager of the team! The "Fordham Flash" finished with a .316 career batting average.
BILLY SOUTHWORTH, Manager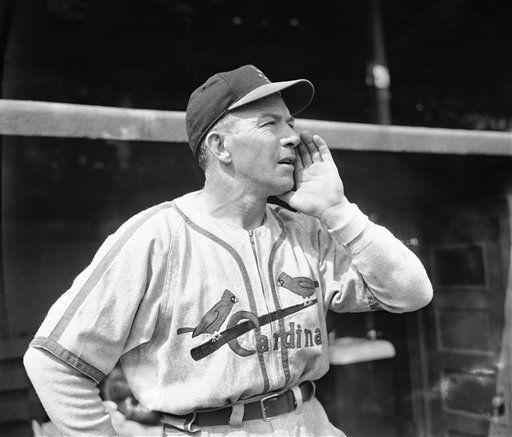 Managed for St. Louis Cardinals: 1929, 1940-45
Year Inducted: 2008
After playing in the majors for 13 seasons, which included a 99-game stint as an outfielder with the World Series champion Cardinals in 1926, Southworth was named Cards manager during the 1929 season. He was 43-45 in that role and replaced after the season, but was rehired in 1940 and became the franchise's winningest manager. Southworth won three NL pennants and two World Series in a span of three seasons (1942-44). His .642 winning percentage is the highest in the Cardinals' 126-year history.
DIZZY DEAN, Pitcher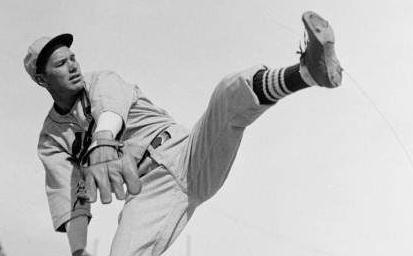 Played for St. Louis Cardinals: 1930, 1932-37
Year Inducted: 1953
"If you can do it, it ain't bragging," Jay Hanna "Dizzy" Dean once said of his remarkable pitching talent. Ol' Diz won the NL Most Valuable Player award after going 30-7 in 1934, the last time a National League pitcher won 30 games. He followed up that feat by beating the Detroit Tigers in Game 1 and Game 7 of the World Series. Dean was named to four All Star teams and led the NL in strikeouts four times, complete games three times and wins twice before his career was derailed by injury.
JOE MEDWICK, Left Fielder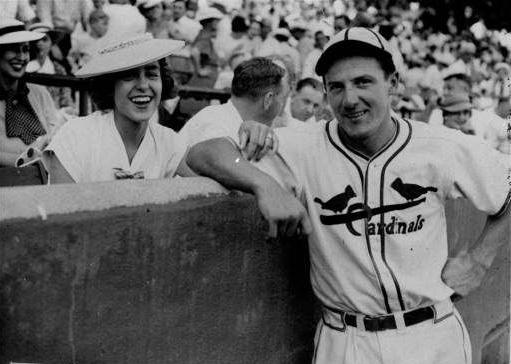 Played for St. Louis Cardinals: 1932-40, 1947-48
Year Inducted: 1968
"Ducky" Medwick became the second Cardinal in franchise history (after Hornsby did it twice) to win an NL batting triple crown, hitting .374 with 31 HR and 154 RBI in 1937. He was the NL's Most Valuable Player that season and made his fourth appearance in an All Star Game. Medwick's .335 BA ranks third in Cardinals history (minimum 2,500 at-bats).
JOHNNY MIZE, First Baseman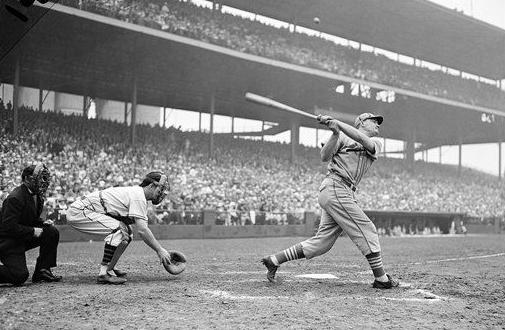 Played for St. Louis: 1936-41
Year Inducted: 1981
Before serving in the military from 1943-45, "Big Cat" played in St. Louis for six seasons and New York for one. With the Cardinals, Mize won the 1939 NL batting title and hit for a 1.018 OPS, the third best in organization history. His .959 career OPS ranks 17th all-time among major league hitters.
ENOS SLAUGHTER, Right Fielder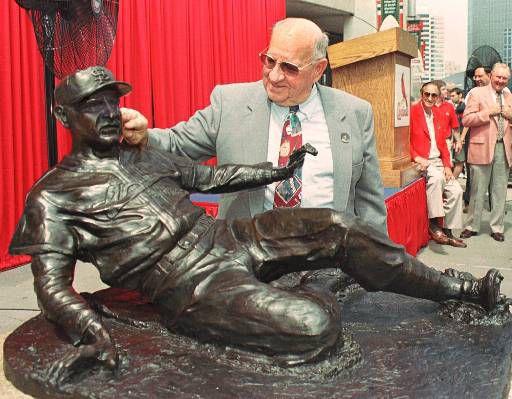 Played for St. Louis Cardinals: 1938-53
Year Inducted: 1985
As a Cardinal, Enos "Country" Slaughter was named to 10 All Star teams, won two World Series (he missed out in 1944 while serving in the military) and hit for a .305 BA and .847 OPS. His "Mad Dash" in Game 7 of the 1946 World Series, when he scored from first base on a shallow hit to the outfield in the bottom of the eighth inning to break a 3-3 tie against the Boston Red Sox, is part of major-league lore to this day.
STAN MUSIAL, Outfield-First Base
Played for St. Louis Cardinals: 1941-63
Year Inducted: 1969
"Baseball's Perfect Warrior" is the eternal face of the St. Louis Cardinals franchise.
Stan "The Man" spent his entire 22-year career with the Cardinals. He was an All Star in all but two of those years, making it onto the team in 20 straight seasons. Musial was a three-time MVP and World Series winner, and is one of 31 major leaguers to have reached the 3,000 hit mark. His 3,630 hits still are fourth-highest all-time.
RED SCHOENDIENST, Second Baseman-Manager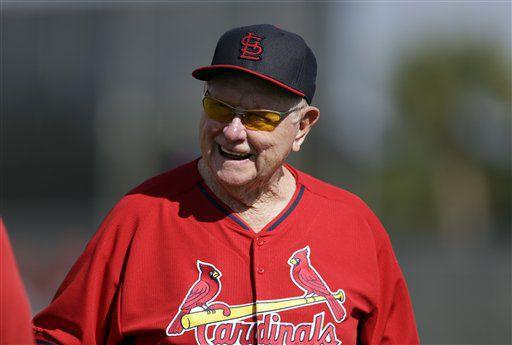 Played for St. Louis Cardinals: 1945-56, 1961-63
Managed the Cardinals: 1965-76, 1980 (interim), 1990 (interim)
Year Inducted: 1989
One of the more prolific players and managers in the history of St. Louis, Red was a symbol of the Cardinals winning tradition. He won World Series titles with the Redbirds as a player (1946), manager (1967) and coach (1964, 1982). His 1,041 wins as a manager are the second-most in the team's history. As a player, Schoendienst made the All-Star team nine times as a Cardinal and won the 1950 Midsummer Classic for the National League with a 14th-inning homer.
BOB GIBSON, Pitcher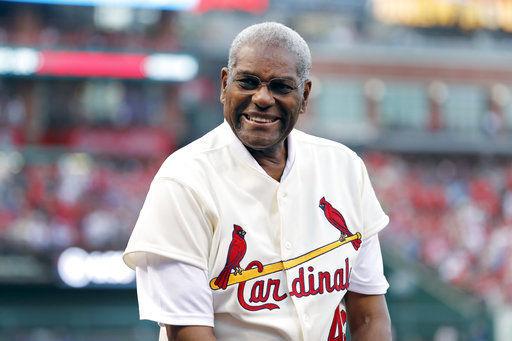 Played for St. Louis Cardinals: 1959-75
Year Inducted: 1981
"Gibby" reigns as the most dominant pitcher in franchise history. He was a two-time Cy Young Award winner and won the World Series twice (1964 and '67), being named World Series MVP both times. Gibson's most dominant season came in 1968, when he posted a record-low 1.12 ERA and forced a rules change that lowered the pitching mound. He is the runaway leader in wins (251), strikeouts (3,117),complete games (255) and shutouts (56) by a Cardinals pitcher.  
LOU BROCK, Left Fielder
Played for St. Louis Cardinals: 1964-79
Year Inducted: 1985
In the summer of 1964, the Chicago Cubs dealt Lou Brock to the St. Louis Cardinals for pitcher Ernie Broglio. The rest is history. Brock went on to win two World Series titles in St. Louis and joined Stan Musial in the 3,000-hit club with 3,023 in his career (2,713 with the Cardinals. Still, he is best-known forhis dominance on the basepaths. Brock stole 938 bases throughout his career, second only to Rickey Henderson in MLB history, and his 118 steals in 1974 still stand as the NL record.
WHITEY HERZOG, Manager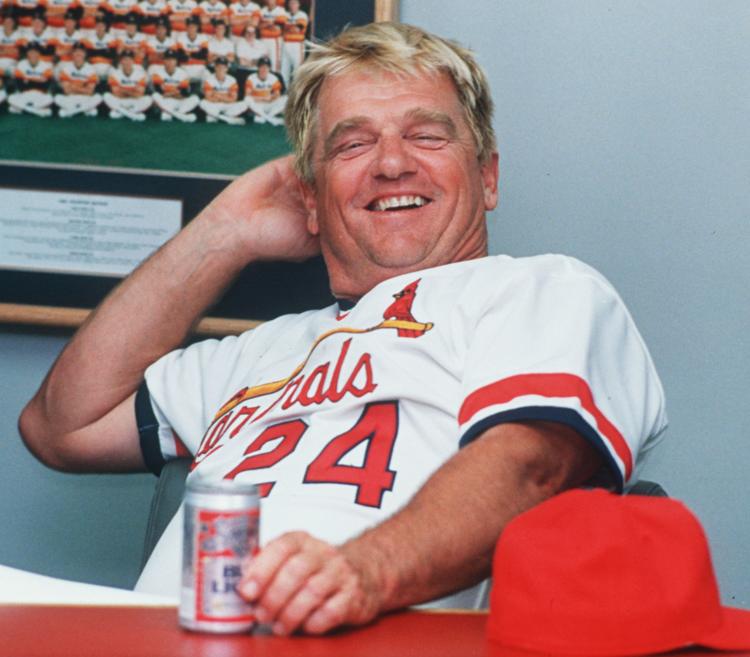 Managed for St. Louis Cardinals: 1980-90
Year Inducted: 2010
Dorrel Norman Elvert "Whitey" Herzog, the pride of New Athens, Ill., managed the Rangers (138 games), Angels (four games) and Royals (four-plus seasons) before joining the Cardinals in 1980. While he did well in his previous stop, those Kansas City teams couldn't match the success of Whiteyball in St. Louis. Herzog's Cardinals teams won one World Series and three NL pennants in the 1980s, and his 822 career wins are third-most in the history of the franchise.
BRUCE SUTTER, Relief Pitcher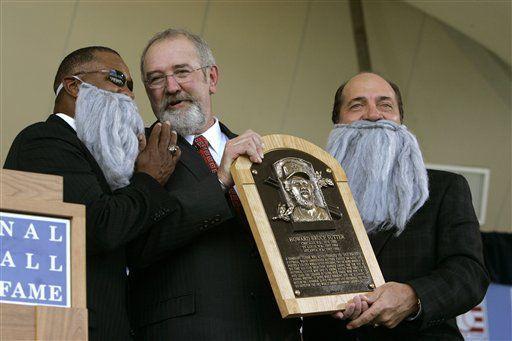 Played for St. Louis Cardinals: 1981-84
Year Inducted: 2006
Before becoming a member of the Cardinals, Sutter won a Cy Young with the Chicago Cubs in 1979. With the Redbirds, "Bruuuuuce" was an All-Star twice and a World Series champion, and had four seasons with at least 20 saves. The righthander who made the split-fingered fastball famous posted the 28th-most saves in MLB history with 300.
OZZIE SMITH, Shortstop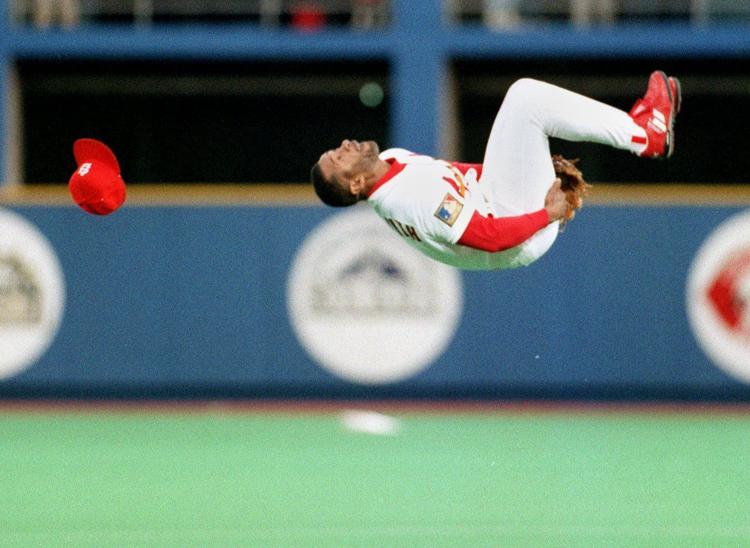 Played for St. Louis Cardinals: 1982-96
Year Inducted: 2002
"The Wizard" made his mark on the history of baseball with his magical glove. Smith won 13 Gold Gloves, the most all-time among MLB shortstops. His 44.2 defensive WAR is the highest among any player in MLB history, and The Wizard's 580 stolen bases rank 22nd in the major league leaderboards. Smith won the World Series with the Cardinals in 1982.
TONY LA RUSSA, Manager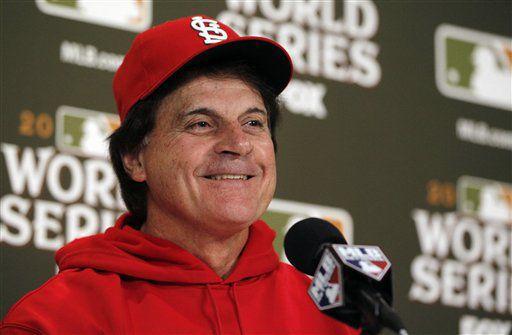 Managed the St. Louis Cardinals: 1996-2011
Year Inducted: 2014
He didn't go into the Hall of Fame with the famed STL logo (or any other logo) on his hat, owing to the success he had previously enjoyed with the Chicago White Sox and Oakland A's. La Russa joined the Cardinals in 1996 and won two World Series titles and three NL pennants before retiring. No manager in Cardinals history won more games than La Russa's 1,408.
OTHER HALL OF FAMERS WHO WORE BIRDS ON THE BAT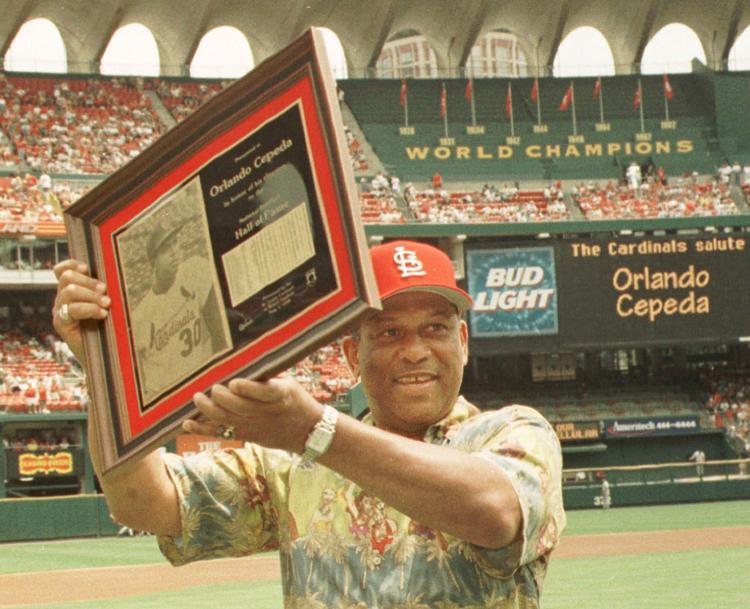 Players and managers with connections to the franchise who did not go into the Hall of Fame as Cardinals (years with Cardinals in parentheses):
Pud Galvin (1892)
Roger Connor (1894-97)
Cy Young (1899-1900)
Jesse Burkett (1899-1901)
Bobby Wallace (1899-1901,1917-18)
John McGraw (1900)
Wilbert Robinson (1900)
Mordecai Brown (1903)
Kid Nichols (1904-05)
Jake Beckley (1904-07)
Roger Bresnahan (1909-12)
Vic Willis (1910)
Miller Huggins (1913-17)
Branch Rickey (1919-25)
Grover Cleveland Alexander (1926-29)
Rabbit Maranville (1927-28)
Bill McKechnie (1928-29)
Burleigh Grimes (1930-31, 1933-34)
Dazzy Vance (1933-34)
Leo Durocher (1933-37)
Walter Alston (1936)
Hoyt Wilhelm (1957)
Steve Carlton (1965-71)
Orlando Cepeda (1966-68)
Joe Torre (player 1969-74; manager 1990-95)
Lee Smith (1990-93)
Dennis Eckersley (1996-97)
John Smoltz (2009)