Most of the buzz about new Cardinals first baseman Paul Goldschmidt is about his Silver slugging. He has won four such awards, including the past two seasons.
But then there are those three Gold Gloves.
"I heard from a lot of players when we made this deal," said John Mozeliak, president of baseball operations, after Goldschmidt's introductory news conference Friday at Busch Stadium. "I think one of my favorite texts was from (second baseman) Kolten Wong because he's like, 'It's going to be tough to sneak a ball through the right side.'
"And he's right. When you look at our club last year defensively, and it's a common topic we talk about, we had some holes. This is something that I think immediately improves. I certainly think our right side from a defensive standpoint is maybe elite."
Mike Shildt, beginning his first full season as manager, said, "That's as good a right side an infield as you're going to see in the game.
"From my point, clearly we know what (Goldschmidt) is going to bring offensively. But the defense is what I would harp on when the subject would come up. You're looking at putting five or six Gold Glove quality defenders on the field at the same time."
In addition to nine-time Gold Glove catcher Yadier Molina, Shildt was referring to Fielding Bible award-winning Wong, former Gold Glover Marcell Ozuna in left field, center fielder Harrison Bader and shortstop Paul DeJong, who Shildt said had been making a "sneaky" ascent in the defensive metrics.
An old high school coach in North Carolina long ago told Shildt "you should not underestimate the importance of your first baseman. We know that the catcher is the most important position on the field because they get the most touches. But who gets the second (most) touches?" asked Shildt.
First base is the answer and Shildt said, "It's interesting to me that people just kind of space that off. We did a recap (of the Cardinals' 2018 defense) and said, 'Where did our errors come from last year and how are we going to attack it and improve it?' The reality is that we probably did 35 percent of it in one move.
"I'm excited about that as I am the offense. Now, you get both adds — run production and run prevention. In large measure."
With Goldschmidt at first base, Matt Carpenter moves back to third full-time.
"He played a very capable third base last year," said Shildt. "He's just bounced around so much. It will be nice for him to settle in at third base. It's his natural, primary position."
Ruminating about lineups, Shildt said that Carpenter, despite his club-leading 36 homers, would hit first. But he might have a 33-homer man in Goldschmidt hitting second.
"I would think it's in play — at least for discussion," Shildt said.
Goldschmidt, who mostly has hit third and fourth in his career, was Carpenter-leadoff-like when batting second last season for the Arizona Diamondbacks.
In 47 starts as the No. 2 hitter, Goldschmidt blasted 17 homers, drove in 40 runs, batted .349 and had a whopping OPS (on-base plus slugging) of 1.104. His OPS numbers while hitting third and fourth were .836 and ,847, respectively.
As for third and fourth, Shildt said he could move Ozuna to third, although the latter has spent most of his career as a fourth hitter, where he probably would leave him. That would leave DeJong as a potential third hitter.
"DeJong has shown he can be productive there (14 of his 44 homers as a No. 3 hitter)," said Shildt. "Not saying that Goldy couldn't hit third either."
Mozeliak said the five-player deal had been percolating for a while, but he had some doubts whether the Cardinals could pull it off.
"When we met at the GM meetings (in November), it became clear that Arizona was looking maybe to change direction and so there were some players they had mentioned (who) would be available," said Mozeliak. "Of course, Paul was someone we had a lot of interest in, from the get-go.
"For the last month, I think it's been something I've been nagging Mike Hazen (Arizona general manager) about on a daily basis.
"When you look at what we gave up, clearly we were all in. It just was one of those acquisitions that you don't necessarily expect to happen. When I left the GM meetings, I got the sense of, 'We're going to do it or we're not.' So as we were actually getting close to the winter meetings, I was scared that it wasn't."
Chairman Bill DeWitt credited the scouting and player development departments for creating the young talent surplus that it took to land Ozuna in 2017 and now Goldschmidt.
"That's going to remain our staple," said Mozeliak. "We're going to continue to invest in that and do well with that, but this was a deal that presented itself that seemed like it was almost like a unicorn. We chased it. And we got it."
Goldschmidt, 31, made many points with the fan base Friday when he said, "I don't know of a player in baseball who doesn't want to play here. There's certain organizations that are just known for greatness and this is one of them."
Acquired Wednesday for righthander Luke Weaver, catcher Carson Kelly, minor league infielder Andy Young and a high 2019 draft choice, Goldschmidt said, "There are places that are each known for their own thing, but the fans here are great. Packed house and cheering and (they) just appreciate good baseball. A little bit more old-school in the sense of it."
Goldschmidt, at least in spring training, will wear No. 46, rather than 44, which he wore in Arizona. "It was the closest to 44 that wasn't taken," Goldschmidt said. "I didn't want to take anybody's number."
Veteran reliever Luke Gregerson, hurt much of last season, wears No. 44, and Hall of Famer Bob Gibson's number 45 is retired. Goldschmidt didn't ask for 44, now or before.
"I got 44, just because it was hanging in my locker (in Arizona)," said Goldschmidt. "I never made any requests for a number.
"Forty-six was available. It was easy."
For the record, the most prominent Cardinals to date to wear that number were Pete Vuckovich, Ken Dayley, Kyle McClellan and Kevin Siegrist. Francisco Pena wore it this past season.
Once upon a time, a Canseco wore it. Ozzie Canseco had 46 a-bats as a Cardinal. With no home runs. That is 209 fewer than Goldschmidt has had in his career.
Cardinals introduce Paul Goldschmidt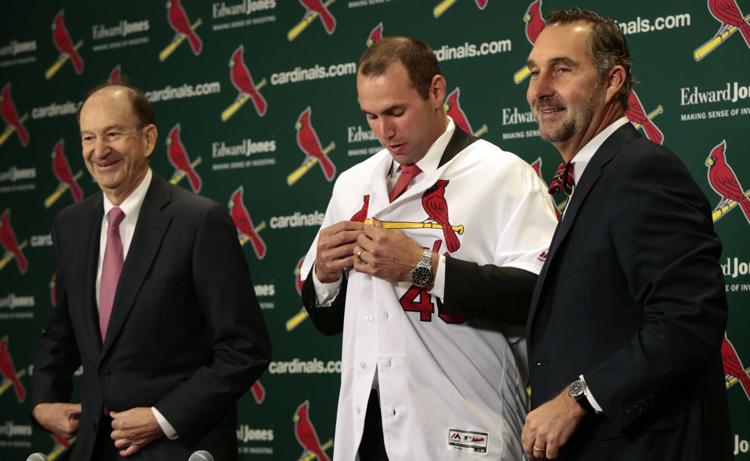 Cardinals introduce Paul Goldschmidt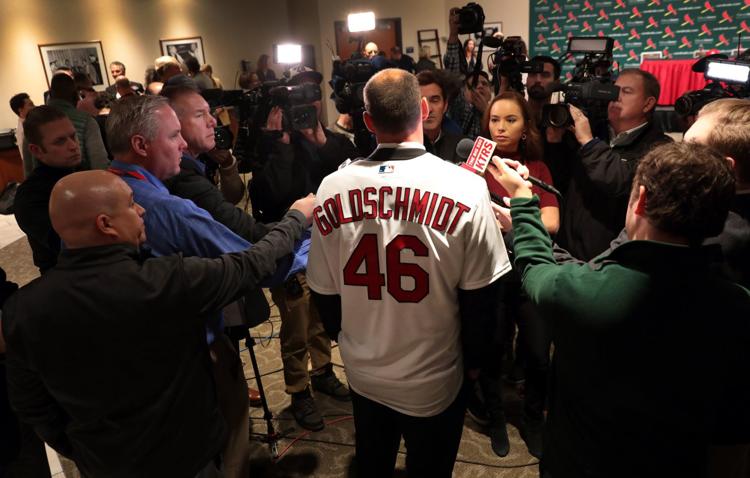 Cardinals introduce Paul Goldschmidt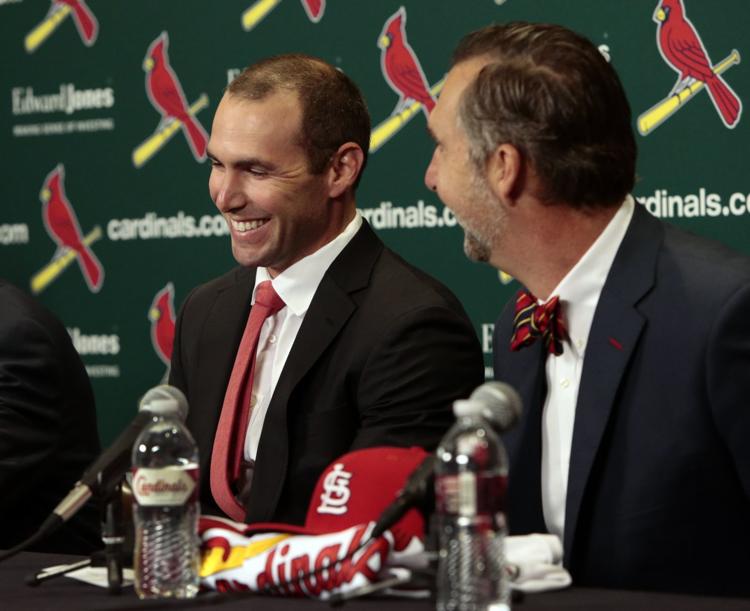 Cardinals introduce Paul Goldschmidt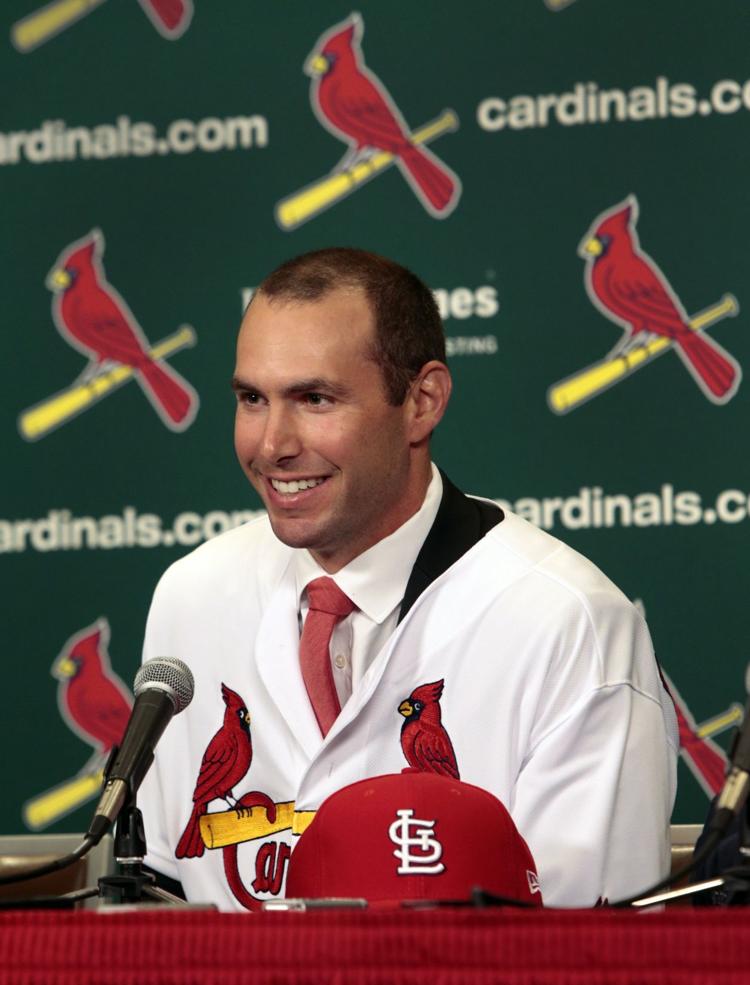 Cardinals introduce Paul Goldschmidt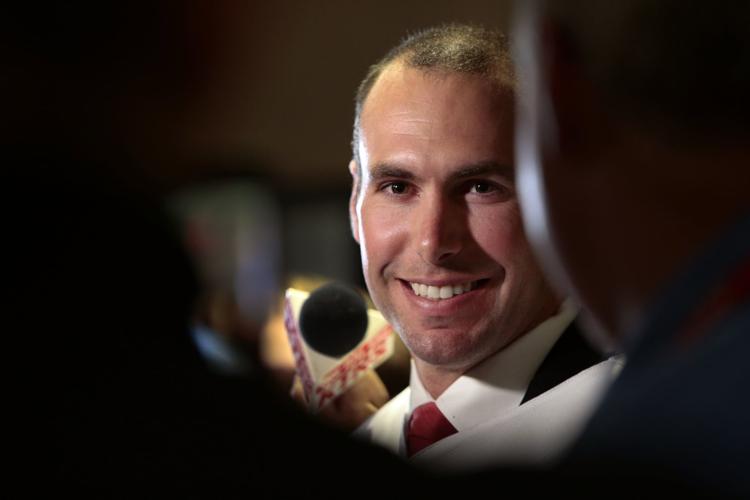 Cardinals introduce Paul Goldschmidt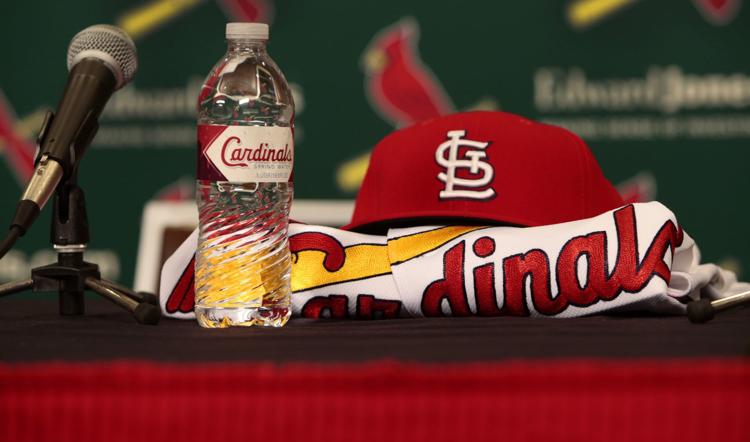 Cardinals introduce Paul Goldschmidt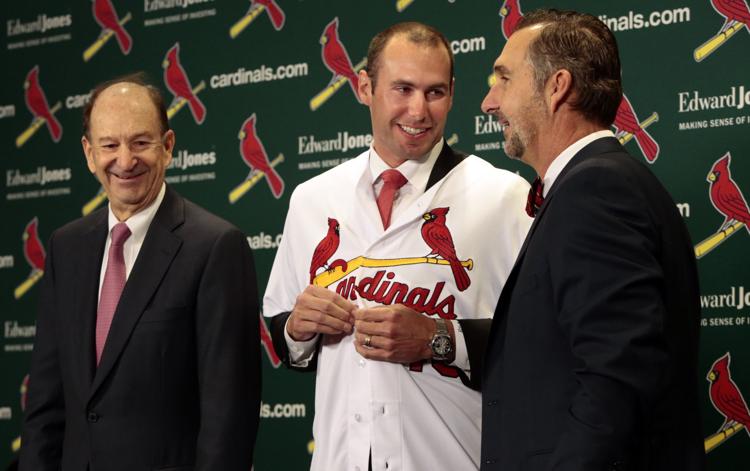 Cardinals introduce Paul Goldschmidt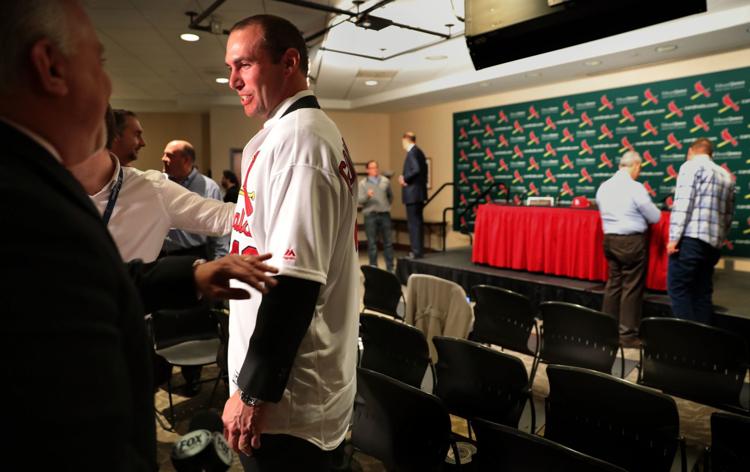 Cardinals introduce Paul Goldschmidt
Cardinals introduce Paul Goldschmidt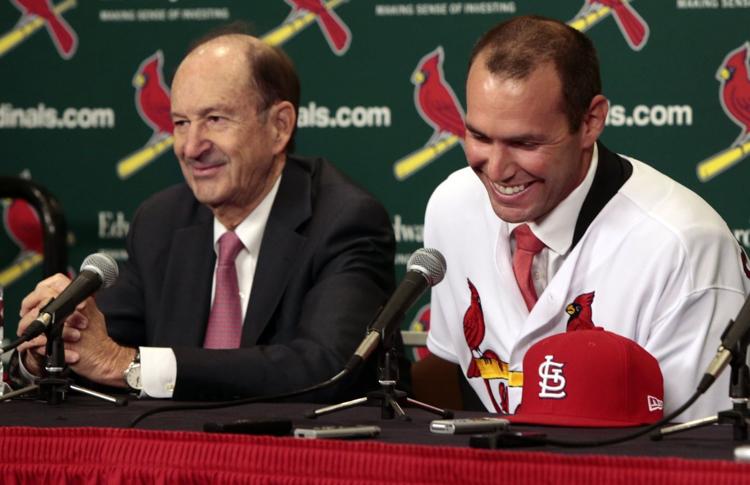 Cardinals introduce Paul Goldschmidt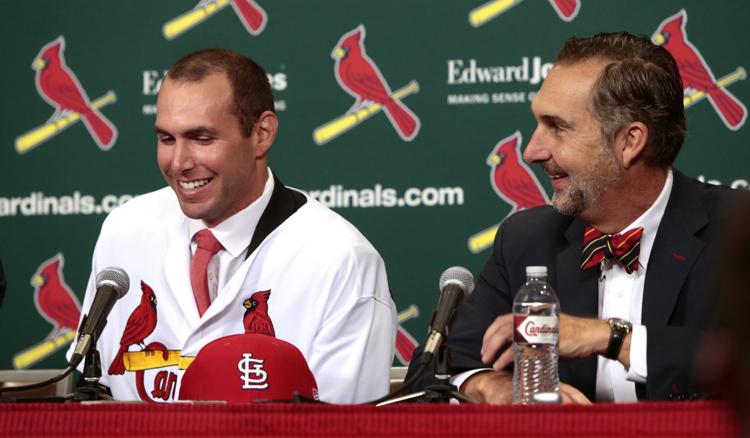 Cardinals introduce Paul Goldschmidt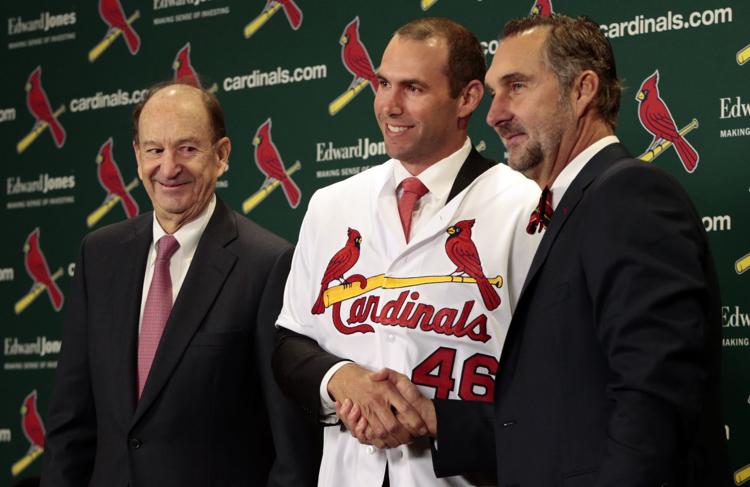 Cardinals introduce Paul Goldschmidt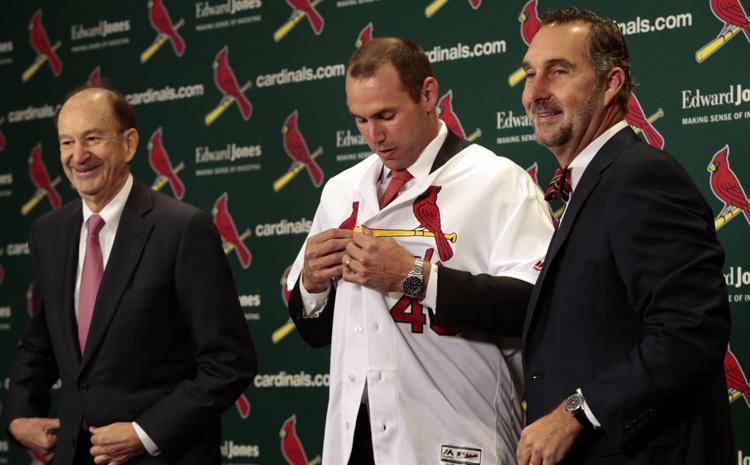 Cardinals introduce Paul Goldschmidt