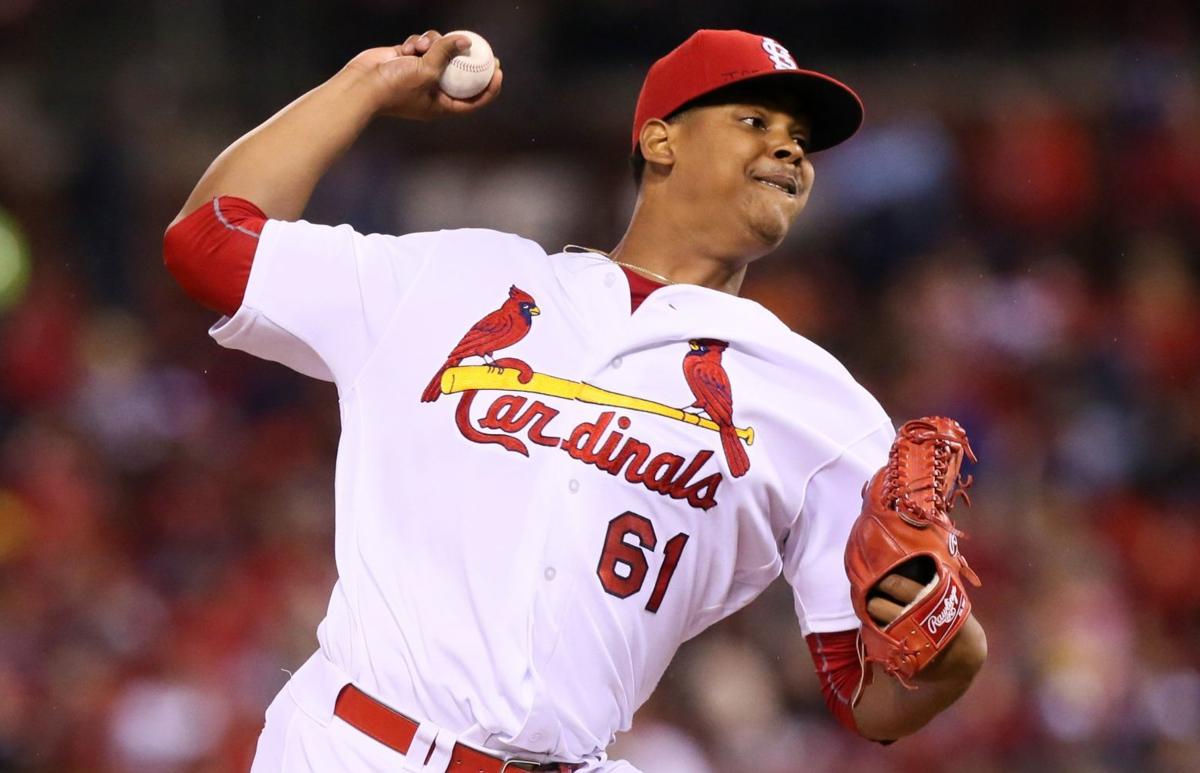 Once the tears and medication had cleared and Alex Reyes found himself flipping from channel to channel, wandering from room to room at a rented home in Jupiter, Fla., the weight of his sudden situation found him. It hung, heavy, from his right shoulder.
His elbow had come apart hours before spring training started and, a day or two after surgery, he couldn't stop wondering what he might lose.
Encased in a cast was his career, trapped before it truly started.
"Those first 24, 48 hours — they were tough. There is no other way to put it," Reyes recalled this past week. "I was in a mental roadblock. A lot of things were spinning in my head, a lot of different scenarios. You obviously think about it, 'Are you ever going to pitch again?' It's a full year. It's Tommy John. A lot of people come back, but there's no guarantee. As soon as I got that cast on there was no going back. So, what can I do? I knew.
"Think positive. Think better. Find a way to make that happen."
What began as a list of goals Reyes started putting together last spring dovetailed during the past 15 months with the Cardinals' pursuit of better, more modern training practices. That put the righthander at "the nexus of what we're trying to do as an organization," said one official. The result was more than an elbow rebuilt and strengthened by the tried-and-true Tommy John rehab but a total health upgrade for one of the top pitching prospects in baseball.
As Reyes, 23, completed his breathtaking rehab assignment Thursday with 13 strikeouts and a one-hitter for Class AAA Memphis, he returns to the major league rotation this week a different pitcher than he was the last time in St. Louis. He's leaner. He's stronger. Lighter. More agile. More athletic. Like he said, better.
His manager called him: "Transformed."
"He's got ace stuff, but that doesn't make you that guy," said manager Mike Matheny. "He was an example of just pure talent. Now he still has the same stuff —with this regimen. What's possible?"
"I wanted to get back to where I was, but not back as me," Reyes said. "As a better me."
In four rehab starts with minor-league affiliates Reyes has left records in his wake. He struck out 13 to set a Class AA Springfield single-game record on May 19, and in a tuneup this past week at Triple-A he did what no pitcher ever had in 116 years of the Pacific Coast League: He struck out the opponent's lineup – in order. Starting with former teammate Breyvic Valera, Reyes struck out nine consecutive batters — eight swinging, one looking — on 36 pitches. He touched 99 mph with his fastball; he's consistently thrown 97-98 mph in starts.
In 23 scoreless rehab innings, Reyes allowed 14 baserunners and struck out 44 of the 82 batters he faced. With each pitch he could feel the work of the past 15 months.
"Losing the amount of weight I did allowed me to be complete my delivery more consistently without having all this extra weight all trying to move in one direction," Reyes said. "I've been able to harness my delivery and make everything a lot simpler. Even my breaking ball — my arm is just able to get out in front without having to think about it. My body is taking care of itself, smooth and consistent. I'm not gassed like I was in the past. All these things."
At the same time Reyes had reconstructive surgery on his elbow ligament, the Cardinals were continuing a retooling and rethinking of their rehab and training tools.
A department of performance had been established and charged with taking the same analytic approach the front office had for player evaluation and applying that to player health. The goal was to use data and technology and anything they could get their hands on to stay ahead of injuries, enhance rehab practices, and strive for an "anti-fragile" athlete. Veteran Zach Duke was the first major-leaguer to have access to some of the new tech the Cardinals acquired for recovery from Tommy John surgery, and he embraced it. That served as a model — and role model — for Reyes after his February 2017 surgery. Duke, now with Minnesota, gave him personal guidance, preparing him for the rehab ahead and pushing him during it.
The training staff made clear that the recovery from Tommy John was well established, so how could they supplement, how could their new advances augment?
"Alex is a special athlete. He's young. He's got a power arm. He's a little raw. So we looked at how he's not a finished product," Adam Olsen, the Cardinals' head trainer, told The Post-Dispatch this past week. "Alex became the crown jewel of what we've been trying to do with this department. What (John Mozeliak, president of baseball operations) said we needed to be able to do and all that we've talked about, Alex is that guy. We've had others. We'll have more. But we thought we're going to put every resource we have into this rehab.
"This was the one where we said, 'Let's see how good we can be.'"
Reyes presented his list of goals, and together with the training staff discussed ways to improve his body composition, core strength, durability, nutrition, and even sleep habits – anything they could and would monitor. He had tests for food allergies and lean muscle, and he had regular appointments with a machine that measures body fat, muscle mass, and hydration levels.
Unable to throw a pitch, that's where he kept score.
He competed against himself.
Thomas Knox, the Cardinals' major-league physical therapist and in-house sports scientist who came to them from the NBA; and Jason Shutt, a performance specialist and former golf instructor, worked closely with Reyes on his regimen. Reyes could keep stats. He dropped as much as 20 pounds and several sizes on his pants. He saw the bulk of his legs give way to leaner, stronger pistons that steadied his delivery. He ditched soda and juice for water, always water. Gone are the late-night fast food runs, replaced by home cooked lean meals. ("I sneaked some pizza in there sometimes," he said.) He did a Turkish Get-Up with a 90-pound weight held aloft in one arm. He has greater flexibility and, the team believes, durability.
With the exception of a few weeks in the fall, Reyes' rehab was seven days a week to mimic baseball's grind. At the suggestion of the club and peers, like Lance Lynn, Reyes housed his rehab at Busch Stadium last season so that he could be around the team. Reyes described how watching, in person, Lynn throw five shutout innings a year after elbow surgery invigorated his rehab. By being present, he picked up the routine of big-league starters and Olsen said that "accelerated his experience."
When the team was out of town, he'd share St. Louis with his daughter, Aleyka, who turns 2 in July. They visited the zoo, the Gateway Arch, and as Reyes started to take his first steps toward the mound, Aleyka beat him by a few weeks.
He was there for her first steps.
All of this work, done in conjunction with the proven recovery from elbow surgery, was not just to get him ready for 2018. It was designed to launch him into "the 10-year, 15-year career everyone dreams of," he said.
Matheny has an idea what fueled Reyes.
It lurked in the questions Reyes asked himself as he eyed that cast.
"I think it was that fear — I could be one of those few that it doesn't work for," Matheny said. "That fear drove him to work like he's never worked before in his life."
A third baseman from New Jersey who had moved to the Dominican Republic and garnered attention as a pitcher, Alex Reyes arrived with a group to the Cardinals' academy in Villa Mella, Dominican Republic, for a tryout. There was no rhyme or reason to the jersey numbers being handed out — only the size of the shirt mattered. Reyes was given No. 29.
Born on August 29, 1994, and able to wear 29 for the Cardinals' lower affiliates, the number wasn't available when Reyes debuted in 2016. He wore No. 61 for his 12 appearances, including his last one, a start with six innings and six strikeouts against Cincinnati on September — wait for it — 29. That offseason, he asked for No. 29, and though he's yet to wear it into a game for the Cardinals he has learned the weight of it. The last starter to wear that number was the best starter ever to wear that number for the Cardinals, Chris Carpenter. Several times during a conversation this past week, Reyes described "Big Carp" and the standard set. He linked that to the confidence he got from his five previous starts in the majors and how those shaped his rehab appearances this past month.
"Don't pitch to the league," he said. "Pitch how I would in the big leagues."
The first four batters of Thursday's game walked or put the ball in play. Thirteen of the next 19 struck out. In the second inning he struck out three batters on 10 pitches. In the fifth, he got nine swings and misses. When he buttons up that 29 — new number, new elbow, new man — for a game for the first time this week, he'll have something in common with a previous owner.
Driven by fear 15 months ago, he's ready to wreak some.
"I feel … prepared," Reyes said this past week in the Cardinals' dugout, his eyes fixing on the Busch Stadium mound. "And, honestly, when I get on that mound I feel like there is not a hitter I'm afraid of. That is something I take into every game now. I go out there and just try to blow his doors off or get him with a breaking ball. My plan is to attack. Make sure the hitters know I'm coming after them."