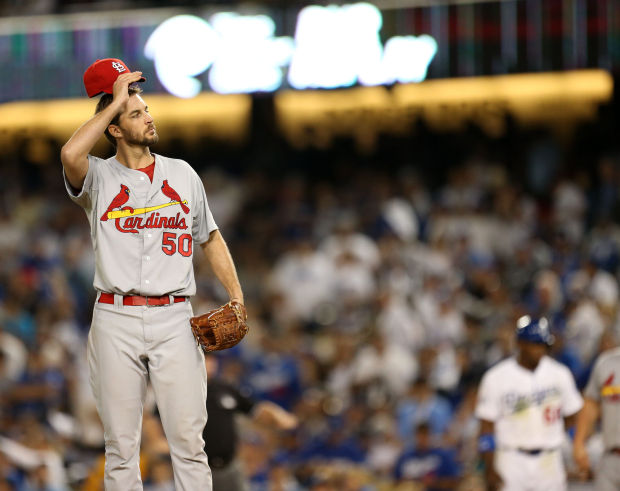 LOS ANGELES • In a series dictated by starting pitching and decided by the slimmest of margins, the difference in each game of this staring contest for the National League pennant has been the first blink.
A lapse in concentration, a baserunning blunder or a play mishandled in the field could cost the game. Any of those mistakes could erase an ace.
The Cardinals weren't limited to just one in Game 3.
In their worst game of the year in the field at the worst time, the Cardinals sabotaged a solid start from ace Adam Wainwright and flubbed a chance to seize commanding control of the National League championship series in a 3-0 loss to the Dodgers on Monday. The Cardinals had a chance at Dodger Stadium to take a 3-0 lead in the best-of-seven series, but that, like so many fly balls toward center field Monday, fell just out of their reach.
"It wasn't very characteristic of how we played all season," manager Mike Matheny said. "We just had a lot of balls in the air that hit the ground that normally don't. We're a better club than this."
Dodgers lefty Hyun-Jin Ryu pitched seven scoreless innings to continue what tandem aces Zack Greinke and Clayton Kershaw did to the Cardinals – quiet the league's top offense – but complete what they did not. He won. Already this series the league leader in wins (Wainwright), the league leader in ERA (Kershaw) and a top-six pitcher in both categories (Greinke) have started losses. The Dodgers' win Monday not only tightens the series, two games to one, but also assures that at least one of their aces will reappear in this series.
Ricky Nolasco is scheduled to start tonight's Game 4 at Dodger Stadium, but LA could shift to Greinke on short rest to try to level the series. The righty has a 2.00 ERA in two starts on less than four days of rest – including a six-inning win in 2011. Dodgers manager Don Mattingly had Kershaw pitch on short rest in the NL division series when not facing elimination.
"Obviously they still have the upper hand because they're up 2-1," Mattingly said. "But you feel like you're back in the series, and it gives your guys a little bit of confidence. I think the playoffs are a one-day momentum swing. Every day changes."
One thing that hasn't in this series is the difficulty scoring runs. Three games into the NLCS between two storied clubs and LA has outscored the Cardinals 5-4. The Dodgers had gone 22 innings without scoring before Jon Jay misplayed a fly ball in center field to give them a chance in the fourth inning Monday. The Cardinals take a 12-inning scoreless streak into tonight's Game 4. Ryu didn't allow a hit until the fourth inning, and when Kenley Jansen retired the Cardinals in order in the ninth he left them with a .134 average overall in the series.
The Cardinals have only three extra-base hits against the Dodgers, and one of them was a double by David Freese, who is questionable with calf injury for tonight's game. His single broke Ryu's no-hitter, but he felt his calf tighten on his swing and had to be removed for a pinch-runner. The Cardinals called him "day to day" until the severity of the injury is known.
The nine combined runs are a record low through three games in the NLCS.
"We all know that in the playoffs," Dodgers first baseman Adrian Gonzalez said, "pitching dominates."
The Cardinals set a record this past season for the fewest errors (75) in club history, but that said more about the limit of the statistic than the quality of the Cardinals' defense. The lack of errors revealed the Cardinals' ability to complete routine plays, not their range or reach – and nothing about the balls they couldn't make a play on, or an error. Matheny said after Monday's game that the team "has done a great job of improving defensively." It had to. Monday's game was an example of how the record masked the true glove.
There isn't an error in the box score, but there were many on the field.
In the first inning, Jay took a step or two back before a shallow fly ball hit by Hanley Ramirez fell for a hit between him and second baseman Matt Carpenter. Ramirez, playing with a hairline fracture in his rib, had two hits in the game – either of which could have been caught with range. In the fifth inning, Jay couldn't glove a ball against the wall in right-center field, and that allowed A.J. Ellis to romp for a leadoff triple. Wainwright pitched around both misplays to keep the Dodgers scoreless in those innings.
Neither was an error. Both could have been costly.
The one in the fourth inning was.
Mark Ellis lofted a fly ball to right-center field. Jay had a bead on it but at the last moment pulled up, allowing the ball to drop an arm's reach away. Right fielder Carlos Beltran wasn't in the vicinity.
"It's a ball I've got to catch," Jay said.
"That ball should be caught," Beltran said. "I couldn't get there. He could get there. As a center fielder you've got to call it off. It has to be your ball. I told him that."
Ellis scored on Gonzalez's double, and Gonzalez scored on Yasiel Puig's triple off the right-field wall, which caromed away from Beltran's chance to keep him to a double. Puig enthusiastically applauded himself as he reached third base. Wainwright said he didn't see the rookie's celebration.
He did hear Gonzalez in that same inning talking to him from third base as he tried to make pitches. Gonzalez was essentially heckling the righty as he went into his delivery. Wainwright called it Gonzalez's "Mickey Mouse stuff" on third base. Gonzalez turned the question into a Southern California joke.
"Mickey Mouse is only an hour away. It fits us," he said.
He wouldn't have been on base as much if the Cardinals had not played so doggoned goofy.
Freese's single in the fifth was followed by another single by Matt Adams, and the Cardinals had the tying runs on base. Daniel Descalso replaced the injured Freese at second base, and gave Jay a chance to answer his misplays in the field with a hit at the plate. He flared a pitch from Ryu to left field. Desclaso broke from the base without seeing Carl Crawford lope over for the routine catch. Crawford lobbed the ball to second base for the double play, running the Cardinals out of their only at-bat with runners in scoring position.
"I just made a decision a split-second too soon," Descalso said. "We made a few mistakes that we don't normally make. When you do that, you're going to lose."
Ryu struck out six and held the Cardinals to three hits through his seven innings. His fastball hit 95.6 mph, according to Pitch F/x data, and that is the swiftest he's thrown this season. All three hits were singles. As a trio, the Dodgers' starters have kept the Cardinals to nine hits in 21 innings and struck out 21. The starters have allowed the Cardinals three runs, only two of which were earned. Those scored on a ball that Andre Ethier could have caught at the wall in Game 1. His didn't and the game changed.
The middle of the Dodgers' order was one for 17 coming into Game 3. They had five hits in the win, two of which could have caught by Jay. Another one, by Ramirez in the eighth, just cleared Kolten Wong's glove and his throw to second allowed the third run to score.
Mishaps happen. Losses have followed.
"We expected it to be tough," Wainwright said. "I hate to lose. Don't get me wrong. I hate to lose. This whole team hates to lose. I feel a couple balls here and a couple balls there and we win the game and not them. That's the way playoff baseball goes. …
"Those guys over there played a flawless game."