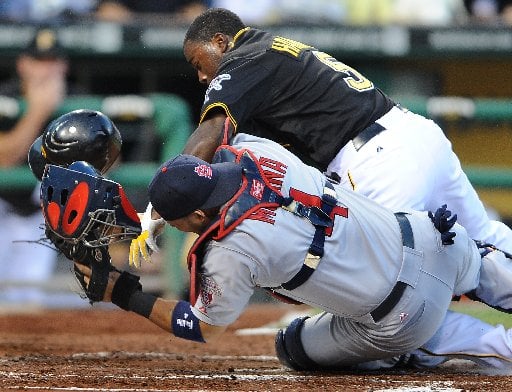 JUPITER, Fla. • The new experimental rule to govern collisions at home plate falls short of the sweeping change the Cardinals and manager Mike Matheny hoped Major League Baseball would enact for the 2014 season.
That won't stop the Cardinals from changing on their own.
The commissioner's office and players' union announced Monday the official wording for Experimental Rule 7.13, which will penalize a runner who seeks to initiate contact with a catcher who is not blocking the plate and will punish a catcher who blocks home without possession of the ball. A release about the rule explicitly says that the change "does not mandate that the runner always slide or that the catcher can never block the plate." Collisions can still happen.
But the Cardinals will teach every catcher in their organization, starting this year, to not block the plate. They will adopt the "must-tag, must-slide" rule that caused baseball to balk.
"I did think we were making some pretty good progress and then progress was stopped," said Matheny, who championed a rule change that was first approved during the winter meetings. "I think we all have the same end game in mind, and that's to eliminate collisions altogether. It's just pretty difficult to pull off at this time."
General manager John Mozeliak said his club had been "hoping for a little more stricter policy."
"We want to make sure that we protect our players," he added.
The rule will be followed by training materials, such as videos, that will be delivered to teams during spring training, and Monday's announcement assures that all teams will have their entire exhibition schedule to adjust. On Sunday, the Cardinals' catchers in major-league camp again worked on their new way to handle plays at home plate. They will give the entire plate to the runner, treating home as if it were third base and teaching catchers to do a sweep tag. Yadier Molina helped Matheny and others work on a new approach at home plate, and the Cardinals' six-time Gold Glove winner has embraced the possibility of more protection.
The tag will be taught at every level, and runners at every level of the Cardinals' organization will be instructed to slide, feet-first, and to avoid contact with the catcher.
Matheny said he has fielded calls from other teams asking about the Cardinals' plans.
"It's not that we have a foolproof method," he said. "But how we're doing it is we're making it very, very clear to everybody in the league – we're giving home plate. We're making it clear for a purpose because if they start taking runs at us this new rule should protect our guys to some degree. And then the repercussions are going to be in the league's hands.
"If a guy does go out of his way to get somebody, (I hope) he's made an example of," Matheny said. "Hopefully it comes down hard on him."
The rule will allow for ejection, fines, and suspension for violations.
As it is now written, Experimental Rule 7.13 seeks to "prohibit the most egregious collisions at home plate." The entire rule rests on the judgment of the umpire. Any runner who the umpire believes goes out of his way to strike a catcher who has not blocked the plate is out. Any catcher who blocks the plate without having the baseball will lead to a safe call. The rule makes it clear that a catcher who leaves a lane for the runner to home and a runner who slides will never be in violation.
The call can be reviewed under baseball's new expanded replay policy. That will be at the crew chief's discretion.
"There is nothing more sacred in the game than home plate, and baserunners want to do all they can to score a run while catchers want to do their best to defend the plate," said players' union executive director Tony Clark in a statement. "The issue of home-plate collisions is one that generates spirited debate among the players. Because of this, coming up with a rule change that allows both the runner and catcher a fair and equal opportunity to score and defend was our mandate."
The Cardinals' motivation for changing their approach beyond baseball's rule is obvious – "Yadi is one of those elite, MVP-caliber players and we would like him to give a lane," Mozeliak said – but the meaning of a new rule is personal, too.
Matheny, a Gold Glove winner as a catcher for the Cardinals, had his career shortened by post-concussion syndrome. He has often said he didn't want to become the "poster child" for concussions, but this past offseason he spearheaded a movement to eliminate collisions by telling his story to officials. He and San Francisco manager Bruce Bochy convinced the rules committee at the winter meetings to change the rule. A majority of concussions in baseball happen as a result of collisions, most of which happen at home plate, according to a study presented to team trainers this winter.
Matheny said Monday, "There are still going to be train wrecks at home plate."
Mozeliak and Matheny said they are fine if the Cardinals are the only team that individually adopts the stricter rule. Mozeliak explained the runs Molina creates by staying healthy are worth more than the run he might stop in a collision.
The experimental rule can be adapted after usage and study for a season and even rewritten. Matheny said it is his understanding after talking with officials that the rule could evolve. Twelve months ago he received criticism for calling for such a rule. Twelve months from now baseball could have the time and the tolerance for the "must-tag, must-slide" approach the Cardinals will follow.
"We think it's the right thing," Matheny said, "and the right thing is to keep our guys on the field."
Keep up with the latest Cardinals coverage from our award-winning team of reporters and columnists.