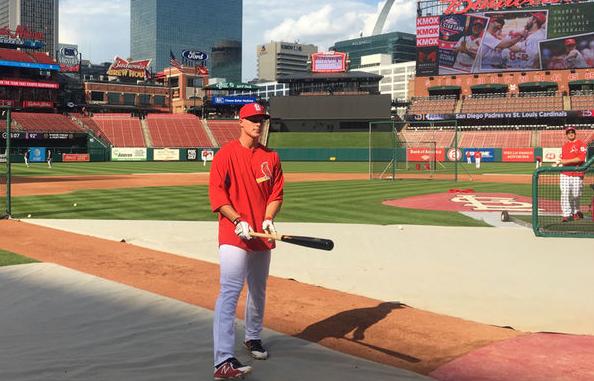 Nolan Gorman, the Cardinals' first-round pick in this month's Major League Baseball draft, made his pro debut Tuesday with Class A rookie-level Johnson City and homered in his second at-bat.
Gorman, 18, went one for four with two strikeouts Tuesday and was 0 for four Wednesday. The 19th overall pick, a prep infielder from Arizona, started at designated hitter both nights.
• Delvin Perez, the Cardinals' first-round pick in 2016, opened his season with hits in four consecutive games for Class A short-season State College. Perez, 19, had not played at a level higher than Johnson City before this season, and in his first four games at shortstop for the Spikes, he's four-for-16 with a double, three runs, two walks, and three strikeouts.
• High-A Palm Beach slugger Andy Young hit 14 home runs in the Florida State League's home run derby, a fixture of the league's All-Star festivities. Young, one of six PB-Cards representing the organization at the FSL All-Star Game, advanced to the second round.
• The Cardinals finalized deals for their 35th and 36th round selections Wednesday, signing third basemen Liam Sabino, of Pittsburgh, and Cole Kreuter, of UC-Irvine, respectively. The Cardinals have signed 36 of their 41 draft picks. Three of their draft picks — Texas Tech's Steve Gingery (fourth round), North Carolina's Brandon Riley (14th round), and UNC's Zack Gahagan (39th round) — remain active in the College World Series and cannot sign until eliminated.