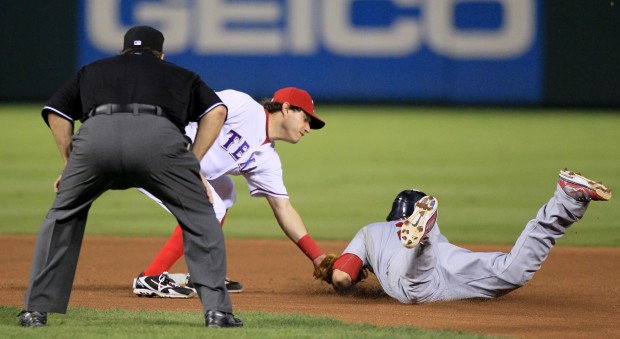 ARLINGTON, Texas • Allen Craig and Matt Holliday were at the epicenter of several of the many opportunities squandered by the Cardinals on Monday night, when they stranded 12 runners in a 4-2 loss to the Texas Rangers in Game 5 of the World Series.
After pushing across both their runs in the second inning, the Cardinals failed in five straight cracks with a runner in scoring position and less than two outs.
The first came in the third inning when Holliday, with runners at first and third and one out, bounced into an inning-ending double play. Holliday's at-bat came after the first of three consecutive intentional walks to Albert Pujols, who had burned the Rangers with three home runs in Game 3.
Craig and Holliday both were key in the fifth, Craig more so because he got a chance to bat against lefthander C.J. Wilson with runners at second and third and one out and the Rangers little interested in facing Pujols. Craig fanned on a slider and then, after Pujols was passed intentionally, Holliday grounded out.
"I think (Wilson) made a good pitch," Craig said. "Obviously, you would like to come through in that situation. I did my best. I take responsibility for not getting them in. But those are the breaks. I just didn't get it done that time."
The seventh was one of two bizarre innings in the game.
Craig, after drawing a one-out walk, was thrown out easily trying to steal second base as Pujols took a high pitch from reliever Alexi Ogando.
Craig said he saw the hit-and-run sign from third-base coach Jose Oquendo. Pujols told some reporters he was the one who had called for the hit-and-run.
Whoever the source, the result clearly was faulty.
"We're trying to be aggressive and try to make something happen," Oquendo said. "(Pujols) couldn't hit it.
Said Craig, "Ogando threw an unhittable pitch. It was a perfect play for them.
Manager Tony La Russa labeled the hit-and-run a "mix-up. And on our team, nobody gets thrown under the bus. So it was a mix-up."
Oquendo said Craig did nothing wrong although it didn't look good.
Craig said, "I got the sign and I ran. It's as simple as that. I don't know anything besides that. I did what I was told."
Pujols, with the count 1-1, then was presented his third intentional walk -with every base open - and cleanup man Holliday up next.
This time, Holliday came through, singling to right center off Ogando. Oquendo waved Pujols around third, then stopped him. Pujols went halfway down the third-base line and then retreated as Holliday strolled into second.
That forced yet another intentional walk, to Lance Berkman, loading the bases. The left-on-base count rose to 10 as David Freese flied out.
Craig, after being hit in the back by a Neftali Feliz pitch in the ninth, was cut down stealing again as he ran on a 3-2 pitch fished for by Pujols. The double play capped a discouraging night for the Cardinals.
Forty-one hitters, an astonishingly high number, came to bat for the Cards in the game. Nine of them walked. Seven of them hit. One was hit. Only two scored.
"We just weren't good with runners in scoring position," Craig said.
"We'll get them tomorrow. Or the next day.
"We're a confident bunch. We're not going to let this loss get us down. You're not going to see us down in the dumps. We're going to come back in Game 6 and give them a run for their money."
Craig has ridden the World Series train from hero to not quite as heroic. After getting three hits in his first three-at-bats, including two run-scoring pinch singles and a home run in his first World Series start, Craig is nothing for his last nine.
"They're pitching me tough and that's to be expected," he said. "Unfortunately, it's the nature of the beast. In the playoffs, you're looking at my last 10 at-bats. I was three for three in my first three at-bats in the World Series and it's kind of magnified.
"During the regular season, 10 at-bats goes by quick. It's just kind of magnified because it's the postseason."
There was a lot of that magnification going around in the cramped Cardinals locker room Monday night.
And their hopes for winning the World Series took a serious, but not yet deadly, hit.
"Somebody after tonight was going to be down 3-2," Berkman said. "And it just happened to be us."