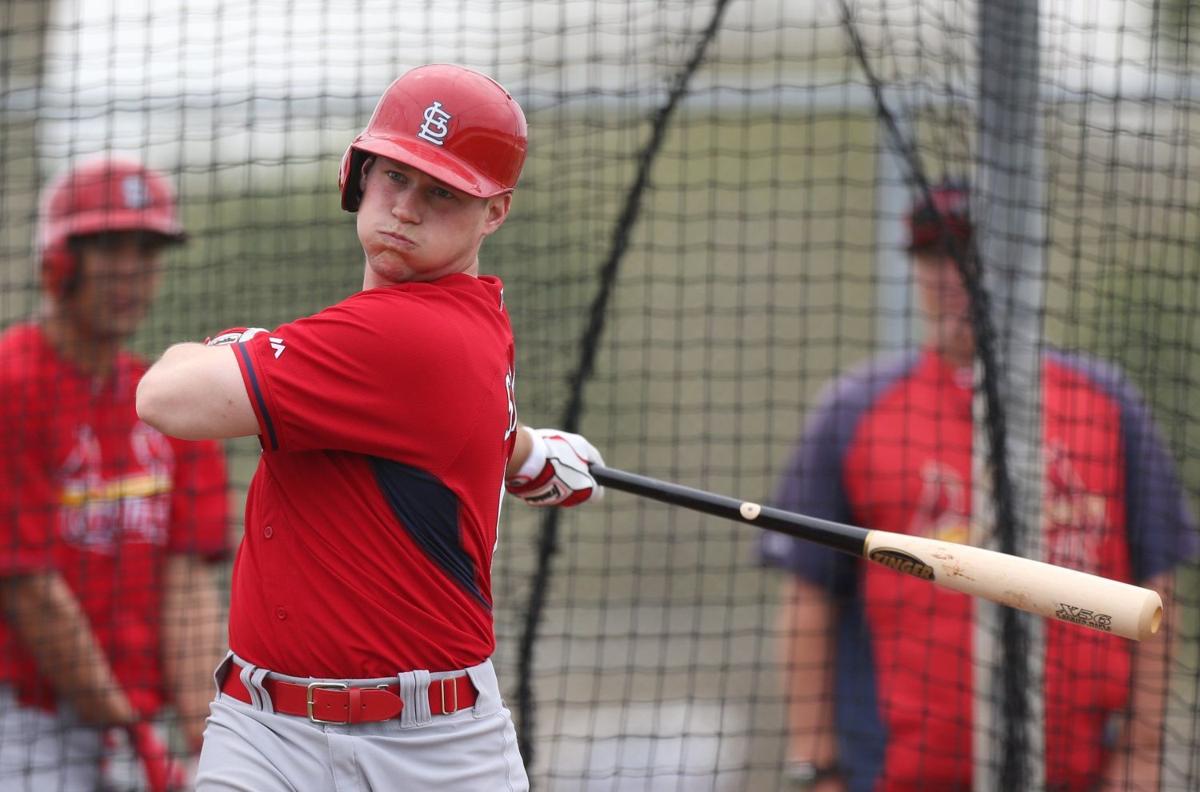 CINCINNATI • The reason for catcher Ed Easley's sudden call-up to become a fourth Cardinals catcher became very apparent Saturday morning.
Catcher Cody Stanley, who had been four for seven as a pinch hitter and four for 10 overall for the Cardinals after spending most of the season at Class AAA Memphis, was suspended without pay for 80 games by Major League Baseball after testing positive for dehydrochlormethyltestosterone, a performance-enhancing substance in violation of Major League Baseball's joint drug prevention and treatment program.
The suspension of Stanley is effective immediately. As a Cardinals minor leaguer, Stanley had missed the first 50 games of the 2012 season after he tested positive for a banned substance. This suspension will carry over to next season.
General manager John Mozeliak confirmed that the recall of Easley was because of the impending suspension for Stanley, which the club learned about officially Friday night. "Very disappointing," said Mozeliak.
Cardinals manager Mike Matheny, who has known Stanley since he met him in Johnson City in 2010 when Matheny was a roving instructor, said, "It's sad."
But Matheny, citing the previous suspension which was for a supplement, said he had some empathy for Stanley. "He even checked out the ingredients," Matheny said, "When they found out, he gave them the stuff. And it didn't have any of the ingredients that were on the banned list."
"But a couple of them put together, after he was suspended, they did put on the banned list. Nonetheless, he served his time on that one.
"Now, this is a whole different animal and he's trying to figure out exactly what happened. I would just want to put myself in the position of 'what if?'
"What if you hadn't done anything and something came up. And there's nothing you can do."
Matheny said, historically, when a player is suspended, "we've heard some very convincing stories from people and most of them haven't been true. So you're not going to have any sympathy from anybody.
"It's embarrassing that our organization has to have this conversation but I can't help to think about the (26-year-old) kid and just 'what if?'
"They've already tried to bring in some chemists and take some of the anti-inflammatories he was doing when he was on the (disabled list) and mix that with the stuff that was certified, to see if there was some way a compound came up — because the stuff they found seemed to be pretty rare.
"With that being said, it's never a positive for us. But I can't get past hurting for the kid.
"We have a high level of expectation," said Matheny. "With that previous experience, this is hard to let completely go."
But, Matheny added, "There's also a human side to it."
Stanley's positive test came as a minor leaguer but the 80-game suspension is a big-league suspension because he was on the 40-man roster.
Reliever Matt Belisle, who had been on the 60-day disabled list with elbow problems, was activated in time for the resumption of Friday's suspended game with a suspended Stanley not counting against the 40-man roster.
Mozeliak, who like Matheny, spoke to Stanley, said the organization would have to "look at our options" as to whether to hang onto Stanley.
"Obviously, it's his second mistake and unfortunately it's a very stiff penalty," Mozeliak said.
"He clearly was having a nice year and we thought enough of him to bring him up. To everybody involved, it's disappointing.
"When you're in the (MLB drug) system, you need to be extra cautious. He said he had no understanding of how this happened but, unfortunately, no one's really listening to that."
To win the suspended game, the Reds' Adam Duvall golfed a low Jonathan Broxton pitch to right center for a two-run homer in the eighth.
Duvall's third homer — and third hit since he was brought up — landed on top of the wall and kicked over as right fielder Jason Heyward went to the wall but did not make an attempt to jump. The ball traveled only 370 feet.
Broxton, who used to pitch for the Reds in Great American Ball Park, said the pitch "was down. He got good wood on it and it carried. When I was playing here, I didn't see one go out like that.
"It just kept going and going and going."
Matheny said, "When the ball came off the bat, I didn't think there was any way it was getting out."
Heyward said he didn't think so either. "I don't think anybody did," he said.
"Honestly when I was going back on that ball, I thought I was going too far," he said. "I felt like I was behind it and I was going to have to come in. It kept going."
• Second baseman Kolten Wong (left calf injury) started at second base in the regular game after missing five games and though he went nothing for two with two strikeouts, Matheny said Wong came through it without incident.
• Slumping shortstop Jhonny Peralta, who has one home run and three doubles since Aug. 1 and is eight for his last 53, might sit out again Sunday. He didn't start on Saturday but grounded into a key double play as a pinch hitter in the seventh inning.