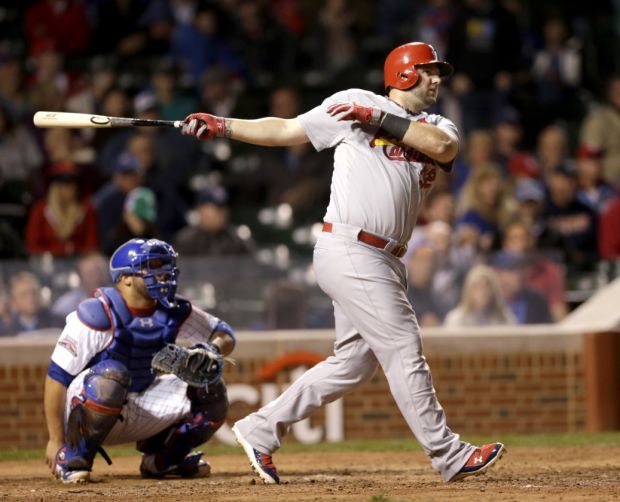 CHICAGO • With most of the Cardinals crammed into the cozy confines of the visitors' clubhouse at Wrigley Field, it didn't take long for manager Mike Matheny to take the temperature of his roster a day after a stomach virus tore through it.
With two exceptions, the ill Cardinals were better – and available.
Matt Carpenter and Matt Adams returned to the lineup after missing two games because of the bug, and a handful of relievers who were unavailable Sunday were ready for the series opener against the Cubs. Matheny said the total of players and coaches who were sick as a result of the virus reached 15. Two members of the team were asked not to join the club at Wrigley, where the clubhouse is about the size of a petri dish.
Lefty Marco Gonzales remained in St. Louis. Assistant hitting coach David Bell was sent back to the team hotel Monday afternoon with the sickness. The virus' peak came during their game Sunday and there were times when the Cardinals asked sick players to leave the dugout.
"Pretty soon we had more people in quarantine than not," Matheny said. "We didn't know if we had to quarantine the healthy ones. We weren't encouraging the guys who were showing a lot of symptoms to be out there. It creates a different atmosphere. ... Even the guys who were feeling good, I don't think were feeling all that good."
The flu influenced several of the decisions Matheny made late in the game and those contributed to a one-run game unraveling into a 7-2 loss to Cincinnati.
Several of the sick hovered near Matheny late in the game as if to suggest they could help, but the manager resisted because "they looked as bad as they felt." Several of the players hadn't eaten for several days, and they were receiving fluids throughout Sunday to combat the illness and dehydration.
"It was bad," Adams said. "It just took everything out of you."
LaROCQUE STAYS WITH CARDS
Farm director Gary LaRocque has opted to remain with the Cardinals after interviewing recently for the general manager opening in Arizona, the club confirmed Monday. LaRocque, 61, has been with the Cardinals since 2008 as a member of John Mozeliak's front office, and he has had an increasing influence over player development in several years. This summer was his second as farm director. His official title is senior advisor for player development.
LaRocque interested the Diamondbacks for his blended background in the game — one that has included time as a pro scout, an amateur scout, director of a farm system and time in uniform as a minor-league manager. Diamondbacks executive Tony La Russa has considered a variety of candidates including a perceived favorite for the job, former Oakland pitcher and agent Dave Stewart.
LaRocque is the second member of Mozeliak's close-knit inner-circle of advisers to be contacted by other teams for a possible general manager role. Assistant general manager Michael Girsch was invited to interview by San Diego for its general manager job.
Short-season Class A manager Oliver Marmol is expected to join the Cardinals for the final trip. Matheny has invited a total of three minor-league managers to join the team as a September "callup," each for a few series.
"It's a great reward for them, too, just to be in this kind of atmosphere," he said.