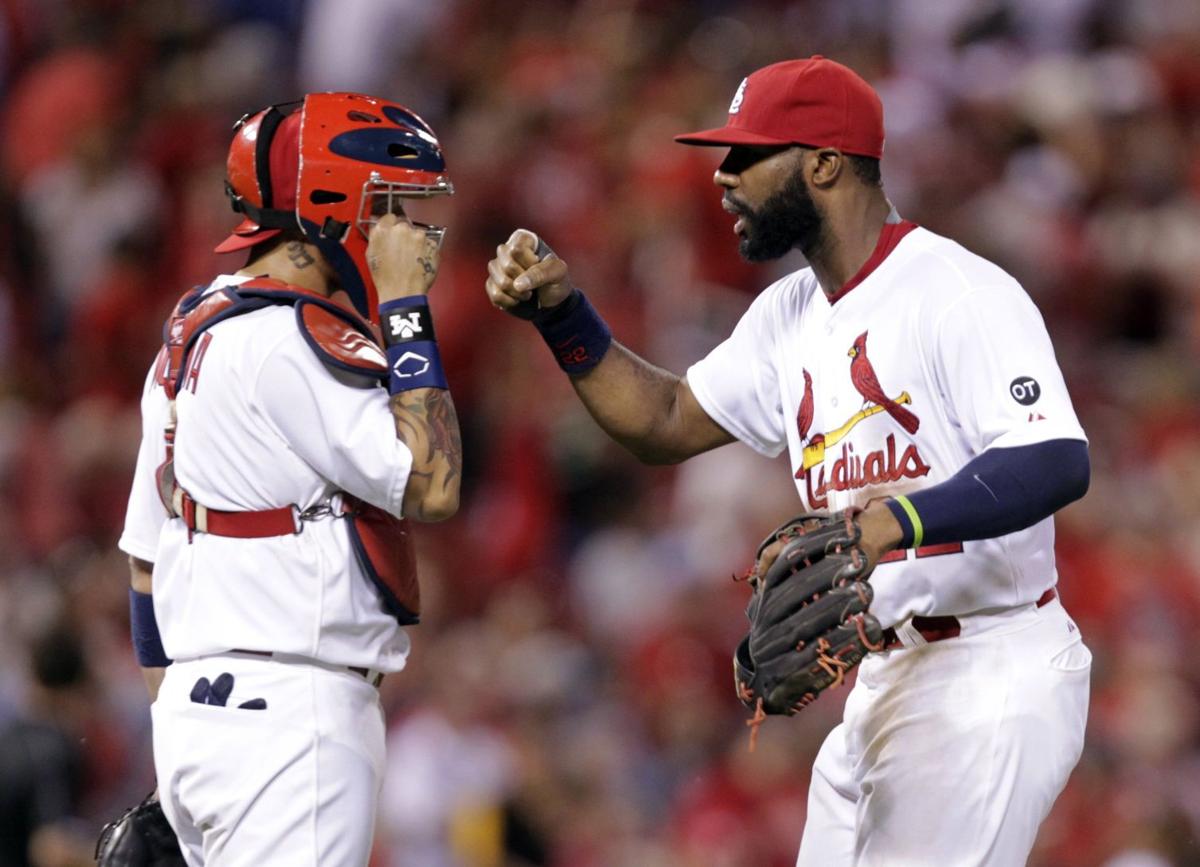 A week before they packed up and made the quick jaunt to Nashville on Sunday to continue their shopping at baseball's winter meetings, the Cardinals felt the nearness of Nashville might, even in a small way, help deliver the pitcher they coveted, all before the trip.
The Cardinals were, as one official said, "very aggressive" in their interest in lefty David Price, the top pitcher available in this year's free-agent market. The club made an uncharacteristic bid for the winter's headliner because of what chairman Bill DeWitt Jr. called "a unique opportunity." Price had interest in playing for the Cardinals. The former Cy Young Award winner turned 30 this year. And, his hometown close to Nashville was within short reach of St. Louis. The Cardinals' attempt fell millions of dollars shy of the whopping, $217-million deal Price finalized last week with Boston.
The pursuit was unsuccessful, but revealing.
The Cardinals had reached for a higher shelf in the open market.
"That's true. We have chased some free agents, significant free agents, but maybe not got as far down the line as we did," DeWitt said this weekend in a phone interview with The Post-Dispatch. "We felt like we stretched in the Price situation, and we'll stretch again if we see the right opportunity in someone who has the characteristics that he had. Those are tough to replicate. … There was a lot going for him. Those are always competitive situations and historically we have not been the high bidder in what I'll call a 'bidding situation.' If the player is going to take the high bid, in general, we're not the high bid and we think our strategy has proved out to be pretty sound.
"Some of those contracts don't work," DeWitt said. "When you have a huge, long contract that doesn't work out it (binds) you from doing other things."
Baseball's annual offseason gathering begins, in earnest, Monday at Opryland, and the Cardinals remain one of the teams active in the free-agent market.
Coming off a 100-win season, they are seeking a starting pitcher and a bat. They have one of the latter in mind. The Cardinals' remain focused on re-signing outfielder Jason Heyward, whose market has been slower to define itself beyond them. Pitching went fast this past week – and expensive. Within days of Price's deal, Zack Greinke eclipsed Price's annual salary with his six-year contract in Arizona.
Former Cardinal starter John Lackey signed Friday with the Cubs. Jeff Samardzija followed, landing a reported $90-million deal in San Francisco on Saturday. The Cardinals expressed some interest in Samardzija, a source said, but had at least one other available pitcher they preferred. They have discussed Mike Leake, and still available are lefty Wei-Yin Chen, righthander Ian Kennedy, and a handful of other starters. Cardinals officials, by policy, do not comment on specific free agents.
Salaries are soaring. The Cardinals were prepared.
Three years ago, when the winter meetings were last in Nashville, DeWitt outlined the changing economics of the game with a Post-Dispatch reporter. At the time, several teams had scored lucrative broadcast rights deals, ones that dwarfed other teams. This was the future. To keep pace, DeWitt suggested, the Cardinals would have to improve their TV rights deal. This past summer, Fox Sports Midwest and the Cardinals agreed to a new 15-year contract that, over its life, will net the Cardinals at least $1.1 billion in revenue. The new deal begins in 2018.
The spending already has.
"It impacts what we do today and it really impacted what we did at the deadline because we knew we had that coming," DeWitt said. "Even though we're 'pre-spending' we know that it's in the future. That gives us comfort that we're able to do more today than we might have been able to do otherwise. … Other clubs revenues are going ups as well. If you look at what payrolls have done in the last five years, it's a pretty dramatic increase. It's nice to be able to keep pace and maintain our place in the top third of baseball."
This past year, the Cardinals entered the year with the 11th-largest opening day payroll, but by the end had approached $135 million, up from $120 million in 2014. DeWitt said the team often ranks in the lower part of the top 10, a spot he doesn't expect to leave.
With room to grow and needs to fill, the Cardinals have the ability this winter to, as general manager John Mozeliak described, go beyond their "comfort zone." That is why other teams have viewed them as power shoppers this winter.
The Cardinals did sign backup catcher Brayan Pena, a target. They did make a bid for Korean first baseman Byung-Ho Park, but fell short of Minnesota's. And while they offered Price more than they ever have a pitcher who had never been a Cardinal before, it was still far less – at least $30 million less, according to one description – than big-budget Boston. There is security in finishing second because it doesn't cost anything. But it also doesn't get the player.
DeWitt was asked if finishing shy on an offer is as frustrating as a loss, and if it's unappealing enough that they rethink an approach.
"When we pursue a player and we feel we have a legitimate chance to sign him, we want him," DeWitt said. "But that doesn't mean that we're going to get into an auction and win at any price. We're going to do it on the basis that our metrics tell us what's a prudent thing to do and a value for what we're giving. For a special situation, we're going to stretch that limit. We know the better players are going to have multiple bidders and we don't expect to win those bids and have the player sign every time. Or, even a high percentage of the time. No team can. There are a lot of teams there all thinking and trying to do the same thing."
That is part of the blueprint the Cardinals have followed to contend annually.
For the first time in club history, the Cardinals have appeared in five consecutive postseasons, and they have won three consecutive National League Central division titles. They have done so by building a self-reliant roster. They want to draft, nurture, and unleash homegrown talent – and then keep it. They have with Yadier Molina and Matt Carpenter, intend to do with some in the current generation of young pitchers, and did after trading for a young Adam Wainwright. By signing in-house stars to extensions, they have exclusive negotiations without the noise and rogues, the Angels and Red Sox, of free agency.
There are times the Cardinals must step outside their depth chart and go to market for a pricey need. Two years ago they needed a shortstop and signed Jhonny Peralta to the largest free-agent contract for a player outside the organization (four years, $53 million). Six years ago the team wanted to install Matt Holliday as a core player. His remains the largest contract ever completed by the Cardinals – seven years, $120 million – and it's entering the final year. That shows how the Cardinals have avoided those auctions.
"Speaks of the strategy we have – which is to make sure we have a strong pipeline coming up, we value draft picks, and … we make every effort to sign (standout players) prior to them reaching free agency," DeWitt said. "Those are ideal situations because when you try to get impact players you're generally paying at the top of the market. You've got a lot of clubs involved. And the chances of winning in that environment aren't very good. If you do win, you're paying a premium, premium price. It's ideal if you can have good young players always coming in and backfilling for those who have matured."
One of those "unique" characteristics that Price had was the lack of a draft pick attached to him. Boston didn't lose one when it signed him because Price had been traded during the season. Same with Leake. Not so with Greinke, Samardzija, Chen, and Kennedy, or for slugger Chris Davis. Those draft picks have a dollar value – that are used to set a team's bonus cap – and the Cardinals factor that in to any spending on a free agent that will cost them the pick. The team will reconsider if "that's the piece you need," DeWitt said. They will receive a compensation pick for the Cubs signing Lackey.
DeWitt said: "We'd like to have as many as possible."
Draft picks take time develop, can take years to prove they're part of the core team. The Cardinals' current needs are more pressing. Officials have stated their confidence in the current roster – DeWitt added some desired improvements can happen during the season – while seeing opportunity in this market. They, like every other team, has the increased revenue desired.
How much they have to spend has changed. How the Cardinals choose to spend it, except in the rarest of "unique opportunities," remains the same. And they know what that can cost.
They've made few offers bigger than the one to Price.
They have had a bigger disappointment in the response.
At a winter meetings, Albert Pujols chose a larger offer.
"There's the letdown when there's a trade or a signing that you want that doesn't happen. You regroup and you move on," DeWitt said. "That's the way the business works. You can't dwell. There are any number of ways to improve a club and improve your situation. It's still about finding the right fit. Hopefully we'll be able to do that, to do some good things."