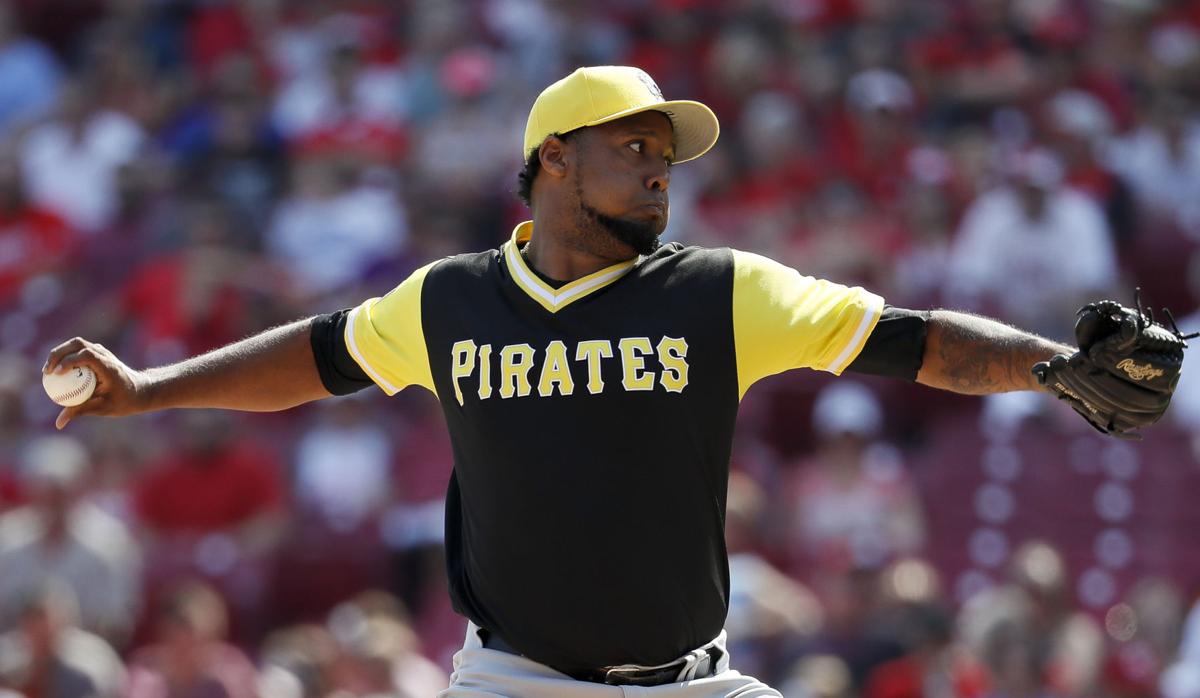 SAN DIEGO • After more than a month of trying to acquire a seasoned reliever for their bullpen, the Cardinals found an arm Wednesday they hope can lift them into October, even though he won't be able to throw a pitch if they get there.
Righthander Juan Nicasio jetted to San Diego late Wednesday night after the Cardinals sent a minor-league infielder to Philadelphia to get four weeks of relief. Nicasio, 31, is expected to be available Thursday, though because he was added after Aug. 31 he is not eligible for a postseason roster. The righthander will be with his third team in seven days due to a series of transactions that included the Phillies using waivers to outmaneuver at least two National League Central foes.
"We're excited to have another experienced arm, a guy who understands how to pitch in the back end of the 'pen," Cardinals manager Mike Matheny said. "Gives us further options as we head down the stretch. Throw him in the mix and see how he fits."
The Cardinals had interest in adding a free-agent-to-be as the July 31 trade deadline approached, and that wish intensified in late August when closer Trevor Rosenthal headed for elbow surgery. The Cardinals put in a series of claims — more than usual, officials said — on relievers, but were unable to be awarded any of the claims or work out deals with the teams who had the relievers. Nicasio was one of the relievers the Cardinals made at least one play for.
The Pirates had placed Nicasio on waivers at some point during August and pulled him back when, according to a statement released by the team, "a playoff caliber club" claimed him "to block us from being able to trade Juan elsewhere." Pirates general manager Neal Huntington said, in the statement, that the Bucs did not want to "help a direct competitor."
That team was not the Cardinals, two sources confirmed.
The Pirates pulled Nicasio off waivers, though in late August removed him from their active and 40-man roster. That put Nicasio back on waivers — and gave American League teams access to him ahead of their "direct competitor" — only this time the Bucs couldn't retrieve him. The Cardinals had interest at this time, but it didn't matter because the Phillies, with first pick, took him on Aug. 31. For one week and a waiver claim, the Phillies could do what the Pirates did not — turn Nicasio into a prospect.
While getting a reliever and perhaps blocking a rival from doing the same, the Cardinals claimed Nicasio off waivers this week and were awarded his rights. A trade was completed. They sent second baseman Eliezer Alvarez to the Phillies and took on all of Nicasio's remaining salary. Alvarez, 22, hit .248 with a .390 slugging percentage and five homers this past season, though his swing was interrupted by injury. A year ago, Alvarez burst into the Cardinals' prospect rankings with one of the most-productive seasons by an infielder at any level. He hit .323 with a .879 OPS and 36 doubles at Low-A Peoria.
Nicasio gives the Cardinals a proven, durable arm to fill some open innings in close games, and he could get a turn or two as the Cardinals' closer.
The righthander leads the NL with 67 appearances, two of which came during his week with the Phillies. He has a 2.79 ERA overall this season and 61 strikeouts in 61 2/3 innings. He has been more effective against lefthanded batters this season than righthanded batters, holding them to .485 OPS and .701 OPS, respectively. In the previous three seasons, righthanders have slugging .395 against him. He's averaged 95.4 mph on his fastball and leans heavily on a upper-80s mph slider.
Matheny stressed twice Wednesday that he does not see set "roles" in his bullpen, preferring to throw matchups and availability at the late-game situations. While Nicasio can help get the Cardinals to the playoffs, whatever role he fills he wouldn't be able to do in any actual playoff game. Giving him a set role — like closer or setup — would then lead to the same jumble the Cardinals have now if they qualify for the postseason, when he would be ineligible. The benefit for Nicasio is an audition in a race for a team that will be shopping for a reliever this winter.
"Not putting roles on anyone, or titles," Matheny said. "I'll use him in any situation to help us win. That's what we worry about — the opportunity right now. We've got a lot of games we have to win and be a little better in our 'pen and he's going to give us some flexibilities to achieve that."
IRMA PREP
With Hurricane Irma spinning devastation through the Atlantic Ocean and forecasts saying the violent storm is headed for Florida, the Cardinals will close their spring training complex in Jupiter, Fla., on Thursday and send all staff members home or have them relocate. The complex will not be opened until further notice, an official said.
The Florida State League also canceled its championship round, leaving the Cardinals' High-A Palm Beach affiliate to play Wednesday for a share of the FSL title. The PB-Cards won, 2-1, on a ninth-inning, bases-loaded hit by pitch. Thomas Spitz took the bruise that forced home the winning run, and the PB-Cards will be considered co-champions of the league.
Puerto Rico is in the path of the hurricane, and Yadier Molina said his family was safe.
KELLY CONSIDERATIONS


As the Cardinals discussed what to do at third base while Jedd Gyorko recovered from injury, rookie catcher Carson Kelly, a third baseman when the team drafted him, was considered as an alternative. Then September arrived. That made the Cardinals even more reluctant to use their backup catcher, even with a third catcher handy.
Kelly started for the first time this month Wednesday and only the fifth time since his return to the majors — 31 games ago. He has spent most of his time catching relievers in the bullpen in full gear, doing pregame drills, and snapping to action when Molina leaves a game.
"We've got some other guys lined up pretty good for at-bats, too," Matheny said about using Kelly at positions and spots other than catcher. "There hasn't been many times we've been thinking, 'Man, we would really like to have Carson here' and we didn't want to burn him up. We have Jose (Martinez). We have (Luke) Voit. We've got guys who can jump one. We have those outfielders sitting there. Those are really good options. Carson is doing a good job of staying ready (to catch)."
DIAZ, GYORKO, ETC.


Aledmys Diaz, starting at second base for Class AAA Memphis on Wednesday, had two home runs as the Redbirds began postseason play with Game 1 of the PCL semifinals. Diaz provided three RBIs in a 4-1 victory over Colorado Springs at AutoZone Park. … Gyorko (hamstring) "put on a show" during batting practice this week, according to his manager, but the infielder is not as close to running as the Cardinals' hoped. The team thought Gyorko could be added to the roster when eligible and pinch-hit for them, but be replaced at first by a pinch-runner. But he would have to run to first, something he's been unable to do. … Magnueris Sierra continued this tour of the Cardinals' minor-league system by starting Wednesday at leadoff and center field for Memphis. Sierra started the season at High-A, went straight from there to the majors, dropped back to Class AA, and then made his— Triple-A debut with Wednesday's playoff game.