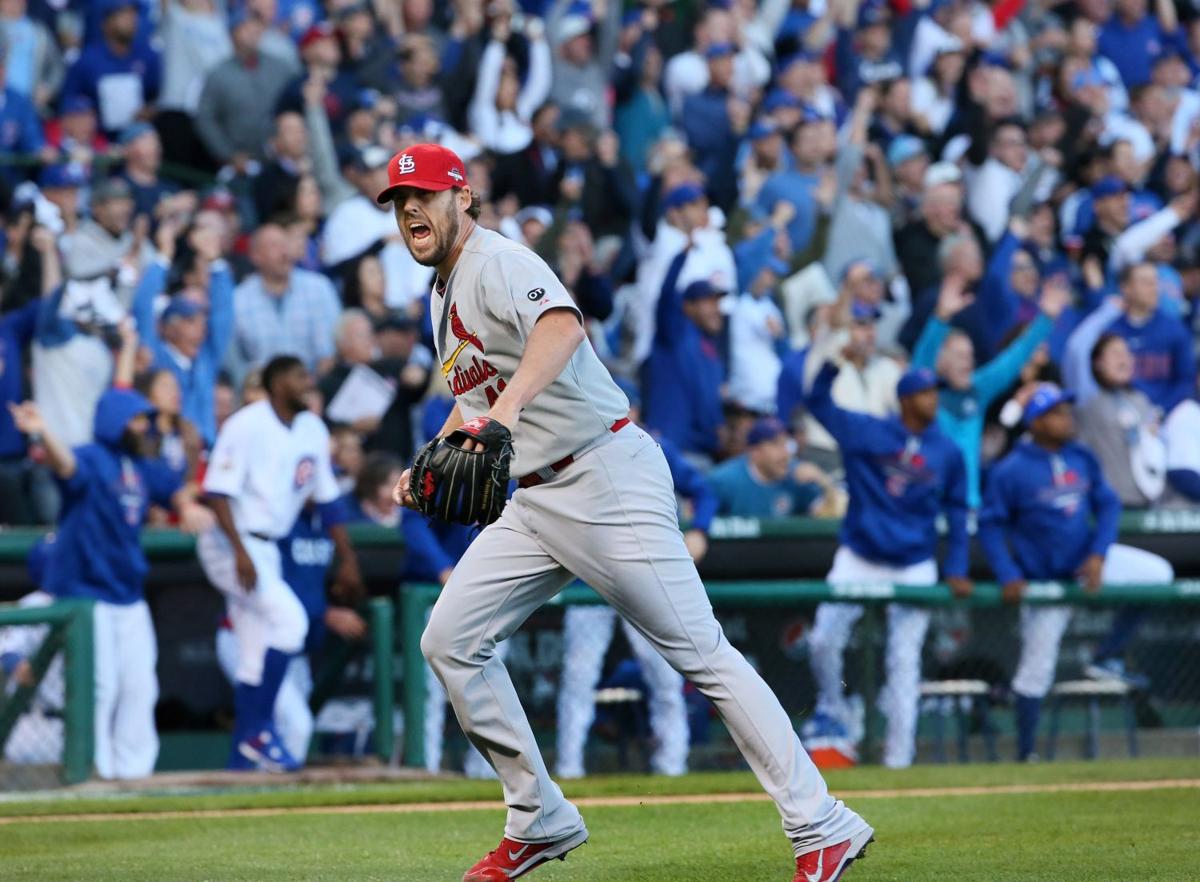 The last two games John Lackey pitched for the Cardinals this season were against the Chicago Cubs in the National League division playoffs. One was a brilliant, two-hit effort over 7  1/3 innings in the first game of the series, won by the Cardinals 4-0 at Busch Stadium.
The other was a three-inning, no-decision outing in Game 4 in Chicago in which he allowed four runs while pitching on short rest as he was unable to prolong the Cardinals' season.
The next game Lackey pitches will be for those same Cubs. On Friday, Ken Rosenthal of FoxSports.com reported that the 37-year-old righthander had agreed to a two-year deal with Chicago for $32 million, pending a physical.
Lackey thus is reunited with lefthander Jon Lester, one of his best friends, who was a Boston teammate of Lackey's in the Red Sox's 2013 World Series championship season and the loser to Lackey and the Cardinals in that Game 1 playoff game this year.
More significant, Lackey has been signed for the second time to a multi-year deal via the involvement of Theo Epstein, the Cubs' president of baseball operations. After the 2009 season, Lackey signed a five-year, $82.5 million deal with the Red Sox, for whom Epstein was general manager.
That contract extended to a sixth season, 2015, because one of the provisions of that contract was that Lackey would play for the minimum ($507,500) in 2015 if he had missed any of the previous five seasons because of an injury.
Indeed, Lackey missed the 2012 season after having Tommy John elbow surgery, and the Cardinals traded pitcher Joe Kelly and outfielder Allen Craig for him on July 31, 2014, knowing that they would have him for the minimum salary the next year.
The Cardinals rewarded Lackey with innings-pitched incentives that boosted his salary by some $2 million in 2015 and Lackey rewarded them with perhaps the best season of his career.
Not only did Lackey compile a 13-10 record, but he posted a personal-best 2.77 earned run average.
He gave up three runs or fewer in 30 of his 35 starts, counting the postseason, and he posted a 12th consecutive season of at least 10 wins, excluding 2012 when he didn't pitch.
For the Cardinals, he wound up as their top starter. For the Cubs, he probably will be No. 3 behind Lester and Cy Young Award winner Jake Arrieta, who led the majors with 22 victories.
While the Red Sox gave lefthander David Price $217 million for seven years although Price never has won a postseason start, Lackey has an 8-5 postseason record with the Angels, Boston and the Cardinals and ranks fourth among active pitchers with 165 regular-season victories.
Having made Lackey a one-year, qualifying offer of $15.8 million and with Lackey declining it, the Cardinals will receive an amateur draft pick after the first round and before the second round next June for the Cubs signing Lackey. The Cubs will lose their first-round choice.
Lackey will leave a Busch Stadium home park in which he had an 11-4 regular-season mark and a 2.03 ERA. At Wrigley in two regular-season starts, Lackey is 1-1 with a 1.32 ERA.
Throughout the 2015 season, Lackey had been consistent in saying he wanted to play only two more years.
The Cubs have afforded him that opportunity, and Lackey now will have a chance for 200 career wins and perhaps pitching for a third different team in the World Series.
He started and won the World Series title-clinching games for the 2002 Angels and the 2013 Red Sox. The Cubs fell one round short of the World Series this season when they had no reliable No. 3 or No. 4 starter.
There was no immediate comment from the Cardinals nor from Lackey and his representative, Steve Hilliard.