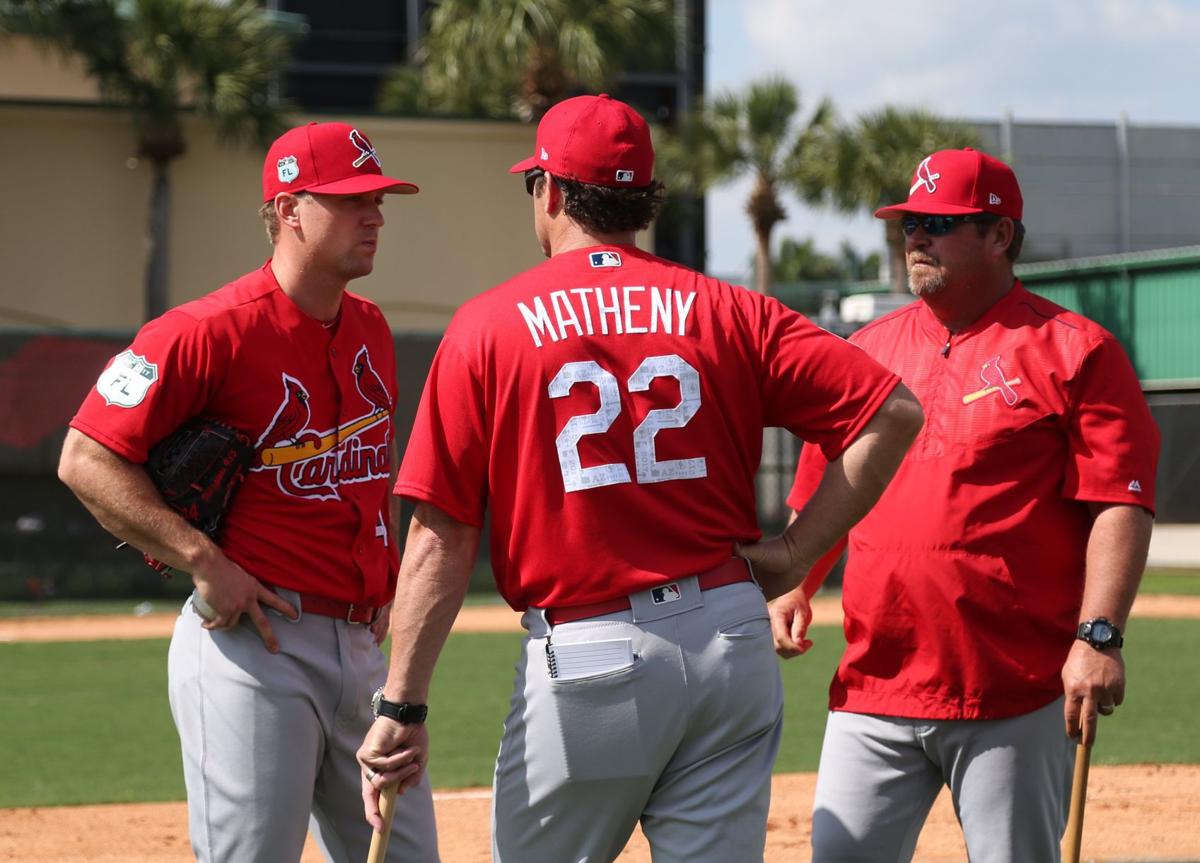 As the Cardinals close in on their preferred targets to coach and coordinate the pitching staff and now look to fill the bench coach role, there is more to their search than adding new faces to the dugout.
They also want a new approach, achieved through new voices.
"We're going to remain open-minded," said John Mozeliak, the club's president of baseball operations, when asked for the traits of an ideal pitching coach. "I think we've been very clear that we feel there are people who could help us get better, have better communication, and look at some of the new ways we need to think about (pitcher) usage. … We have said the hope is that we find someone who can play a role in how decisions are made."
The Cardinals narrowed their list of pitching coach candidates they want to focus on. Mozeliak said the plan is to complete a hire by the end of the month. But Saturday brought a plot twist. The pursuit of one preferred candidate got trickier as the Cubs fired longtime pitching coach Chris Bosio and appear poised to chase one of the Cardinals' top candidates, Jim Hickey. The Cubs have a familiarity edge as their manager, Joe Maddon, worked in Tampa Bay with Hickey.
The Cardinals have surveyed internal options, external options and candidates who are a bit of both, such as Cal Eldred, a former Cardinals pitcher and guest coach who now works for Kansas City. They have also identified widely respected Hickey as a good fit, multiple sources with knowledge of the search confirmed. The Cardinals' advanced pursuit of Hickey has been described as "strong" by one source. MLB.com reported that Mozeliak expected to meet with Hickey in person in the coming week. Class AAA pitching coach Bryan Eversgerd has also been approached by the team about his interest, and he could be a candidate for either opening and likely the bullpen coach position.
Mozeliak declined to discuss any specifics about the search.
"We have made progress," he said.
The Cardinals created two openings on manager Mike Matheny's coaching staff by telling pitching coach Derek Lilliquist and bullpen coach Blaise Ilsley that their contracts would not be renewed for the 2018 season. The departure of Lilliquist severs the last tie that Matheny had with former manager Tony La Russa. Lilliquist served as bullpen coach and interim pitching coach in 2011 and was the remaining holdover from La Russa's staff to have spent Matheny's first six seasons with the club.
The reasoning Mozeliak gave for seeking a change in pitching coaches included repeated use of the word "modern." The Cardinals could redefine the job to be as much a coordinator of pitching use, like a defensive coordinator in football, as well as the traditional pitching coach. Mozeliak agreed that a rapport with Matheny will be key, as will be a fluency in advanced analytics. As highlighted by the ongoing playoffs, the current management of a pitching staff includes having starters throwing fewer innings, hyper-specialized and aggressive use of the bullpen, and the infiltration of analytically granular scouting reports.
The Cubs, for one, employ a pitching coordinator who develops statistical dossiers that can guide a pitcher's exact approach with a specific hitter.
Other rivals have also made the leap the Cardinals want to make.
"When you hear about rotation management, and you talk about third time through the order, there are times when that is very real, and you can do that," Mozeliak said at the close of the season. "September comes to mind. It's a lot easier when you have expanded rosters. Then there's in-season when you're trying to save your bullpen at times, because it's on fumes, and ultimately you have to push a starter. When you're looking at pitch strategy and the modernization of the tools we have available to us, we need somebody who understands it, has interest in it, can communicate it, and can teach it."
Hickey has become a coveted free agent as a coach this winter after 11 years with Tampa Bay, most of which was spent on Maddon's staff. He served as Houston's pitching coach before that, facing off against the Cardinals in consecutive National League championship series in 2004 and 2005. He oversaw a pitching staff that unleased Roy Oswalt and Brad Lidge, while also integrating Roger Clemens and Andy Pettitte. Despite those long roots and old-school charges, Hickey has often been described as an innovator, especially during his time with the Rays.
Hickey, who speaks fluent Spanish, oversaw a pitching staff that featured shorter starts by pitchers to avoid a third time through the order and conserving innings. He has taken a data-driven approach.
"Hickey is one of the most intellectual people I know," All-Star pitcher Chris Archer told The Tampa Bay Times earlier this month. "I know the combination of his ability to analyze and apply information, as well as communicate to his players, is what causes him to enhance pitchers' careers, young and old."
Hickey could not be reached for comment.
Eversgerd, a former pitcher for the Cardinals, has worked as a coach at every full-season level for the Cardinals, from Peoria and Quad Cities up to his current role at Class AAA. The Cardinals intend to lean on an armada of young pitchers in the coming years, and many of them have already been under Eversgerd's wing at some level.
Mozeliak said that he spoke with Chris Carpenter and that the former ace is interested in easing back into a role with the organization, not a full-time role. Jason Isringhausen has served as a pitching instructor for the Cardinals in their minor-league system and has said he enjoys that role, which has less travel and time away from home.
The annual turnover of coaching staffs has also freed other established pitching coaches into the market. Bosio would be the latest, and could be an intriguing 11th-hour option. The Washington Nationals dismissed manager Dusty Baker and his coaching staff this past week, putting pitching coach Mike Maddux on the market, though he hasn't drawn the Cardinals' interest in the past and his availability comes after the Cardinals distilled their list. Boston's Carl Willis interviewed with Minnesota this past week, according to Minneapolis' Star Tribune. And that's the rub. In the same report, the newspaper identified Hickey as one of the coaches the Twins were "looking" toward. Add the Nationals now in the mix for pitching coaches, and other teams are expected to follow, like San Francisco after it removed Dave Righetti as pitching coach Saturday.