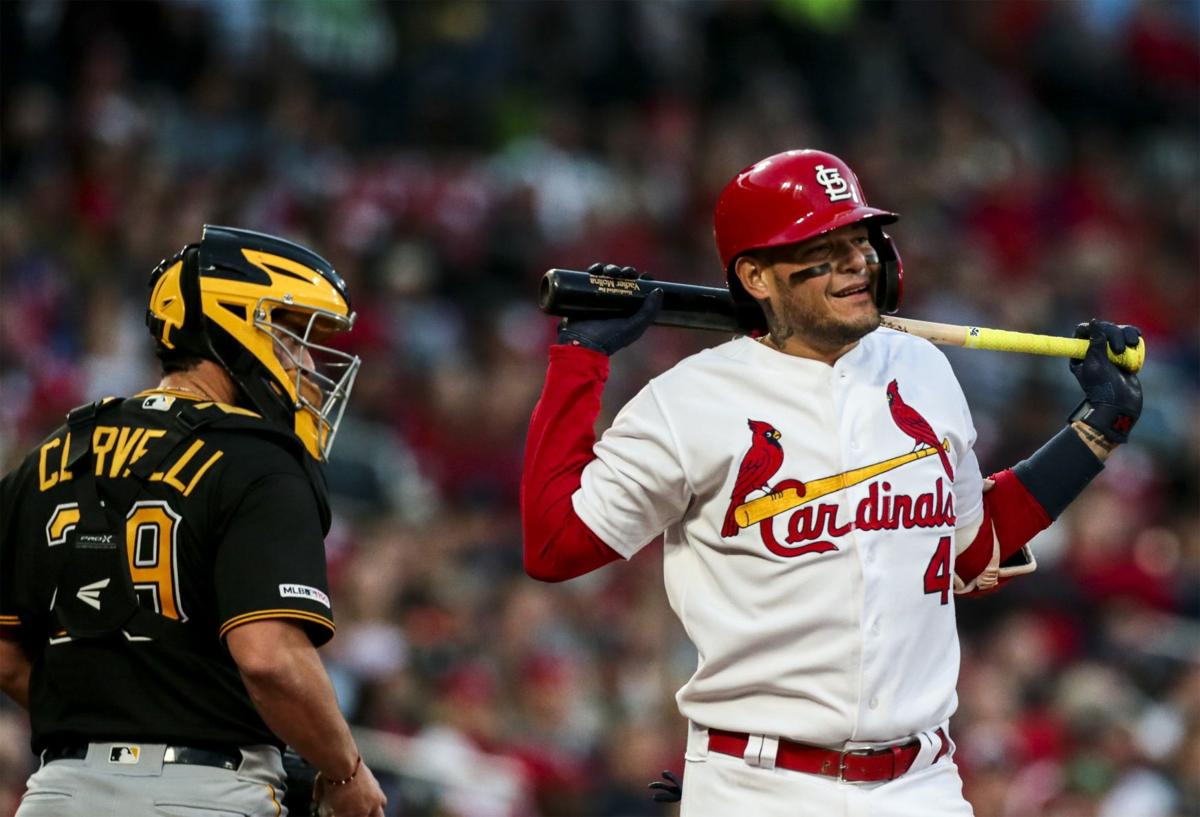 Four of the Cardinals' last seven wins before Friday night had come without their hitting a home run, which is unusual enough in this age of launch angles and exit velocities. But to have 17 runs without a homer on Thursday marked not only the first time the Cardinals had scored that many runs without a four-bagger since 2008 (18 vs. Atlanta) but it was the first time the majors in more than seven years, or since the Colorado Rockies had 17 without a homer against San Francisco at spacious Coors Field in Denver.
"It's definitely an outlier," said Cardinals manager Mike Shildt. "But I can't be overly surprised that we were able to do it because of how this team is built and how it can score in a lot of different ways."
Marcell Ozuna batted with the bases loaded on three different occasions, which is rare, even for a cleanup man. He drove in four runs.
"We'd love for that to happen every night, wouldn't we?" said Shildt.
The last time the Cardinals hung that many runs up on Pittsburgh was nearly 19 years ago when they torched the Pirates for 19 at Three Rivers Stadium on May 20, 2000. But there were three homers hit by the Cardinals that game _ one each by Fernando Vina, Thomas Howard and former manager Mike Matheny, who was catching that game and drove in a team-high four runs with three hits.
WACHA BENEFITS AGAIN
Although his earned run average is 5.35, Cardinals righthander Michael Wacha, who started Thursday night, is 3-0. The Cardinals have scored 4, 4, 11, 6, 6, 5 and 17 in Wacha's seven starts for an average of 7.6 per game.
But Shildt noted that Wacha had pitched at least five innings in six of those seven starts.
"It speaks, first, to Michael giving us a chance to win," said Shildt. "You don't win games without the pitcher giving you a chance.
"Clearly we've given him some run support. He competes really well, we appreciate that and guys reward him."
And Wacha appreciates that reward.
Wacha, who gave up all four Pittsburgh runs in 5 2/3 innings, said, "I got picked up by the offense in a huge way. That's how I came up with that win. I was missing quite a few locations yesterday. But guys were playing some great defense behind me. Paulie D. (shortstop Paul DeJong) was making some sick plays."
Wacha did show a noticeable improvement in his control. After walking eight once and four on two other occasions, he issued just one free pass Thursday and that batter didn't score.
While his winning streak continued, his hitting streak did not. Wacha, who had only two hits last season, had two in one game in Chicago last week but fanned twice in three at-bats Thursday.
"Yes, tough day at the plate," said Wacha.
The seven-season veteran last began a season with an unbeaten streak like this when he was 7-0 in 2015 and made the All-Star team. After victory No. 7, his ERA was 1.87, much unlike this year.
Wacha, who says his knee tendinitis hasn't bothered him since he went on the injured list for a start, doesn't contend he is pitching as well as 2015. But, he said, "I've never met a 'W' I didn't like. You've got to celebrate them all."
DEJONG: THE WALKING MAN
With a string of six successive games in which he had walked and 18 walks in his first 38 games, DeJong, who rarely let a pitch get by him in the past, is already halfway to his single-season high of 36 walks in 2018. He had 21 the year before.
Thus, DeJong's on-base percentage was .410 and his OPS (slugging, plus on-base percentage) was a whopping .992. He's also fanned only 28 times when his career average had been more than one per game.
"Smart guy. Talented, physically," said Shildt. "So he starts to see how people are pitching him and he's starting to figure out how he needs to be able to make adjustments."
MOLINA RECEIVES CLEMENTE AWARD
Cardinals catcher Yadier Molina was presented with the Roberto Clemente Award before the game. Molina was selected as the 2018 recipient for the charitable work he and his wife, Wanda, have done through Molina's foundation, in addition to his efforts to help Puerto Ricans recover from Hurricane Maria, which devastated the island in 2017.
Luis Clemente, son of the late Hall of Famer, presented the award along with Cardinals Hall of Famer Ozzie Smith, the 1995 winner of the honor. The other Cardinals to win the award, Albert Pujols and Carlos Beltran, offered congratulations with pre-recorded messages on the scoreboard.
Roberto Clemente and Molina were commemorated on a special bobblehead Friday night.
Keep up with the latest Cardinals coverage from our award-winning team of reporters and columnists.