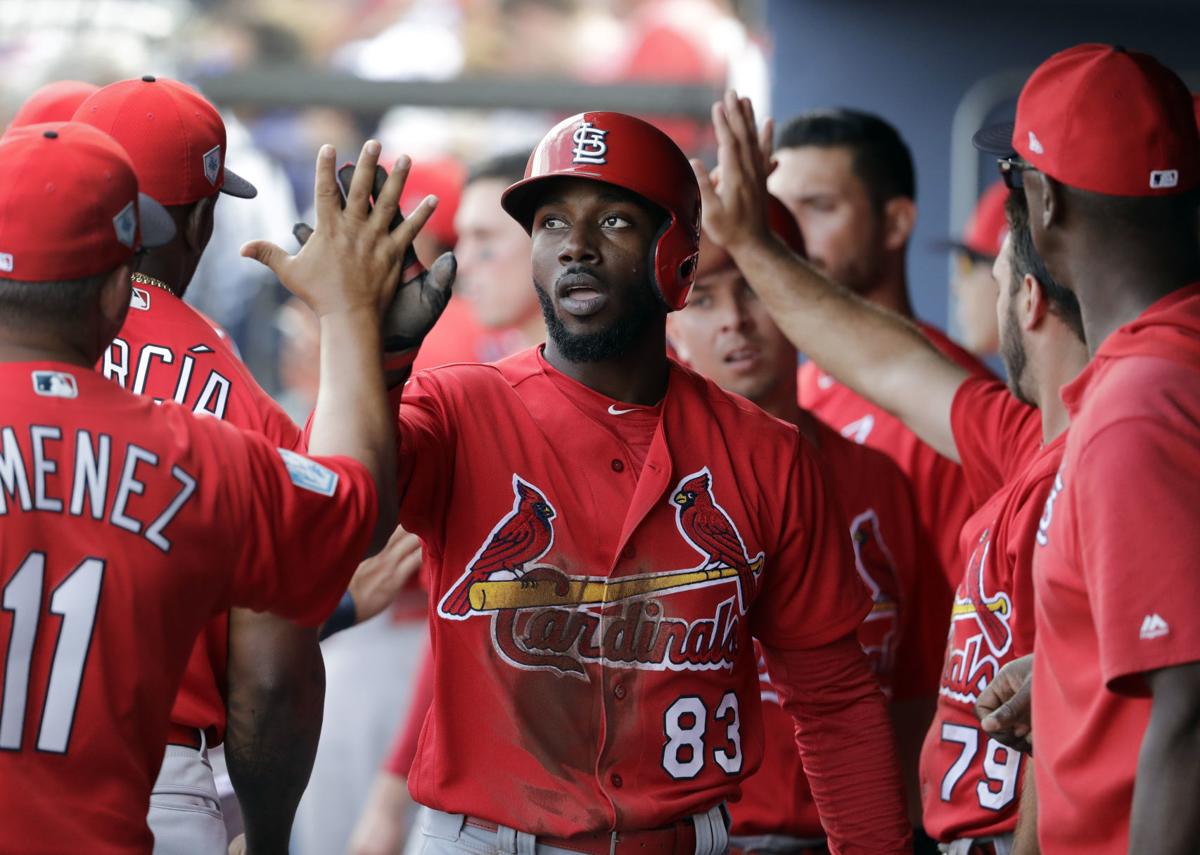 Cardinals manager Mike Shildt on Friday kept the same batting order from Wednesday's one-run output at Los Angeles, meaning Dexter Fowler and Tommy Edman, both of whom had a double, hit 1-2.
And outfielder Randy Arozarena still was hitting first for Memphis, where he had reached base safely in 35 consecutive games and was hitting .368. But Shildt has noticed.
"He's done a lot of what he needs to do offensively," said Shildt. "He's got a really high OPS. Last time, I saw it it was a little over 1.000. Defensively, he's capable. We've seen that. There's nothing else he really needs to be able to prove. It's a matter of justifying ... do we bring him up and have him come off the bench?
"We've got outfielders who have done a representative job for us. We don't feel like there's a huge call but we recognize, and not blindly, we have to score more runs and we have to look for solutions for that."
On Friday, center fielder Fowler (.247 BA, .340 OBP) was 2 for 4 leading off with two runs scored in the Cardinals' 6-2 win over Pittsburgh. Right fielder Edman (.248, .278), ordinarily an infielder, had a single and triple in four at-bats.
TWO-SEVENTY OR BUST
Granted, batting average doesn't mean as much in the new metrics age which values on-base percentage and slugging percentage as much or more. But, the Cardinals, as they head into what could be a less challenging part of their schedule, have no one even hitting .270 among players with 150 or more plate appearances.
Tyler O'Neill is at .279 with 136 plate appearances but, given the 150 barometer, Jose Martinez and Kolten Wong are the highest average hitters at .268 and .267, respectively.
"I'll get there," said Wong of reaching .270. He had hit .409 over a recent 20-game stretch in which he had reached base in every game.
There was a time not all that long ago when .270 was looked upon as a decent average but not really that much over the mean and certainly not a team-leading mark. In fact, there is no other team in the majors that doesn't have at least one hitter averaging at least .270 with 150 or more plate appearances. Former Cardinal farmhand Donovan Solano is hitting .329 for the lackluster San Francisco Giants attack in 153 plate appearances.
Furthermore, there has been no Cardinal team in 112 years, or since 1907, that didn't have one batter average at least .270.
As John McCloskey's 1907 team slogged to a 52-98 mark (luckily, four games were rained out and not rescheduled), outfielder Red Murray led the club in hitting at .262.
The club's attendance that year was a full-season low for the 20th century as the Cardinals drew just 185,377.
And those few on hand then who dug the long ball also were disappointed. Murray clouted seven of the team's 18 homers.
The Cardinals have five premier players who had lifetime averages above .270 entering the season. Martinez was at .309, Paul Goldschmidt at .297, Yadier Molina at .281, Marcell Ozuna at .277 and Matt Carpenter at .274. If any or all those get to .270 or above this season, that portends a strong final 48 games for the Cardinals.
MOLINA TO KC TUESDAY
Shildt reported that catcher Molina (torn thumb tendon) was feeling good but that he would remain with Class AA Springfield on his rehabilitation option through the weekend and "more than likely" be activated from the injured list by Tuesday's start of a six-game trip to Kansas City and Cincinnati. ... Righthander Alex Reyes, beset by a number of injuries the past three years, will get a second opinion on his torn pectoral muscle in the next few days. Reyes is on the Memphis roster after opening the season in the Cardinals' bullpen. "From everything we've seen from our medical side, he's just not recovered and taken the next step forward," said Shildt. "But nothing's gone backward." Shildt admitted the club "clearly was losing days" in which to expect any further contribution this season from the righthander who will be 25 later this month. . . . Shildt celebrated his 51st birthday Friday. "I get to have the greatest job in the world. I show up and get to interact with a great group of guys and staff in a beautiful setting in St. Louis. Ultimately it's about shaking hands at the end of the game to celebrate it. If I lose, it's a bad day, period, no matter what day it is," he said.