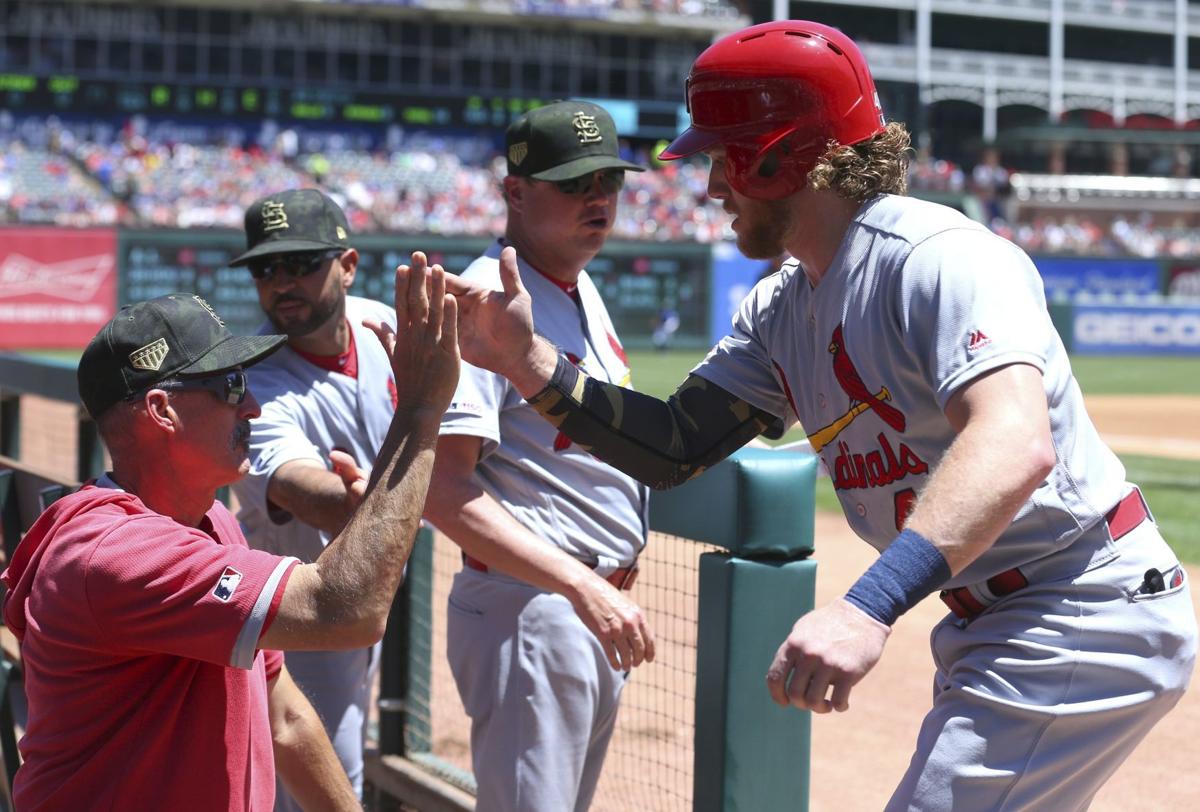 ARLINGTON, TEXAS — It had been 10 days since he saw his name in the starting lineup and more than two weeks since he got to stretch his legs in center as the starter in consecutive games. Still, Harrison Bader didn't see this island of opportunity in Texas as a chance to run away with more playing time.
"My focus wasn't coming into it, 'It's my time to play,'" Bader said. "I understand the situation going on. All of my focus was helping the team win. That's what matters. I'm just another piece of this big puzzle that we have going on."
With a spot in the outfield open because the Cardinals could use the designated hitter during the interleague series against the Rangers, Bader started all three games, all in center. He homered Friday, scored twice Saturday, then doubled twice Sunday. He finished the weekend seven for 12 and scored six of the Cardinals' 15 runs.
His batting average rose from .205 to .259. Bader also stole a hit with a diving catch in center field, and he nearly had the throw Sunday that kept Texas from scoring the winning run in the 10th inning.
As manager Cardinals Mike Shildt sorts through discussions on whether to retool the lineup or reorder it, Bader got up to speed quickly despite having started only eight games in the month since returning from the injured list.
When Shildt committed to starting Jedd Gyorko in place of Matt Carpenter at third base, that opened up the leadoff spot Sunday.
Shildt said he likes how Dexter Fowler has looked lower in the order, and Yairo Munoz did well at leadoff in a cameo this month. But Bader hit his way into it.
He doubled to open the game and scored the Cardinals' first run, and in the 10th inning he doubled, took third on a groundout and raced home on a flyout to put the Cardinals ahead, 4-3, briefly.
Shin-Soo Choo's throw home was true enough that it hit Bader on the left shoulder as he slid home with his second run of the game.
"Harrison's skill set played today, plays in a lot of different ways," Shildt said. "Harrison is demonstrating what a winning player is, a winning player who maybe doesn't get a role he likes. He came back from a hamstring (injury) that cost him some time. Jose (Martinez) took advantage. (A) winning player didn't complain about his situation, stayed ready for his opportunity and made the most of it."
Bader had been the Cardinals everyday center fielder before suffering the injury in Monterrey, Mexico. Since, Fowler has seen more time in center to accommodate Martinez's bat in the lineup and open a spot for him in right. Bader had been utilized as a late-game defensive replacement, hunting and pecking for at-bats in that role.
He hit ninth in the first two games of the series and ignited three rallies, including two with leadoff singles. In each game, his first at-bat resulted in a base hit, as if he'd been able to maintain his timing despite the reduced playing time.
"Honestly, the whole notion of having a rhythm in this game is purely mental, in my opinion," Bader said. "Obviously there are certain aspects — trying to hit a slider, where you might need a bit more repetition. You just prepare your mind and structure your preparation when you're not in there and let it take over when you do get a chance to play."
OZUNA TALKS AGENT CHANGE
Cardinals left fielder Marcell Ozuna's decision to switch agents, formally announced last week, was made several weeks ago, he said Sunday. But it comes near a pivotal time for him.
A free agent at season's end, Ozuna moved from his longtime agent Scott Boras to Melvin Roman's agency. Roman, who Ozuna has known for many years, also represents Cardinals catcher Yadier Molina. Ozuna said the move had nothing to do with angling for discussions with the Cardinals about staying in St. Louis, rather it was about any opportunities that could surface at season's end.
"I was thinking now — this is the right time to change," Ozuna said. "It was my decision and I have a chance at a good thing. This is something to motivate me even a little bit more."
REYES SET FOR STARTS
Cleared for game-speed fielding, pitcher Alex Reyes successfully recovered from the last of his backfield appearances and will join High-A Palm Beach's rotation this week, probably starting Thursday's game. He has been throwing behind a protective screen for several weeks while a fractured finger on his left hand healed. The Cardinals used the time to have Reyes build arm strength so that when he returned from the injury, and possibly returned to the majors, he could be considered for a starting role.
Reyes, a member of the opening-day bullpen, returned to Class AAA Memphis in April and was 1-0 with a 2.61 ERA in five games (two starts). He had nine strikeouts and nine walks in 10 1 innings. He fractured his hand by punching a wall in frustration after allowing three runs.
PAINTING TEXAS RED, ETC.
In each game in the Cardinals' first visit to Texas since 2011, a chant spread through the crowd: "Yadi! Yadi! Yadi!" That was just one indication of the presence Cardinals fans in a rare Rangers series. Texas drew more than 30,000 for each game, and fell just shy of having 100,000 tickets sold for a three-game series with a 32,492 average per game. Texas' only series that outdrew the Cardinals was the season-opener against the Cubs and an April series vs. Houston.
• According to Retrosheet.com, the Cardinals' manager with the most ejections likely was Tony La Russa, at 40. Some others: Mike Matheny, 15; Joe Torre, 15; Whitey Herzog, 21; Frankie Frisch, 19; Red Schoendienst, seven.