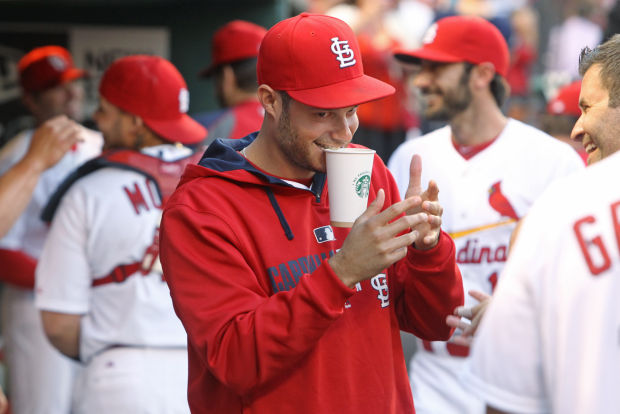 As he takes strides toward a return from a torn hamstring, Cardinals righthander and speedster Joe Kelly said he does not imagine running at full speed again this season.
"I'm not going to try (sprinting) ever for the rest of the season," Kelly said. "I'll get by with three-quarters (speed). I'm not going to try and force that. I'll be good enough to run faster than your average hitter and cover a base. I'm going to be smart about it."
Kelly, out since mid-April with the strain, threw a bullpen session Wednesday and said he could depart for a rehab assignment early next week, when the team heads on the road. Kelly will go the minors as a starter so that he can get necessary innings and rebuild his stamina.
The bullpen workout Wednesday was similar to one he would have between starts, and it comes a few days after an extensive throwing session off the mound.
Whether he'll be a starter or reliever when he returns to the majors will be based on need, Mike Matheny said. The Cardinals manager added that he'd like to see Kelly moving at full speed before getting in a game and possibly risking re-injury.
"It's good to be coming off that mound and not holding it back," Matheny said. "He's only got one speed and guys at this level they're going to compete if they can get to the ball. We've gone too far to go backward."
The Cardinals activated lefty Tyler Lyons (shoulder) from the disabled list late Wednesday night and immediately optioned him to Class AAA Memphis. Lyons will rejoin the starting rotation that he just left, having spent part of his rehab assignment with the Triple-A Redbirds. Lyons, 26, went 0-3 with a 6.12 ERA in six games (four starts) at the big-league level this season, serving both as a spot starter and a long reliever. At Memphis, Lyons is 2-0 with a 3.32 ERA in four starts, and he'll continue to serve as the Cardinals' phone-call-away starter.
Lyons started Thursday night for Memphis and allowed six runs on nine hits through 3 2/3 innings. Lyons allowed two home runs. He received a no decision because the Redbirds' lineup provided six runs in the first inning and 12 runs total. Oscar Taveras celebrated his 22nd birthday with two runs, two hits, and two RBIs. Randal Grichuk hit his 11th home run of the Triple-A season.
• Rosemary Depler, a resident at Lutheran Hillside Village in Peoria, Ill., will celebrate her 101st birthday by throwing out the ceremonial first pitch tonight at Busch Stadium.
• To commemorate Clayton Kershaw's no-hitter Wednesday night, the first of the lefty's career, the Dodgers are offering $22 tickets to his next scheduled home start. That will be June 29 against the Cardinals, the team the two-time Cy Young Award winner also made his big-league debut against. 
• Matheny, a champion of the rule that now outlaws catchers from blocking home plate without possession of the baseball, watched replays of a play in the Cincinnati-Pittsburgh game Wednesday, and was pleased to hear Major League Baseball say the rule was inappropriately applied. Despite first calling the Reds runner out, Cincinnati was given the run based on Pirates catcher Russell Martin "blocking" the plate. But Martin had to cover the plate because it was a force out. "You're not blocking the plate," Matheny said. "You've got to have a foot on the plate." 
• Back from an extended stay on disabled list to heal a sore shoulder, Class AA shortstop Aledmys Diaz is three-for-13 (.231) with a walk and two stolen bases in his past six games.