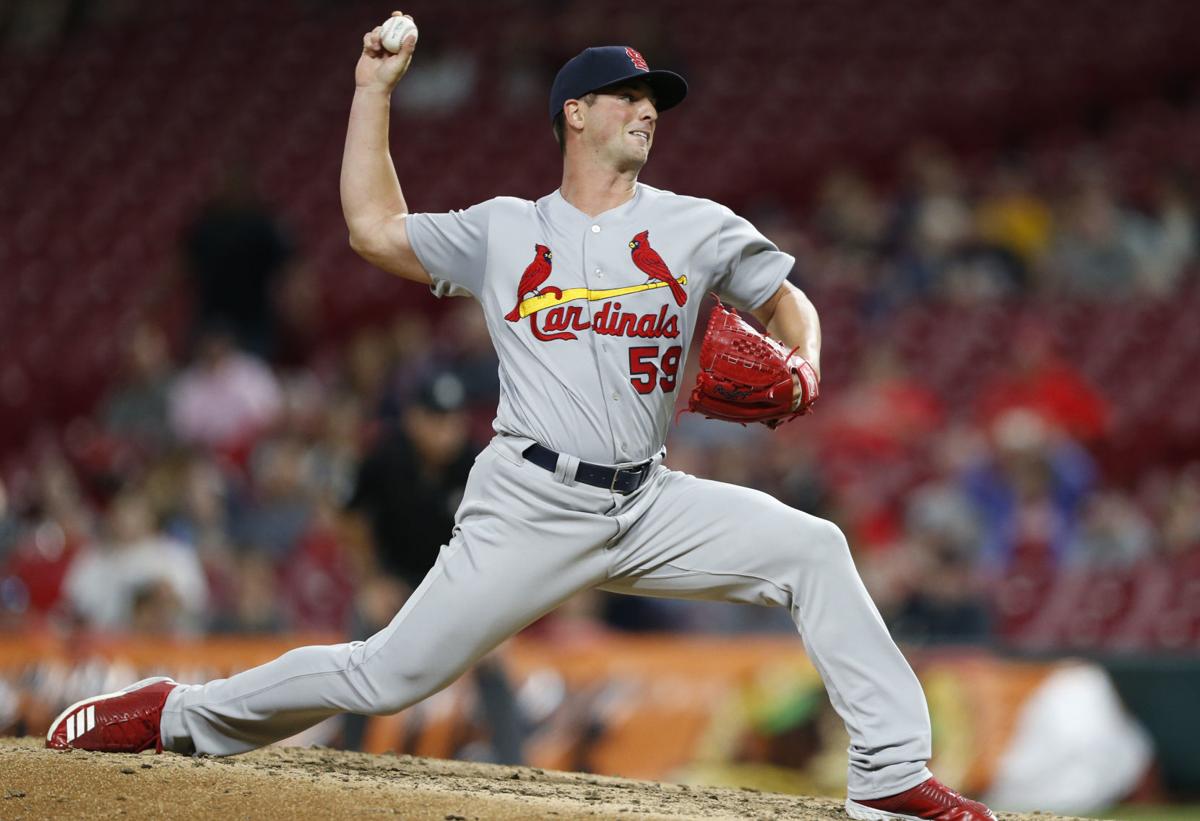 CINCINNATI • Cardinals prospect Mike Mayers spent 24 hours with Class AAA Memphis after his demotion earlier this week and had just enough time to put on a Redbirds jersey twice, attend two games, and not throw a single pitch. Still.
The Cardinals brought Mayers back unexpectedly from the minors Thursday and placed reliever Sam Tuivailala on the 10-day disabled list with a left knee strain. Tuivailala injured his knee before throwing two scoreless innings Monday against Milwaukee. The cause and severity of the injury were not known Thursday, manager Mike Matheny said, but the righthander was scheduled for a magnetic resonance imagining scan to determine.
With access to a 10-day DL, the Cardinals used it.
The U-turn back to the majors after being demoted Monday allowed Mayers to return close to home. He grew up on the southern side of Columbus, Ohio, and while he was a Cleveland fan, he saw the Reds and Cincinnati more often because of the shorter drive. He said he could have several dozen friends and family attend the weekend games. What role they'll see him in remains the question. He was used twice in the first two weeks of the season, and settling into a long-relief role could free up others, like John Brebbia, for short-burst appearances.
"I don't know if we had him in a designated spot," Matheny said. "It was day to day. We had a lot of similar games. Sure enough as soon as he left we had opportunities in games where we were down and we needed innings. You've got to have a plan, if you're ahead these are the go-to guys. If we're not, these are some go-to guys. If we need multiple innings these are our go-to guys."
They got to Mayers in the seventh inning Thursday after the Cardinals had unleashed a seven-run inning and opened an eight-run lead. He allowed just two hits over three scoreless innings to get the save.
Tuivailala had experienced a decline in his velocity to start the season — a trend he attributed to being asked to work on a slide step right as spring training ended. He found that sapped some of his power because he felt like he was throwing "all arm." Matheny said the Cardinals did not see any signs of injury concern from Tuivailala's velocity dip and that the righthander passed strength tests with his arm and didn't "show signs of injury at that point," the manager said.
VOTTO, AT REST
The only player in the National League not to miss a game last year did Thursday. Joey Votto, the Reds' perennial MVP candidate, did not start for the first time in more than a season — a streak of 202 consecutive games back to Sept. 2016. That game was also against the Cardinals, and the Reds' first baseman that game was Ivan De Jesus Jr.
Reds manager Bryan Price said the move was rest.
In a way, it's also a relenting.
Votto's streak was the longest for the Reds' since Pete Rose started 370 consecutive games from 1973-76, according to Elias Sports Bureau. Votto's streak is the longest in the NL and second in baseball to Royals' shortstop Alcides Escobar, at 342. It's the third 200-game streak of Votto's career — but fewer and fewer teams and players are seeing the benefit of what once was a defining chase of baseball: The Ironman.
"I think Cal's record is safe," Matheny said, referencing Cal Ripken Jr. "Certainly, we have more information. Now we're paying close attention and we're putting value on rest. I'll guarantee that (Jeff) Bagwell and Cal and everybody else that want to throw into that, (Lou) Gehrig, they would contend that this game is about going out there every single day. I think there is more pressure on the modern-day player. In the past, it was a badge of honor that you're a durable player that is just going to be out there every single day.
"Now," he continued, "it seems like they're constantly being fed if they take that mentality they're probably going to set themselves up for failure or injury."
GREGERSON STRIDES FORWARD
One of the final hurdles the Cardinals wanted veteran reliever Luke Gregerson to clear before he returned from a hamstring injury was appearing in back-to-back games. By that measure, he's halfway to Wrigley Field. Gregerson threw a scoreless seventh inning Thursday night for High-A Palm Beach, and if he recovers well from the outing Friday he'll get another inning or so of work that night for the PB-Cards. The Cardinals are open to the possibility that the righthander, who missed most of spring training with an oblique injury before going on the DL with the hamstring issue, could be available to them as early as next week.
In three rehab appearances for Palm Beach, Gregerson has struck out four and allowed a hit. His scoreless outing Thursday night included only a hit and two groundouts.
MOLINA, ETC.
Yadier Molina confirmed that he dropped the appeal of a one-game suspension when he learned that he would get Wednesday off from starting a game, for the first time all season. Molina had been suspended by Major League Baseball for his role in a fracas Sunday that started when Arizona manager Torey Lovullo referred to Molina by a vulgarity. Lovullo was also suspended for one game, and he said after the game that he chose his words poorly in the heat of arguing balls and strikes. Molina has not heard personally from Lovullo. …
• Matheny praised the Reds shift to an early start time this early in the season. The Reds have moved evening games to a 6:40 p.m. Cincinnati time start with the idea of drawing more families and kids to the games on school nights. The Cardinals have experimented with 6:15 p.m. start times. "I like the 6-whatever starts," Matheny said. "I think it makes sense, especially when kids are still in school. We're trying to put butts in seats. We try to put people in the stands to keep this thing rolling. You give yourself a better chance with those earlier starts."